This warm lamb salad is something special and yet is quietly unassuming. It's the perfect Autumnal meal and for those days that you need a little warming up. Lamb shoulder is cooked until tender and meltingly soft in a richly spiced stock with plenty of onions and garlic and then paired with carrots, cavolo nero or Tuscan kale and cannellini beans. Best of all it can all be done in a pressure cooker where it will only take 1.5 hours and can be made ahead of time or even a day or two before where its flavours will develop. Pair it with a spoonful of mint sauce and you have the most wonderful lamb dinner!
I loved this lamb shoulder salad so much that after I made my first one, I made another and Mr NQN didn't make a peep of complaint. Usually he doesn't like lamb but he loved this salad because I think the seasoning and vegetables lightened up the rich lamb. I made the mint sauce on the side for him but what was an afterthought became a necessity for this recipe and I think it brings a lot to the dish. You can see from the recipe that it is barely a recipe, there's so little involved in it but this became so much more than a sum of its parts.
Boneless lamb shoulder
Which cut of Lamb? I love lamb shoulder as it is a cut that lends itself to slow braises but you can also use other cuts of lamb too whether it be leg, chops or pieces. Obviously with the smaller pieces you won't need as much time to cook it. I actually ended up using some leftover lamb from my cumin lamb skewers.
What is cavolo nero? Cavolo Nero is a Italian green also called Tuscan Kale or Dinosaur Kale. Cavolo Nero translates to "black cabbage" referencing its dark green leaves. It is quite different in texture from curly kale but like curly kale it keeps its shape when cooking. The bottom ends of the cavolo nero are a bit tough so remove the bottom stems, around two inches or so. If you can't get cavolo nero try silverbeet or a large leafy green.
Bo Kho Seasoning: Okay I know I threw a bit of a spanner in the works by using Bo Kho seasoning. Truthfully I didn't think I'd share this recipe because it was a little thrown together and not that photogenic. I just needed to use some lamb shoulder that I had in the freezer but so many people asked me for this recipe when I mentioned it that I had to share it, plus when I tried it I knew you would love it. Bo Kho seasoning is found in Asian grocery stores in the Vietnamese section. I bought it to use in Bo Kho but ended up making my own seasoning so I had this packet left. If you can't get it use 3 beef stock cubes instead (although these will not have the annatto seed and tomato paste that the bo kho seasoning cubes do). These Bo Kho cubes are slightly larger than regular stock cubes.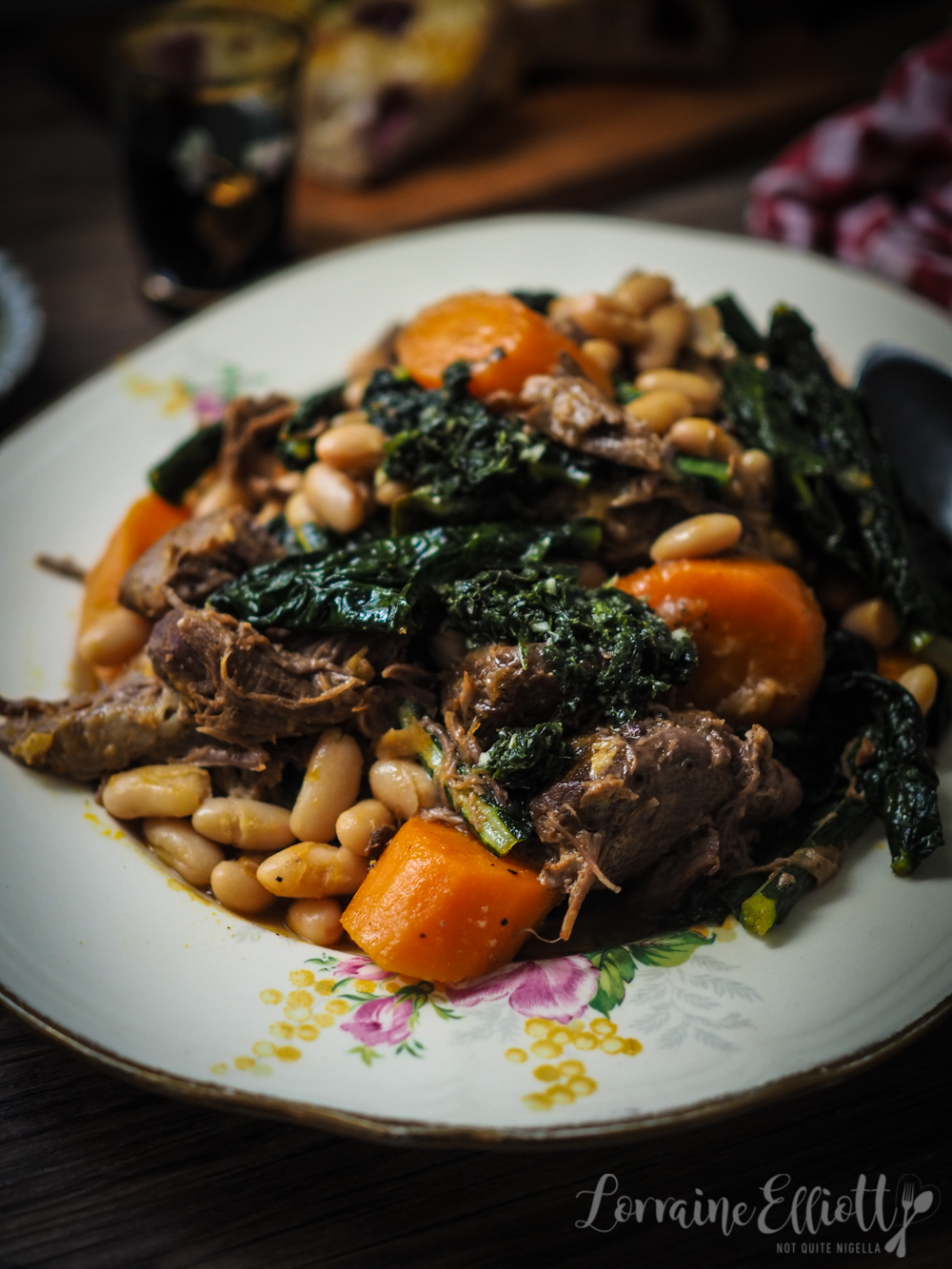 I was so happy with how this turned out. I actually made it the night before we had Queen Viv and Miss America over and it was so good that I decided to serve it to them as a warm salad the next day. These very simple ingredients turned out so much better than I would have even hoped. Sometimes life is like that. You have no idea how things happen but you're just happy that they do.
Recently I attended a big all-day travel event. Typically it's an exhausting day, not helped by the early morning rise - I have a morning routine if I am to arrive anywhere halfway presentable so I needed to get up hours before I was meant to be there. It was 5:30pm when we finished and a couple of writers and I were checking out a lobster roll and champagne pop up in Circular Quay.
Another writer Chris and I split a lobster roll as they were $50 each while Joe watched on saying that he had already eaten his fill of lobster over the previous days which sounded totally bougie but I guess happens. I took a bite of the lobster roll, was very underwhelmed and then went to take a sip of my Mumm champagne. It was crisp and chilled and very nice after a long day.
But then I reached for another sip of champagne and underestimated the weight of it (it was in a red plastic flute) and I spilled the entire glass down my top and jeans (little mercies I guess that they were white jeans and at least it wasn't red wine). The two guys just sat there with their mouths open. Then Chris looked at me confused and leaned in to me. His face was the picture of befuddlement.
"How did that happen?" he said looking at me concerned tilting his head.
I really had no explanation. "I don't know, but these things happen to me...a lot," I responded. I guess I'm used to it as I'm very clumsy.
Like I said, sometimes things just happen and they're good like this warm lamb shoulder salad but sometimes things just happen and you're wearing a whole glass of champagne and you have no idea how it happened.
So tell me Dear Reader, do you ever wing it with a dish and it turns out really well? Have you ever spilled or knocked over anything and not known how it happened?
DID YOU MAKE THIS RECIPE? Share your creations by tagging @notquitenigella on Instagram with the hashtag #notquitenigella
Warm Lamb Shoulder Salad
Rated 5.0 out of 5 by 2 readers
An Original Recipe by Lorraine Elliott
Preparation time: 15 minutes
Cooking time: 1 hour 45 minutes with instant pot/pressure cooker, 4 hours oven
Serves: 4
2 tablespoons oil
700g/ 1.5lbs lamb shoulder, boneless
3 onions, peeled and cut in half
6 cloves garlic, peeled and sliced
2 cups water
2 Bo Kho seasoning cubes or 4 beef stock cubes
2 carrots, peeled and cut into chunks
Half a bunch of cavolo nero or silverbeet, trimmed of the ends
400g/14oz tin cannellini beans, drained
Mint Sauce
40g/1.4ozs mint leaves
2 garlic cloves, peeled and halved
2 tablespoons extra virgin olive oil
2 tablespoons sugar
1 tablespoon sherry vinegar
Step 1 a Pressure Cooker - Set your instant pot or pressure cooker to the sauté function for 10 minutes. Add the oil and brown the lamb shoulder on both sides. Then add the onions, garlic, water and crumbled seasoning cubes and set to medium pressure for 1.5 hours. Release the pressure and check the lamb is falling apart. If it isn't put it on cook for another 15 minutes. Add the carrots and cavolo nero to the pressure cooker and cook on low pressure for 5 minutes. Then add the drained cannellini beans and heat these through-there should be a lot of heat left in the stock pot to warm these up.
Step 1b Oven-You can also do this in a cast iron pot on the stovetop and then oven. Brown the meat first on the stovetop and then add the onions, garlic, water, seasoning cubes to the pot. Place the lid on and transfer to a 160C/320F and cook for 4 hours or until the lamb is tender making sure that the liquid doesn't evaporate. Then move back to the stovetop and add in the carrots and cook for another 20 minutes and then add the cavolo nero and cook for 5 minutes adding the cannellini beans in at the last minute.
Step 2 -To make the mint sauce place the mint leaves, garlic, oil, sugar and vinegar into a food processor and blend. Serve the lamb with the sauce on top or have the sauce on the side.