Complex, rich, delicious, and just plain delicious, Mexican mole is a wonderful blend of flavours and considered to be the national dish of Mexico. This mole poblano is a labour of love that takes a couple of hours but is perfect if you want to serve up something incredibly delicious and rich in flavour! Plus try one of my favourite ever cocktails, a Peachy Patron.
Mole is an iconic Mexican dish that is typically made with chillies, chocolate, nuts, spices, and sometimes fruit. In Mexico there are over 50 types of moles. The word mole (pronounced MOH-lay) comes from the Nahuatl or Aztec Indian word mulli meaning sauce. Mole Poblano is a darker style of mole usually served with chicken. Mole poblano is native to the state of Puebla, Mexico and originated in the 16th century. According to one popular legend, the nuns of the Convent of Santa Rosa created the dish to impress Juan de Palafox, Viceroy of New Spain and Archbishop of Puebla who was visiting the convent. They combined a variety of ingredients they had on hand, including dried chillies, spices, bread, nuts, and chocolate, to make the sauce. The archbishop loved it and mole poblano has been a beloved Mexican dish ever since.
Mole reminds me of lasagne in that it's a total labour of love. It's a labour of layers too and if someone makes you mole at home it is something special because of the hours poured into the dish. You can of course buy mole paste in jars and that makes is easier and faster if you are short on time but put aside a couple of hours to make a mole from scratch. Better still, make this and then refrigerate it for a few days to allow the flavours to develop.
Did you make this recipe?
Share your creations by tagging @notquitenigella on Instagram with the hashtag #notquitenigella
Helpful tips for Making Mole Poblano
1 - Most of the ingredients are easy to find but you may need to source the dried chillies. In Sydney Mistura on King Street in Newtown sells the chillies in bags and chocolate.
Ancho chillies
2 - I like using a whole chicken for entertaining as people like different cuts (just ask your butcher to section it up for you) but you can also use chicken pieces, skin on or off. If they don't have skin there's no need to brown the chicken before boiling.
Guajilla chillies
3 - The cookies or bread helps to thicken the sauce. You can use plain Marie biscuits, bread rolls or stale tortillas. Using the biscuits will make it sweeter so just balance it at the end when you season.
4 - Some serve chicken as whole pieces while others shred the chicken and then add it to the mole sauce.
Pasilla chillies
5 - This makes a lot of Mole sauce, enough for 3.5-4kgs/7.7-8.8lbs of chicken. It can keep in a jar in the fridge for two weeks. or frozen for up to 4 months.
6 - Mole poblano uses Mexican chocolate. If you are unable to source this, use a dark chocolate.
7 - Mole is easiest if you have a mise en place or all of the ingredients prepared and chopped before you start.
8 - A high speed blender or Thermomix is perfect for making mole as you will be doing a lot of pureeing.
9 - When sieving your sauces, don't use the finest sieve you have or it will take a long time.
10 - Mole Poblano is usually served with rice and tortillas, both for soaking up that sauce. Sometimes a salad is also served alongside.
11 - This recipes makes a lot of Mole, enough to feed 10 people or so but it is a lot of effort to make the sauce. Mole also freezes well and will last for 3-4 months. Thaw the mole in the fridge, add a cup of chicken stock to loosen and then heat gently on the stovetop.
As for the Peachy Patron cocktail, I first tried it at a Patron dinner at Manly Pavilion. Patron tequila has just started doing events and this cocktail was AMAZING. They were kind enough to give me the recipe and some Patron. The recipe has 3 types of liquor in it but I promise it is sooo good! You can also serve it long in a tall glass with some soda and ice. This is now the cocktail that I make us most of the time and everyone loves it.
We made this chicken mole for a Mexican dinner we had with Valentina, Peter, Monica and Marco. It makes A LOT so be prepared for delicious leftovers that you can refrigerate or freeze. There was so much delicious food from albondigas (Mexican meatballs), aguachile, esquites and spicy black beans with Mexican sangria and Patron tequila cocktails. This chicken mole was the main served with rice and tortillas. We had coconut cake was for dessert and everyone left very full.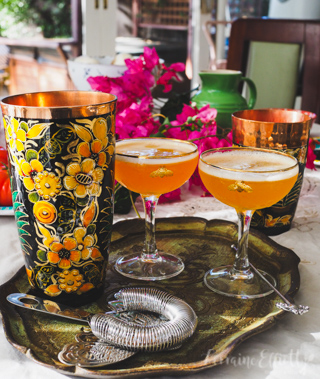 The day after we left for a weekend in the Southern Highlands where we were staying in a beautiful manor house (which I will share very soon). Mr NQN was happy to be there as it was a very low key weekend and he had just had a two day in-person workshop. As an introvert he finds them draining and he still has some fatigue issues after COVID, even though it has been over a month since he got it. On the Saturday we kept it simple staying in the house and relaxing. It was so beautiful there and we had the whole manor to ourselves.
Then on Sunday Mr NQN and I went out to lunch. The restaurant was quite smokey and by the end of lunch Mr NQN wasn't feeling well. He's not particularly expressive or verbal so getting his symptoms out of him was not easy. "I think I have COVID," he said googling the symptoms. He had congestion, sore eyes and his glands were swollen.
We had a dinner date with the manor owners that evening and another night to stay but realised that we had to cancel. Donning our masks for the drive to the manor I let them know and we drove home with masks on with the windows open. On the way home we stopped for a PCR test and when we got home we separated living quarters.
Within 3 hours he got the positive result and it was all on again. Who would have thought that he had successfully avoided COVID for 3 years and now had it twice in 6 weeks. This time Mr NQN was downstairs and I was upstairs. Splitting up the house in this way was better. He still had the lounge room and his own bathroom but he could keep Teddy in with him and go out the bathroom door to go out into the garden. I bought one of those cloth painting sheets to hang up to separate the space better. I was biding my time worried that I would catch it as we had spent the whole weekend together in close quarters.
However this second time round he seemed much better. The next day which should have been the peak day he was ravenous. Last time he wouldn't eat anything on these days but this time he was eagerly devouring all of the food I put in front of him. He ate 8 mandarins, a huge bowl of salad, bread with pâté, an enormous bowl of chicken mole and bread and he even ate raw apples (which he hates). Anything that I offered him and slipped through the door was returned with bones eaten clean and bowls scraped clean. I felt like I was feeding a lion at the zoo. "You must be feeling better," I said to him and he really was.
But then I was talking to my friends Sammie, Lucy and Mrs Martin and they all suggested that he might still be showing positive on his PCR as people can show up positive for up to 3 months. That made sense, nobody else at the corporate event tested positive (the first time many people did and it was a superspreader event) and he was feeling a lot better the next day. And just in case I took a PCR test and was negative. It turned out that he did have an illness of some sort but it wasn't COVID. It was such a shame that we had to leave early but at least we had some mole poblano leftovers to eat when we got home!
So tell me Dear Reader, have you ever tried mole and if so do you like it? Have you ever tried making mole?
Mexican Chicken Mole Poblano
An Original Recipe by Lorraine Elliott
Preparation time: 120 minutes
Cooking time: 60 minutes
Serves: 10 people with rice (the reason why this feeds a cast of thousands is because mole is time intensive and you don't want to make a small batch of this)
Note: this makes enough mole sauce for 3.5-4kgs/7.7-8.8lbs of chicken
Oil for frying
3.5-4kgs/7.7-8.8lbs chicken pieces (you can also use your favourite chicken pieces)
12 cups water
2 onions, sliced
2 bay leaves
75g/2.7ozs. sesame seeds
1 cinnamon stick, broken up into pieces
6 whole cloves
2 star anise
2 teaspoons oregano
1 teaspoon black pepper
1 teaspoon thyme leaves
1/4 cup oil for frying
160g/5.6ozs. ancho chillies*
50g/1.7ozs guajilla chillies*
40g/1.4ozs pasilla chillies*
2 onion, peeled and diced
12 cloves garlic, peeled and chopped
3 tomatoes, halved
180g/6ozs peanuts or almonds
100g/3.5ozs raisins (sultanas and prunes also work)
50g/1.7ozs tortilla or Marie biscuits (plain bread rolls also work)
180g/6ozs Mexican chocolate (or dark chocolate), roughly chopped
2 tablespoons sesame seeds to serve
Salt, pepper and sugar to taste
These chillies are available at Mistura on King Street in Newtown as well as online stores.
Important: it's best if you have a mise en place or all of the ingredients prepared and chopped before you start.
Step 1 - Place a large pot onto medium to high heat and add oil and brown the chicken pieces in a frying pan and set aside. Fry the onions in this oil for 5 minutes until softened and fragrant and then add the 12 cups of water and bay leaves and bring to a boil (do this in two pots if your pot isn't big enough). Add the chicken pieces and allow to gently simmer with the lid on for 25-30 minutes. Take the chicken out, discard the bay leaves and reserve the stock.
Step 2 -Place the sesame seeds, cinnamon stick pieces, cloves, star anise, oregano, black pepper and thyme into a dry frypan and toast until fragrant. Remove and grind using a high speed blender or Thermomix until very fine.
Step 3 -Add a few tablespoons of oil into the same frypan and fry the whole chillies for around 30 seconds on each side (you'll need to do it in batches). They may puff up and darken (some puff up, some don't). Have a very large bowl of boiled water ready and place the chillies in the water once they've had their time in the frying pan. Cover with a plate and allow to soak for 30 minutes.
Step 4 - Put the blender jug with the spices in it next to the cooktop to add everything once they're fried. Add some more oil to the frypan and fry the onion and add it to the blender jug. Fry the garlic, then fry the tomatoes cut side down and place these in the blender jug. Then do the same with the peanuts, raisins and cookies/bread. Add 2 cups of chicken stock to the blender and puree until very smooth. Strain through a sieve into a large cast iron pot.
The first puree with spices, nuts and raisins
Step 5 -By now the chillies should have softened. You can wear gloves for this part if you are sensitive to chilli. Remove the tops from the chillies and shake some of the seeds and membrane out. We like things spicy so I left in a lot of the seeds. Place in the blender jug and add 2 cups of chicken stock and puree until very smooth. Strain through a sieve to get the solids out and add to the big pot along with the spice mixture. Heat on low heat and stir in the chocolate and allow to melt and simmer for 20 minutes. Add the remaining chicken stock (onions and all) to taste. I like using most of the chicken stock because I don't like the sauce too thick. Seasoning is key here: how much salt and sugar you add depends on whether you've used Mexican chocolate or other dark chocolate or if you've used Marie cookies or bread. Start with a little and add as you go. I used Marie biscuits so they were quite sweet already but if you don't you may need to add more sugar (some recipes add up to 1/2 cup of sugar!).
The second puree with chillies
Step 6 - Place the chicken into the pot and simmer for 10 minutes still on low heat OR shred the chicken before adding it to the sauce. Sprinkle with sesame seeds and serve. Place the remaining mole sauce in containers and freeze it where it will last for 3-4 months. Thaw the mole in the fridge and add a cup of chicken stock to loosen if needed.
The mole sauce before chicken is added
Peachy Patron
45ml/1.6flozs Patron Reposado
20ml/0.7flozs Peach Schnapps
15ml/0.5flozs Aperol
30ml/1floz Lemon Juice
10ml/0.3flozs Honey syrup (2 parts honey:1 part water)
1/2 egg white (optional)
Step 1 - Shake all ingredients in a cocktail shaker with ice, double strain into coupe glass.