I don't know if it's quite normal to base cooking around crockery but when I saw this Wedgwood Queen of Hearts cup and saucer set I knew a) I had to have it and b) I had to bake a cupcake for it. I have a penchant for things that have hearts and also for details and I can be a right pain when it comes to details but rest assured anyone that has created things with flourishes or details, I'll be one to notice.
It was easy matching a cupcake to this heart cup and saucer, what better an idea than a playing card cupcake? I realise I would have done better to get an Alphabet cutter set than make my own feeble Q's but I haven't seen one for the life of me so I had to make do with what I had.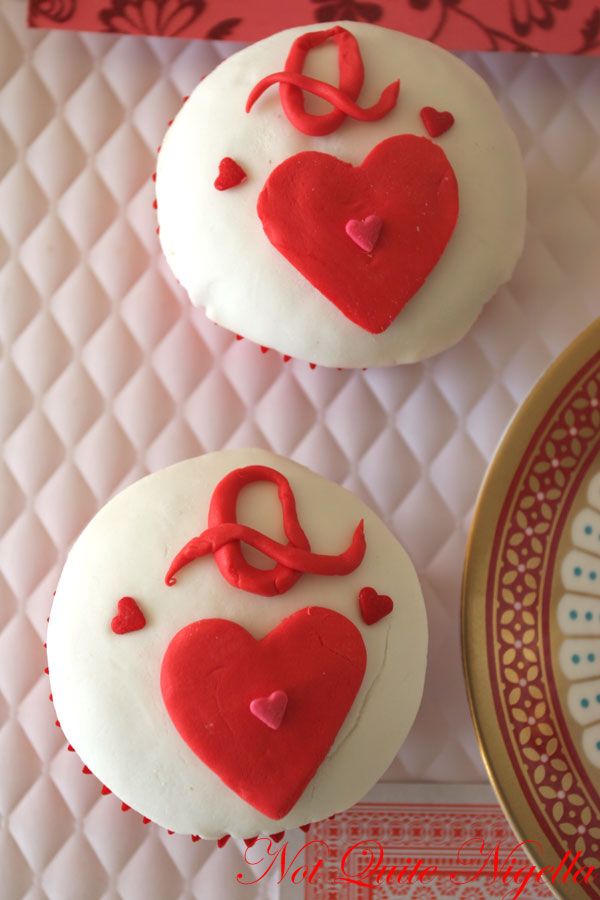 DID YOU MAKE THIS RECIPE? Share your creations by tagging @notquitenigella on Instagram with the hashtag #notquitenigella
Queen of Hearts cupcakes
Makes 8
1/2 cup muscovado or brown sugar in a pinch
1/2 teaspoon of baking powder
1 teaspoon each of ground ginger and ground cinnamon
90g butter at room temperature
1/4 cup milk plus 1 squeeze of lemon juice into the milk to curdle it
30g glace ginger chopped into small pieces
2 tablespoons golden syrup
Decorations:
1 packet of white fondant (I use Orchid brand)
a small amount red prepared fondant prepared from the packet of white fondant. Dyed using a Gel or powder (liquid will affect the texture too much by the time you get the correct red)
Round cutter about the size of your cupcake top
Step 1 - Preheat oven to 150c fan forced or 170c non fan forced.
Step 2 - Add all ingredients into a mixing bowl and mix on low speed until combined and then a higher speed until batter becomes pale. Spoon into patty tins.
Step 3 - Bake for 20-25 minutes. Cool in tin.
Step 4 - Sift a coating of icing sugar over a clean flat surface. I use those latex gloves just to avoid moisture on my hands transferring to the fondant. Grab a section of fondant and knead until it becomes pliable. Roll it out and dust a rolling pin with icing sugar and roll fondant out to about 1/2 cm thick. Use a round cutter to cut out round.
Step 5 - To adhere the fondant onto the cupcake top, brush with a little warmed jam and then place fondant rounds on top.
Step 6 - With the white fondant done, roll out red fondant to 1/2cm thickness. Cut out heart shapes for the centre and then roll pieces into thin ropes and shape letters carefully (you may have to have a few goes at this). You can attach these red pieces to the white fondant using a little water brushed on the back of the letters.
Wedgwood Harlequin Queen of Hearts up and saucer available at David Jones, Myer & selected boutiques, $99 for the boxed set.