When a chef has a restaurant named simply after himself, you know that a) he's pretty famous b) you'll have some rather exceptional food. This much I did expect. What I didn't expect that walking through The Dorchester to the restaurant was walking through a cornucopia of lush greenery and rich tapestries, luxe carpets in a rose pink that make you feel like you're on the set of a movie.
When we walk into the Dorchester, a stunning hotel by anyone's definition, we are greeted by this lovely sight. My pulse quickens immediately and we are guided towards the Alain Ducasse restaurant, Gordon Ramsay's idol and accomplished French restaurateur.
Inside it's breaktaking, the work of French designer Patrick Jouin and partner Sanjit Manku, frequent collaborators with Ducasse on many restaurants. It feels so....lush and honeyed, as if the stars and the moon descended and bathed the room in the palest silvery light.
The view of Hyde park is echoed in the opposing wall with a palette of green and cream silk covered buttons all in different heights simulating a Seurat-like painting of a garden.
The Chef's table is actually not in the kitchen but within the main restaurant curtained off by a shimmering silver fringed curtain that appears like falling rain and when the lights dim at 9pm the shimmering silver fringe curtain lights up. The tables are large and each features little touches, you know were expertly and explicitly picked.
Service is personal and inviting, we are shown the private room, the decorations and have a visit to the wine cellar, an imposing looking temperature controlled room-if only we were big wine drinkers!
Paprika and herb Gougeres
While we are looking at the menu, some paprika gougeres arrive, warmly golden and puffed, some with a mildish chili powder coating, some rolled in herbs. They're deceptively moreish and before long the bowl is empty. The menu has a choice of either an entree + meat+fish+ dessert for £95 or an entree+meat or fish + dessert for £75. The specialties of the house are marked with a leaf symbol although these most often incur a supplement of £10.
Amuse Bouche: Royale of broccoli with crispy vegetables
A good thing as our Amuse Bouche has arrived, in a fancy porcelain egg. It is a Royale (soup) of broccoli with crispy vegetables, and is silky and velvety creamy while the crispy raw vegetables give it a contrasting crunch and an olive tapenade gives it an more intense flavour.
Breads
_Whipped Fontainbleau and butter (in reflection)
_
The breads make an appearance along with some lightly whipped Fontainbleau and butter. There is a choice of 5 different kinds of breads tonight including sourdough, baguette, white, swiss bread and a Fougasse (made of pork fat).
Fougasse bread
The Fougasse is a clear winner, the bread soft with small pieces of meltingly good pork fat in it. Even though we are having 3 courses tonight and have just polished off a bowl of gougeres and an Amuse Bouche, we can't help ourselves.
Fantastic ceiling light piece-can I have this pretty please?
Spicy crab two ways: hot and cold
Our entrees arrive and we start with crab done two ways, the first in a salad with cucumber, avocado and vegetable jellies. The second way hot with a coat of foam and a spicy bite to it. It's delicate and sweet and we savour each bite. The hot and cold contrast so well against each other which really hints at the versatility of crab.
Roasted duck foie gras, cherries and green almonds
The foie gras with cherries is lip smackingly good, the sweet morello cherries (whole and sliced) the perfect foil for the rich foie gras. Yes it's rich, but it's a judicious combination and yes you cannot help but want more, the deliciously heady sauce standing up to the foie gras.
Soft-boiled organic egg, crayfish and wild mushrooms, Nantua sauce
The soft boiled egg salad is not quite to my taste, I find there a bit too much soft boiled egg for my taste and it weakens the overall taste making it seem blander than it is.
Duck breast "a l'orange", girolles and turnips
Our mains arrive, the Duck a l'orange has a delicious crispy fatty skin on the outside and is perfectly cooked and moist inside. The orange sauce is subtle, never overpowering. There is also a separate pot of duck leg confit but I find the marmaladey taste too strong although there is a nice touch with the curls of fat on top.
Seared Sea Scallops, simmered field Saint-Georges mushrooms
The sea scallops are three of the fattest, large and juiciest specimens I have seen and perefctly cooked and so lovely with the Saint Georges mushrooms which I'd be happy to get on a plate by themselves. Even the lettuce fans are perfectly carved providing a smart look.
Roasted rack and saddle of lamb, truffled early vegetables
By now, I am experiencing a sense of fullness but I push on (that's not really a hardship given the calibre of the food). The lamb is very tender and rare, with the rack and loin cuts. I particularly like the sauce, gelatinous in texture and use what little bread I have left to mop up every single drop.
Fantastic idea!
Interestingly, they clear the table and on the areas where stains or marks appear, they cover these with motif'd napkins so that we don't get any marks transferred onto us. It's a nice thoughtful gesture.
_ Raspberry & Passionfruit in milk chocolate and Praline & Ganache chocolates by Fabrice Gillotte_
Stomachs full, we still can't help but get excited at the chocolates given to us on what looks like a large tablette of chocolate (it isn't ;) ). The chocolates are by Fabrice Gillotte and are raspberry & passionfruit in milk chocolate and praline & ganache. They're absolutely delicious, smooth and well balanced, the praline and ganache has a delicate crunch. We're so enamoured we ask for the chocolatier's name which they provide elegantly written on a card tucked into an envelope.
Macarons: raspberry, passionfruit & milk chocolate and mint
Another complimentary treat that we receive has us very happy. It's a selection of French macarons in raspberry, passionfruit and milk chocolate and mint. Blythe is in raptures over the mint, whereas my husband and I adore the fruit flavours. Despite the literal belt tightening over the meal, we just cannot say no to Macarons. My mouth is just watering at the memory of these.
](https://images.notquitenigella.com/images/alain-ducasse-at-the-dorchester/a-alainducasserum_selecti.jpg)
Selection of rums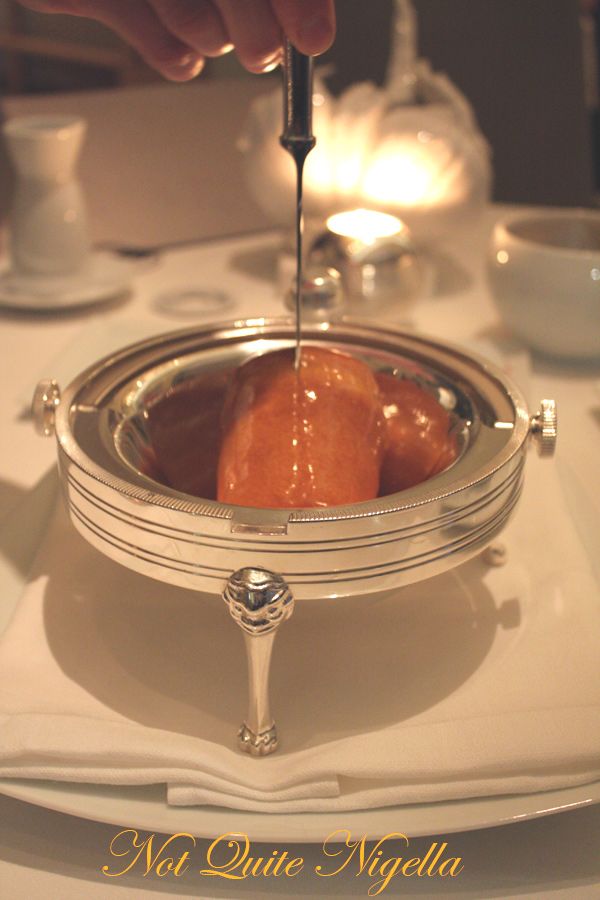 Baba like in Monte-Carlo
We have a choice of three liquers for the Rum Baba and we take the recommendation of the sommelier. The Rum Baba arrives in a domed butter dish and is split at the table and has the rum poured over it and cream added.
It's lovely and light although a bit heavy on the rum whereas we preferred controlling the amount of rum at Gordon Ramsay's Royal Hospital Road by having the jug at the table to pour yourself.
_Rose and Raspberry Pleasure(note filled upturned raspberries)
_
The Rose and Raspberry pleasure, a rather cryptic name lives up to the description. Described as similar to Turkish Delight in flavour, it's absolutely, resoundingly delicious. There is a bottom layer of pastry and then a gorgeous voluptuous rose mousse, a thin layer of white chocolate and then a layer of fresh raspberries on a raspberry jam, some of the upturned raspberries in the centre are filled with raspberry coulis. Even a confirmed fruit hater like Blythe loves this.
The Lady in Red-cut strawberries and rhubarb with mascarpone ice cream
The Lady in Red, another intriugingly named dessert, is a vanilla custard topped with sugar stewed rhubarb and strawberries. The strawberries are gorgeous although the rhubarb is a little bitter. The accompanying puff pastry twists are crunchy and reminiscent of a Kougie Amman which I so adore.
Incredibly, we're not done with the desserts. We're then offered a spearmint sorbet with chopped fresh strawberries underneath it. It's clean and palate clearing and the perfect amount of sweetness.
Petit four selection
If we haven't already felt spoilt and treated like royalty there is another encore with an assortment of petit fours and pastries. There is nougat, passion caramels, salty caramels, coconut marshmallows with rice crispies, piemont biscuits, roasted almonds, square religieuses, madeleines, strawberry tart, Canneles from Bordeaux and a cherry pistachio cake. We can't decide so the lovely Maitre'd describing these to us makes us an assortment platter. They're all fantastic but the standouts were the caramels (soft and full of flavour), nougat, religieuse and the Cannele, lovely and crunchy on the outside and soft inside.
Petit Four Selection
We feel thoroughly spoilt by the whole experience. We only wish that we had more stomach room to appreciate the encores of desserts and petit fours. As we leave, Blythe and I are each given a box of mouth watering candied lemon cakes from a lovely member of the staff. It's the icing on top of the icing on top of the icing on the beautiful cake. Truly, madly and deeply.
Alain Ducasse at The Dorchester
Park Lane, London W1K 1QA, England
Tel: +44 20 7629 8888, Fax: +44 20 7629 8080
http://www.alainducasse-dorchester.com/
http://www.thedorchester.com/restaurants_bars/AlainDucasse.html
email: Alain Ducasse@The Dorchester
Vegetarian options: two, although as the menu is divided into appetiser, fish, meat and dessert, the options are limited