There's nothing nicer than a lunch out during a sunny London summer's day. Unfortunately, this day we had a miserable rainy summer's day today in London. I can start to see why Londoners strip off when it's warm and sit in the park, in a representation of a beachside break, when the sun comes out.
We're headed to L'Atelier de Joël Robuchon today for lunch, thankfully a place that does not rely on a sunny outlook. If you've never heard of Joël Robuchon, he is the man who has the most Michelin stars in the world, beating even the female foodie's pin-up boy Gordon Ramsay. The restaurant is all lacquered blacks and reds, sleek and shiny with some whimsical touches and chili and fruit displays. Everything is all about sleek surfaces and strategically placed lighting.
We're seated at the bar area along with most of the other guests. There are also other tables and a wall of foliage although the entire area is closed off and seemingly ensconced in the sleekness of the dark colours. It's like a quiet nightclub or bar and as it's Sunday afternoon there are a few families dining here as well (with well behaved kids).
We're shown the menu and I choose to go with the 2 course lunch while Blythe opts for her favourite flavour: Foie Gras. Foie Gras in the Bouillon Poule (Foie Gras ravioli in broth) and the Foie Gras Le Burger, the items she swooned over in Tokyo's Roppongi L'Atelier de Joel Robuchon, the first branch opened in the world.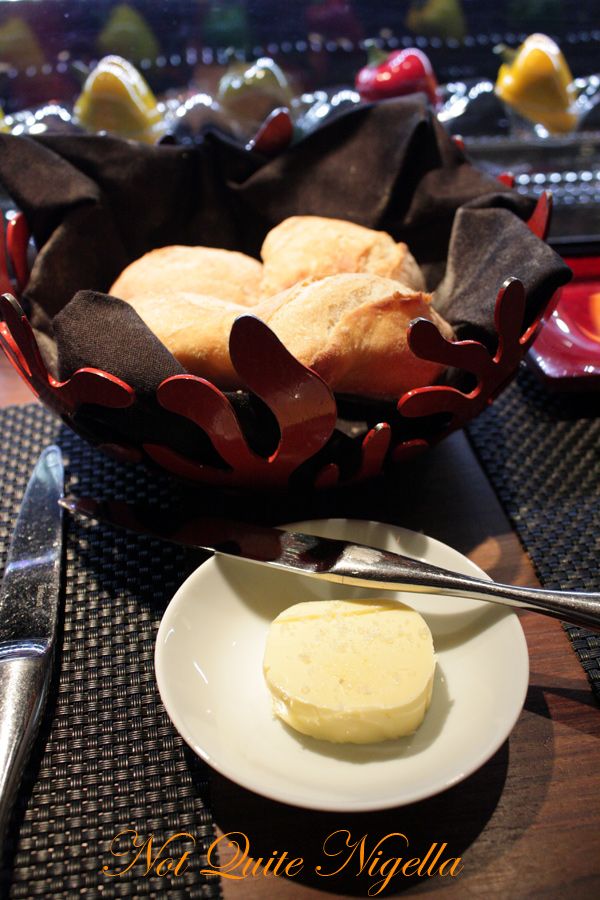 The Alessi bread basket is brought with some white sourdough rolls. Some are single, some are conjoined twins. Blythe notes that in Tokyo, the rolls were absolutely perfect in shape whereas here they are more haphazard. We ask for some butter and they oblige cutting off a slice from the roll and adding some fine salt on top. The bread and butter is sublime together, chewy and crispy spread thick with the gorgeous creamy butter.
Bouillon Poule £16
Blythe's entree, the Bouillon Poule, Foie Gras Ravioli in warm chicken broth, zesty whipped cream, comes in a large square plate with a small cocoon bowl. The small ravioli, 5 in total are perfectly round and when you slip one into your mouth to taste it, the foie gras explodes in the mouth in a delicious warm gush.
Le Burger £15
Her burger arrives, a beef and foie gras burger with lightly caramelized bell peppers. They are two small round burgers with the JR flag raised atop along with upright crinkle cut chips and a drizzle of sauce. The foie gras burger is good although quite subtly foie gras flavoured with the julienned yellow capsicum's flavour strongly present. Blythe admits that the Tokyo burger she had had a much stronger foie gras flavour and she prefers that.
To wash our hands after the burger, they pop two tablets into a small glass of water which then hydrate and climb to become tall cylinders. Unwrapping the mini towers, we get two folded wet towlettes. Surely the most elegant moist towelettes ever! I don't see these making their way to KCF any day soon ;)
Chicken with baby gem lettuce and mashed potato, 2 courses for £19
My main arrives, the spring roast chicken with baby gems (baby gems feature heavily throughout the menu) and his very famous pommes puree (mashed potato) arrive. His mash is in fact his signature dish so I am glad that I got to sample this. The chicken is wonderful with the heavenly mash, the salted little gems dressed with oil provide a crunch. And if I may anticipate your next question: yes, the mash absolutely deserves the raves and we demolish every little morsel.
Chocolate Sensation (2nd course of 2 courses for £19)
My dessert course arrives, it's the Chocolate Sensation: Araguani chocolate, white chocolate ice cream and Oreo cookie crumbs. It looks splendid indeed and inside the mysterious cup of plenty lies a layered chocolate dessert with mousse, little crunchy malt balls, more mousse and a superb white chocolate ice cream with finely ground Oreo crumbs. The dish is then finished off with a gold dusted thin disc of chocolate dotted with raspberry coulis. It's delightfully rich and while I enjoy every rich spoonful, I can't finish it, it's just too big.
Calvados Souffle £10
Blythe's dessert, the calvados souffle is perfectly risen and very strongly flavoured with Calvados. The accompanying cider vinegar apple puree and cream and peanut ice cream are delicious when mixed with the souffle.
We're stuffed full of cream and foie gras and the world's velvetiest potato mash and the waiter shows us to the bar.
He also shows us the restaurant open which is only at night. With all L'Atelier's, Robuchon also has a matching high end restaurant, in the same city or sometimes closer to the L'Atelier itself. The decor is all about black and white tiles and kitchen tools used as decorations.
We finish our drinks in the bar which is also decorated sumptuously with the red and black theme, much like the library or bar of a wealthy collector of Chinese artifacts. We've long forgotten about the miserable weather outside.
L'Atelier de Joel Robuchon
13-15 West Street, London WC2H 9NE
Tel: +44 (207) 010 8600
Opening Hours:
Open 7 days
Lunch: 12pm-3pm
Dinner: 5.30pm-11pm