The Conran family are the original multitalented family. Sir Terence, the restauranteur owns a large chunk of London and its restaurants, his son Jasper (designer of gorgeous China pieces for Wedgwood)and his wife Shirley, the writer and author of "Superwoman" and "Lace" (anyone remember the Lace mini series?), Sebastian (who helped Nigella design her Living Kitchen range) and Sophie (designer) and Tom (restaurateur).
Their restaurant, at Shad Thames near the London Bridge is a riverside venue with a lovely view of the bridge. We're here at the Bar & grill section (read: the affordable section) which looks and feels exactly the same as the full restaurant just a few metres down. The bread comes with a cute pot of butter, and some marinated olives. The white loaf is excellent, the sourdough less so. We're ordering from the set menu where have either Two courses for £13.50 or three courses for £17.50
Honey roast ham served with cheddar, apple & walnut
The Honey roast ham served with cheddar, apple & walnut is simple, a slice of deli thin honey roast ham is sprinkled with walnuts and dressing with a sliced apple and a cube of cheddar on the side. It's decent if not particularly exciting, perhaps quite boring in fact.[
](https://images.notquitenigella.com/images/la-pont-de-la-tour/lapontchicken_main.jpg)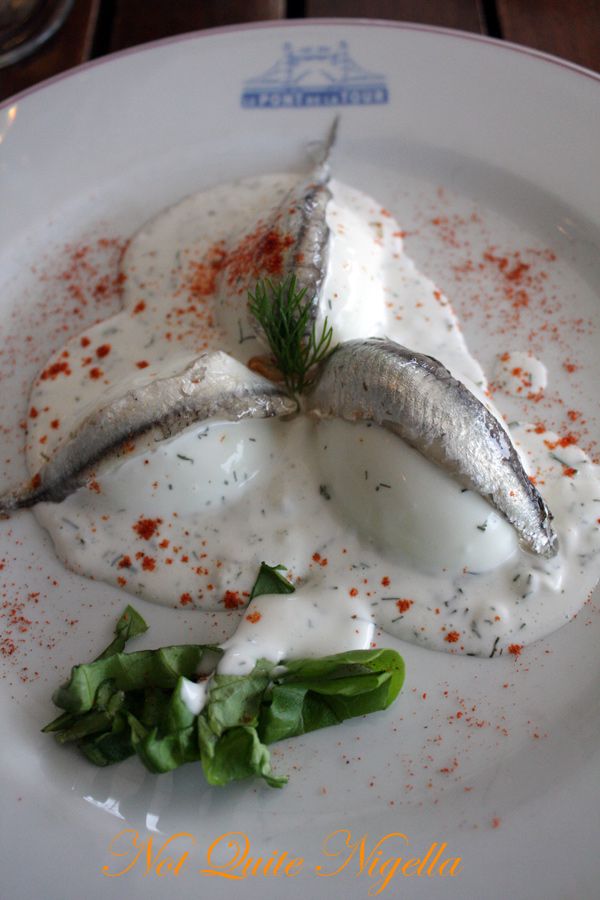 Egg mayonnaise with anchovies & baby gem
Egg mayonnaise with anchovies & baby gem is more interesting looking, with 3 boiled egg halves sitting cut side down, mayonnaise poured over and a single large anchovy placed over each half. It's good and unusual, the anchovies never overpowering the egg and mayo. The baby gem I presume is the shards of greenery although this doesn't really look to me to be baby gem lettuce (more a butter lettuce or spinach) and surely the mere quantity of it doesn't deserve a special mention on the menu.
Shepherd's pie
I ordered the Shepherd's pie and I am disappointed, it tastes like a watery frozen Shepherd's pie from the supermarket. I think the less said about this, the better.
Roast chicken with chorizo & bell peppers
The Roast chicken with chorizo & bell peppers is much better, very good in fact, the skin slightly crispy and the meat so tender and moist inside, the surrounding discs of chorizo are delicious, among the tastiest chorizo I've eaten and the bell peppers flavoursome. I wish I had ordered this dish and my sister generously shares this with me (and no she doesn't want half of my Shepherd's Pie).
Strawberry and meringue fool
The Strawberry and meringue fool looks good but I prefer my meringue to be crunchy inside the dessert whereas it has been folded through and it's now soft.
Vanilla and chocolate ice creme sundae
The Vanilla and chocolate ice creme sundae is huge but more an exercise in quantity over quality. The ice cream is icy and reminiscent of the huge 4litre tubs you get in the supermarket to feed hordes of children. There is some crunchy chocolate biscuit at the bottom that tastes a little stale.
Overall, we realise that we're paying a pittance for food in a lovely setting, and whilst there are some lovely dishes, there are some ones that may have you wishing you'd stayed at home and raided your fridge and saved your pennies. If you're in the mood for some waterside dining, perhaps the full restaurant will offer more satisfaction.
Le Pont de la Tour
Butlers wharf Building
36d Shad Thames
London SE1 2YE
Tel: +44 (020) 7403 8403
http://www.danddlondon.com/restaurants/le_pont/home