Now stay with me, I know half of your turned off your lights when you saw the addition of anchovies. But believe me when I say that this particular recipe is not strongly fishy. In fact the anchovies provide the salt and the caramelised onion provide the sweet. Onions are one of those vegetables that I dislike in the raw format but adore in the cooked format.
The onions take quite a while to caramelise, about an hour in fact, but you don't have to stand over them stirring. For the first 5 minutes you might want to push them around the saucepan just to make sure that all of the slices get enough heat and butter but for the next 30 minutes after that you can pretty much leave it alone and get away with stirring it two or three times. That doesn't mean that I'd recommend you leave and do the shopping, I wouldn't go that far, although a spot of online shopping is most definitely recommended and isn't that why god invented online shopping?
For some reason whenever I make this in Summer, I need to ensure that the windows are all closed. Flies love the sweet smell of caramelising onions.The caramelised onions can be made ahead of time and stored in an airtight container for 2-3 days so all you need to do before you have guests coming over is to assemble it which takes about 10 minutes and can be done while the oven is preheating.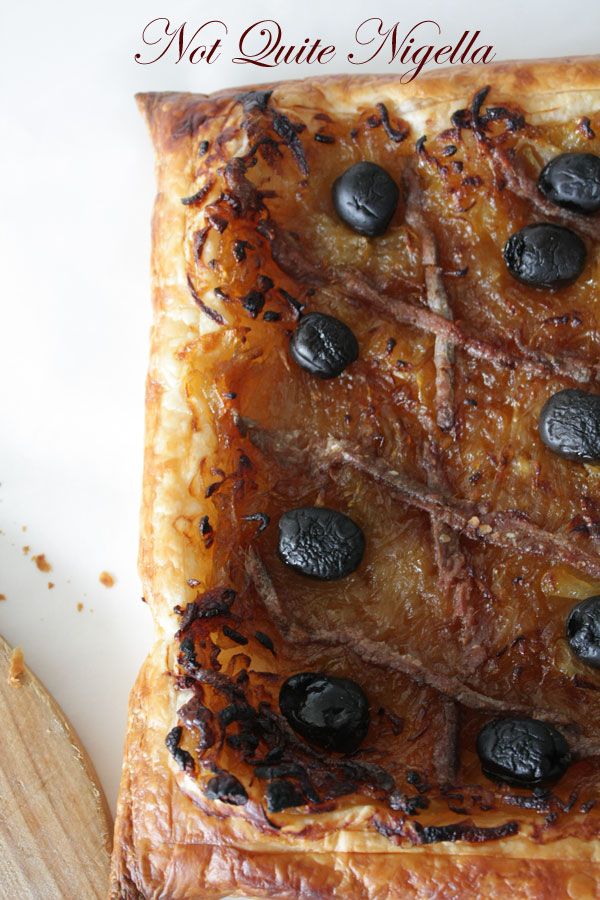 The taste of the Pissaladière is certainly something delicious and a force to be reckoned with. Even those who normally shun onions, olives and anchovies find themselves ditching their prejudices with every delicious, crunchy bite.
Pissaladière
An original recipe by Not Quite Nigella
1 sheet of ready made puff pastry (approximately 25x25cms)
60g/2oz tin or jar Anchovies sliced in half lengthwise (Spanish Ortiz anchovies if they are available)
A little milk or egg to glaze
Step 1 - Firstly make the caramelised onion. In a saucepan, melt butter and oil and fry onions until they are golden and caramelised (about an hour on low-medium heat). Add brown sugar in the last 5 minutes or so and stir to dissolve. Set aside to cool.
Step 2 - Preheat the oven to 190C. Place a flat baking sheet in the oven to heat up (which will make sure that the bottom of the tart is crispy). Place the sheet of puff pastry on a large sheet of baking parchment. With a blunt knife, score a 1.5cm border around the puff pastry not too deep, you don't want to cut through it. Place cooled onion within the border and then in a pattern shown above, place anchovies and then olives. Of course you don't need to do it in this pattern, it's my need for order that implies that this step is necessary although you could strew them about.
Step 3 - Brush the unadorned edges with milk or egg glaze. With oven gloves, remove the hot baking sheet from the oven and then lift the baking parchment into the very hot baking sheet. Bake in the oven on the top shelf for 15-20 minutes rotating the tray around 15 minutes into baking it.
Step 4 - Allow to cool for 10 minutes before cutting up and enjoying blissfully.