Chef Alejandro Saravia
After experiencing the delights of Peruvian cuisine, I kept thinking about the goodies we had eaten. There were flavours and ingredients that I had tried for the first time and I was curious about them and how I would cook with them at home. Then when I was asked to attend a cooking class with Chef Alejandro Saravia I jumped at the chance. At $80 per person in May, it's a great way to spend a few hours learning about a new cuisine and enjoy a four course meal with wine.
Alejandro arrives and changes into his chef's whites (or blacks to be more accurate). He hands us each a red apron with the Taste of Peru logo on the front and an outline of today's three recipes. We're making a snapper ceviche, an organic Lake Titicaca trout causa and a quinoa risotto.
He starts of filleting some snapper and stresses to us the importance that the ingredients should be fresh as ceviche is essentially a raw fish that has been lightly cooked in citrus fruit acids. In fact the ceviche should only be mixed and prepared just before serving or the lime can turn bitter and even though limes can be expensive, a true ceviche should only be used using lime juice not a mix of lemon and lime although he says Tahitian limes in Australia are stronger and necessitate mixing with lemon. The "a la minute" at the last minute preparation is why well prepared ceviche is so hard for restaurants to serve as it requires organisation and resources in order to make each dish fresh. Ceviche must always be made in a glass bowl and mixed with a wooden spoon as metals can react with the acids in the fruit. In Peruvian cuisine he explains that they don't have many spices (mainly ones like cumin) but there are plenty of herbs. In Modern Peruvian cuisine, chefs use passionfruit to cook the protein or in Peru there is also a fruit called the cocona which is like a sour tomato.
Aji which is yellow chilli paste is a staple ingredient in Peruvian cuisine and he uses it in each one of the dishes today. It is made from cooking dried yellow chillis and blending them with some of the cooking water to make a vividly coloured, spicy chili paste. He hands us a yellow chilli and we sniff it. It smells sweet like honeycomb. He also uses a Peruvian yellow corn (choclo) which comes tinned and partially cooked and he cooks this briefly for a few minutes with some raw sugar and cinnamon. Alejandro says that if you can't get a hold of aji or aji paste you can use a yellow cayenne chilli but it won't have quite the same aroma. Snapper is a fish that is good for ceviche as it is firm and mildly flavoured.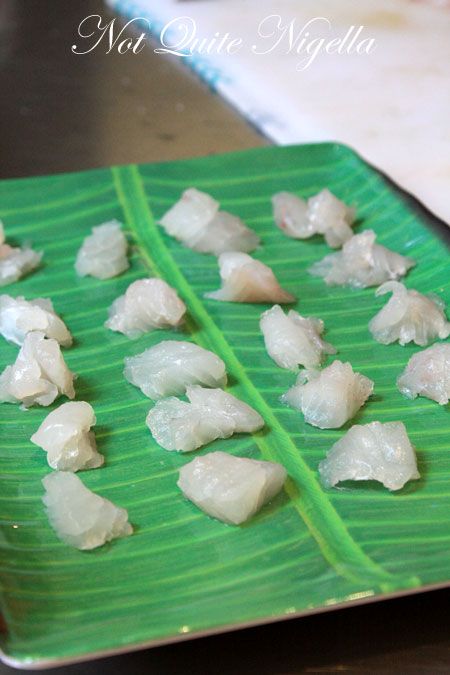 Snapper pieces
He cuts the snapper into small square shaped pieces and then briefly stirs them with the lime juice. His technique for extracting juice from the lime to help get out as much lime juice as possible is interesting . He rolls the limes on the countertop and then cuts them in half. He then ues a fork which he uses to jab at the fruit while turning it in the other hand and the juice appears to be gushing out. He finds that this avoids getting the bitter pith in the juice too.
He serves it on a plate with the corn, diced and cooked sweet potato and the ceviche. We help ourselves and it's fresh and tangy and wolfed down hungrily. When he tells us that he will start the next course someone pipes up and asks if we can finish the rest and everyone goes for seconds.
The next dish is Causa which has a very interesting history. When Peru was figthting for its independence the Peruvian troops needed to be fed but since there was a dearth of supplies they were fed what the people had to hand: potatoes and in some cases beans, especially lima beans. They mash the potatoes, mix it with aji (that yellow chilli paste again) and lime and served with sliced vegetables. It was named causa as it helped to fortify the troops for the "cause"!
Peeling potatoes by hand
Mashing potatoes by hand - therapeutic!
We get a bit interactive here and wash our hands for what are we doing? Mashing the potatoes with our hands! This was the traditional way that potatoes were mashed for the causa (and never understimate how fun it is mashing up potatoes with your hands - you feel about 5 years old again playing in the garden). We shell some quail eggs and he gives us a taste of the Olive Green organic Lake Titicaca trout fillets which are beautifully soft and come in lovely large fillet pieces. Usually causa is served layered in a timbale but for today we are helping ourselvs and building our own causa. We take a spoonful of the mashed potato which has been seasoned with salt and aji and pile on some avocado, trout, quail's egg, mayonnaise and the ingredient which we feel makes a big difference: thinly sliced red onion marinated in lime juice.
Chef Saravia's causa
My causa - note: piled high but messier!
It's fantastic - light and tangy with a creaminess from the mash and the mayonnaise and avocado with the tang from the lime and onion to break it up. Everyone goes for seconds of this too.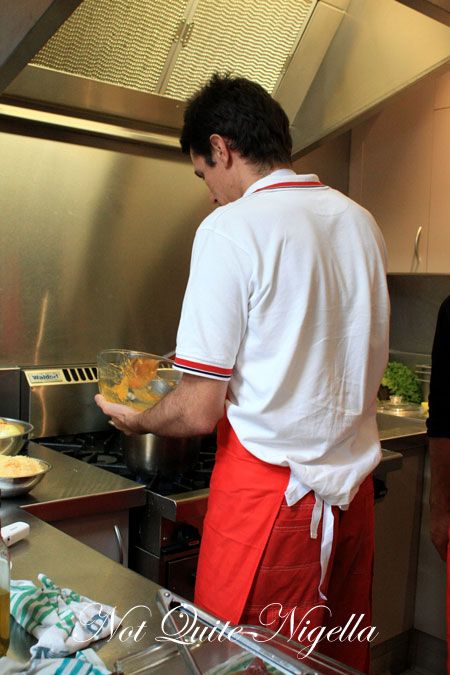 Mr NQN cooks! Once every 2 years...
Our last dish is a gluten free risotto using quinoa and flavoured with butternut pumpkin and parmesan cheese. Quinoa is a grain high in protein and is a great especially for celiacs and gluten free eaters everywhere. In fact the cooking classes in June are focused just on quinoa and some creative new GF dishes. There are three kinds of quinoa: red, black and yellowy white quinoa with the yellowy white one being the mildest with a light nutty flavour to it. We're cooking with this royal yellow white quinoa today. Over the 10 years that we've known each other, Mr NQN has only cooked for me three times (once was when he proposed) so a stint cooking was long overdue.
Mr NQN and Alejandro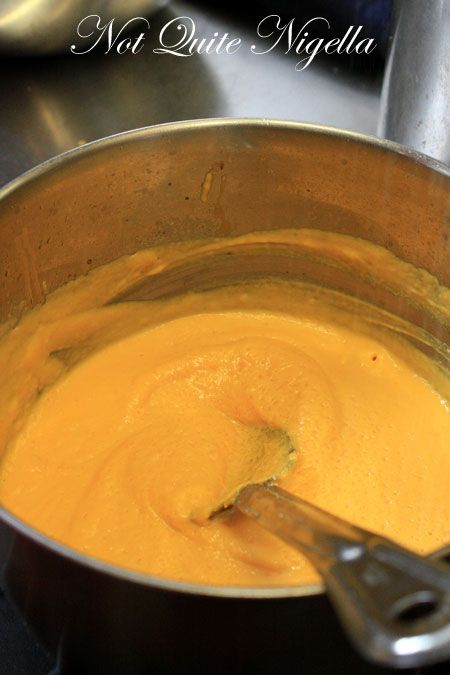 Pumpkin risotto
Alejandro asks him to brown the onion and chopped garlic and then add the puree and seasonings and cheese. The cooked quinoa is then added to the creamy mixture along with more cheese and this is then served with kangaroo fillet which is cooked medium rare. The risotto smells deliciously heady with garlic and parmesan. We take a bite of the risotto and are converts. Whilst risotto can sometimes feel very heavy and dry this is much easier to eat and less stodgy feeling. I even go back for seconds.
And I know I promised you and a friend a chance to win places at the next cooking class on 6pm-9pm May 26th, 2010. **In this class you will learn how to make a Peruvian cocktail plus prepare and eat a four course meal including matching wines!
To win, all you need to do is tell me a random fact aboutthe country of  Peru**! Simply add your answer as a comment to the story. The competition ends at Midnight AEST 23rd May, 2010. You can enter this once daily. You will also need to make your own way to the location in Bondi Junction. For more information on the classes, see the Taste of Peru website.
The winner of the prize is: Sam S. of Sydney**
Best of luck!
Love,
Lorraine
xxx
NQN and Mr NQN attended the Taste of Peru cooking class as guests of Chef Saravia