Introducing a new cuisine to a country isn't an easy thing. First of all there's the issue with sourcing ingredients and if you happen to be trying to introduce it to a country like Australia with strict customs and quarantine laws, it is made all the more difficult. But that's just what Alejandro Saravia is trying to do with Peruvian cuisine. Chef Saravia arrived in Australia almost 3 years ago now and after a time working at El Bulli Surry Hills, has turned his attention to setting up Illapu Peru, Peruvian Gastronomy Concept, a company that he has formed to help spread the word of his native Peruvian cuisine. And as part of the Sydney International Food Festival he is holding a series of dinners and we are the lucky recipients of an invitation to dine at one of them and have the chance to meet with and talk to Alejandro. What is Peruvian cuisine you might ask? Take my hand Dear Reader and let me show you...
Walking into the restaurant we're surprised as we're dining at private tables (rather than a large shared table) which is a nice touch. I am shown to our tables and chat to Anna from Morsels and Musings is already seated with her sister. Later on Suze, Helen and Billy arrive. We're invited to go up to the bar and order one of the three cocktails which all use Peruvian ingredients. I go for the Don Santiago Pisco Punch with is muddled pineapple wedges, fresh orange, syrup, Don Santiago Queirolo Mosto Verde and soda water which Mr NQN ends up liking.
I prefer his order of the Traditional Santiago Queirolo Pisco Sour with fresh lemon juice, simple syrup, Santiago Queirolo Quebranta, egg white and bitters which is refreshing and sour at the same time.  They mention that they are served without straws so that you can experience the full aroma of the ingredients as they use such high quality mixers and aromatics and a straw would inhibit the ability to inhale deeply while imbibing.
Our canapes come out - the staff are a little confused as to what we've had but we start off with the Croquetas de Yuca y queso Manchego which are Yuca (Casaba) and manchego cheese croquettes served with huancaina sauce. The sauce is creamy and buttery, like a Hollandaise and is usually served over boiled potatoes and is usually made with cheese, crackers and milk with yellow chillis.
The Causa de trucha organica del titicaca is a Causa (potato mortar terrine) topped with organic trout from Laka Titicaca which is marinated in rosemary and black pepper oil. It's interesting, the trout flesh is firm against the soft avocado and the potato terrine is a new sensation, like a firmer mashed potato.
The Anticuchos de corazon y salsa criolla is next. Anticuchos is actually beef heart skewers served with aji (Peruvian yellow chilli) sauce. Now I haven't had great experiences eating heart - I did so in Tokyo where it was rubbery beyond belief so I am wary but the aroma of it is hard to resist. I try it and it's delicious. It's cooked so that it isn't tough at all and it tastes almost like regular beef with a slight flavour difference. I use a fork to spoon up the rest of the deliciously flavoursome sauce on top.
_King fish tiradito in two oils - Fine slices of king fish cured in Pisco (Peruvian spirit) for 12 hours, dressed with rocoto (Peruvian red pepper) and basil oil. Served with Brown Brothers Prosecco 2008.
_
The presentation for this dish is lovely. The thin slices of kingfish are fanned out prettily with some watercress and a peeled blanched cherry tomato. The fish has a lovely flavour from being cured in Pisco liquer for 12 hours and on top is a spicy chilli and basil oil which adds a nice unexpected flavour to it (I usually see this as carpaccio or sashimi). The only thing I would have wanted was some bread to soak up the fragrant oil.
_Passion at the Pacific. Served with Brown Brothers Vermentino 2008.
_
This was a very generous serve and the ceviche was a lovely mix of pink snapper, sea urchin and crystal bay prawns in a tangy passionfruit and aji (Peruvian yellow chili) sauce. I love the briney saltiness of sea urchin and the prawns were quite raw and it was a clean, refreshing and tangy dish although with the generous size of it, I had some trouble finishing it.
This packed a punch! It was more a spoonful of Pisco with a small amount of citron sorbet. One spoon's sorbet had melted completely. It was a bit too strong for my taste though.
_Stuffed Peruvian red pepper (rocoto) and a solterito salad – Roasted Peruvian red pepper stuffed with oxtail and aromatic herbs served with a sorted of Andean vegetables and feta cheese salad, dressed with an infused huacatay (black mint) oil. Served with Brown Brothers Tempranillo 2006.
_
I busied myself with dissecting the salad while Mr NQN photographed his plate. The salad was made up of cherry tomatoes, olives and tiny feta cubes along with Andean corn called Choclo which has larger, white kernels. The salad was delicious and I like the idea that the feta was cut smaller which meant that I didn't need to slice the feta when eating it as you have to do with larger chunks. It was dressed with an infused huacatay (black mint) oil which gives it a taste between mint and basil. The Roasted Peruvian red pepper stuffed with oxtail and aromatic herbs had a sweet flavour from the tomatoes and peppers and this was good when tasting it against the salty salad.
_Remember the flavors of the Andeans – Olluco (Andean tuber) pearls with cured Alpaca meat and Andean grains" a special blend of quinoas (Golden, red and black) taboule. Served with Brown BrothersHeathcote Shiraz 2006.
_
Ahh alpaca meat! I was looking forward to trying this and it is cured simply in Pisco liquer, oil, salt, pepper, Chicha de Jora and Aji Mirasol chilli to bring out the flavour. It's a very lean meat tending towards dry when fully cooked through but Alejandro says that he deliberately didn't put a sauce on it so the flavour would shine through. It's not as gamey and very similar to a roast beef. The golden, red and black quinoas and are mixed with diced yellow and red capsicum and are served like a taboulio with the quinoa used instead of cracked wheat.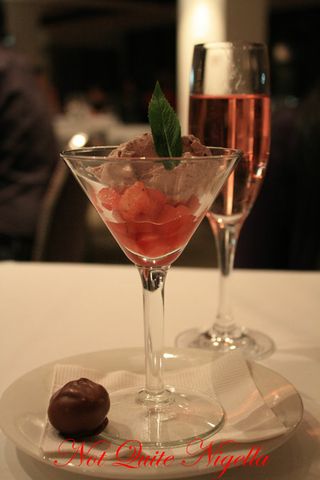 _Combination of Andean sorbetes. Purple corn sorbet with infused pineapple and strawberries.Served with Brown Brothers Moscato Rosa 2009.
_
Our waitress asks us if we'd like dessert and we nod enthusiastically. I'm intrigued by the purple corn ice cream. It arrives in a martini glass and I eagerly drive in with a spoon. The purple corn is quite mild in flavour although there is a light flavour there. I was wondering if it would be like sweet corn ice cream that you can buy in Asia but it isn't. The sorbet is very creamy and is more like an ice cream and the creaminess goes well against the sweet pineapple and strawberries. There is also a chocolate truffle on the side which we later learn is a very typical Peruvian chocolate with pecans and a caramel truffle filling called a Tejas (which Mr NQN gets). I get a delicious one with a whole chocolate coated coffee bean inside.
I take the chance to chat with Alejandro who comes out from the kitchen. I ask him about his time here and he tells of how he arrived here almost 3 years ago on the 30th of December and spent all of his travelling money with a hotel stay at the Shangri la Hotel (he travels in style! I like it!). I ask him about teh challenges with bringing a cuisine to a new country and he says that importing the ingredients is difficult with our strict quarantine laws but he has noticed that Australians now have access to some great produce and was glad to see some foie gras at a deli in Double Bay. I ask him about the Alpaca meat and Chef Saravia says that has been able to source local Alpaca here and was impressed when each individual Alpaca tenderloin came individually packed "I haven't seen that since Europe" he says smiling broadly. He also prefers to support small farmers and producers rather than the big suppliers as they take more care with their produce.
He helped set up Peruvian cuisine in Madrid and today it is popular in New York, Los Angeles and San Francisco.  One of the most common foods in Peruvian cuisine is corn and there are hundreds of types of corn in all manner of colours from red, purple to white (the last two ones we were lucky to have tried tonight). Peruvian Cuisine is of course South American in origins but with Chinese and Japanese influences (hence the first dish) brought through migrants who came over to work on the sugar plantations  and interestingly, Peru has the second largest population of Chinese in Latin America after Brazil.
I ask him the question that most people associate with Peruvian food - Guinea Pigs. He laughs, I assume he is probably used to the question. The guinea pigs that they use for cooking are specially bred for eating and fed a diet of quinoa and corn to make sure there is more meat (they're not pet guinea pigs). He mentions that he wants to include guinea pig later on but for now, he wants to showcase other Peruvian foods so that people don't think that it's all just about Guinea Pigs.
**THE WINNERS OF THE DELECTABLE PERUVIAN HAMPERS ARE:
MICHELE C.
KYM T.
CONGRATULATIONS TO OUR WINNERS! :)**
And I did promise you a chance to win a Peruvian Hamper didn't I? Thanks to Illapu Peru and one of their sponsors Olive Green Concepts two winners will receive a hamper with some unique Peruvian products! You will receive some Organic Trout Fillets in Olive Oil, Royal Quinoa and Rice Spaghetti and a packet of Royal Quinoa White Grain plus some Tejas Peruvian chocolates: a delicious combination of Australian fruit and nuts and Peruvian manjar-blanco (rich milk caramel) coated in luscious Belgian Callebaut chocolate.
So Dear Readers for your chance to win one of these hampers, name one cuisine which you have yet to try. **Add your entry via a comment to this story. You can enter once daily as long as your answer is different.
This competition is open to Australian readers. The competition ends midnight AEST (Australian Eastern Standard Time) on the 14th of November, 2009.
Good Luck to everyone!
Love,
Lorraine
xxx
NQN and Mr NQN dined as guests of Illapu Peru.
A Taste of Peru
Cost: $130
When: Tues and Wed October 20,21,27,28 2009
Where: Times on the Park, Sheraton on the Park hotel,
161 Elizabeth Street, Sydney
Bookings: 0420 553 960
Sydney International Food Festival
http://www.peruvianconcept.com/