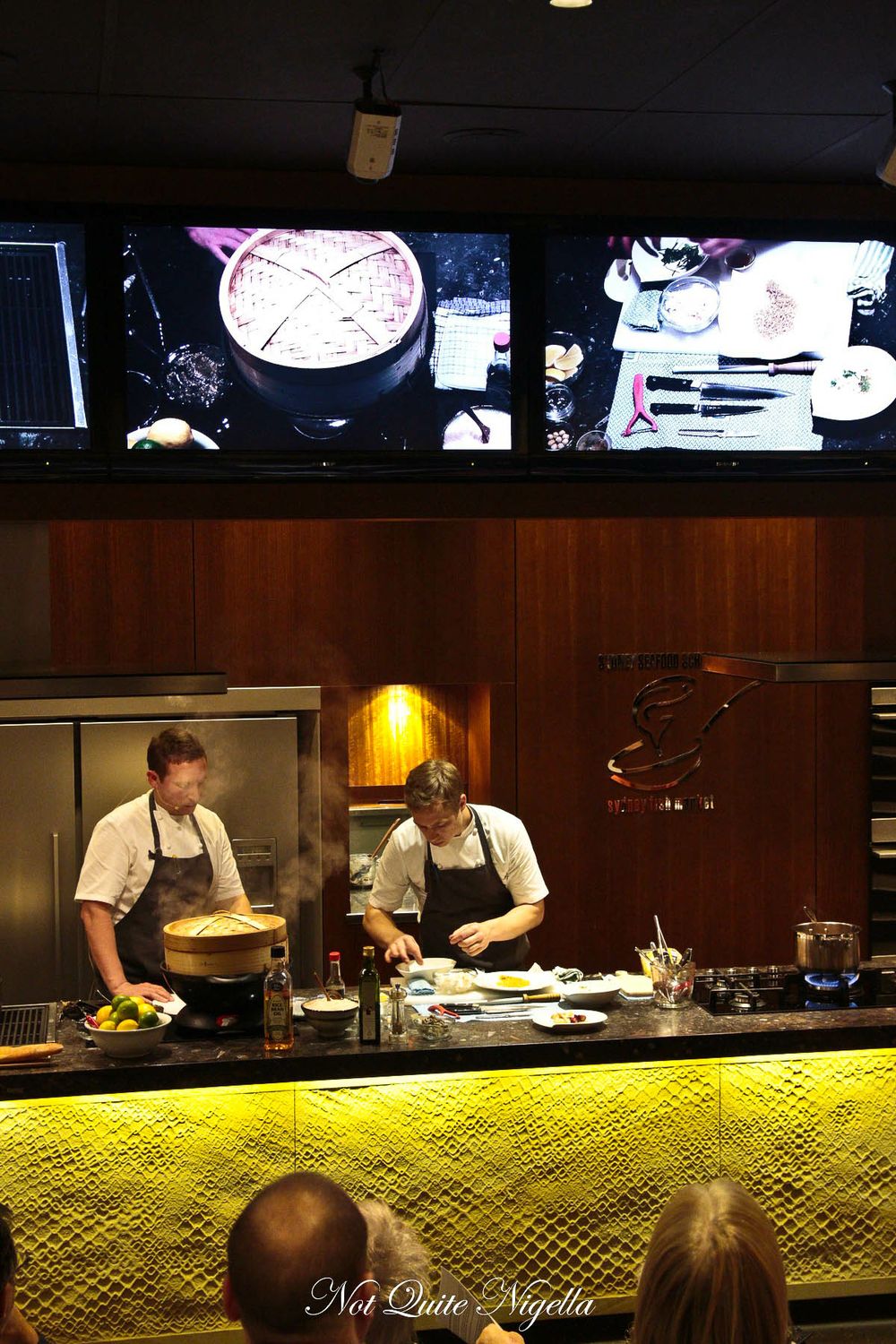 Why do people become chefs? Today, the reasons are perhaps different from a few decades ago. Today there's the fascination with all things culinary and chefs are as famous as their celebrity patrons. Before the wave of culinary television and food porn, chefs spoke through their food and it was often a job for those that didn't want to meet the public or wanted to speak through their food rather than words. Today however, and particularly in this country, our desire to learn more from chefs about food means that cooking classes run by chefs flourish and sell out. Especially when you have a chef from Momofuku holding his first one.
Ben Greeno is nervous, he tells us that first up. It is his first class at the Sydney Seafood School and the young, fresh faced chef from the counties of England has already had a career with a pop up restaurant in London. He has also had two stints at Noma: when it first opened and then a period five years later when the restaurant turned from serving French cuisine using Nordic ingredients to a Nordic restaurant serving Nordic ingredients. He is now the head chef of Sydney's Momofuku. Today he is accompanied by his sous chef Chase Lovecky from Maine in the United States.
The first few minutes of the class are tentative as everyone opens up their notes and sees that we are making three dishes, seafood of course from marron, charred eggplant and poached rhubarb; spanner crab, miso custard and crab reduction and Mulloway, cucumber, toasted hazelnuts and fish roe emulsion. None of these dishes are on the current menu and devising new dishes is a collaborative effort between the chefs here and the chefs overseas including David Chang.  The class goes for four hours, the first half will be a demonstration in the kitchen and then we will split up into groups of five or six to make the three dishes ourselves.
We skip from dish to dish which prompts a lot of whispers of "what recipe are we on?" because there are some elements in each that take longer to prepare. The dishes themselves have a reasonably short ingredients list and steps. In between going from the spanner crab to the eggplant which is char grilling in front to us to an inky black skin to the caramelised miso sauce, Ben takes questions from the audience. One person asks "Do you recommend drinking when cooking?" and he answers " I definitely recommend drinking...I may have done a couple of shots before this to settle my nerves."
He tells us of his time working at Momofuku Ko in New York and his favourite dish there which was beef and watermelon-he tells us that it was a dish that divides people and they either love it or can't eat it. "A lot of people hate us but a lot of people like us" he says about Momofuku Seiobo. The complaints about the booking service have been addressed and diners can now cook twenty days in advance. The busiest service is in fact Saturday lunchtime. And a tip from the chef? Try the bar which seats five people and has its own separate menu including chicken wings, rice cakes and pork buns.
Panko breadcrumbs
Which brings us to the marron. The marron have been placed in the fridge about forty minutes previously and are now rendered insensible. Chase takes a knife and pierces it through its brain and then submerges it into the boiling water for a minute. However unless you know the exact right spot, the most humane way is to put it in the pot of boiling water from frozen. Ben is so enamoured of the marron that he declares it the "best singular product in the country." There has been a concerted effort to showcase local ingredients at Momofuku Seiobo which was the first installment of Momofuku outside of New York.
Another student asks what sort of oil they use in the kitchens of Momofuku and he answers grapeseed or bran oil-essentially anything neutral tasting with a high smoking point. And other interesting Australian ingredients used are quandong and lemon aspen although he concedes that there are some native ingredients that aren't as tasty as others. And his favourite Australian restaurant? The Apollo in Potts Point for a Sunday lunch. When at home, he and his girlfriend share the cooking duties and she likes to cook Chinese, mainly from Neil Perry's Balance and Harmony. When he cooks he prefers to roast a chicken.
Kombu
I'm excited to see seaweed butter on the menu here as it's a favourite of mine, spread over bread or on any type of protein or vegetable lending a definite umami flavour to everything it flavours. Ben particularly recommends it with lamb. During the class salted kombu, nori, miso paste and other ingredients are passed around the class so that people can see what they look like to buy them.
Seaweed butter
He also shares some techniques including cooking with both oil and butter-he prefers to cook with oil and then finish with butter to add flavour. Adding butter earlier would mean that it may burn. While things cook he fills in any gaps by asking if anyone has ever walked past Momofuku Seiobo and witnessed a display involving an apron over a chef's head. They use this technique combined with a UV light to help to pick out the pieces of shell and cartilage from the crab.
Having satisfied our curiosity about life at Momofuku and having shown us in parts how to make the three dishes, we move into the kitchen where things get a little frantic. Amanda and I and three others are cooking together. One woman works as a caterer, another in cookbook publishing and the gentleman with us has flown from America and ate at Momofuku last night for dinner. He was first smitten by the idea of coming here when he watched a television show called "The Mind of a Chef" narrated by Anthony Bourdain.
There are a few things that take a little longer than most. The eggplant needs to blacken on a gas flame and this takes at least 30 minutes. When they serve it at Momofuku Seiobo it is as black as ink and to achieve this, the eggplant must be "burnt as f*" according to a candid Ben. In fact we end up leaving ours way beyond everyone else's on his instruction but even then it isn't quite burnt enough.
I tend to making the miso custard. It's simple enough and I heat cream and milk and add it to egg yolks and whisk it together. The caramelised miso is already prepared as this takes a while and it's a mixture of white miso paste, mirin, sake, sugar and water and similar to what you'd top Nasu Dengaku with. I whisk this into the hot egg and cream mixture, place it in a water bath and bake it for 35 minutes in a 120C/248F oven.
The second part of this is pan frying the panko crumbs in butter until they're crispy. The blue swimmer crab is easy enough-this comes pre prepared and after the custard is baked, we strain it and add two sheets of gold leaf gelatine to it and place it on an ice bath in the fridge to firm up. It needs to be a slightly set texture from which you can spoon quenelles.
I make a paper cartouche on which to steam the mulloway fillets which has been cut into six pieces. They need about ten minutes of gentle steaming and then I remove them and place them in the fridge under cling wrap.
To make the burnt black eggplant puree that goes with the tender marron, I remove the stem and blitz the eggplant, skin and all and add plenty of soy sauce, lemon juice and water to the mix so that it purees smoothly and any tiny black specks disappear. We're aiming for a velvety smooth pitch black puree. It's not processing very well so I call over Chase and I ask him what to do. He adds lots of soy sauce and a bit more lemon juice as well as a lot of water to help the eggplant blend. He says that it's a funny vegetable to work with because of all the starch that it contains.
Nearby our bench mates are busy with the marron and cutting off the nippers and then cooking these and adding these and the bodies to iced water to cool them down. The rhubarb is sliced thinly and then blanched and fried in an olive oil, lemon juice and za'atar mix and after this, the marron is then cooked in the same oil until almost cooked through but still succulent. The plating directions are straight forward enough although we would have loved a finished plate example and then we find ourselves plating the rest of the plates from memory. I must admit that while I loved the marron as it was delicate and soft, the eggplant puree was too smoky and burnt for me and overpowered the marron's delicate beauty.
The spanner crab is the easiest of the lot. Just a quennelle of the now cooled miso custard, a handful of the spanner crab meat, a sprinkle of the buttered panko crumbs, a tablespoon full of the crab reduction (this ingredient taking a lot of time and a lot of crab to make a very small amount of liquid) and some fresh chervil and chives. This dish is a favourite all round and it's the perfect balance of texture and flavour. The miso custard is sweet, smooth and voluptuous and the spanner crab meat is rich while the chives add a savoury, aromatic element.
Steamed mulloway
The last dish is the steamed mulloway which is brushed with the seaweed butter. This sits on a "swoosh" (their term) of fish roe emulsion which is made using John Dory roe but mullet roe can also be used or turbot or cod roe in Europe. Two baby cucumber halves are then lightly cooked in the seaweed butter until tender and these are served alongside the fillet of mulloway. There are also toasted hazelnuts to give it crunch. This is another great dish prettily presented with the nasturtium leaves.
We sit and enjoy the wine, the food and company and Ben and Chase come around to each table to talk to us about our session which is a nice touch. Amanda and I make plans to visit the bar to partake of the menu and perhaps even steal a glimpse into the kitchen with a different level of appreciation. And I also learn that caramelised miso custard goes with everything!
So tell me Dear Reader, do you attend many cooking classes? And if you do do you ever recreate the dishes at home? What and where is best cooking class you've attended?
NQN attended as a guest of her friend Amanda
Sydney Seafood School
Sydney Fish Market/Bank St, Pyrmont NSW 2009
Tel:(02) 9004 111
Momofuku Seiobo
80 Pyrmont Street, level g, Sydney, nsw 2009
Entrance at Edward and Union Street
Tel: +61 (02) 9777 9000