It's absolutely true that I'm not a wine blogger or close to it. I simply don't have the genetic makeup to do that to any length (missing that damn enzyme that metabolizes alcohol). However Mr NQN is a keen wine lover and even I, the semi ignorant as far as wines go, know that South Australia's Penfold's winemakers and Penfolds Grange has a hallowed reputation.
The first bottles of Penfolds Grange were created by Penfolds winemaker Max Schubert way back in 1951. He brought back techniques learnt from his time in Bordeaux and created a wine called Penfolds Grange Hermitage. It first proved unpopular with the wine critics and often bottles of this wine were given away. Max Schubert was told to stop producing this wine which was a directive that he thankfully ignored and in 1960 there was a change of heart about the wine brought on by the initial vintages ageing. Of course Max never missed a vintage-clever guy. And now prices for this original 1951 vintage reach $40,00 at auction. And to think that he started at Penfolds as the messenger boy!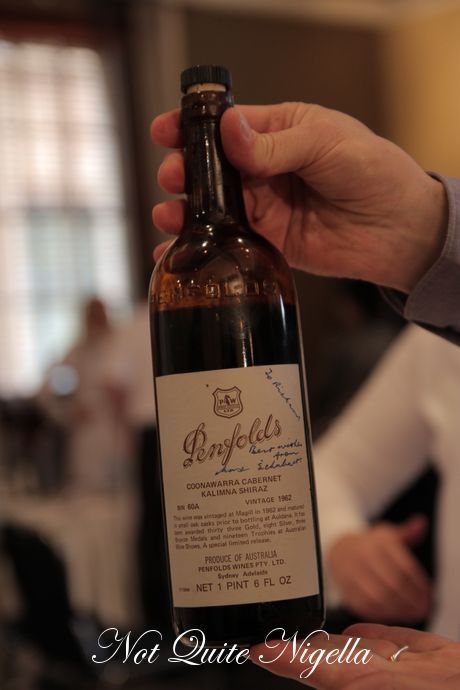 A very rare 1962 Bin 60A vintage signed by Max Schubert
In the 1990s it became internationally known when Wine Spectator named the 1990 Penfolds Grange as wine of the year and this was the first time a wine made outside of California or France was bestowed with this honour. The 1955 vintage has won over 50 Gold Medals. Grange falls into two main categories: Rare Grange (1951 -1963) and Vintage Grange (1964 to present). The rarest Granges are 1956, 1957 and 1958 because they were the years that Max Schubert made them in secret. The 1951 vintage was held back for museum stock and finally became available to purchase in very good condition as it was held for the museum. In the 1980's it became an investment or collector's wine.  And how much would a complete range of Grange sell for? A Max Schubert signed collection in pristine condition fetched just under $250,000.
Today I have been invited to the Penfolds Recorking Clinic to have my very own bottle of Penfolds wine recorked. They are the only winemaker in the world to offer this service to customers. It is called a clinic as not only do they recork wine but they also do a health check on your precious vintage collection.
So what does your wine need to be to qualify for this complimentary wine health check?
It must be 15 years or older
It must be a Penfolds wine
It can be Penfolds Koonunga Hill (what I have in my hot little hands) or Grange.
I walk into the Treasury Room of the Intercontintental Hotel where over the course of three days they will recork about 100,000 bottles of wine.  On the right there are people sitting down waiting for their recorking appointment. On the left there are several recorkings taking place. I meet Peter Gago who is the Chief Winemaker at Penfolds. Apart from making wine he travels throughout Australia and throughout the world conducting these recorking sessions which they've been conducting for 19 years now. They are the only company in the world that provides this complimentary service and they will visit cities such as L.A. Dallas, Toronto and countries like Switzerland. For every bottle sold in Australia, 2-3 bottles go offshore so the overseas market for Penfolds is large.
Does the overseas clientele surprise him with their collections? Absolutely he says, there was one Zurich customer who had a 1950s and 1960 Bin 707 vintage. Customers in Singapore bring along large collections to be recorked.  They also get people that travel with their collections and he recalls customers travelling from Stockholm to London with their custom made wine luggage.  There are billionaires, millionaires and also regular folk as well as children who have inherited the precious bottles.
Some of the collection of customer Richard Dunstan
Bottles can only be recorked once. When the fresh cork has been inserted if it is of drinkable quality it is then recapsuled and certified. If it is not up to scratch it is recorked but it does not receive a new capsule and it is given a white dot (or two if it should definitely not be drunk). This is a valuable way to test wines for someone looking to sell their wine at auction. If it has a certificate that it is drinkable and still in good condition then the buyer has some assurance that what they are buying is still good and hasn't deteriorated in quality.
The certificate that the wine is drinkable
The best way to quickly tell whether a wine is drinkable or not is by looking at the level of wine in the bottle. It it is at the shoulder (below the neck) of the bottle, this often means that the wine is not good to drink. A scruffy label can also be an indication although this is not necessarily always the case. The main reasons for undrinkable wine is badly cellaring wine as well as a leaking cork. Corks leak due to bad cellaring which is when wine is stored in an environment where there are shifts in temperature and pressure. In fact Peter says that "a well cellared wine can be a one century proposition".
What if you're thinking of wine as an investment? The best way to know what you're getting is of course to buy it fresh and be patient. On May 1st of each year, they release all of the new stock. If you want to skip the 15 of so years wait, you can also buy wine at auction. In Australia  Langton handles the wine auctions for Penfolds while in London it is handled by Christie's. However with wine at auctions, you may not necessarily know how many owners and the storage conditions in which it has been stored.
Removing the old capsule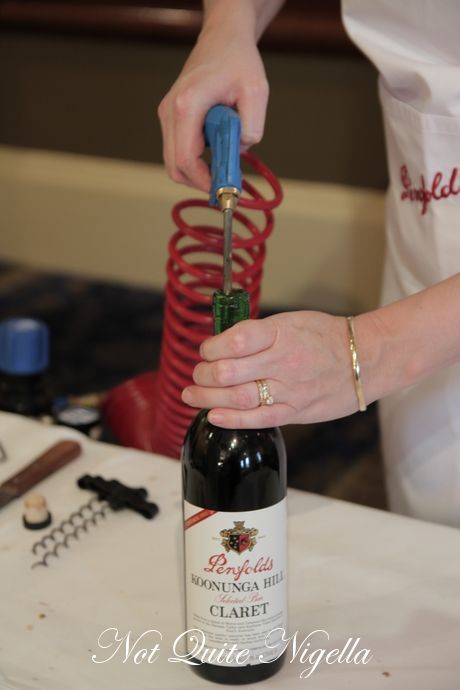 Injecting with gas
They hand me my bottle of 1983 Koonunga Hill and I speak to Andrew Baldwin who opens up my bottle. The bottle of wine I have has been remade in an almost exact image except the newer version is called Koonunga Hill Retro. He recommends decanting all aged wines to allow them to breathe and then recorking them. They take out the cork in mine. It's not that old so it slips out easily. They then take out a little dispenser of nitrogen and oxygen which contains 70% nitrogen and 30% carbon dioxide. This gas is heavier than air and when it is put in the bottle it pushes out the air mimicing a cork's effects for a short amount of time.
The colour differences. On the left is the aged Koonunga Hill and on the right is a new wine
We take a look at the colour and he's happy with the shade. It's brown with an orange hue to it and it has a sheen which is characteristic of a good aged wine. New wines are of course that dark purple shade whereas aged wines should not have that same colour. He sniffs the wine and looks for the secondary aromas. We're no longer looking for the fruit aroma of a new wine but for characteristics of leather, tobacco and cedar and coffee. The tannins have softened and there's a lovely subtlety with this aged wine and I much prefer it to the new red wines.
There's a rustle of excitement and another gentleman working there comes over with a glass of a very rare 1953 bottle. It's one of the small 375ml bottles. Everyone is excited and I am offered a sip. It is lovely (oh dear, the last thing I need is a vintage Grange addiction!). "We were very lucky to have tried that one" Andrew says.
Topping it up with a similar wine
I ask about what will happen now that we have so many screw caps and they explain that Grange will always be corked. In fact when they export to the U.S. they will only accept corked wines as they believe that is a sign of a better wine. Cork itself is an interesting substance in that it is a natural item so it does let oxygen in and out. The screw caps don't let in as much oxygen so only time will tell how much they differ in the ageing process. Cork also absorbs some of the aroma of a wine.
They then top it up with a similar wine which in this case is the Retro version. Does topping it up with a different wine affect the original wine? Apparently not in those small quantities.
A rare 1953 bottle worth $8,000
Removing a little wine so that the cork can fit in
Recorking the bottle
Now that my wine has been tested and graded good to drink (and they encourage me to drink it soon!) it then goes to the machine to cork. On the table is a 1953 Grange worth $8,000. "I'll put this aside, I don't want to rush this" the man behind the cork machine says prudently. They use negative pressure to insert the cork as if they used positive pressure the cork would simply push back out. And my bottle? It would fetch $50-$60 at auction and would retail for $75-$90.
Recapsuling
Recorked and wrapped!
A red capsule is then put on it and it is resealed onto the top. It is then wrapped up and handed to me. Just behind me, another uncorking is about to take place. A customer Richard Dunstan has walked in with fifteen bottles of wine worth about $10,000 including one very special Bin 60A which is named as one of the best wines in the world and of which only 425 cases were produced.
Richard Dunstan on left
Everyone is excited not only to see this wine but also because it has a personal inscription on it from the original winemaker Max Schubert. It turns out Richard's father was the governor of South Australia Don Dunstan (not related to the Premier Don Dunstan) and Max was a friend of his and gifted him with the signed bottle. He brings the wines not in a customised luggage case but in a shopping basket and a cardboard wine six pack carrier from Woolworths.
Peter Gago removes the cork with two corkscrews
Peter takes two corkscrews to remove the very delicate cork. He explains that if he only used one then the cork would have disintegrated. Placing the bottle between his legs he removes the cork in a swift action and it comes out whole.
He shows what would have happened if he used only one corkscrew to remove the delicate cork
"I can smell it from here" he says delivering the bad news. The level was low on this bottle so there was some warning that the news might not be good but there is a telltale aroma.
"Vinegar" says Richard. I ask him what his thoughts are and he is matter of fact "I just left it too long. It had that signature and it became too precious to drink. Such is life. Such is life" he says.
So tell me Dear Reader, if you had a rare bottle of wine, would you drink it?
NQN was given the bottle of Koonunga Hill courtesy of Penfolds
Penfolds Recorking Clinic
The Penfolds Recorking Clinic schedule can be found on www.penfolds.com.au. They will visit Melbourne and Perth in September. Bookings are essential.