I sometimes wonder if city folk scare people in the country. We arrive for a weekend, either all keyed up with excitement having made good time or frustrated and annoyed that we've hit traffic snarls on the way. The first question is often about internet access (guilty as charged) and this question is followed by the conspicuous searching for cell tower signals.
Then for me there is talking a million miles a minute, the volume and speed of my delivery made more apparent because there isn't the background of traffic noise, pedestrians and construction. I do my best try and relax in the country once I leave city life behind but it's often after a rocky start.
Mr NQN and I pull up to Spicers Vineyard Estates in Pokolbin in the Hunter Valley. Spicers is originally a Queensland based luxury lodge brand and the Hunter Valley is its first outside Queensland. It is a boutique luxury guesthouse in a tranquil area of Pokolbin featuring just twelve suites. It is located on a private vineyard with views to Brokenback Mountains.
As we pull up, the door opens and a staff member smiles and welcomes us. Check-in is a cinch and they show us to our room, one of the newest suites, a 50 square metre luxury spa suite in addition to their existing eight king spa rooms. Both room types are 50 square metres but with different layouts.
Our room, #11 provides us a welcome cool embrace - temperatures outside are set to hit 37C/98.6F today although should the unthinkable happen, the bluestone fireplace is ready all year round. The lounge room is made for relaxing and is equipped with books and games. This opens out to a courtyard where there are tables and chairs.
There is a complimentary welcome mini bar which is stocked on the first day. This has chocolates, chips, soft drinks, nuts, beer and a bottle of Tyrell's 2010 Pinot Noir Chardonnay. A Nespresso coffee machine and T2 teas are also included and there's a small area for working with an iPod dock and alarm clock (although careful with your head, I knocked myself a couple of times getting up-oops!). Also, footsteps from other guests upstairs are quite audible.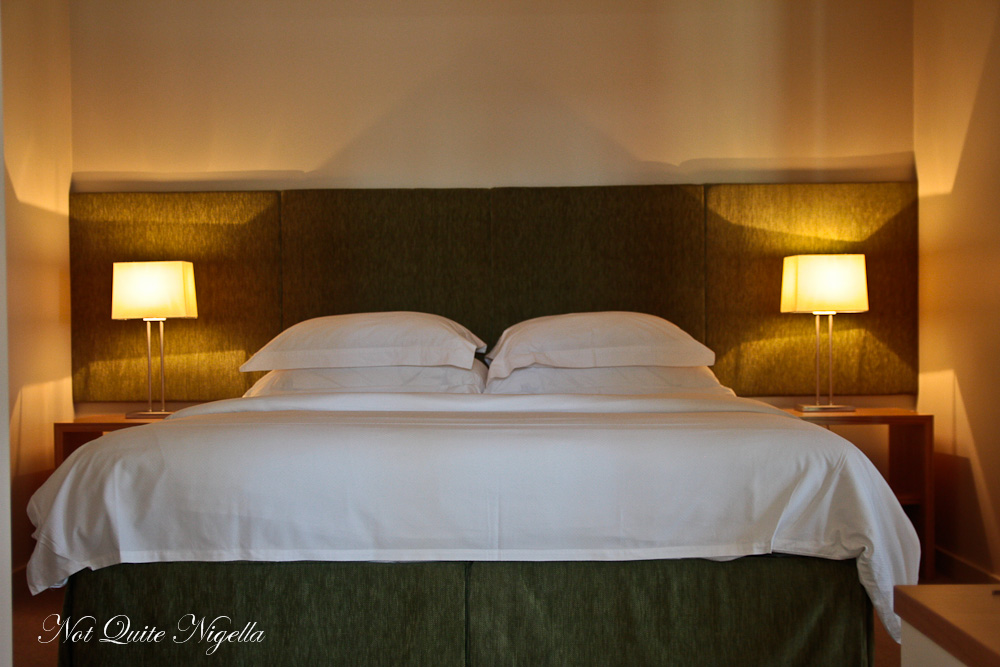 The bedroom leads on from there in a separate area and the king sized bed is comfortable with smooth sheets that ensure a restful sleep. There's also a good sized luggage rack and the wardrobe holds slippers and soft robes.
The granite bathroom is enormous and the centrepiece is a spa bath that looks out onto the private courtyard. Next to this is a separate shower with monsoon and regular shower heads and there are his and hers sinks.
There are also heated floors and towel rails. Amenities are by Appelle's Apothecary and include shampoo, conditioner, soap, body lotion, shower gel, vanity kit, small loofah and a shower cap. And a nice bonus, internet is free, fast and doesn't require a password!
The pool sparkles and cane cradle chairs dangle invitingly but I have something even better! An appointment at Spa Anise which is just around the corner from our room. I am booked in for a Serenity Spa Ritual. Senior therapist Zowie shows me into a courtyard where a foot bath awaits along with a flute of chilled citrus water. There are two treatment rooms here: a single treatment room and a couples treatment room.
After washing and lightly massaging my legs Zowie asks me to smell three of the essential oil blends by Australian brand Waterlily. The "Princess" blend smells delicious with its combination of jasmine and cinnamon and she takes me into the treatment room.
She uses large swirling movements much like in Thai massage but without climbing up on the treatment bed. The treatment is tailored to me and my specific ailments and areas of tightness and the products smell very good indeed. I turn over half way through and she continues the massage and then commences the facial portion of the treatment.
This too is administered in swirling movements, the creams gliding over my skin and I may have fallen asleep during a large part of the massage portion as the exfoliant and mask was infusing. I'm woken by a mist of fragrant water and Zowie quietly tells me that the treatment is over. In this blissed out fugue I take slow steps and anchor my feet to the ground and go back to my room to find Mr NQN.
I do some work (grudgingly) while Mr NQN tries to cajole me with some games. I let in when there's a knock at the door where there is an offer for fresh towels and two delicious French martini cocktails. I'm quickly getting the message and I turn off the computer and we set up the game.
After some nail biting Jenga, it's time to move to the restaurant Botanica. Voted as "2013 Australia's Number One Fine Dining Restaurant" by TripAdvisor Travellers Choice, it's a welcoming space housed in a separate building a few minutes' walk from the main building.
Service is very friendly and welcoming from our waitress who explains the items to us in detail. The kitchen is tended to on a daily basis by chef Mark Stapleton who along with his wife Belinda owns and manages Spicers Vineyards Estate. 100% of all of the vegetables served here in Summer are from the garden. Next to the garden, appearing just like a fairytale are the three little (okay they're enormous) pigs: "Chop Chop" the large one, "Salami 2" the loudest one and "Crackle" the quiet one.
There is a choice of 2, 3 or 5 courses ($63, $75 or $110 respectively) and we are having three courses. The meal starts with a house made sourdough made daily with a 150 year old mother from San Francisco. There is a chewy, light, flour dusted ciabatta and a crispy edged sourdough to go with the butter. The organic and bio dynamic stone ground flour used is from Demeter Farm mill in Gunnedah, NSW.
Amuse Bouche
The amuse bouche is a delicious mouthful of diced ocean trout and kingfish with house made mayonnaise and fresh peppery rocket from the garden.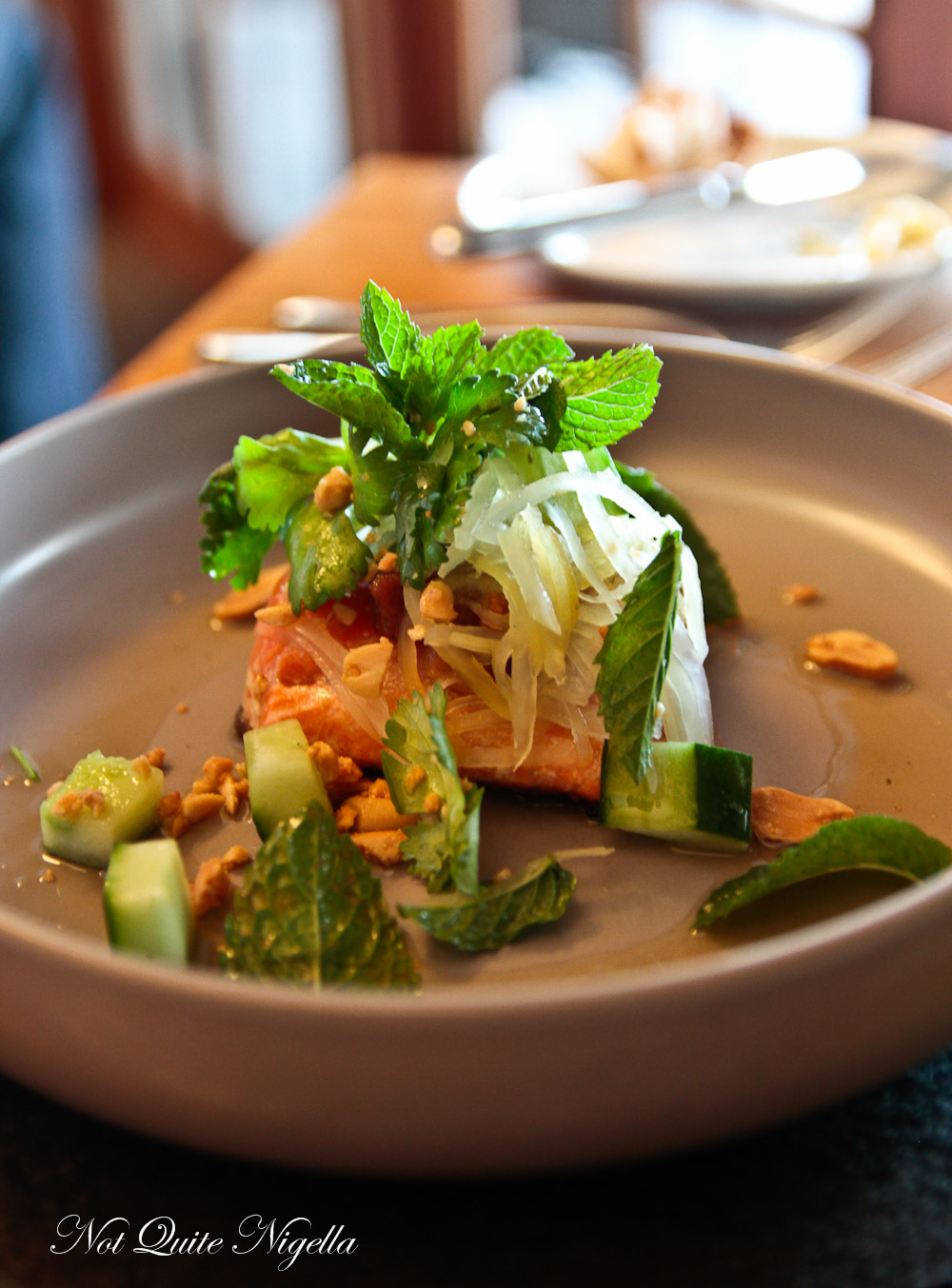 Crispy Skinned Ocean trout
The ocean trout is cooked until very moist and is served crispy skin down with lime pickled shredded green paw paw with little cubes of salted pork belly, spice roasted peanuts, coriander and mint and a sweet Thai style dressing. It all comes together with some mint in every mouthful.
Beef carpaccio
The beef carpaccio is paper thin shavings of beef with a quenelle of creamy olive tapenade in the centre, strips of marinated red pepper and shavings of reggiano. The combination works beautifully together.
Hoisin smoked lamb
The hoisin smoked lamb is basted in the fragrant, sweet Chinese sauce. The lamb is succulent and sweet and the flavour reminds me of Peking Duck especially as it is served with cucumber and spring onion salad. The slices of white peach pickled in jasmine give the rich dish a good acidity and the aroma of jasmine is distinct.
Pan fried kingfish
The kingfish is a fresh, summery dish made even better with the sweet, home grown heirloom tomatoes. The kingfish is topped with a small dab of verdant salsa verde and is served with a variety of tomatoes, sliced kipflers and fresh thyme and basil.
Seasonal vegetables $7
All of the vegetables are from the garden and today's selection is carrots, sugar snap peas, squash, zucchini, asparagus and bok choy. They are served salted with butter, perhaps a bit too much butter but they were perfectly cooked and seasoned.
Pineapple and lime splice
The pineapple and lime slice is actually quite a small dessert with a layer of pineapple and lime ice topped with mango and served with a coconut tuile. It's refreshing and Mr NQN's favourite.
Lemon Curd Tart
I preferred the lemon curd tart with all of its textures from the crispy buttery tart shell to the silky, tangy lemon curd and creamy textured, sweet meringue on top. We had this with a glass of the delicious Mistletoe Petite Muscat 09 which is a vineyard located closeby to Spicers.
We retire to our suite early. The soundtrack of the cicadas greets us in the morning. Breakfast is a touch early between 8:30-9:30am and we make our way back to Botanica where we're served a generous portioned breakfast which starts with freshly sliced fruit.
This is followed by freshly baked pastries including a delectable apricot Danish and a bacon quiche with tomato relish and fresh herbs. The third course is a pot of mushrooms with two runny centred eggs and toast. I wonder if we can fit in lunch at this stage. Come 11:30am, chef Mark comes out to the garden to pick fresh herbs for dinner tonight.
Chef Mark picking herbs with his daughter
We head out to explore the Hunter Valley as temperatures hit 36°C/96.8°F. Our first stop is a recommendation by Mr NQN's friend Viggo for a small vineyard called Lucy's Run. Named after a former beloved family pet, it's run exclusively by a husband and wife team.
In fact you might just drive past the green shed that is the cellar door, as we did. John is a former airline pilot that decided after retirement to buy a property in the Hunter Valley. They grow Italian varieties of olives and make a small but excellent range of five wines including a fantastic Bubbly Rosé, Merlot and Shiraz. On the property are also three sweet pet donkeys. We end up trying all of the wines and olive oils and buying the Rosé, Merlot and Shiraz.
Pet donkeys
After driving around, we make our way back towards Hermitage Road to Keith Tulloch Winery and Muse Kitchen. There are two Muses and Muse is the original fine dining restaurant located at Bimbadgen Estate but whispers from locals told us that they preferred Muse Kitchen of the two. It's busy and since we haven't booked, we take a table outside on the impeccably manicured lawn. The restaurant inside is decorated in creams and whites.
Even though we're under an umbrella and the infrequent breeze is doing all it can to soothe us, the heat is getting to us and we just want something light. The menu looks fantastic but it's all larger, meat heavy meals and roasts so we go for a light, cooling dishes. Service by our French waiter is superb and intuitive.
Pate $18
The duck liver pate is silky smooth and topped with a berry and red wine jelly. We spread it on the thin bread crisps and enjoy its perfectly balanced flavour.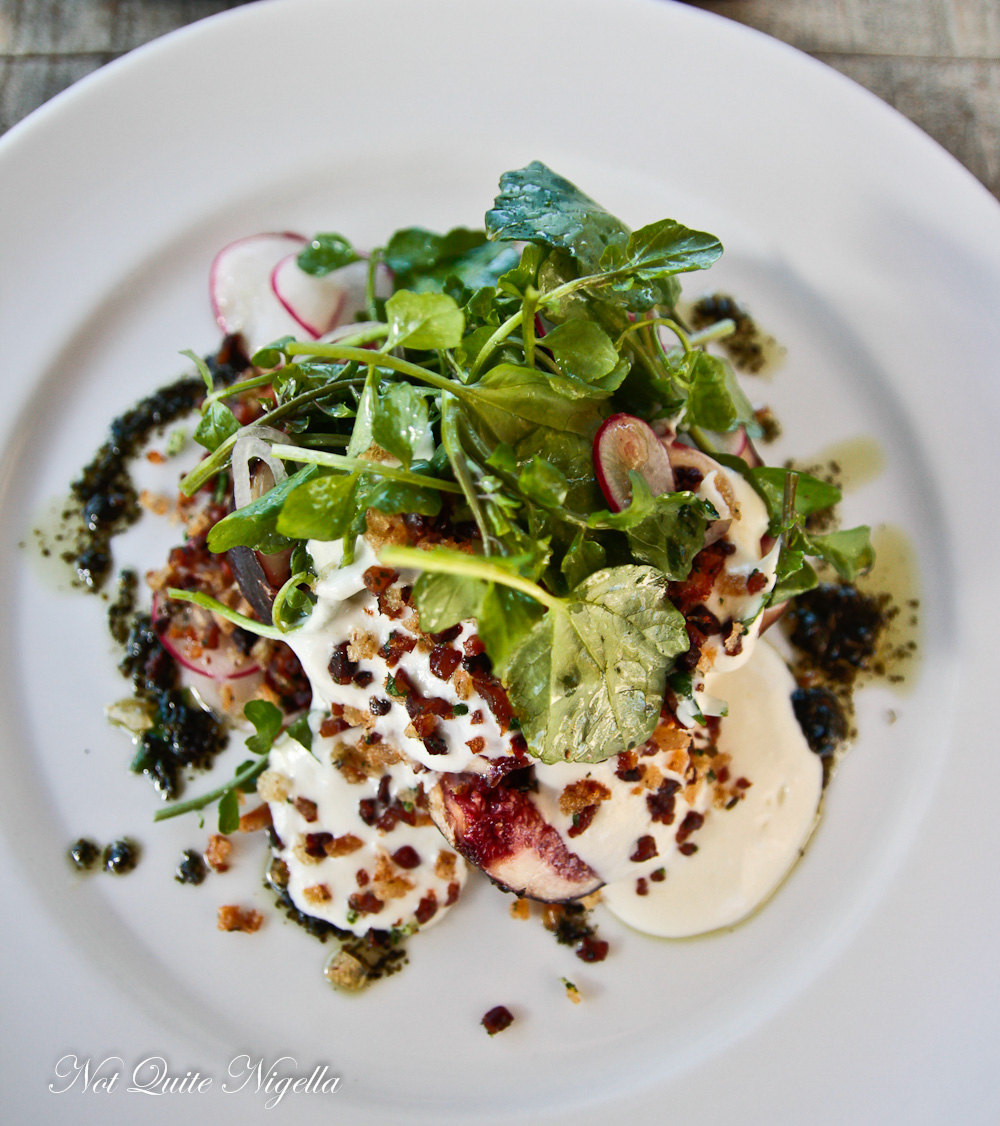 Local Black Fig Salad $22
This salad is perfect for the weather. Made up of succulent local, perfectly ripe figs it has a creamy accompaniment of warm Jersey milk ricotta, watercress and a prosciutto crumb and a final dressing of oregano oil. It's the kind of dish that inspires me to make something similar at home.
Ocean trout and kingfish salad $32
The ocean trout and kingfish salad is tossed with a light dressing and is paired with fresh greens, thinly sliced radish and crisp green beans. There's a generous amount of kingfish and ocean trout sashimi but I would have loved some chives or onions in this dish.
Alas there's no dessert and we're fading fast in the heat so we return back to our room picking up some fruit and cheese for dinner on the way home. At Spicers, they tell us that a lot of couples dine out one night and then self cater on the second night, particularly if they've been out at the wineries. There's another knock at the door and the late afternoon cocktail fairies hand us our complimentary sangria cocktails. It's a daily ritual that one could definitely get used to.
I pick up a crime mystery novel from the shelf and leaf through it. It has been a long time since I read a crime mystery book from beginning to end as I'm always sidetracked by life and work but I settle in comfortably on the couch and start reading. A little later I run a bath and we both climb in, opening the window so that the rays of the sun bathe us in golden light.
For dinner, we're having cheese from the nearby Binnorie Dairy as well as some muscatels and grapes from the market and help ourselves to fresh, sunkissed tomatoes from the garden (at Mark's invitation of course). Dinner is complete with a salad and a bowl of fries ordered from the restaurant.
After dinner I studiously ignore the computer whose blue light is flashing at me. I'm too absorbed in my book to contemplate turning it on to work. I fall asleep reading the book and wake up the next morning to a rapping at the door. It's our breakfast tray which we've booked to have in the suite. Another wholesome number similar to the day before we devour it and breathe in the country air.
It's sadly time to checkout and I reluctantly put my book away. I've got about a quarter to go but they're nice enough to let me keep it to finish it and I just post the book back to them. We're farewelled with genuine warmth and given two bags of delicious house made biscotti and offered bottles of water for the two hours drive home.
On the way back to Sydney we stop by for a final taste of Hunter Valley. Our friendly waiter at Muse Kitchen had told us that they get their figs from Tinklers Wines which is on our way back to Sydney. Along with wine, they also sell fruit from their orchards and they're currently in the midst of fig season that lasts until April.
Figs sell out quickly so we've called ahead to put some aside for us. Apart from five types of grapes (they grow 23 kinds in total), they also have watermelons, plums and tomatoes. We leave with a tray of the freshest picked figs (a steal at $1 each) and some succulently sweet black grapes. That evening back at home, after munching on our spoils from the trip, I settle down to read the rest of my borrowed book. The computer holds no appeal for me that evening.
So tell me Dear Reader, how many hours a day do you spend on your computer, phone or tablet? Do you take it on holiday with you?
NQN and Mr NQN stayed at Spicers as a guest of Spicers. Purchases and meals made at Lucy's Run, Muse Kitchen and Tinklers were made independently.
Spicers Vineyards Estate
555 Hermitage Rd, Pokolbin NSW 2320
Phone:1300 192 868
http://www.spicersgroup.com.au/property/spicers-vineyards-estate-hunter-valley-nsw
Lucy's Run
1274 Wine Country Drive, Rothbury New South Wales 2335
Tel.: 02 4938 3594
http://www.lucysrun.com/wines.htm
Muse Kitchen
Keith Tulloch Winery, Lot 17 Hermitage Road, Pokolbin NSW 2320
Phone:(02) 4998 7899
Lunch Wednesday to Sunday 12noon - 3pm
Dinner - Saturday 6pm - 9pm
Tinklers Wines
Pokolbin Mountains Road, Pokolbin 2320 NSW
Phone: 02 4998 7435