Cutest sign EVER
After our wonderful night at Bells at Killcare, we decided to explore a bit more of Killcare and stop off to have lunch at The Fat Goose which is a cafe that bakes all of the cakes, breads and pastries on site every day. We sit outside in the lovely Winter sun and I start with a bowl of coffee and Mr NQN has an apple and ginger juice. There is also an all day breakfast (how civilised!).
Bowl of cafe au lait $6.50
Apple and ginger juice $6
Harvey's Oyster Shed Oysters $15
We start with the local oysters au naturel which are served with a chive vinaigrette and some lemon. They're superb and I instantly wish that I ordered more.
Schooner of prawns with dipping sauce $13.50
I decide to go with the schooner of prawns with dipping sauce. First of all because I've never had prawns served to me in a schooner and also because I am a total seafood monster (just ask Mr NQN). It comes with two thick slices of their home made bread and thousand island dressing. They're not local prawns today and they're smallish with soft shells so I decide to make myself a little prawn cocktail sandwich. The bread is fabulous and just the way I like it, soft and spongey on the inside with a light crust on the outside that's not too thick which is nice (sometimes the crusts are just way too thick!).
Life raft burger $13.50
Mr NQN has the Life Raft burger with a juicy and thick patty, sweet caramelised onions, tasty cheese, tomato, lettuce and a slice of beetroot and barbecue sauce. It's just how I like to make my burgers at home and I really enjoy my half of this-well actually he wouldn't let me have half of this the selfish bugger :P  It's housed on a lemon myrtle house baked bun and comes with oven roasted potato wedges.
Gorgeous necklace!
With happy tummies, we meander next door to the cute little store called Mooch Inside where I spot lots of unique little finds. I lust after this cute little necklace and I buy some of these tins toys. An elephant on a bicycle is just waiting to be taken home with us-when I take him out the box, his umbrella instantly starts whirring. I love the little tin boy with the ice cream cart too and buy him.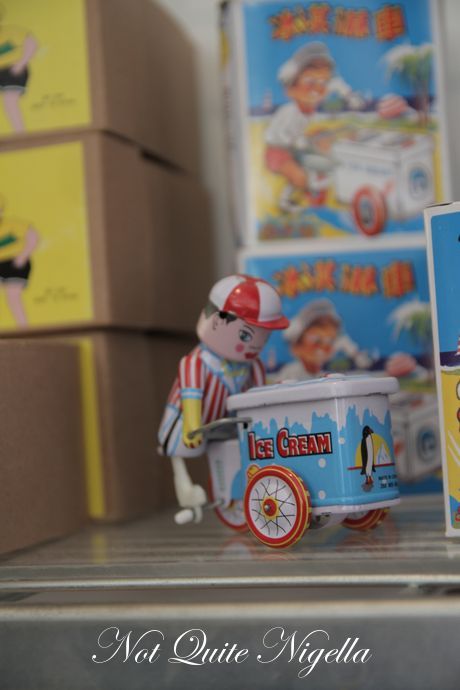 You are mine Ice Cream Boy!
I want it all! For my god daughter of course...
Adorable hair pins
"Oh dear, look at the time!" I tell Mr NQN and we get in the car for we need to make our way to the next stop in Brooklyn-not Brooklyn, New York but Brooklyn NSW! We take the 1 hour drive (the iphone4 GPS works fine until we reach an area and it tells us that we are actually in Baulkham Hills-errm not quite!). Luckily Mr NQN knows the way and we drive to Hawkesbury Bay marina and we pick up our massive seafood hamper from King Tides seafoods.
In it are a delicious array of raw and cooked prawns, bbq baby octopus, a lobster tail (squeal!), two whole fish, a piece of marinated salmon, avocado, lemons, sauced and a side salad. I can't wait to get Mr NQN to cook this up just like he made breakfast! Haha just kidding, I think I might take care of tonight's dinner, don't want to frighten the poor man ;) It's enough to feed four people easily.
The ferry ride
Dangar Island
We take the ferry ($5.40 per person each way) to Dangar Island which is about a scenic 15 minute trip. We arrive at the wharf and the Bather's Boathouse where we are staying is just next to the wharf. It is actually a converted boatshed which I knew that Mr NQN would just love it being a keen sailor.
The Boatshed
The path to the boatshed
Smack bang on the waterfront, it's absolutely stunning. Perfectly outfitted but not too overdone, it is like a family boathouse, well if your family had nice taste in furniture.
We set our seafood hamper out on the outdoor galley kitchen which has all of the facilities including a BBQ and a Japanese BBQ. There is a main master bedroom which faces the water and a living area with two huge, comfortable day beds which is where I set up shop to write-when we visited I was in my final stages of sending the first draft through to my publisher so I really welcomed the quiet writing time. There is also a bedroom with two single beds and the whole thing is beautifully open plan. We can imagine how blissful this would be in the Summer months.
Mr NQN takes his book and reads it out on the end of the wharf in the sun before he gets bored with the book (one of those terribly dull  books on technology) and he takes a fishing rod to catch our dinner-not that we need it given our seafood bounty. I told him not to catch anything as we had enough food for an army!
Our feast!
More food!
At dinner time we  fire up the BBQ and cook our seafood. We turn on the outdoor gas heater and cook all of the seafood simply with salt, pepper and a sprinkle of fresh lemon juice. It's wonderfully fresh and bountiful and we eat like kings. We spend the whole evening watching episodes of The Inbetweeners and listening to the waves lapping against the boatshed before we drift off to sleep. Which is exactly how we wanted it.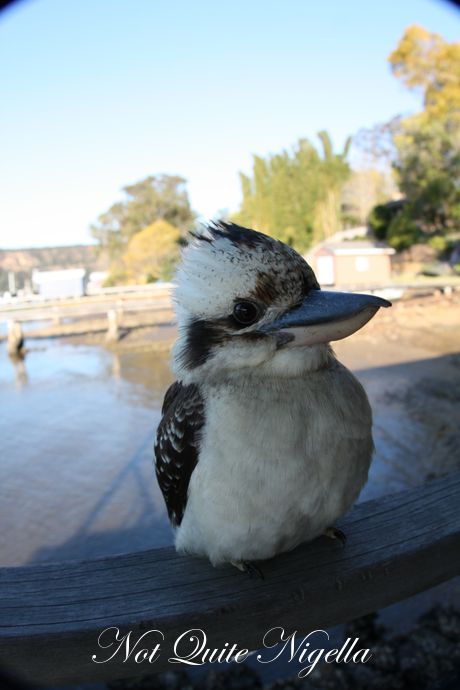 And because I find birds just about the funniest creatures ever...
A kookaburra! Don't you think he looks like J. Peterman from Seinfeld? OK I know, I have to stop this obsession with seeing human faces in animals... But look!
_J. Peterman. well John O'Hurley really.
_
We wake up in the morning-fighting all instincts to keep sleeping. It's cold in the bedroom and we quickly make a cup of tea in the outside galley while wrapped in pashmimas and remark how good it would be to visit here in Summer. The kookaburras stop by to say hello. We get dressed and walk across the way to the Dangar Island Cafe and Shop. This is the heart of the island where people stop by, chat and have their breakfast or lunch or buy any food they may need. The island has 250 residents and 220 houses and this is the general store. Residents usually go to the main island to buy groceries. The shop is a co-operative and run by volunteers and all but the counter staff work there for free. There's Wally who is making the crepes and the gardening, floral arrangements etc are services donated to keep the cafe and shop thriving.
Most of the industry here is through tourism and come Summer tourists flock to have  piece of paradise and charm while only being one hour out of Sydney. Winter...well Winter is cold I have to say! There is a bowling club which serves meals, a film society with holds regular workshops for the kids that live here and many residents work on the mainland. On the weekends, the population rises. Fiona who runs the Dangar Island Cafe and Shop tells us that it is known as a "soft sea change". And of that popular Sydney past-time-buying property, waterfront houses can go up to about $700,000 but a house at the top of the island (and therefore harder to get to) can go for $350,000.
The beach on the other side of the island.
Chai $4.50 and flat white $3.80
We order drinks and breakfast. On Sundays there are fresh crepes and I order a chai tea which is excellent. Mr NQN likes his coffee.
Lemon and sugar crepes $10
There are four flavours of crepe to choose from ranging from creamy chicken, celery and parsley; maple syrup and cream; strawberries and cream or lemon & sugar. I have simple lemon and sugar crepes which are just what the doctor ordered. The crepes are eggy and thin and go well with the squeeze of fresh lemon and sprinkling of sugar.
Bacon & Egg Roll $8
Mr NQN has a bacon and egg rolls which he polishes off happily. OK it's not the cheapest of bacon and egg rolls but given that it's a co-op and they're not really turning a profit, who would begrudge this view and the food?
Our meals finished, we stare out onto the water. "Sorry but you can't take the view with you" says a friendly local chuckling.
Oh hai!
_NQN and Mr NQN travelled to the Central Coast and stayed at Dangar Island as guests of Tourism NSW. They ate at The Fat Goose as guests of The Fat Goose.
_
The Fat Goose
3 Killcare Rd, Killcare NSW 2257
Tel: +61 (02) 4360 1888
Bather's Boatshed on Dangar Island
Take the ferry from Brooklyn Wharf to Dangar Island
http://www.hawkesburyriver.com/details.php?id=4