If you're looking for a special meal head to Osteria Il Coccia in Ettalong Beach on the Central Coast. Helmed by married team Nico and Alexandra Coccia it has Modern Italian food with a wonderful Italian and French wine list.
Alexandra and Nico first met while working at Otto in Sydney's Woollomoolloo. She was born in Lyon to an Italian father while Nico is from Naples. He has worked at Quay, Fratelli Paradiso, Ormeggio and QT Sydney before making the move to the Southern Highlands to work at Biota. They then set up Bistro Officina that stayed open for 3 years. "We decided it was too much as we had third child arriving in the middle of this venture and writing the cook book 'Farm to Flames'," says Alexandra.
"We wanted to move from Bowral to come back to the (Central) Coast. I have a good friend who turns to be a restaurateur on the Coast (Hayley Hardcastle from Saddles at Mount White). It was just a random phone call and we arrived here on the Coast. No house, 3 young kids and 2 dogs. We then Met Jerry Altavilla and his son Jerry and they gave us everything we needed to start again," explains Alexandra.
Currently there is a 5 course set menu for $89 with matching wines for $56 which is very good value. The menu centres around the small 1 metre x 60cm fire grill. They also have a separate vegetarian and take away menu.
The wines are mostly from Italy with several organic selections and they match perfectly with the food. Alexandra curates her own wine list and tastes all of the wines. Her wine supplier is Luca Scuri from Convivium Wines who also works in the restaurant.
Service is wonderful and polished from Luca and he explains everything to us. The dishes are well paced, not rushed and never lagging.
There are loaves of bread on display. These are baked every morning from a 5 year old starter and served with twice smoked hay butter. "They get us," says Laura pointing out individual butter pats laced with salt. The sourdough bread is warm and delicious with a high hydration which makes it more moist inside.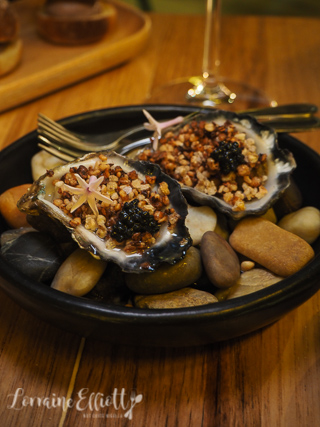 The first course is simply titled "Mystery Snacks" and comprises of three bite sized morsels. The first is an Appellation oyster with avruga caviar and crunchy buckwheat which is very tasty, the bulghur changing the creamy oyster's consistency.
The second is a triangle of pizza fritta topped with a thick taramasalata and salmon roe, an absolutely divine mouthful or two. And the third is a chicken liver parfait slider which is also delicious.
Moreton Bay Bug served with orange emulsion, cucamelon, Coastal Leaves served with 2018 La Ginestra Pinot Grigio, DOC Friuli Venezia, Italy
The first course is perfection. The moreton bay bug is so perfectly cooked and buttery that it melts in the mouth. It's paired with orange emulsion, cucamelon and coastal leaves as well as seaweed dust and a finger lime sauce. It's richness is balanced with the pop of the finger limes and it is pure heaven.
The ravioli comes as a serve of with a smooth mint and pumpkin filling in a pecorino broth. These are nice although I think I'd like a bit more seasoning in the broth.
Free Range Lamb Rump, Purple Bliss Potatoes, Silverbeet served with 2017 Le Murate Nicodemi Montepulcino D'Abruzzo vegan organic DOC, Italy
The main event is the Cowra lamb rump, juicy and luscious in texture. This lamb is paired with purple bliss potato puree and wilted silverbeet. It's a wonderful combination of the tenderest, most luscious meat, a rich "animal jus" and creamy potatoes and it is also seasoned perfectly. The wine match is absolutely spot on too. As Laura doesn't eat red meat they give her a version with kingfish which is perfectly cooked with a lovely crisp skin.
Coconut Sorbetto, Frozen Meringue, Chocolate Sauce served with 2016 Domaine la Pigeade, Muscat de Beaume de Venise, France
Dessert is their version of a Bounty Bar. We watch at Nicola smashes some frozen meringue to put in this dessert with the smoothest coconut sorbetto, crunchy frozen meringue shards and a rich dark chocolate sauce poured at the table. Although we are quite full at this point, it's the sort of dessert that you can't leave behind.
One last bite! The dark chocolate and fennel hand rolled truffles are a perfect note to end the evening on.
So tell me Dear Reader, how often do you get matching wine? Do you find that it matches well with the food? Do you enjoy tasting menus or do you tend to go a la carte?
NQN was a guest of Osteria Il Coccia but all opinions remain her own.
Osteria il Coccia
40/189 Ocean View Rd, Ettalong Beach NSW 2257
Thursday to Saturday 5–8:15pm
Sunday 12–2:15pm
Closed Monday to Wednesday
osteriailcoccia.com.au
Phone: (02) 4327 8952