It sucks to be short and not be able to get the photos you want in a crowd of photogs!
As if Australia weren't crazy enough about it, this past weekend the whole Masterchef phenomenon has morphed from inside your television set to the Hordern Pavilion stage in Sydney. Friday to Sunday saw the Masterchef brand take over Sydney with shows and stands galore all with the promise of food and fun and a lineup of celebrity chefs. The Hordern Pavilion became home to the Masterchef live show and adjacent to this the Royal Hall of Industries housed the festival area with stalls and smaller shows and demonstrations. And outside there on the grassy area is the overflow and stalls where you can buy lunch, wines and gelato and have a chat with a chef or have a book signed or help yourself to a sample.
_Adam and Marion from Masterchef season 2 at rehearsals
_
The day before the festival opened I popped in to watch a rehearsal and who should I come across but season 2 stars Adam and Marion as well as a few of the other season two personalities watching the rehearsals. Here they are along with George tasting Skye's new ice cream from her range called Wild Sugar.
Behind the scenes: prepping for the shows
_Everyone's trays ready for their segment
_
The judges practice pensive looks ;)
The next day after a wander around on a preview tour, my friend Gina and I head into the Hordern Pavilion to catch the theatre show. Tickets to the festival and the outdoor area can be had for $25 but a ticket to the show is $25. The show is a little like the television pressure test come to life except of course the three leads Gary, George and Matt are much cheekier and funnier on stage than they are on the show. They start off with a presentation and music giving us a wrap up of the influence of Masterchef and then all three burst onto the stage in a cloud of smoke.
They pick four members of the studio audience who volunteer to make their own version of Gary's quail dish. We all watch as he demonstrates it. There are gasps from the kids nearby when Gary cuts through the backbone of a quail and he and George prepare it while Matt sits on a chair and watches "You're just the food critic, just stay there" they tell him. When he is finished, the four volunteers get started on their version-they have a total of 30 minutes to make theirs.
Matt Preston talks to Adam and Marion
Then Adam and Marion come on stage and tell us what they've been up to. Marion has a cookbook due out next year as well as a Marion's Kitchen food range and Adam has a cookbook due out in April next year as well as plans to open up an izakaya style Japanese restaurant in Surry Hills. They then go off and mentor the four volunteers.
Donna Hay
Who is the next guest? Well the give away was when George introduced her as "the woman who has sold more cookbooks than all of us combined". Hey hey it's Donna Hay! Marion and Adam have two teams of kids in side stages towards the back and each team is supposed to do a mini challenge. Donna shows us how to do the signature Donna Hay pasta bowl with some spaghetti. The key is to gather up a good amount of spaghetti with tongs and either twirl the tongs or twirl the plate while gently depositing the pasta. "It's all about altitude and attitude" she says. The kids give the pasta twirl a go.
According to Donna, this Christmas is all about trifle (her magazine has a trifle on the cover and eight trifle recipes inside) so the kids play with the various goodies on offer. Some trifles are more successful than others-George's version doesn't quite pass the Donna test. However a lucky audience member is bestowed his trifle as it is her birthday and gets a round of Happy Birthday sung to her.
Bonus trifle if it is your birthday!
Matt starts up a presentation about the three judges and how each international Masterchef franchise has their own version of the three stars from the flamboyantly dressed Matt, shave headed and stout George and suit wearing Gary. There are also some short compilations of Matt's outfits, Gary's sensitive moments crying and George's colourful mangling of the English language.
There is one last demonstration while the four volunteers slave away making their quail. A boy comes up onto the stage and George demonstrates how to make the perfect omelette. Apparently this is the very first test that most chefs are given when they start in a kitchen. To make an omelette, George cracks two eggs in a bowl, adds a little water (you can also use milk), salt and pepper and then heats same oil in a non stick fry pan. Gently swirl around the eggs but not too much (you don't want scrambled eggs), crumble in some goat's cheese or feta and chives and then a tablespoon of cream. And because it's Masterchef, finish it off with two cubes of butter!  Gary tells us the secret to restaurant food is adding butter.
The judging for the quail dish is up next and all three judges taste the four dishes before declaring one lucky volunteer as the winner. Generous prizes are given including frypans and books.
Hungry after that quail all I can think about is a) I want quail and b) sheesh it's hot! We walk over to the open area. We had thought that this would be a fresh produce section but this is more a a lunching section with the VIP tent, book signings etc. I take a photo at the tent where Kylie Kwong is about to commence on her "Grill a chef" session and people can chat informally to a chef.
Kylie Kwong at the "Grill The Chef" table
"Would you like to stay?" a staff member asks Gina and I. "But there aren't any seats" I say looking at the table. He answers "There are some seats right next to Kylie" so I take a seat next to her.
The questions come forth from the crowd and Kylie tells us that she grew up in the North West of Sydney, a third generation Chinese Australian (and 27th generation Kwong). She is one of three children with two brothers. Her mother was a good Cantonese cook and they would eat Chinese food six nights a week but on the seventh night her mum would say "Kids we're eating Australian tonight". Her mum's roast chicken however would involve using a bit of hoi sin and plum sauce to make the gravy instead of gravox.
Kylie tells us that she first cooked at age five for her grandmother and her friends who would come over and play Mah Jong. She recalls that she burnt the food but they were so engrossed in their game that they didn't mind. She has since visited China 16 times in the last 5 years and when asked afterwards if she speaks Chinese she answers frankly "Oh god no!".
She is warm and candid and tells us that doesn't cook at her restaurant Billy Kwong anymore and hasn't done so for years and she explains that that was always the plan as she enjoys touring and meeting producers and looking for the best produce as that is what she is most passionate about. She has trained her staff to cook at her level and says "My cooks are better cooks then me!". In fact five weeks after opening Billy Kwong, she put an ad for a head chef to take over her duties. However she dines at Billy Kwong twice a week and eats simply at home. Her favourite meal is a "roast chook". After her talk she signs autographs and poses for photos with eager fans.
Lunchtime!
Chef's Gallery's sweet sesame piggy buns
We're hungry and still on our quail hunt. Sadly quail is not to be and we avail ourselves of the food from the outdoor stands. There is Din Tai Fung, Charlie & Co., Mad Mex and Chef's Gallery among others. Gina and I choose some dumplings from Din Tai Fung and some tacos from Mad Mex.
Lemon lime and bitters $3
We also buy a drink, a lemon, lime and bitters does us nicely from the Angostura stand, a steal at $3!
_Din Tai Fung Dumplings $8 _
The Din Tai Fung dumplings were delivered in less than a merciful minute by a woman who could shout to the ends of the earth. Eardrums almost blasted we take our dumplings and and take a seat under the shaded area. The dumplings are plump and full of soup and delicious with little strands of ginger and a dousing of soy.
Mad Mex combination tacos $11
Having never been to Mad Mex we tried the tacos with fish, steak and chicken fillings. They're doubled up soft flour tortillas so you can either divide them up in two or pick up both tortillas when biting into the taco. Gina tries the chicken and I have the fish which is fresh and crunchy with a nice batter coating on the outside of the white fish although it needs some seasoning. The steak taco is better with a lovely seasoning to it and shredded small pieces of steak.
We walk around the stall outside and help ourselves to some samples (dessert you know? ;) ). The soft, crumbly muesli cookies at Sarah Glover are delicious and the Couture Cup Cakes stand is a favourite as people can decorate their own cupcakes using fondant. We see kids emerge from the crowd with some very cute designs.
Maggie Beer
We spend some time in the VIP tent cooling down and spot Maggie Beer. A gaggle of young school kids look over curiously at her and she invites them over and chats to them and takes photos with them.
We head back into the main hall in the Royal Hall of Industries and survey the stands. As it is a Friday it is less crowded than it will be on the weekend but the crowds are growing as the day goes on. There are, mercifully, a lot of ice cream stands on this very hot day and I try the caramelised fig ice cream from Pure Gelato which is superb.
Ian "Herbie" Hemphill gives a class
Gina and I have our very first one on one class with Vincent Gadan from Patisse. Keen NQN readers may remember French smoothie Vincent from the croquembouche class. Well this year Patisse are making a Kylie Minogue eclair. Fauchon in Paris is known for making eclairs with famous faces on them including one here of Brigitte Bardot.
Poking holes in the eclair
Filling it with chocolate custard
"Before I came to Australia, Kylie was all that I knew about this country" Vincent says. And of course they pronounce Kylie as "Killy" in France. They approached Kylie's agent who got the ok from Kylie on condition that 10% of the proceeds go to her favourite charity (Breast Cancer Association) and that it is only produced for the three days. The picture transfers are done in Paris as that is the only place where you can get this done and cut out in the correct shape and size (minimum order 1,200!). And the flavour? Chocolate as that is Kylie's favourite flavour.
Decorating my own Kylie eclair
At the 1:30pm session everyone gets 10 minutes to fill up two eclairs (these eclairs are better than normal because he has baked some sable biscuit into the top to give them a little crunch. You stick three holes into the eclair and pipe in the chocolate cream. Then you get to decorate the design of Kylie however you would like with some chocolate. Vincent gave me 20 seconds to decorate her so I did her nails, lipstick, drew her a necklace and a belt. Ta da! OK they're not hiring me any time soon...
Then I hear a voice call my name and it's chef Alejandro Saravia who is at the Suspiros by Spiers stand. He is excited to show me one of their Peruvian alfajores. They're different from other alfajores that I've tried. Instead they're beautifully buttery and soft and just melt in the mouth at first bite-and yes they're spread in the middle with that magically delicious manjarblanco which is similar to dulce de leche.
Suspiro de Spiers $4.50
Then Rosanna (who is an NQN reader!) offers me a taste of the suspiros. What is a suspiro? Literally meaning "sighs from a woman" it is a lovely rich concoction made of an egg yolk and milk caramel-similar to a dulce de leche topped with a port wine meringue and cinnamon. She explains that it takes hours to make and is a real labour of love. It is sweet and gorgeous and when you have a spoonful of this sweet aromatic confection you can see why it gets its name. I mean things just cannot go wrong if you have dulce de leche involved.
Formaggio Ocello stand
Frank Camorra from MoVida
We pass by Frank Camorra from Movida demonstrating at the Professional Theatre before stopping by the Formaggio Occello stand to try some cheese. We try the gorgonzola dolce with some rosemary crackers-the gorgonzola is gorgeous although pairing it with strong rosemary crackers doesn't really pair well and we also try some lovely buffalo parmesan which is rich and crumbly.
Pikelets with Anathoth jam
The free range butcher
Whisk & Pin rocky road
We stop by Whisk and Pin where we try samples of their white chocolate rocky road, spiced nuts and I make some Christmas present purchases of their delicious gluten free chocolate brownie slabs.
Organic wine by Tamburlaine
There aren't a lot of wine stands-one stand tells us that there was a rule where single bottle sales were not permitted and they were only allowed to sell by the cask which kept a lot of wine merchants away. We try some wine from organic wine brand Tamburlaine who are also holding tasting classes nearby.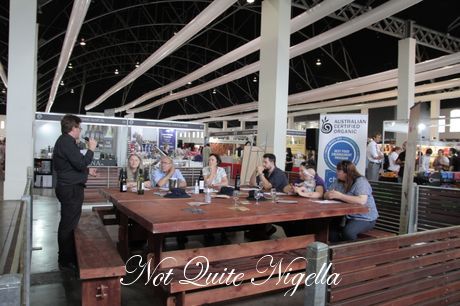 Wine tasting class
Adriano Zumbo
I see a gaggle of women fluffing around anxiously fixing their hair and curious as to this behaviour glance over at their object of attention and see that it's Adriano Zumbo. He has a stand selling gingerbread houses (small $30 and large $60) as well as I love Zumbo t shirts.
Michael Klausen from Brasserie Bread
The desired texture of the dough
Then one of the last classes of the day for us is at the Brasserie Bread stand where one of the owners and bakers Michael Klausen is here to give us tips on making our own sourdough bread. What I found interesting was the consistency of the dough above. Most people, including myself, would add more flour so that the dough doesn't stick to the board. However he tells us slightly sticky is actually the ideal consistency for sourdough. He uses a pastry scraper and recommends keeping one hand in the dough and the other holding the pastry scraper keeping the hand clean.
Smacking the dough on the board
Looking through the dough window
He shows us different kneading techniques including one where you slap the dough against the board which he recommends for days where you're feeling a bit stressed. Apparently the dough likes it a bit rough and responds well to the thwacking against the board. Dough is tested for readiness by looking for a "dough window" which is where you carefully stretch the dough and if it doesn't break, and you can see through the "window" then it is ready.
The characteristic blistering of good sourdough is achieved through a combination of the sourdough starter (theirs is 16 years old) and the sugars from the slow fermentation process which is done in the fridge.
And finally kids get to feel what the dough should feel like
And the $50 question. Was it worth the entry fee? Well I'd say that the live theatre show was fun and worth the $25 entry fee especially if you enjoyed the show or get to participate in this live show (although the vast majority of the crowd won't). As for the festival, I'm always ambivalent about festivals where you have to pay to get in to shop at stands. However there are quite a few samples available here and if you eat a lot of samples (I didn't) and attend a lot of demonstrations and classes (which we didn't) then perhaps that works towards making the $25 entry fee worthwhile. A lot of stands have show only discounts too so if you shop a lot it can help. And of course you'll get to hang out with some celebrity chefs!
So tell me Dear Reader, which chef would you love to grill?
Maggie Beer
NQN and Gina attended Masterchef Live as a guest of Masterchef Live
Masterchef Live
Hordern Pavilion and Royal Hall of Industries
Held 10-12th December, 2010