Gordon at the Media conference
Forgive the deliberately provocative title if you will but I was literally waking up with Gordon Ramsay this cold Winter's Friday morning.  Thanks to the lovely Johanna from Stellar Concepts, at 8:30am several members of Sydney's press including myself and Helen, assembled in the LG VIP Lounge to have breakfast and to meet Mr Ramsay himself. Walking in and looking tanned and fit in a blue tshirt, he's nursing a cup of coffee before he gives us a little speech letting us know about the higlights in his Australian visit including a holiday with the family on Hamilton Island and a memorable dinner at Quay. It's all very cordial and rehearsed and doesn't really sound like the Ramsay we know and love with none of the edge normally associated with him. At the end, an eager Channel 7 reporter jumps up and asks him "Is your publicist keeping you on a tight leash this time?" which he pointedly ignores. We're left to ponder what happens next which is Gordon's first cooking session for the event along with our very generous goodie bags (containing a copy of his book "Healthy Appetite", LG cooking utensils, a wine bag and some rosemary and oregano olive oil.
We're seated in row B seat 30 and after the obligatory warm up from Alistair McLeod (beware, don't put your hand up unless you want to get up and dance in front of everyone!), Gordon and his offsider Stuart Gillies (executive chef at Boxwood Cafe), come out to much applause. Gordon has a strip of tape over his mouth. Yes he knows he needs to behave to avoid another Tracy Grimshaw incident (although that was about as bad as what he said about Lisa Wilkinson and Dannii Minogue at the show last year which passed without controversy so he must be confused as to how far he can take things).
Gordon chats to onstage guests
Unlikely cougar!
He invites two women and two men onto the stage to dine on the food. And more mature women aren't immune to the charms of Ramsay with one woman beside herself with glee in a Cougar-like moment on stage.
His show is amusing and he makes some amazing sounding (and smelling!) food including a simple blue eyed cod dish on vegetables (championing the use of underused vegetables such as radish) and some spectacular looking red wine and spice poached pears decorated with flaked almonds. But his overall demeanour is very toned down in comparison to last year's - there's no reference to Lisa Wilkinson's male body part or Dannii Minogue's excessive plastic surgery although Matt Moran does get the typical barb thrown his way about not being able to fill a theatre but this too is tempered by a "I'm joking!". The point that the audience is full of journalists is not lost on him with some predicting that he will return to his old self as the days go on.
He gives tips on how to get kids to eat their vegetables (although I don't know if I'd necessarily recommend them as they involve boys learning to grow a certain appendage by eating carrots) and gristles good naturedly with Gillies when Gillies tells us that he beat Ramsay in the London marathon by about 2 minutes. It's a great show and worth seeing although the auditorium wasn't as packed as it has been in the past. Perhaps it's the early hour and the fact that it is a Friday.
The book signing outside is less frantic than last years and the queue for this morning's session actually seems doable. After watching some lucky ladies get a kiss and an autograph, I join the queue but time has run out and just when we have almost reached the front, he has to go but he does sign the remaining cookbooks. I get a brief exchange with him and I am reduced to a semi blathering fool mesmerised by his bluer than blue eyes_ swoon_. Just be warned, they will not allow you into the queue unless you have a book to sign.
The autograph
Manu Feildel
Walking around all afternoon I check out the stalls and am glad to see some new and unusual stands which are different from the usual suspects. I spy Manu Feildel, the chef from L'etoile wandering around. I take some photos and he pirouettes and poses. I also bump into several NQN readers who stop me and say hello! It was lovely to meet all of you :)
Gary Mehigan
After wandering around for almost 3 hours, I then head back to the LG Lounge where my sore feet and shoulders are aching and sink down into one of their lounges. If there's one perk to being part of the media pack, it's access to this lounge. There's a good range of food and drinks and I have some fruit salad and a smoked salmon wrap. Then who do I see behind me but Gary Mehigan from Masterchef! He's drinking a cup of coffee and chatting and rumour has it that the Masterchef guys actually sold more tickets than Gordon Ramsay (although tickets to Gordon are an additional $20). Gary is very friendly and we chat for about half an hour in between eager photo and autograph requests. He warns me not to mention the word blogger to George as he has no love for our kind. Gary is particularly proud of the impact that Masterchef has on the younger generation and how children are expressing an interest in becoming a chef and the passion that people have for food. He also appreciated Adriano Zumbo's enthusiasm and support for the contestants during the croquembouche challenge. At one point, Adriano didn't think they'd make it but when he realised that they would he was right behind them and when Julie's croquembouche was stuck he reacted with anguish as if it was his own. He says that the upcoming show session with he and George is mostly ad libbed but he doesn't appear nervous. And yes I asked for an autograph-in my black moleskine of course and I tell him to look out for us-in row Z!
George then walks in and when I tell him I'm a blogger he says "Oh yessss bloggers" suspiciously. I then ask him if I can have a photo and his demeanour changes instantly. "Yeah no problem, you're going to be in it right? Let's get Justine too!" and he hastily calls Justine from her meal for the photograph. Yes Justine from Masterchef is here too! It's a Masterchef fest. The winner of course is a secret with the final being filmed last night.
It's a hub of activity and I see Gordon whizzing past, Matt Moran stays to talk to people for a while and wine expert Matt Skinner sits amongst the star struck crowd consisting mostly of LG employees. Alistair McLeod whizzes back and forth and  when I ask him if I can take a photo he shakes his bottom.
Alistair McLeod
_Did George write the presentation? :P
_
The 2:30pm show with Gary and George is about to start and I'm seated with Suze and Helen. A film starts comparing English (Gary's) and Greek (George's) cuisine and then each culture's contribution to the world. Gary starts off charming everyone by praising the look of the front row crowd" and then asks about how Row Z looks. Then George sets about antagonising people by saying "Are there any bloggers here?" and we remain quiet having being prewarned. "Can you please leave then?" he asks and when Gary questions him why he says that he is sick of bloggers blogging about how he shouldn't eat off his knife etc. The truth hurts George ;) He also asks the Italians in the audience to leave.
George on the naughty chair
Gary had mentioned that it was all adlibbed and if so, they have an amazing natural chemistry. For George, there is the obligatory butchering of the English language (e.g. enrichening) and several turns on the naughty chair for using the "F word". Chips are made and Gary asks if anyone would like to taste one. After rousing the crowd a few times, he bolts up the stairs to distribute the chips and I manage to just grab one. It's delicious - crunchy in the outside and fluffy on the inside. There is also talk of how a radio station did a remix of soundbytes which mention the liberal use of butter at seemingly every turn.
Matt walks in bearing butter
And with that cue, who appears but Mr Cravat-Orange Pants-Cowhide Boots, the third part of the trio, Matt Preston bearing a box of butter. There is one block of butter missing which he says he used to rub between his thighs for lubrication (the imagery conjured up is graphic at best). They then ask for the audience Masterchef favourite who ends up being Justine. She then emerges from the wings to sit next to Matt and later helps make the jam filled donuts (which turn out slightly soggy as Gary has forgotten to check the temperature of the oil in the deep fat fryer).
From left to right: Gary, George, Matt and Justine
After Matt tries some of the food they stop for a Matt Preston moment. He waxes lyrical about the food after licking it with his finger Nigella style. George then enlists the help of a similarly statured audience member so that she can demonstrate how daunting it is standing next to the extremely tall Matt Preston and how George gets tucked under his arm (which Matt claims smells like beef). It's a hilarious show with all of the personalities working very well together.
Anyway I know you are probably sick of all this celebrity chef talk and want to know what the stalls are like so without further ado, here is the range of stalls which I thought had the best on offer and others that just looked interesting.
Pasta Italia's Pancetta Agnolotti is to die for...and even better if you can nab a sample!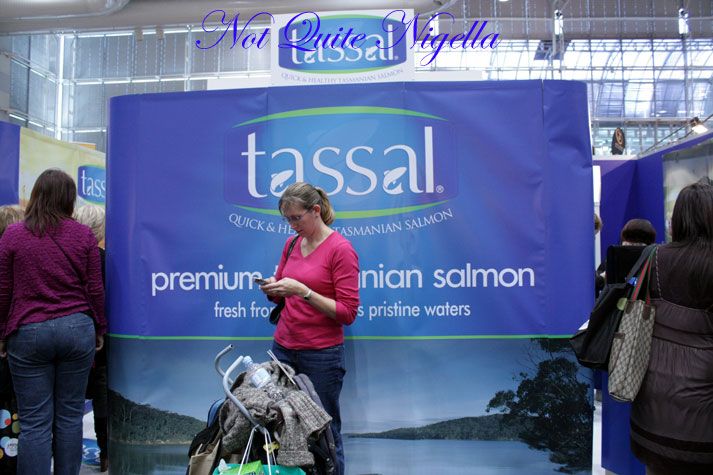 One of the better organised stalls, Tassal (Tasmanian Salmon) offers mini classes and sampling.
The happy team at Tassal show us how to make a delicious and healthy smoked salmon wrap.
Cookie Couture's cookie packs $35 for 10 cookies - adorable!
And their carousel cake!
Bum Burner sausages from Barossa Fine Foods. Deliciously spicy, these are only $2 each.
Authentic Turkish Delight with generous samples
Fabulously addictive, I snapped up this macadamia toffee straight away from this little stand tucked away.
If you remember my visit to the Easter Show, one of the best purchases we made was the Providore Best of Show bags where they gather a variety of award winning produce. They have a fabulous one here for just $50. We loved everything and I mean _every single thing _in the Easter Show one so this is a great purchase.
The pies were also included in the pack we bought at the Easter Show and these too were fantastic.
The Green and Black's organic chocolate stand is generous with their samples with the butterscotch being particularly good with tiny flecks of butterscotch.
And others that I didn't try but looked interesting... Absinthe!
Butler's Hot Chocolate drink (samples 50c). I like the tagline "Purveyors of Happiness".
'
Love a Duck stand selling little boxes of cooked duck. And a man who is very proud of his shirt!
'
The Kitchenaid stand with pasta made by their pasta maker attachment
Fabulous sausages from Tender Value Meats - the Lamb and Raisin are a favourite.
True Organics cheese samples-I would've loved to have tried a butter sample!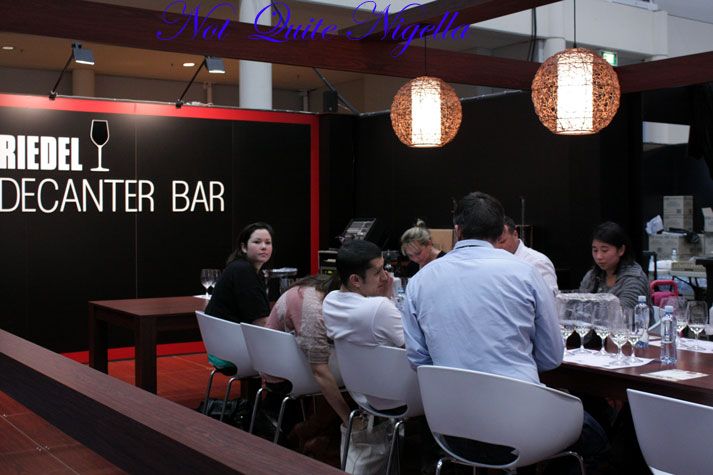 The Riedel Decanter Bar
A Taste of the Bush spice packs starting at $7 per packet
The pretzel guy!
Let's not forget Suze and the Biscuit Tree stand - thanks for stowing my bag! :)
And these are just some of the lovely celebrity chefs you might bump into if you keep your eyes peeled. Manu Feildel and the lovely Sonja (who is also a blogger) at the Campbell's stand.
Ben O'Donoghue demonstrating his muscles...
Just after getting a woman to open the bottle for him! At the Barbeques Galore stand.
Matt Moran and Simon Sandall. Matt tells me to tell everyone that Simon is his boyfriend. Sure, well here you go...
And everyone's favourite Sexy Beast, Matt Preston at the Delicious stand! Check out the pic of Matt and I on my facebook page.
So tell me Dear Reader, are you a Gordon Ramsay fan or not?
Good Food and Wine Show
Sydney Convention Centre, Darling Harbour
Held from the 3rd July-5th July, 2009
http://www.goodfoodshow.com.au/