This restaurant has now closed
Chef David Tsirekas
One time in my life, I'd love to attend a Greek wedding. Because if the stories buzzing around our table are true, I can definitely see myself penning a sequel to Nia Vardalos's Big Fat Greek Wedding and being given plenty of new material. Mr NQN and I are seated amongst members of the Greek community at Xanthi where chef David Tskirekas is hosting a dinner to celebrate the opening of Sydney's Greek Festival. Greek chefs Janni Kyritsis, Peter Conistis and George Diamond are also in attendance. And I'm getting the low down on all things Greek.
"We had the first lesbian!" my table companion Nicholas says when he spies one of the desserts on the menu called "Lesvian Delight." He is speaking of the Greek poet Sappho who was born in Lesbos and whose poems reference love for both men and women. David and his wife Belinda are friends of ours and we know that he is utterly passionate about Greek history and as we learn during the night, many of these dishes, modernised and classic, reference Greek culture.
This year's Greek Festival is the 31st of its kind and is held from March 8-April 28. There are food and cultural events including cooking classes. More information is found at http://www.greekfestivalofsydney.com.au/.
Mixed dips: Tarama, beetroot & Feta served with pita bread
Dips and mezze are a cornerstone of Greek food and these two dips are always good but the tarama dip is my crack. It's hard to give up this salty, creamy roe based dip which is served with the warm pita bread. The beetroot is earthy with a creaminess from the feta.
Chef Joe Webb has taken over the kitchen from David who is stepping aside to do other projects and he has been with Xanthi for one and a half years already. David says "I've taught him the Greek palate."
Chef Joe Webb
Pontiako Black Sea salad
David tell us that around the black sea, particularly in Georgia there are a lot of Greek people living there and they make a dish called Basturma. His version is made out of a tuna fillet, rubbed in spices like cumin, smoked paprika and cayenne pepper and this is cold smoked for 24 hours and then seared around the edges at the end briefly. The thinly sliced pieces are draped over cos lettuce, quail eggs and caviar which are dressed in a creamy vodka and mastic dressing which has a slightly bitter edge from the vodka combined with the creaminess from the mastic.
Watermelon and manouri salad
The watermelon and manouri salad is refreshing, the cubes of watermelon sweet and the manouri cheese, similar to a ricotta cheese only saltier. In the salad are small almonds, like the Greek candied almond which lend a nice crunch to the salad and the dressing is a vanilla and honey vinaigrette.
Greek salad
The Greek salad has snow pea sprouts, cucumber and tomato and salty olives and feta and is fresh and refreshing.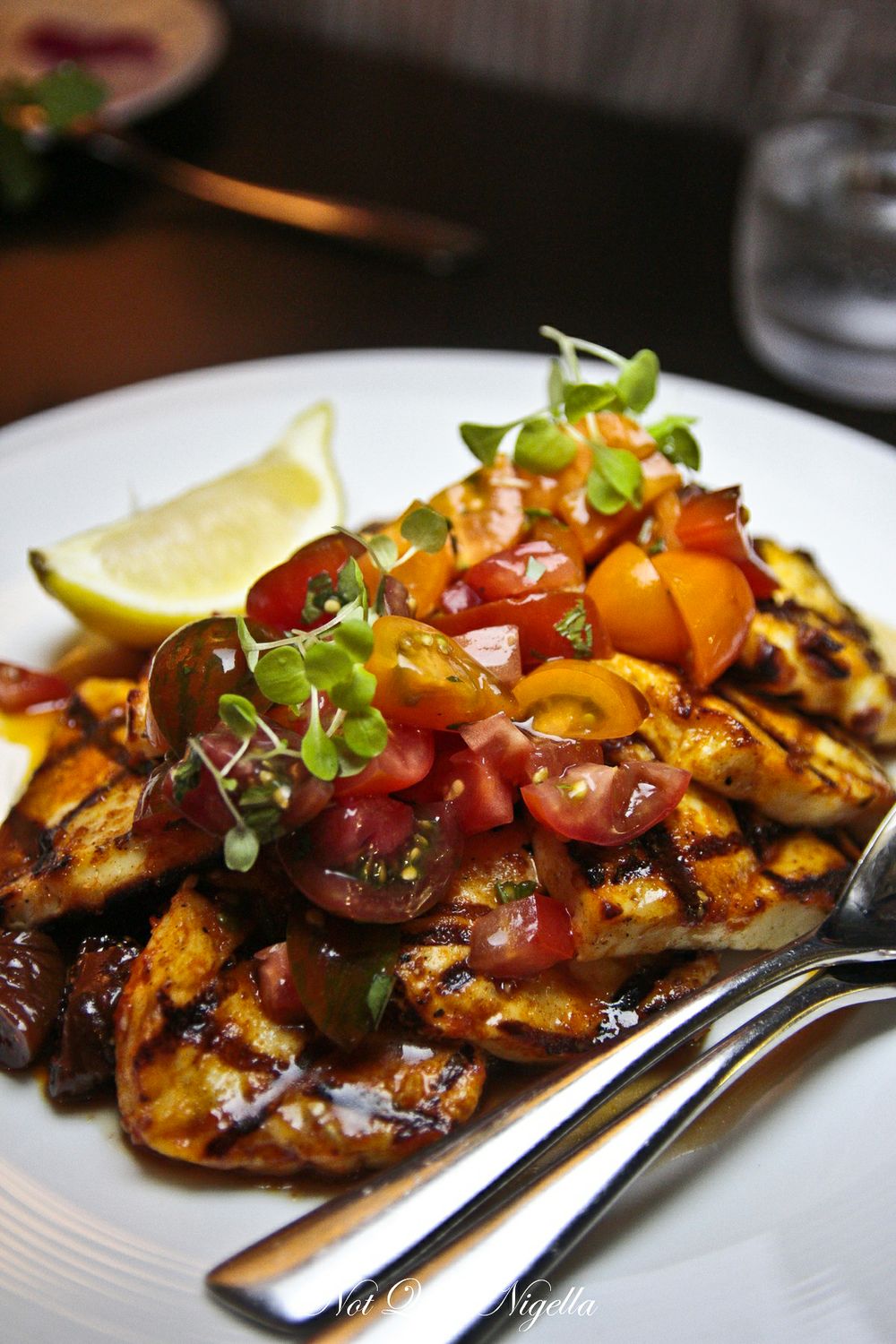 Bbq halloumi with honey peppered figs
Apart from tarama dip and Greek desserts, my other downfall is halloumi cheese. I just love the salty creaminess and the squeak. These squares of barbecued halloumi are served with soft, honey pepper dried figs and sweet cherry tomatoes on top. Not one trace goes back to the kitchen as everyone takes seconds and thirds.
Duck Sarmades with duck egg lemon sauce.  Taken on a Sigma 17-50mm F2.8 EX DC OS lens, focal length 38 mm, ISO 640, 1/20s
The duck sarmades are soft, aromatic cabbage rolls filled with rice and soft duck. "They're rolled by our Swedish chef, he does them better than I do!" David exclaims. He explains further, "The Swedes sent mercenaries to help the Byzantines in Constantinople fight off the Ottoman Hordes. When the Byzantines went bankrupt and couldn't  pay the Swedes the Swedes took the chefs as payment with them. In the process they taught them how to make dolmathes. But instead of vine leaves the Swedes used cabbage as there wasn't many vine leaves in Sweden."  The sauce on this is spiced with the sweet smell of cinnamon among other spices.
Smoked cutlets with pickled spiced eggplant
There's no such thing as a Greek meal without lamb and this dinner will have two courses of lamb. The first course is a tender, juicy lightly smoked lamb cutlet served atop a divine, sweet pickled spiced eggplant which is soft and yielding.
BBQ Xifia Alexandrias coated in Xanthi dukkah, served with a caper and wild rice pilaf and a tomato and mountain tea jam
I find that sometimes swordfish can be dry but this isn't at all. The swordfish is perfectly cooked and seasoned with Xanthi's own dukkah mix made up with coriander seeds, fennel seeds, cumin seeds, black and white pepper toasted and ground up then mixed with black and white sesame seeds. This sits on a bed of caper and wild rice pilaf which is savoury and the tomato and mountain tea jam which is sweet. David tells us why he chose swordfish. "The swordfish draws flavours from another region which was once a Greek colony Alexandria in Egypt. Archestratus who wrote Deipnosophists (life of luxury) around 4th Century BC mentioned that the swordfish from Alexandria was the best in the ancient world . The dukkah is based upon the spices that were predominant in cooking in the ancient times."
Lamb Skaras
The last savoury course and it's the signature lamb dish, the lamb skaras. The lamb is marinated in paprika, garlic and olive oil and the finely diced sauce on top is soffritto. The lamb is beautifully lemony, my favourite flavour pairing with rich lamb along with garlic. There are small roasted lemon oregano potato pieces and green string beans.
Lesvian Delight
It's dessert time and there is a generous choice of four desserts. David tells us that this dish was designed for the people of Lesbos (or Lesvos in Greek). The people of Lesbos wanted their name protected around the world so that it couldn't be used by anyone other than anyone in Lesbos (much like Champagne in France). This was denied in court so this is David's dessert with pineapple because Lesbos is the only place in Greece that can grow pineapple. This is a fennel ice cream parfait topped with a sweet ring of sous vide pineapple which was cooked with sugar syrup, licorice powder and a cinnamon stick and pineapple syrup and pineapple fennel sorbet. On top is a black liquorice tuile and a light dusting of nutmeg. It is never too licoricey and the pineapple is the dominant flavour with the whole dessert a refreshing end to the meal.
Chilled Galaktoboureko
I liked the pastry and I'm a huge fan of vanilla slices. This was similar with a caramelised filo pastry top and a pressed filo pastry middle and base and a thick layer of custard inside. I did find the custard a little grainy or floury though. It's served with a thick, rich berry coulis and fresh berries as well as a piece of almond toffee crunch.
Patsavoura
Ahh this translates as "wet mop" but don't let that put you off. This is my favourite dessert because I love the  buttery sweet soaked pastry filled with cinnamon and cloves. It's sweet but oh so divine and served with a rich clotted cream.
Fistikia and Fountoukia
Fistikia means peanut and Fountoukia means hazelnuts. Both ice creams are smooth and nutty and the peanut parfait dome has a centre of Nutella ganache and a sprinkling of peanut and hazelnut dust. The square ice cream is sandwiched between crunchy toffeed hazelnut praline layers. At first we think that the dark sauce is chocolate but it's in fact a thick and slightly tangy sour cherry sauce.
So tell me Dear Reader, have you ever been to a Greek wedding? And do you like to read about the background thinking behind dishes?
NQN and Mr NQN dined as guests of Xanthi
Xanthi
Greek Festival of Sydney
Westfield Sydney, Level 6, Shop 6003, Cnr Pitt Street Mall & Market St,Sydney NSW 2000
Tel: +61 (02) 9232 8535
http://www.greekfestivalofsydney.com.au/