The skies are looking ominous...
I look up at the sky and one moment it's sunny and five minutes later it looks grey. Not the most ideal weather for an outdoor food festival but I'm hoping the gods of fashion look after me and ensure that I don't get wet. For tonight is the opening night of the Taste of Sydney Festival held in nearby Centennial Park!
From left to right: Matthew Kemp, Justin North and Warren Turnbull
I get there at 4:30pm to see the preparations backstage. I'm expecting the first hour before opening to be frantic much like the final hour before the guests arrive at a dinner party where activity is fraught with panic. Instead, everyone looks casual and relaxed. Justin North from Becasse, Matthew Kemp from Restaurant Balzac and Warren Turnbull from Assiette stand casually chatting before the guests arrive. This year's Taste of Sydney is 20% bigger than last years and thankfully we see some more places to eat with stand up astroturfed bar tables as well as places to sit and eat. The VIP stand where we're headed once we have something to eat is full too and closer to the centre of the event. Savoury dishes range from 8-12 crowns and desserts are mostly 8 crowns.
George Francisco unmolds the pannacotta
We head towards the Jonah's stand where George Francisco shows us how he puts together the famous "wobbly booby" pannacotta. Even after making it for 8 years it still gets a reaction from diners. He shows us the mold, a simple plastic martini glass, slightly higher and taller than a regular one to produce the desired effect. He tells us of how he used to make these using the traditional wide champagne glasses which also appeared like women's breasts.
At the last Taste of Sydney he sold 2,400 plates of these and it features all year round on the Jonah's menu at Whale Beach. This means that each week the kitchen has to adjust the recipe slightly to accommodate the differences in temperature. During Summer it melts quicker so it needs slightly more gelatine than in Winter.
Jonah's: Vanilla Pannacotta with Lavender Honey and Fresh pomegranate 12 crowns
He asks us if we would like a taste and we eagerly dig in. It's as good as we remembered with just the right amount of crunch from the pomegranates, yielding softness from the wobbly pannacotta and the sweetness from the honey against the tartness of the pomegranates. True to form, later that evening when we see someone else walk past with one, heads turn "What the hell..." someone asks and they all take turns shaking the pannacotta and ogling at the vanilla bean nipple. And they were all girls!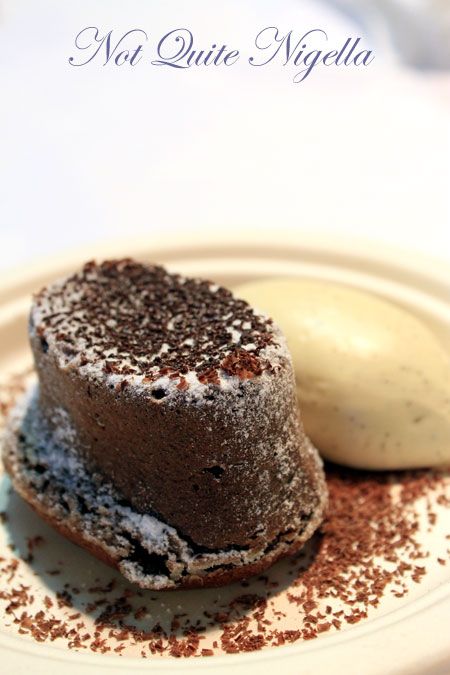 We go to the Becasse stand to check out how they're doing. They're making a chocolate souffle for dessert. A souffle? At an outdoor event I ask Justin? "Absolutely confident (fingers crossed) it is a fail safe, twice cooked souffle recipe. We use a very, very unique and amazing local chocolate in the base called Zokoko - it is the best souffle ever!" and invites us to come by later and take a look in the kitchen when they're busy.
Matt Moran from Aria
We walk around while the stallholders are putting the final touches to everything. Matt Moran from Aria is sitting outside at the front of the stand and it's their first year there. Is he nervous about this event? He throws me an "Are you kidding?" look and confidently says "Nooo this will be fine". I ask him the pick of his three dishes and he tells us the Moran Family Lamb Roast and says that 96 lambs are being used for this event alone.
Mark Best from Marque
I pass by Marque where Mark Best is quietly contemplating the evening ahead.  We talk for a little while and he tells us that he will there for all four days. Interestingly I learn from the organisers that the restaurants get their stands here for free but split the profits of the crowns with the organisers.
Miguel Maestre from El Toro Loco stirs the rice in a giant paella pan
An already cooking paella
There's glasses being raised at the El Toro Loco tent nearby and a loud "Salu". El Toro Loco is also a newbie to the Taste of Sydney but also new to Sydney. The chef Miguel is very chatty and a great promoter of himself and his restaurant which opened in Manly about a month ago. There are huge paella pans that mix up paella and big bags of sofrito that are added to the rice. Each pan makes 100 servings and the size of the two pans is the reason why they have such a huge allocated space. How many of these pans does he expect to make a night? "Two, three or four...or maybe seven!"  he says.
Jared Ingersoll from Danks Street Depot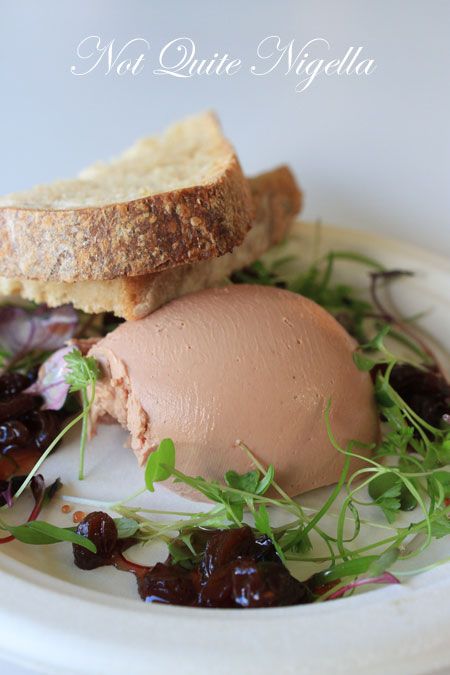 Danks Street Depot: Organic Chicken Liver Parfait with sweet vinegar raisins and dressed baby herbs
An announcement is made over the loudspeaker which gives everyone a final five minutes. We visit Jared Ingersoll at Danks Street Depot where he shows us how he makes the Beef Ribs Smoked in Watermelon. The beef ribs are a square cut and are braised slowly with tomato, pomegranate molasses and other flavours and then are these cooled in the sauce to keep them juicy and they are then smoked. The sauce is then reduced so that it is thick like a syrup.
Danks Street Depot: "Saucy Tart" with a chocolate mousse and liquid raspberry centre 12 crowns
He's excited though and wants to show his  dessert, a "saucy tart" with a chocolate mousse and a raspberry liquid centre. "This one was a headf**k" he says laughing and it took him two months to perfect it. It is a shortcrust shell filled with a chocolate mousse and a raspberry essence and it required an ultra thin shell to contain the water which he made out of cocoa butter and carnauba wax and there was a paint gun involved to get the finish that he wanted.
It's his second year here and he describes it as "awesome". He also tells us the fun for them really starts during the break between sessions where chefs get together and eat and things compare "scores" on the number of units sold. "If you go over to Matt Kemp tell him that we've got a huge queue and we can't keep up with the demand" he says with a mischievous look. He offers us a taste of the cake and it's gorgeous with a fluffy mousse and a strong syrupy raspberry flavour.
The Grumpy Baker
We visit some of the stands in the centre including Pat & Stick's ice cream sandwiches, the Grumpy Baker who give us a gorgeous round Sourdough loaf of bread that we can't wait to have tomorrow morning. There is also Rochester Ginger syrup which has the kick of two very angry mules at the end (it does!).
Bitton Gourmet
Pat & Stick's Ice Cream
Preshafruit
There's also Bitton Gourmet Foods where you can start with a delicious dip or marinade and then end off with the fresh crepes that they are cooking to accompany their jams. The Preshafruits stand has got to be the best value where a 350ml bottle of their divine cold pressed juice is 2 crowns (it's $3 at the supermarket) and a 1 litre bottle is four crowns so we buy three 1 litre bottles of the Granny Smith and Orange Juice and a small Apple & Pear juice.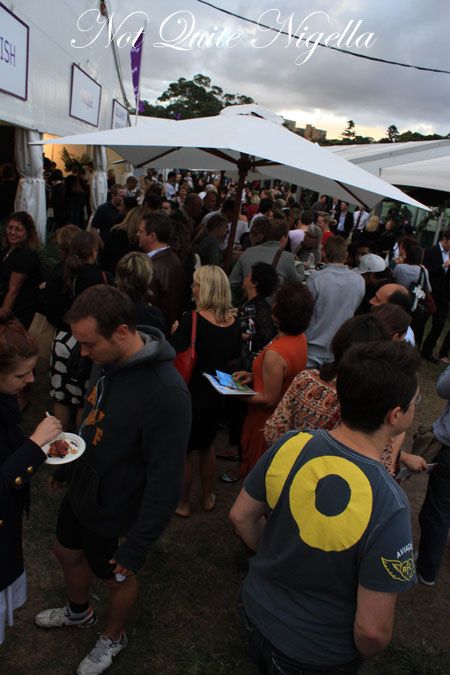 My other partner in crime Christie arrives and we soon go to look for food. We have in our possession 100 crowns for 3 people and the challenge is to feed one hungry man and two moderately hungry females so that price. Would we be able to do it?
Beef ribs smoked in watermelon with a watermelon and avocado salad 12 crowns
We start with the Beef short ribs that Jared has given us to try. They're incredibly soft and one fork prod into it and I nod happily at the meat parting from the bone. The flavour is very smoky so this is ideal for those who loved smoked food (it's too smoky for Mr NQN) and it contrasts nicely with the sweet, refreshing salad.
El Toro Loco: Paella a la Maestre 10 crowns
We head towards the El Toco Loco stand. After seeing the huge pans of paella being cooked we just had to try them and Miguel is busy handing out freshly cooked cinnamon churros to everyone. They're hot and fresh and just about perfect. "Put more rice on that plate" he says to the chef and winks at a customer. Every order is greeted with a big shoutout from the kitchen. We take the paella away and it's a generous serving with plenty of seafood throughout. We all sample and concur that it's a lovely paella and at 10 crowns, one of the best value meals there (plus there are free olives) but we want to save space for the rest of the food so hungry man Mr NQN takes over and finishes it.
Plan B: Organic Grass Fed Wagyu Beef Burger 12 crowns
The man needs his meat so we head over to the Becasse/Plan B stand where he orders one of the famous Wagyu burgers and sinks his teeth into it hungrily. Deceptively filling despite its petite size, it's rich with a tender, juicy patty.  You know that you've married the right person when they give you a bite of the centre of the burger too. We take a look inside at the action in the Becasse kitchen and they are very busy. The number 1 item? You guessed it, the Wagyu burger for which most of the space is devoted to making.
Plating up more Wagyu burgers in the Becasse kitchen
Flying Fish: Yellow fin tuna with sweet pork crackling and ruby grape fruit 10 crowns
Our tastebuds are demanding and we next try a dish from Flying Fish and the queues are long here too as everyone wants their fix. The yellow fin tuna is sliced thinly and is topped with a tiny piece of pork crackling and underneath lays some slices of rich pork belly. It comes laced with a gorgeous sweet black pepper caramel that I want to run my finger around the plate and lick but don't (decorum and all that).
Marque: Slow cooked lamb rump, confit capsicum, eggplant caviar and black olive oil 12 crowns
Christie and Mr NQN loved the pink hued slow cooked lamb with eggplant caviar (not really caviar of course but the little seeds inside the eggplant).
Guillame Brahimi
Guillame: Mini Sandwich with Blue Swimmer Crab meat and coriander mayonnaise 10 crowns
When I bumped into Yasmin from The Almond and the Hazelnut filming here she interviewed me and asked me which places I was eager to try. I told her that there were some like Guillame and Berowra Waters Inn that I really wanted to try as I had never visited the restaurant so at least two courses there were a given. We start with the dish that I had highlighted from the start when I first saw the menu. The mini sandwich with crab meat and coriander mayonnaise with three small squares per serve. The white bread is incredibly soft and the crab meat filling with mayonnaise is wondrously good.  I just took a bite and said to Christie "I need another one" and motion to get up again and start queuing. Even at 9:30pm when the night was over, I looked at the Guillame stand pining for another.
Guillame: Waygu Beef Daube with Paris Mash 12 crowns
The Wagyu beef daube is soft and incredibly rich and sticky with red wine and sits atop a pool of buttery Paris mash. Sublime. I warn Mr NQN that a visit to Guillame is near but we forego the macarons (a selection of three: strawberry, chocolate and pistachio) as we figure that we can try macarons at other places.
Guillame's macarons
Dietmar Sawyere
Berowra Waters Inn: Chilled Vichyssoise, Salmon Caviar, Hawkesbury River Oyster Beignet 10 crowns
We walk across the green to the Berowra Waters Inn stand where Dietmar Sawyere stands behind the counter. Four Courses at Berowra Waters Inn will set you back $130 so I was eager to try their food here knowing that it would cost a fraction of that. The chilled Vichyssoise soup is lovely and foamlike but it's not all bubbles, it's has more body yet still remains light. Underneath it are salty salmon caviar balls. Accompanying it as Hawkesbury River Oyster Beignets which are deep fried battered oysters that rest on a creamy puree with a slightly bitter taste to it.
Berowra Waters Inn: Quail Breast & Truffled Risotto Croustillant 12 crowns
"Are you back?" they ask smiling. After enjoying the oysters and vichysoisse we had to come back for the main which we saw set down near us. It's nothing like we expected, that is a pool of risotto topped with quail breast. Instead it's two oval pieces with a crispy deep fried coating, a filling of truffled risotto and a centre of quail breast accompanied by a vivid green puree. The crunchy and soft texture work wonderfully together and the centre of tender, pink quail is a nice surprise. The only thing stopping me from ordering the dessert is the fact that it was cheesecake foam and I am a bit over foam.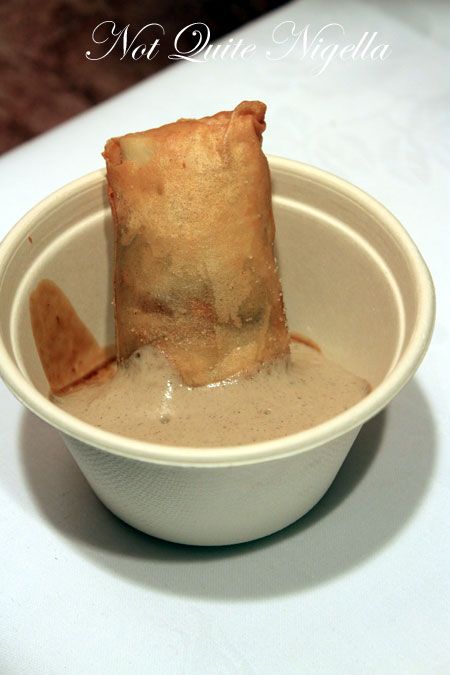 Restaurant Balzac: Crispy Wagyu Beef with Wild Mushroom and Truffle Foam 10 crowns
We see @carmr, Denea, Jen & Lisa at the Balzac stand and they are going crazy over Balzac's offering so we buy one for ourselves. It's wagyu beef encased in a pastry casing similar to a spring roll pastry. The foam is not really foam, it's more a sauce with a lovely, rich slow braised wagyu inside. We think this is the dish to end off our savoury courses.
Flying Fish: Sri Lankan Love cake with raspberry tea coulis 8 crowns
We take a break in the VIP room which is very busy and rest our weary feet. After about half an hour we realise that it's 9 o'clock and we need to get cracking on spending our last crowns on dessert! Wandering around we have 22 crowns left, not quite enough to get 3 desserts which are mostly at 8 crowns but slightly too many for 2 desserts. Christie and are both intrigued by the Sri Lankan Love cake with raspberry tea coulis back at Flying Fish. We ask about it and it is served at weddings or on special occasions and it's a soft semolina based dessert with a fragrant honey and rose water scent and a thick raspberry tea sauce. It's topped with some cream and is lovely, moist and light.
Longrain: Tapioca pudding with poached jackfruit & lychees 8 crowns
Seeking out another dessert we arrive at Longrain who have a bar attached alongside. Upon spotting the dessert option, Mr NQN licks his lips and says "That sounds nice" so we order the dessert. It's simple but refreshing and gorgeous with the thick coconut cream lubricating the tapioca balls with pieces of jackfruit and lychees for the lucky dippers.
Aria: Strawberry jelly with Champagne foam 8 crowns
They're busy foaming up their strawberry jellies with champagne foam at Aria and they ask us if we'd like to try them as it's the end of the night. The jelly is appealingly wobbly but surprisingly I don't go gaga for the champagne foam and I prefer the jelly by itself.
We're full and laden down with bags and cameras and at 9:30pm we realise we haven't had time to check out the classes in our endeavour to sample the dishes on offer. We retreat into the night with our goodies and our stomachs full.
_Pros: food is excellent quality even with the outdoor conditions. Lines are generally very short and less than a minute wait. Trying dishes from hatted restaurant for a fraction of what you'd pay there. Free cooking demos, Chef's tables and wine demonstrations offered. Chef and celebrity spotting.
_
Cons: The entry fee of $30 doesn't buy you any dishes, only samples and there aren't a huge amount of food stands in the Producer's Market although there is a lot of alcohol (for an averagish person, it may cost about $40-$50/40-50 crowns for just the food not including entry). Restaurants only accept crowns and they come in booklets of $20 and $30. Possibly running out of time to do everything within a session if you graze and drink leisurely.
So tell me Dear Reader, do you enjoy outdoor food festivals?
NQN and Mr NQN visited the Taste of Sydney Festival as a guest of Taste of Sydney
The Taste of Sydney festival will be held at the Brazilian Gardens, off Grand Drive, Centennial Park on the 11th-14th March 2010
Opening times:
Thursday 11th March – 5:30pm-9:30pm
Friday 12th March – 12pm-4pm & 5:30pm-9:30pm
Saturday 13th March – 12pm-4pm & 5:30pm-9:30pm
Sunday 14th March – 12pm-5pm
For more information see the Taste of Sydney website.