When I was young, all I wanted was a surprise party and to this day, I have never had a surprise party. My parents didn't really fuss much about birthdays and celebrations. To them, it's an excuse to eat great food and give a red packet of money to a child. That was much easier than traversing the minefield of buying teenager's and adults gifts. The elaborate planning necessary for a surprise party plus the secrecy which is against my mother's genetic makeup (she blurted out to many of our wedding guests on my wedding that I had forgotten to bring along my underwear-discretion is not her forte) meant that a surprise party would never eventuate.
Still, would it have killed them to throw me one surprise party? ;)
I am of the opposite thinking. Life isn't quite as fun without the occasional surprise. And if it's in food form and it's not a surprise like "Oh guess what? You just ate a fermented yak's testicles" then all the better. I was pondering pavlovas, as you do when you're hungry and have a few egg whites in the fridge. I originally wanted to make a trifle with a meringue top burnished with a blowtorch but ever since Donna Hay put a trifle on her current magazine cover and eight trifle recipes inside, trifle bowls are about as scarce as a quiet night at home in December.
So I said to myself as I was shopping "Stuff it!" and stomped off and out of the shop. Hmmm stuff it? Could I possibly take my own advice and stuff a pavlova shell with fruit and cream? After all the pavlova does rise and create a cavernous hole just begging to be stuffed with goodies.
I raced home and bought some cream and fruit on the way. I whipped the egg whites and baked them and let them cool. I whipped the cream until stiff and then cut out a hole and removed the bottom and piped whipped cream into the hole and then stuffed it as full as I could of sweet fruit. And just because I can't leave well enough alone I drizzled some raspberry sauce and cream on top and served it with a bit more whipped cream. I can say that as annoyed as I was when the trifle bowls were sold out, I was glad because it gave me the idea for these. It tastes just like a berry meringue except of course the surprise is in the inside! I should think that if you were particularly daring, you could even try this with a larger pavlova although I would exercise a little caution as a large pavlova shell is a bit more delicate. I guess that could be considered part of the surprise?
So tell me Dear Reader, have you ever had or thrown a surprise party? And how did it go?
And I know Christmas is edging dangerously closely. If you're stuck for something to make as a gift, may I point you in the direction of some past stories if you feel so inclined to make a gift:
Christmas Wonderland Rocky Road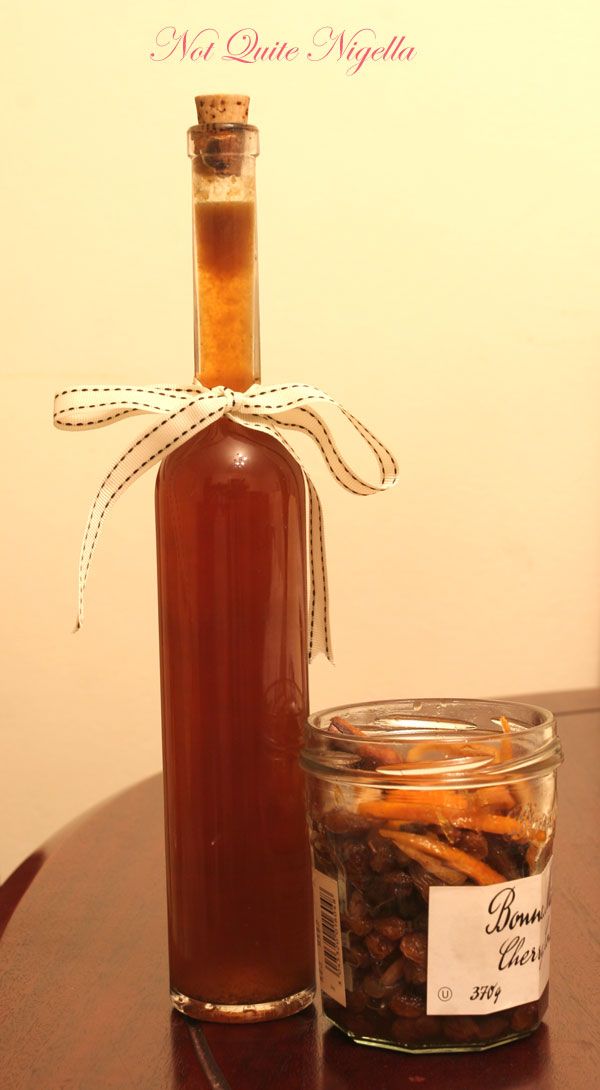 Plus of course, everyone's favourite, Bacon Jam!
Surprise Gift Pavlovas
Makes 4 x 12cm/5inch individual pavlovas
3/4 cup caster or superfine sugar
3/4 teaspoon white vinegar
To decorate
1 tablespoon caster or superfine sugar
1 cup of mixed fresh berries (dice up strawberries if using)
1/2 cup raspberry sauce (I used a Cuttaway Creek one)
Step 1 - Preheat oven to 130C. Line a baking tray with parchment and draw four 12cm or 4 inch circles. In the clean bowl on an electric mixer beat the egg whites until foamy and then add vinegar. When soft peaks form add sugar by the teaspoonful until it becomes stiff and you can turn the bowl upside down without any white moving. Using a spoon, spoon meringue mixture into the circles and make little spiky or swirly patterns if you wish. Bake for 1 hour and then turn off the oven and let the pavlovas cool gradually.
Cutting out the circle at the bottom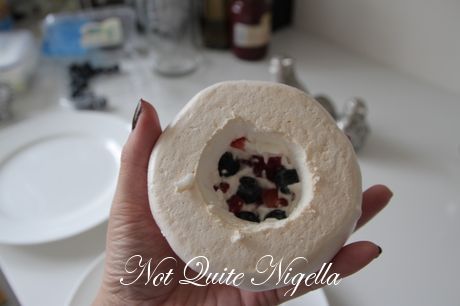 Filling it with fruit and cream
OK a bit more cream just because
Then plug it back up with the piece that you cut out
Step 2 - Whip the cream with the sugar until stiff and pipeable. When meringues are cool, and just before serving have the serving plates ready. With a sharp knife, cut a hole into the bottom of the pavlova and remove the bottom and set aside for later. Pipe the cream into the cavity trying to fill in the gaps and also fill with the berries-the pavlova has an airpocket so fill that up. Place the bottom back in and place on the serving plate.
Step 3 - Drizzle with raspberry sauce and more whipped cream. Yes more.