August seems to be a month of lateness. No matter how much I try I can't seem to gain any traction and I find myself constantly apologising to people for being late, for handing in things late, for getting back to people late or turning up to dinner late. The first words that tumble out of my mouth are "I'm sorry" combined with a sheepish smile reserved for such very occasions.
Cinnamon almond and sea salt dark chocolate bark
I'd get caught in queues and in traffic with people going at a snail's pace. Just yesterday I was running late and in the supermarket where I spotted what I thought was a miracle, a checkout without anyone in the queue aside from one woman. I soon learned the reason why. She had insisted that the checkout lady clean every inch of the conveyor belt until it was sparkling clean and bone dry! The job that the girl did apparently wasn't sufficient so she grabbed the paper towels and finished the job off herself. Everyone else of course had given her a wide berth but in my frantic state I hadn't seen it. I ignored her as she glared at me for putting down my goods on her newly cleaned conveyor belt and rushed off without giving her a withering glance as I would have normally.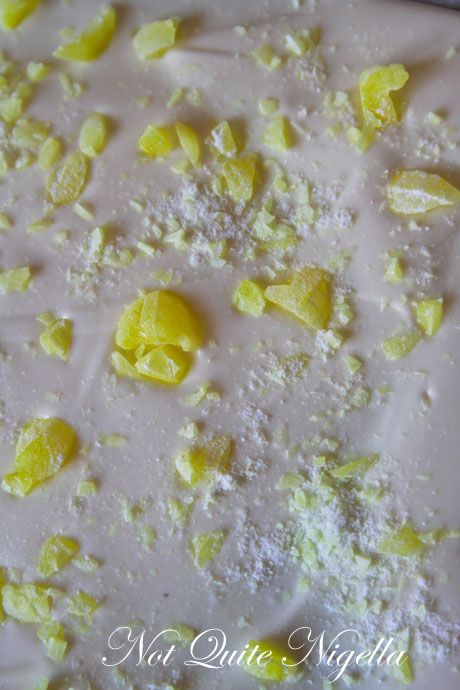 Lemon sherbert white chocolate bark
One thing I was determined not to be late for was Father's Day this year this coming Sunday the 4th of September (for those of us in Australia at least). I got the reminder a week or so before when we were arranging Father's Day lunches and dinners (and my uncle seemed to want in on the action so we have three fathers this year!).  I got the idea from a recent trip to Canada. I was gifted with a bouquet of chocolate bark from Edmonton chocolatier Kerstin's Chocolates and when I saw it I fell upon it like a diva receiving an ornate arrangement of flowers. It was a fantastic idea and I immediately thought of my mother and making her one of Mother's Day next year but then stopped and thought that this might be the perfect gift for Father's Day too. After all fathers like chocolate too. Chocolate bark is one of the easiest things to make of course and it is simply melting good chocolate, spreading it out and then sprinkling toppings over it and breaking it up!
As for flavours, it's easy to tailor the flavours to whatever sweets or toppings the lucky recipient likes. I liked the idea of balancing the sweet white chocolate with crushed tangy lemon sherbert lollies and experimented with a more adult sea salt and cinnamon toasted almond and dark chocolate.
Milo white chocolate bark
It is also an entry to the Daring Baker's challenge, albeit a very late one (accidentally in keeping with the late theme). I wasn't able to make two sweets but I did want to participate as it has been a while since my last Daring Baker's event. One of my favourite bloggers Lisa was hosting so I didn't want to miss out. The August 2011 Daring Bakers' Challenge was hosted by Lisa of Parsley, Sage, Desserts and Line Drive and Mandy of What the Fruitcake?!. These two sugar mavens challenged us to make sinfully delicious candies! This was a special challenge for the Daring Bakers because the good folks at http://www.chocoley.com offered an amazing prize for the winner of the most creative and delicious candy.
Candy cane dark chocolate bark
I promise that if you do choose to make this, you can have this done within an hour and you'll also be giving your father something hand made and tailored to his own taste. Oh and by the way the chubby tot in the picture in the photo frame is Mr NQN as a baby and his father. I couldn't find any pictures of my father and I as he was always holding the camera!
So tell me Dear Reader, what will you be doing for your father this Father's Day?
Easy Chocolate Bark Bouquet
Makes 1 large bouquet or 2 small bouquets
300g/10 ozs best quality dark chocolate (for those who want to know about tempering the instructions follow below)
300g/10 ozs best quality white chocolate
Whatever toppings or items that the recipient likes. Suggestions: 3-4 lemon sherbert lollies (for lemon white chocolate bark), 2-3 tablespoons Milo (for milo white chocolate bark), 4-5 small candy canes or a bar of Peppermint Crisp (for a mint dark chocolate bark), cinnamon almonds and sea salt (for almond sea salt bark)
You will also need: wrapping paper (a 45x45cm square for a large bouquet or 30x30cms for two small bouquets), clear cellophane, sticky tape and ribbon.
Step 1 - Line two trays with parchment paper-I find it best to spray the tray itself with some non stick spray so that the parchment sticks to it.  Firstly get your sprinkles ready as they need to be sprinkled on as soon as the chocolate is spread out. Place them in a ziplock bag and crush them with a rolling pin.
Step 2 - In a clean, dry bowl, melt the chocolate over a double boiler (a heatproof bowl sitting on top of a pot of simmering water) ensuring that the bottom of the bowl doesn't touch the simmering water. Or do it in the microwave in 60 second bursts on 50% power stirring between bursts.
Step 3 - When the chocolate is completely melted and smooth spread it out along a tray. You can do as many flavours as you want although I'd recommend up to four flavours and just put two flavours on the one tray of chocolate. An example is half a sheet with lemon sherbert lollies and the other half with Milo. If for any reason your chocolate sets really quickly use a hairdryer (yes really!) to make it soft again but do this before you add the sprinkles or they will go everywhere. And yes I learned this from experience ;) Allow to set-either on the bench or in the fridge is fine. Then when ready, snap into shards.
Step 4 - Make a bouquet by placing it in the wrapping paper and putting the shards in a pointy triangular pattern. Sticky tape the ends at the back of the bouquet. Then carefully turning the bouquet over place the bouquet face down on the cellophane and sticky tape up the top and sides so that the sticky tape shows on the back only. Add ribbon. And voila! You have your own chocolate bark bouquet!
Tempering chocolate
• Finely chop chocolate if in bar/slab form.
• Place chocolate in a heatproof bowl.
• Place bowl over a saucepan of simmering water (make sure the bowl does not touch the water).
Tip: Make sure that your bowl fits snugly into the saucepan so that there's no chance of steam forming droplets that
may fall into your chocolate. If water gets into your chocolate it will seize.
• Using a rubber spatula, gently stir the chocolate so that it melts evenly
• Once it's melted, keep an eye on the thermometer, as soon as it reaches 45°C / 113°F remove from heat (between 45°C-50°C / 113°F-122°F for dark chocolate)
• Pour ¾ of the melted chocolate onto a marble or granite slab or worktop
• Using a scraper or large palette knife move the chocolate around the surface to help it cool
Tip:_ Keep the motions neat and tidy, if you're not working with a lot of chocolate you don't want to spread it too far otherwise you may end up with chocolate that begins to cool too quickly and start to set as well as drops below _
• the necessary temperature. Use a motion that folds the chocolate on itself
• Check temperature regularly with a thermometer
• Once it reaches 27°C / 80°F put the chocolate back into the heatproof bowl with the remaining chocolate
• Gently stir together with a rubber spatula
• Check the temperature to see if it's risen back up to the working temperature of the chocolate (milk, dark or white) as seen in the above chart
• If the temperature has not risen to its working temperature, put the bowl back over the simmering water, stirring gently
• IMPORTANT: You really need to keep an eye on the temperature as it can rise quicker than you think, so as soon as it's up to its working temperature, remove from heat
• It's now tempered and ready to use
Tip: If you're using the chocolate to dip a lot of truffles etc. which means the chocolate will be sitting off heat for a while it will naturally start to thicken as it cools. To keep it at an ideal viscosity for even coating, put the bowl over steam for 30sec-1min every 5-10mins, just do not let the temperature go over the working temperature!
Tip: Having the chocolate in a warmed glass bowl and wrapped in hot kitchen towel can also help keep the chocolate at its working temperature for longer
Tip: It is also easier to keep the heat if you work with larger amounts of chocolate rather than small amounts. Any leftover chocolate can be kept to be used later and then re-tempered
Tip: Remember, don't let any water get into your chocolate at any stage of the tempering process!
_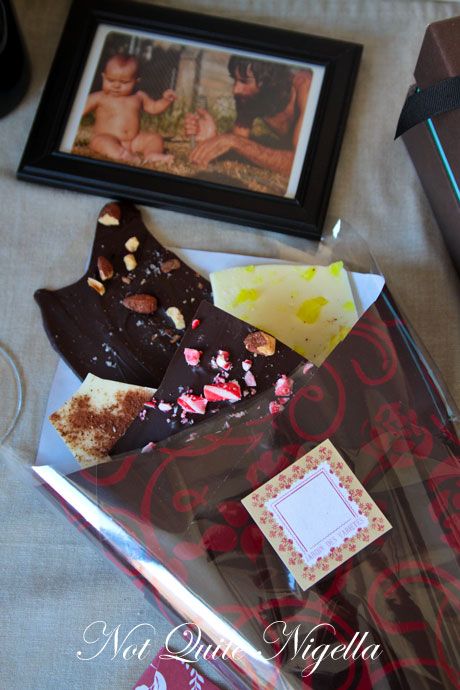 _