I know someone that is a huge traveler. She has a passport stamped with virtually every country on earth save Antarctica and she will not stop. Her travels are often borne from the search for food specific to the region or country with just one disastrous attempt to find Kobe beef in Kobe. When she was visiting me in Japan, she didn't realise that Kobe beef was indeed available at my local Tokyo Supermarket so she traveled to Kobe and wasn't able to find any Kobe beef. To add insult to injury, she ended up defeated, at McDonalds eating a Chicken burger. I've told her many a time that if she'd just stop traveling for a second, she'd be able to write a blog about her eating adventures but she cites a short attention span as preventing this.
After one trip to South America she brought back a treasure trove of goodies, including dulce de leche cookies. My oh my, these are things of beauty. I forgot all pretense of eating a couple of  dainty cookies and polished off a whole layer of the box.  If I see Dulce de Leche flavoured anything on the menu I'll order it, mainly because it's not really widely available or known here. For those of you unfamiliar with it, I urge you to become instantly familiar, indeed downright intimate with it. It's a gorgeous caramelised milky syrupy jam. Like the most gorgeous caramel you can use it in biscuits, cakes, ice cream or on toast for something different.
For me, I set about making some pots of this for Christmas presents. I wanted friends to try something that they may not have had before. And Christmas time seems to be the time when diets and restrictive eating goes out the window. And yes I know what you're going to ask next: it is wonderful by the spoonful from the jar. It is essentially like the Caramel Top N Fill but what is the fun in buying it when you can make it and infuse it with your own flavours.
This version is for the forgetful, clumsy or prone to drama who are scared of boiling the cans for several hours at a risk of the cans exploding. I am one of them, fearful of having caramel coating all kitchen surfaces. My husband told me a story of being on a boat sailing and one of his friends cooked frankfurts in a pressure cooker and the skin of one got stuck in the hole and the whole pressure cooker exploded. One gentleman got a sausage in his ear and over the next few weeks they kept finding bits of frankfurt all over the boat. I'd like to avoid this fate, especially where caramel is concerned.
And when I saw fellow blogger's Angela's milk ice cream with Dulce De Leche on it I knew I had to whip up some to go with it so in the way she approached it as a milk ice cream with some Dulce de leche on top, I approached it the reverse way as some Dulce de Leche with some milk ice cream. Brilliant minds think alike or so I like to think :)
Dulce de Leche or Confiture de Lait
Adapted from The Perfect Scoop (Ten Speed Press) by David Lebovitz
Step 1 - Preheat the oven to 425° F (220° C).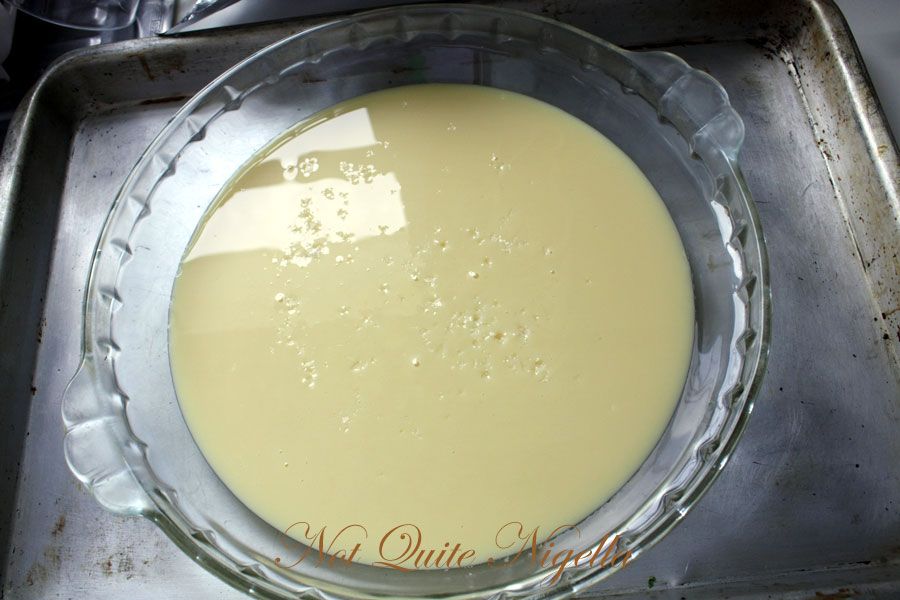 Step 2 - Pour one can (400 gr/14 ounces) of sweetened condensed milk (not evaporated milk) into a glass pie plate or shallow baking dish. Stir in a few flecks of sea salt. Cover tightly with foil.
Step 3 - Make a water bath by placing the covered pie dish in a larger deeper baking dish and bake for 1 to 1 1/4 hours. Check once or twice while baking to top up water in the water bath.
Step 4 - Once the Dulce de Leche is nicely browned, remove from the oven and let cool. Once cool, whisk until smooth.
Step 5 - Store in the refrigerator until ready to serve. Warm gently in a warm water bath or microwave oven before using.
Milk Ice cream
3 tablespoons milk powder
3/4 cup caster or granulated sugar
Step 1 - In a bowl whisk all ingredients together until combined and sugar is dissolved. Place in Ice cream maker and churn according to directions for about 25 minutes until soft serve consistency. Place in a freezerproof container and then freeze for several hours or overnight to firm up.
N.B. I don't really recommend making this without an ice cream maker as too many ice crystals will form with this amount of milk and it will be more of an milk ice block than a smooth ice cream.