The email arrived in my inbox a few weeks ago. One thing that always perks up my ears or more correctly my eyes is a mention of afternoon tea. But this wasn't your ordinary afternoon tea, it was the offer of a gluten free afternoon tea. I mentioned it to Rebecca who eats gluten and dairy free and although she lives in Canberra she was delighted to catch the bus up for the afternoon tea. I didn't want her to be disappointed with just my company so I invited some blogging friends Brydie, Charlie and Tania and before we knew it, we were celebrating Rebecca's birthday over cake and goodies.
The Radisson is one of those quieter hotels situated on O'Connell street in the CBD towards the Rocks. Thankfully parking is plentiful this Sunday afternoon and the doormen offer a cheery and enthusiastic greeting as we walk through the doors. The afternoon tea is held at Bistro Fax which is the lobby level bar which is decorated in green and yellow hues with bottles adorning walls. There's a distinct yellow cast in the room and we settle into a comfortable arrangement in the forest green velvet lounges for five.
The whole idea about the gluten free afternoon tea is that it doesn't need to be pre ordered and anyone can just order it when they arrive. In the interests of testing it out, I opt for the gluten free afternoon tea while Tania and Brydie go for the regular. Sparkling wine is poured and  we sip on this and wait for our tiers to arrive. It takes quite a while for them to arrive, about twenty minutes and they come on three tier settings. The cost per person is $40.
Gluten free afternoon tea
Throughout the afternoon, service was friendly albeit mostly absent. Charlie had to ask three times for water and our tables weren't cleared and forks were given to some but not others. We noticed that there was often just one person on the floor who was usually at the bar making drinks. But they did kindly allow us to take in a cake for Rebecca's birthday. Charlie baked this beautiful gluten and dairy free hummingbird cake with an Italian meringue frosting.
Charlie's gluten and dairy free hummingbird cake
Regular afternoon tea
The second and third tiers are the ones that differ. For the gluten free sandwiches, the bread is bought in and there's a cucumber, cream cheese and dill sandwich which really needs some salt. There is also a salmon and cream cheese sandwich and a roast beef, caramelised onion and horseradish sandwich, the latter definitely the pick of the sandwiches.
Gluten free sandwich selection
The bread is a bit too thick-gluten free bread is quite heavy and slicing the bread thinner would have helped with the ratios. The sandwiches also have a little dryness on the outside. The last morsel is a chicken and avocado wrap where the filling was delicious but the wrap was very cracked and dry and mostly just left behind.
Regular sandwich selection
The regular afternoon tea comes with a cucumber, cream cheese and dill sandwich, the roast beef, caramelised onion and horseradish sandwich, a salmon toast with cream cheese which looked really good and curry chicken puffs.
Gluten free sweets layer
The second layer is where things get a little curious. When I saw what I thought were scones with a pot of jam and cream, I  was a bit alarmed as they looked like terrible scones. Thankfully they were shortbread rounds and not scones. They were quite enormous (around 6-7 cms)and thick and they were portioned as two to a serve. Rebecca as a chef didn't quite understand why they didn't make gluten free scones instead of these enormous rounds of shortbread and while they were crumbly and tasty enough, a much smaller round of shortbread would have been more suitable as nobody really needs that large a shortbread biscuit let alone two. It was however a nice touch that they had written Happy Birthday to Rebecca on this layer.
The non gluten free scone layer featured plain and fruit scones with strawberry jam and whipped cream.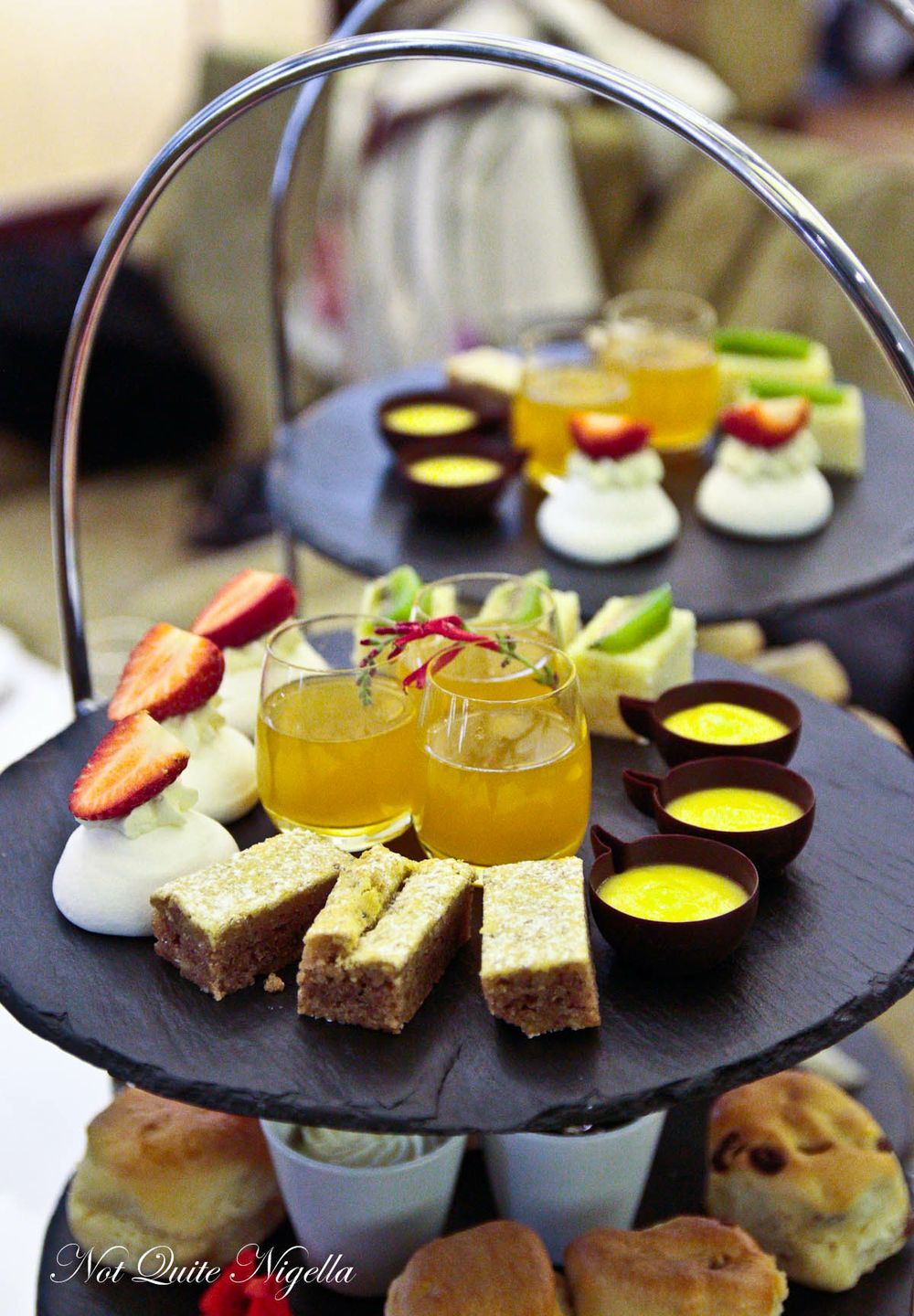 The top sweets layer was the same for both gluten free and regular menus. There was a coconut macaroon rectangle which was moist and quite good indeed. There was also a ground walnut slice, mini pavlova which would have been nice with a bit more cream and fruit, mini chocolate cups filled with lemon curd and a tangy passionfruit jelly. There wasn't any offer for tea so we asked if we could have some and there was a fairly limited choice of Twinings tea-loose leaf but still a range that is carried in supermarkets and quite weak in strength.
But it didn't stop us from staying a while, eating birthday cake and chatting until we realised that hours had passed!
So tell me Dear Reader, do you have any food allergies? How about food dislikes?
The group received two high complimentary teas but the rest were paid for.
Radisson Blu
27 O'Connell St, Sydney NSW 2000
Tel:(02) 8214 0000
Afternoon tea is available daily from 10am-6pm.