When I started High School my friends and I subsisted mostly on pocket money from chores and homework and money was at a premium at least in the first couple of years of high school. Still, there was one friend that was a little tighter with her cash than most and this continued way beyond when we got after school jobs.
One day towards the end of lunch she came up to our group and said "Who wants to buy the rest of my frozen yogurt? There's half left so I'll give you 50% off!". We demurred, after all a yogurt half eaten wasn't particularly appealing but one that we had to pay for was even less. If she had offered it to us and said that she couldn't finish it then I think someone would have taken it but we watched as she went from group to group trying to sell her half eaten yogurt to no avail.
I murmured to my friends "You know, it wasn't even a good deal..." and they looked at me like I was a bit alien.
I'm used to that look. Like when I'm around melted cheese I get that look from others too. You see I get a little bit deliriously happy. I had a wheel of brie that I was going to serve to friends (and no I don't charge friends Dear Reader if you think that might be where the story is going ;)). Except that it was frightfully cold and having the heating on didn't do much and I figured that we needed heating from within with hot toddies and melted, gooey brie dip.
This melted brie dip is just about the easiest dip you could make and the oven does all of the work. If you have guests you can prepare it ahead of time and leave it on the counter til they arrive and after that, it's 15 minutes in the oven (or less if you've left it out on the counter for a few hours). And there's scarcely anything better than dipping some bread into a river of melted, oozing cheese, I promise you.
So tell me Dear Reader, would you have bought the yogurt? And do you ever get those alien looks?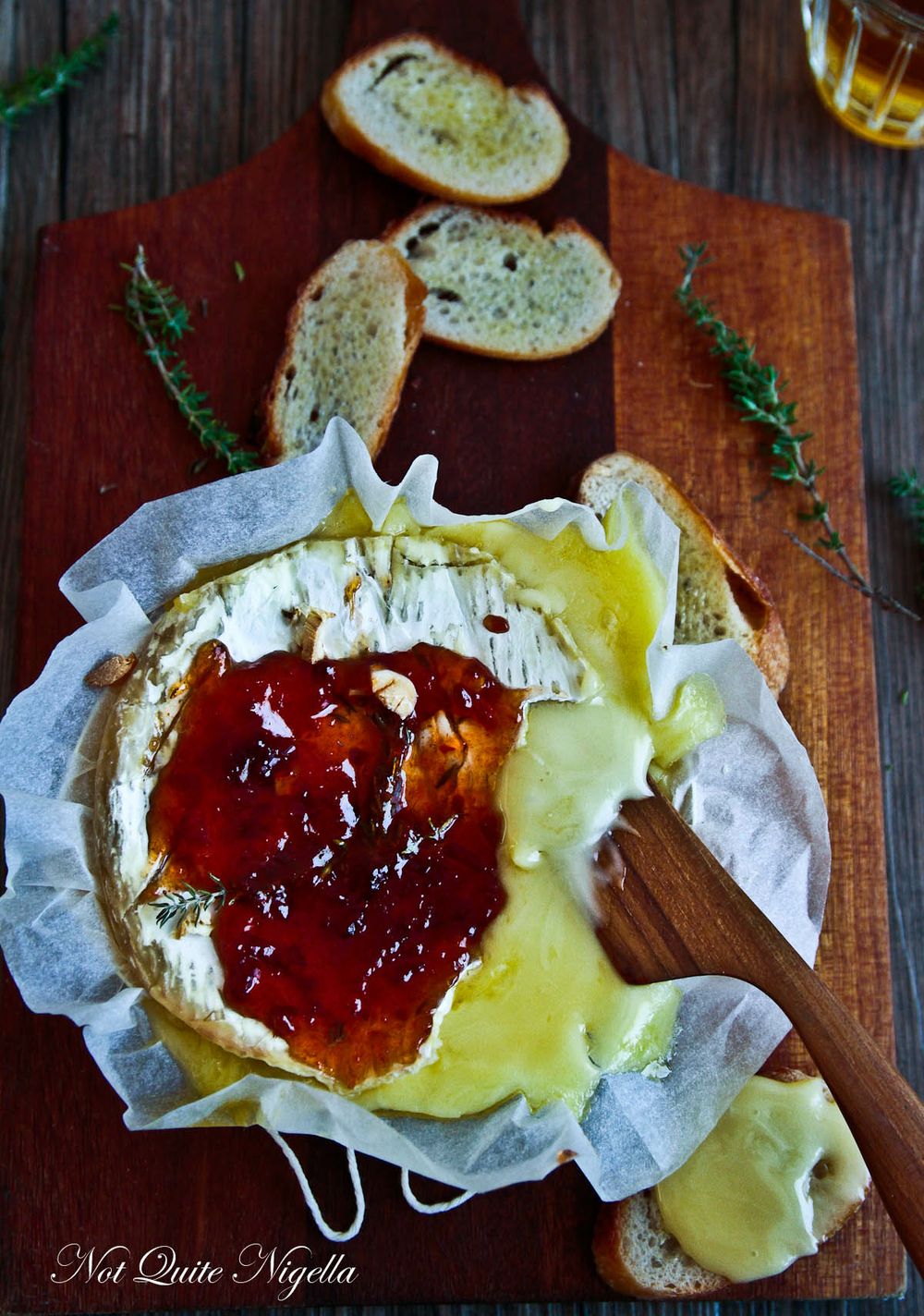 DID YOU MAKE THIS RECIPE? Share your creations by tagging @notquitenigella on Instagram with the hashtag #notquitenigella
Easy Baked Brie Dip
Degree of difficulty: easy
Preparation time: 5 minutes
Cooking time: 10-20 minutes
300g/ 10 oz wheel brie and the box that it came in
1 clove garlic, finely chopped
1 tablespoon apricot or chilli jam (honey or cranberry sauce is also good)
Step 1 - Preheat oven to 180C/350F. Remove the brie from the foil. Cut out a round of baking parchment to fit the box allowing for some room on the sides. Tie a length of string around the box rim (important as the boxes are not very strong and they can unhinge after baking in the oven).
Step 2 - Slice the brie wheel in half horizontally and spread with the half the garlic, thyme and jam. Sandwich the brie back together and add the remaining half of the garlic, thyme and jam to the top of the brie. Bake for 15-20 minutes until the insides are runny (if the brie is at room temperature it will probably be ready in 8-10 minutes).