A few months ago I flew to the Sunshine Coast to speak at a conference for Gourmet Garden herbs. The audience was a room full of bloggers and food enthusiasts and I loved being around these people who cared about food as much as I did-so much so that I didn't want to leave! I met several people including fabulous Jay from Moodie Foodie, the sweet Lisa from Bake Bike Blog and the gorgeous Filipa from Gourmet Mum who came all the way from the UK! Also from the UK were a lovely couple Dimitri and Jason and I got to talking to them over preparing lunch.
Dimitri was telling me about his Giagia or grandmother and what an extraordinary life she led. This segued onto food (or was it the other way around?) and soon he was telling me about one of her recipes: the lazy housewife's moussaka where a 300 year old recipe. Now this isn't a disparaging title aimed at insulting housewives, she was in fact one and I think if anyone knows anything by now, it's that there's no such thing as a lazy housewife!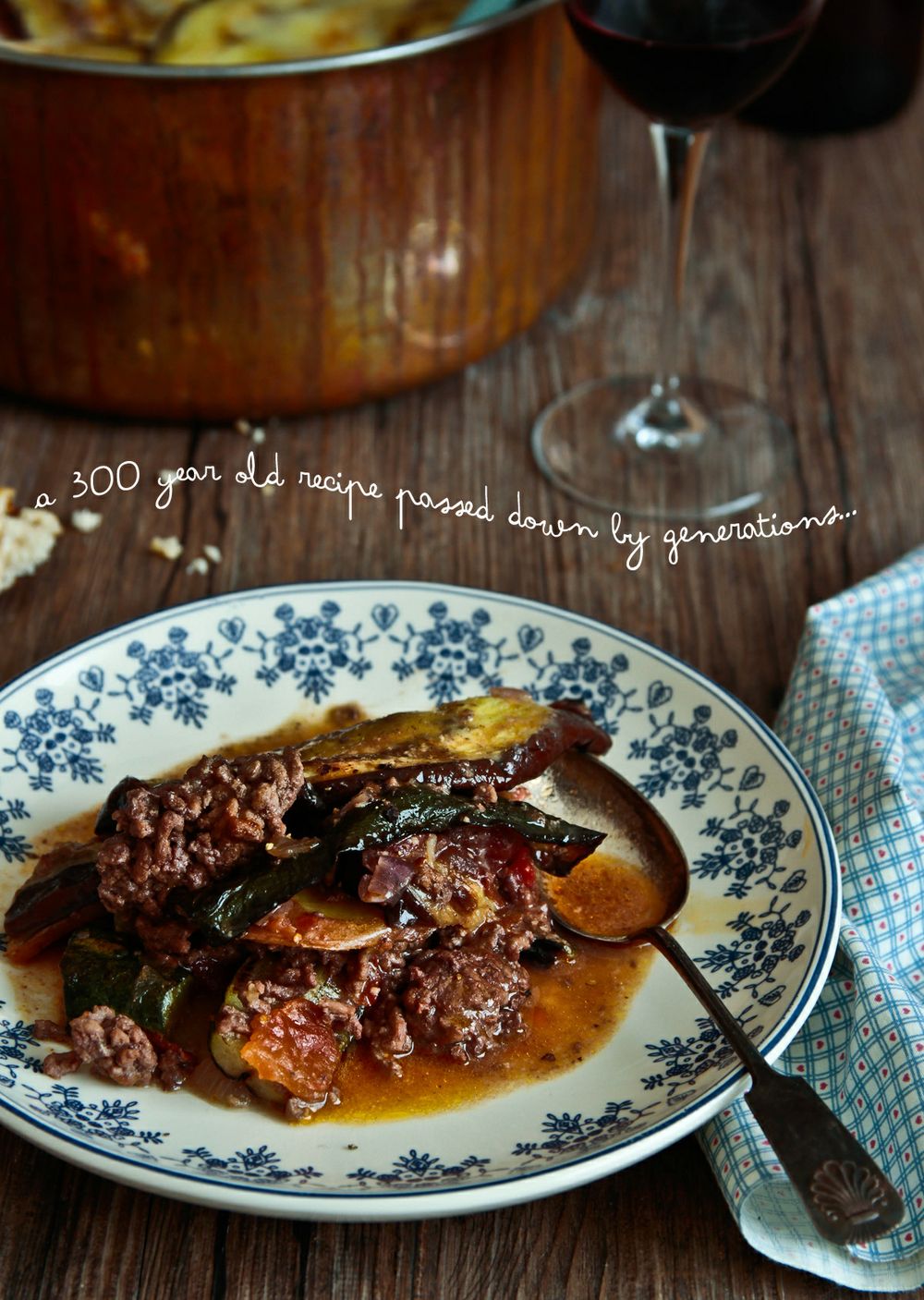 But I digress, as promised Dimitri sent me an email after he returned home from his trip to Australia and along with this recipe, he sent another much desired recipe-for a beef stew with quince. He told me more about giagia, his kind hearted great grandmother. "Both the recipes I have for you are from my grandmother who was taught how to cook these recipes from her mother who in turn got them from hers etc, etc. These recipes are at least 300 years old. They are very simple recipes but so tasty which makes it worth your while to try and replicate them for yourselves."
"Giagia is what we call nana or gran in Greek. My great giagia Christanthi Akepsimaidis was good to everyone and was a healer (remedies etc) and when she noticed that a worker's child was ill she assisted, considering my great grandfather would not allow her to. It was an irritation of the head; the child was loosing all his hair in clumps. She gave the father of the child an ointment to fix it without my great grandfathers approval."
Jason (left) and Dimitri
"Later when the war was on in 1921 my great grandfather was killed in the war of 1921...My great grandmother decided to just pick up her child (my giagia) and a Byzantium icon of the holy Mary and child and just started to get away from her city to the port. The father and son (the same son she cured a few years back) recognised her with my grandmother and repaid her kindness by helping her escape the Greek Turkish war. They safely escorted her on a boat to Greece and she escaped with my grandmother Despina who was just a baby in her arms."
Giagia Despina Karakatsanis
I remember when Dimitri told me this story and I felt the goosebumps on my arms. It was a beautiful real life tale of kindness being repaid unexpectedly and how family can overcome wars and animosity. I set about making this wonderfully historical recipe that had been passed down for so many generations. Having tried the recipe I made a few shortcuts which I'm assured giagia wouldn't mind just in the spirit of making the moussaka a little less time consuming.
Moussaka is quite a production but this one is less so with most of the work being done on the stovetop (although some roasting replaces frying to make it even easier). While the beef browns and the potatoes fry, you roast the eggplant and zucchini until they are soft. They then are layered on top of each other in a pot that is put on the stove and the entire dish is cooked for about twenty minutes on the stovetop. It's a fabulous dish and perfect for the night in which you seek comfort via food. The vegetables are tender and flavoursome and the beef is richly flavoured with tomatoes and red wine.
So tell me Dear Reader, what's your favourite subject to talk to people about? The weather? Politics? Mine is food, travel and television shows!
DID YOU MAKE THIS RECIPE? Share your creations by tagging @notquitenigella on Instagram with the hashtag #notquitenigella
Lazy Housewife's Moussaka
Adapted recipe
Ingredients
500 grams/1 pound minced beef or lamb
2 large eggplants/aubergines
2 large zucchinis/courgette
1 large onion or 2 small onions
400g can of tomato puree/tomatoes chopped
1 tablespoon of olive oil
Preparation
Step 1 - First, preheat the oven to 220c/428F and line two trays with baking parchment. Slice the eggplant and zucchini lengthwise into half inch slices. Drizzle some oil onto the vegetables and bake for 30 minutes turning halfway through and adding more oil if you need it.
Step 2 - Heat a frypan on medium to high heat and slice the potatoes about a half inch thick again (I left the skin on) and fry these in some oil and put aside. They don't have to be fully cooked through but golden and cooked on the sides is good.
Step 3 - Chop your onion/s and then put a tablespoon of olive oil in a frying pan and once hot add the chopped onion and cook until translucent and then add the mince making sure that it is broke up. Once it has a nice colour just add your tomato puree/tin of chopped tomatoes, salt and pepper to taste as well as a half glass of red wine and a tablespoon of olive oil. Then you just cook until it becomes a thick sauce.
Step 4 - In a large cooking pot you start to assemble your moussaka. Your first layer will be potatoes then mince then half of the cheese, beef sauce then potatoes then your courgette/zucchini, then more minced beef, then aubergines/eggplant and so on until you have a final layer of eggplant and then add the rest of the cheese until you are ¾ up your cooking pot. You then just put the pot on the hob, add the milk or water and on a low heat you cook it lid off for approximately 20-25 minutes or when liquid has evaporated.
Note from Dimitri: "Giagia used to say that the really lazy housewives just did potatoes and mince and forgot all about the aubergines and courgette. She used to say that she always tried not to be that lazy but hey people do slip some times and she would wink."
Béchamel only if you want it for this recipe the idea is that you do not add the béchamel you are supposed to cook without béchamel. Should you choose to do béchamel then you will need to cook your béchamel sauce as below then add to moussaka and put in a 190c/390F oven for 15 minutes to thicken and give it some colour
Ingredients
2 tablespoons of flour or corn flour (giagia preferred cornflour her mum obviously used flour)
55 grams Kefalo Graviera cheese (Greek salty cheese) or parmesan cheese instead
Preparation
To make béchamel sauce you add milk butter and flour or cornflour salt and pepper (note because the cheese is salty you will need to use less salt) and cook on a low heat. Once this starts to thicken then you take it off the hob and you should have your eggs lightly beaten add slowly into your pot of hot thick sauce but slowly so the egg will not scramble then add your cheese and slowly simmer till you have a thick sauce.
Then you will need to add to your moussaka and put in oven for 15 minutes to thicken and give it some colour
I hope that you enjoy the recipes and that you get the same full flavours that my grandmother always had in her meals.