It started with the following figures:
Four phone calls
A new pair of shoes
A new dress
And four friends
The first figure was to secure a table at Rockpool. Alas what should normally be an easy process was hampered by a series of miscommunications. Calls and apologies were issued and after a week, it was sorted out. A few weeks later, Mr NQN and I head there for dinner with Belinda and Nick for my birthday.
The new location for Rockpool is on Bridge Street in the Burns Philp Building. Prior to that, Rockpool occupied another historical building on George Street in the Rocks. The Burns Philip building opened in 1900 has a historical feel to it. There are three levels to the building and the restaurant sits on the first two. The third floor is where they are building a test kitchen due to be completed in a few months' time.
Neil says, "When we took over from Steerson's, we kept the kitchen and bathrooms in the same place but completely gutted the rest. When I came in with Grant (Cheyne, the designer) there was fleur de lys carpet and high back chairs. All the wood was red period. I thought here's a chance to come back to the sophistication that we did with D4 (design) but I wanted it to be sexy and sophisticated but almost more Soho New York than Sydney. In New York you'll find contemporary interiors inserted into beautiful old buildings. When we started Rockpool in 1989 it was really cutting edge design but it was very important that it catch up with our other restaurants."
"It was opened in 1900 so it's got a long history with a whole lot of architectural things that got mish mashed by the time it was finished with Edwardian, Victorian details that people in Australia were doing at the time," Neil explains.
Romeo and Juliet table
They kept the best parts including the facade, timber windows and fluted columns and battled with the Heritage Council to colour the lead pressed ceiling black. Grant designed the chandeliers but because there were limited places on which to hang lights, he created small lights for each table. "They throw the perfect light on the table. You can see the food and you can read the menu but it keeps the ambient dark and sexy," says Neil.
They wanted to keep echoes of the former Rockpool so the white tablecloths and the Alessi pepper grinders also returned. Neil also wanted a bar in front of the kitchen where guests could watch Head Chef Phil Wood or Neil cook. It was about a half million dollar spend in the kitchen alone including a charcoal oven and the latest modern technology.
We head upstairs to the mezzanine - Phil Wood's favourite area in which to dine. Diagonally from our seat, there's a table for two towards the corner of the mezzanine slightly apart from the other tables. This location affords it a measure of privacy and on the first night the restaurant was opened, there was a proposal at that table. It is now dubbed the "Romeo and Juliet" table. We watch to see who sits there.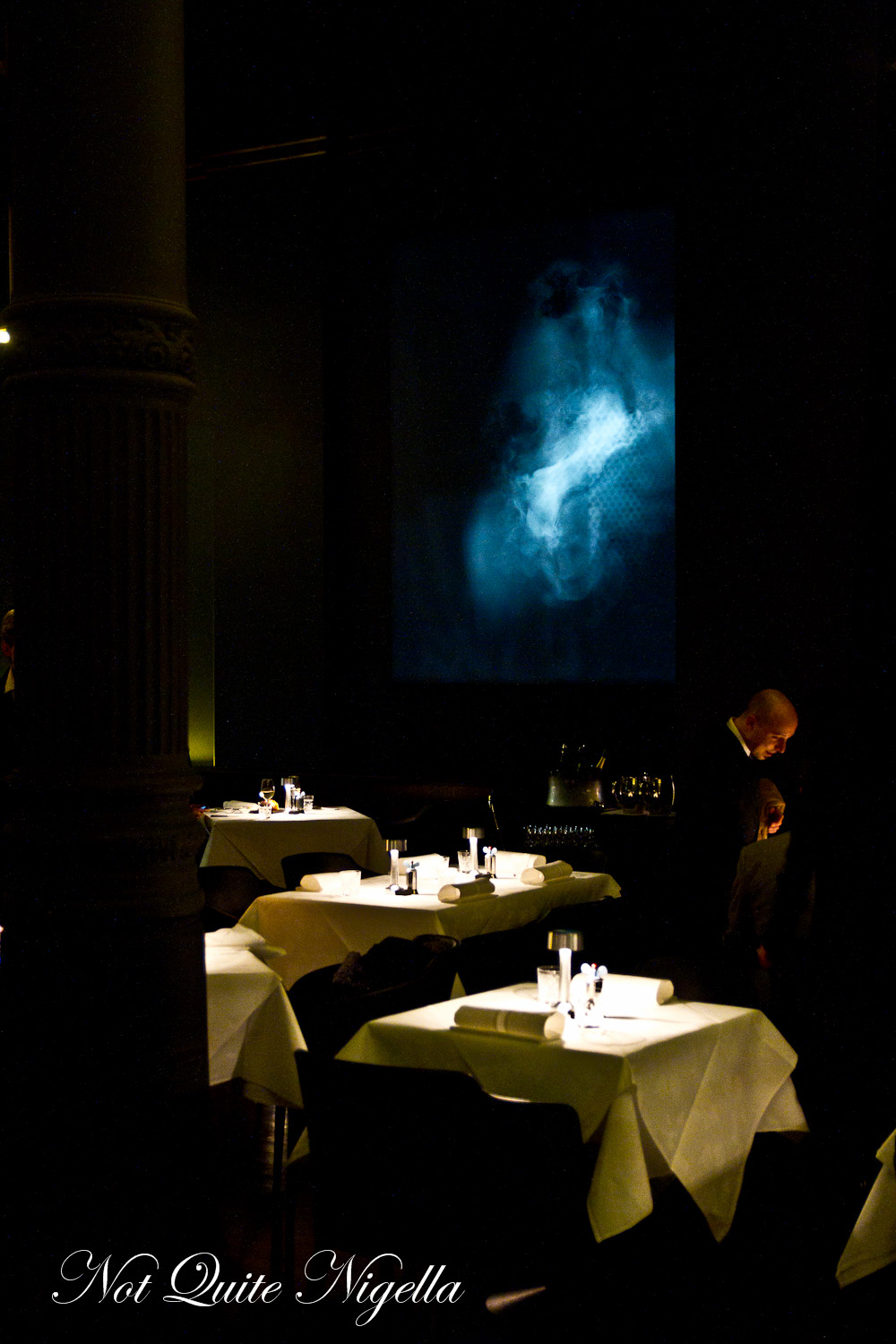 The menu is set out quite differently from other restaurants. Diners receive eight amuse bouche sized courses and then select whether they want one, two or three larger courses after that. One larger course is $125, two $145 and three $165 per person. "You can decide how long you want it to be. With chef tasting menus you don't normally get that kind of leeway. We have 70% (of diners) having three courses," Neil says. The menu is a blend of classic Rockpool dishes with a Asian and Chinese influence. Service is deferential and warm and hits the right note with all of us at the table. Jazz music plays in the background.
Prawn Tempura with daikon and soy
The first bite comes out quickly and the meal is well paced - with this many courses I was worried that we might be there past midnight. The prawn tempura is served with some legs and shell on which adds crispiness and flavour to the pine syrup glazed morsel. We are instructed to leave the shiso leaf on the right to eat with our next course.
Charcoal grilled prawn with shiso and nam prik
They bring out a small ceramic grill with four prawns atop. The prawns are smoked with ironbark and we are to place them on the shiso leaf that is topped with a dab of nam prik made milder with eggplant. The prawns are very succulent and the creamy nam prik complements them well.
Chicken wing with egg batter and konbu butter
I was lucky enough to come to Rockpool for lunch a couple of months ago and whilst the menu is almost entirely different for lunchtime, this canape was also served at lunch. This is the kind of mouthful that you just want an entire bowl of. The chicken has been deboned and then reboned so that each plump round is connected to a small rib bone. They are coated in a thin coating of egg batter and then covered in konbu butter. I wonder how many diners ask for seconds of this.
Braised oxtail with chicken parfait, chilli and rice roll
Our next course is a small darkly burnished rice bun filled with soft, braised oxtail, chicken parfait, XO sauce, pickled carrots and coriander butter. There's a coconut flavour to the bun too and we savour each bite of the soft bun and filling and the spicy aftertaste from the XO sauce.
Chirashi zushi of tuna, kingfish and squid
This dish appearing on the lunch menu in a larger form is a chirashi zushi with tuna and kingfish with squid and black and white sesame seeds mixed through the rice. It is served with spicy Korean chilli bean paste on a shell and is a satisfying change of pace from the meat courses.
Spanner crab with scallop mousse and steam bun
The next course is a rectangle of toasted steamed bun topped with a slice of spanner crab and scallop custard, Tabasco mayo and shaved fennel in crab stock. The texture of the sweet, toasted bun against the soft, jellied custard is sublime.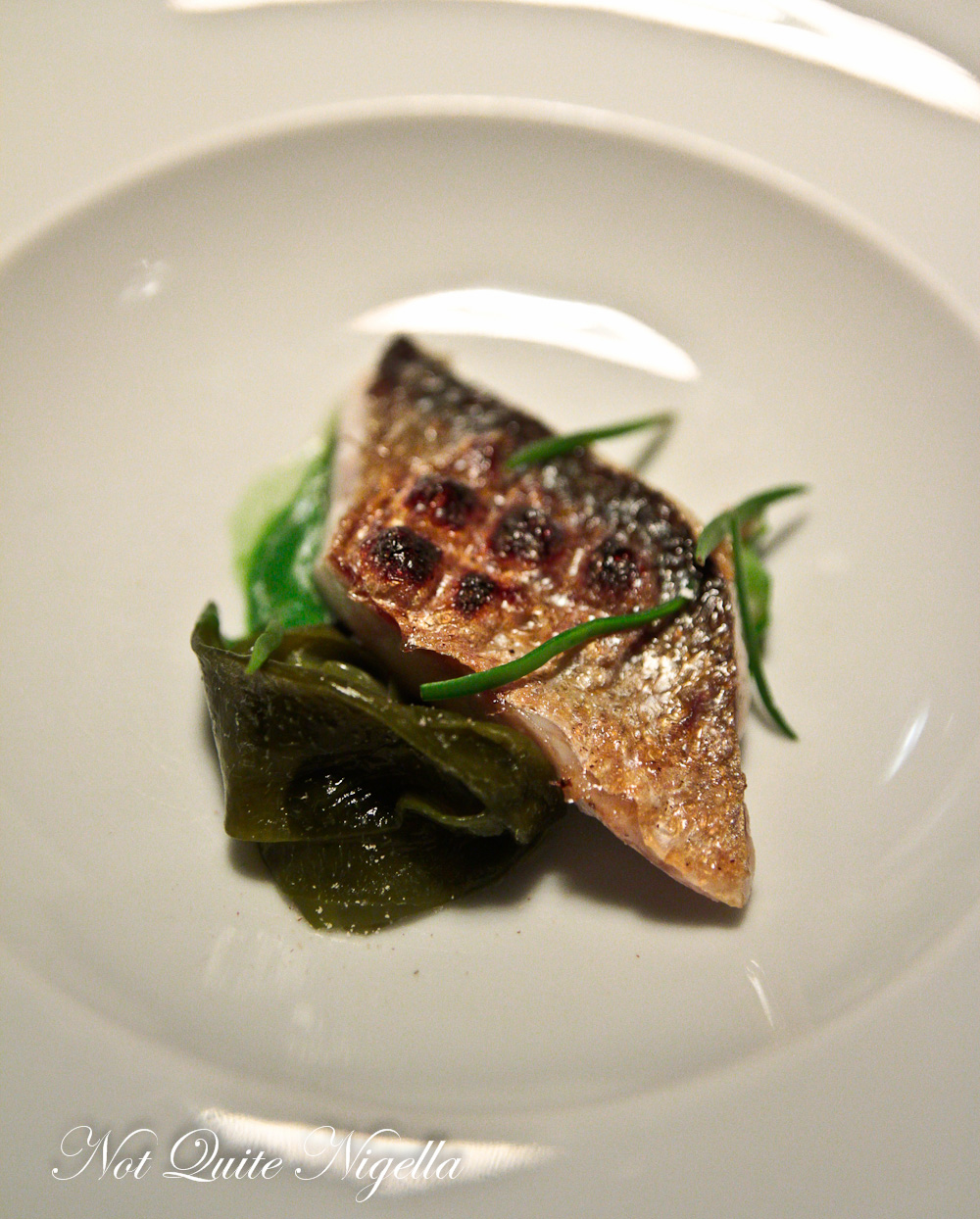 Coorong yellow eye mullet with clams and parsley butter
Whilst we enjoyed the mullet with sake, wakame and clams and it was well cooked, it came on the end of some strong tasting and spicy dishes and this felt just too mild in comparison to them.
Honey and spelt bread served with Rockpool butter and fresh ricotta
The bread from the old Rockpool was always a highlight and they've brought it here too. It's a dome of crunchy crusted dense bread served with house made ricotta topped with tomato jus and olive oil and a half sphere of moreish and sweet rice malt syrup butter. And with that, ends the amuses and we are onto the entrees.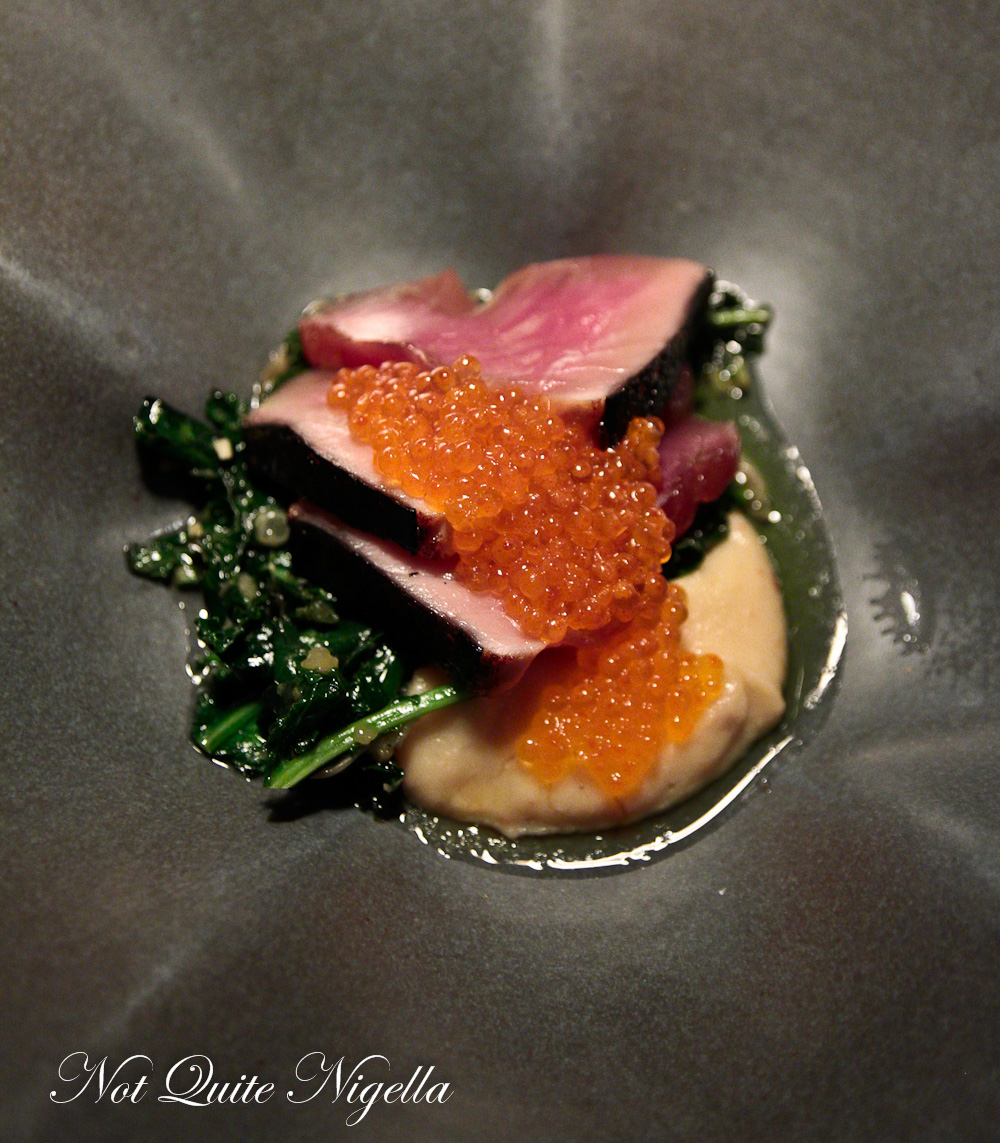 Skipjack tuna with miso mash, braised cavolo nero, wasabi and trout roe
Sharing dishes between four is perhaps not ideal but we're all curious eaters and to us, that's the beauty of eating with friends that like to share. But when I warn Nick not to mess up the plate after Belinda has already asked him twice, he throws a little tantrum which only causes us to giggle. "I was being dainty!" he says plaintively. In any case the Skipjack tuna, a fish similar to bonito called Arctic bonito is paired with a rich miso mash, braised cavalo nero, wasab and a generous topping of trout roe.
Sterling caviar with soft poached egg, crispy potato and allemande sauce
We are told that the next course is the most popular entree. It is a soft poached egg with Allemande sauce with a crispy potato decoration on top and Sterling caviar. The latter is the world's first sustainable caviar imported from Sacremento, California and extracted from farm raised white sturgeon. The Allemande sauce is the perfect pairing to a softly poached egg and the crispy potato gives it texture while the caviar pops in the mouth.
Aphrodite haloumi with roasted shallot, emme cheese, iceberg lettuce, chilli and bronze fennel
One of the prettiest dishes is the Aphrodite halloumi from Cypress with roasted shallot, braised iceberg lettuce, chilli, bronze fennel sprigs and an emme cheese sauce. The cheese is similar to an emmenthal cheese and is made from sheep's milk.
Blue cod "ginger and shallot" with oyster and buckwheat
The cod along with the egg were my favourite entrees. The blue cod is a piece of perfectly cooked blue eye cod with a nutty mixture of buckwheat, macadamias, roasted cauliflower, tendrils of shallot and oysters out of the shell. The menu here has more of an emphasis on Asian flavours and ginger and shallot is such a classic fish combination in Chinese cuisine.
Rich and noble red braised duck congee with almond tofu, star anise peanuts and Chinese fried bread
Entrees over we peer over to see that the restaurant is filling up. Our mains arrive and the first is a an updated reworked version of the congee served at the previous Rockpool. Here it is intensified with red braised duck tongue and leg. Slippery almond tofu, heady scented star anise peanuts, pomelo and pieces of Chinese fried bread give it a range of flavours and textures. This is the favourite main for most of us and the the aroma is intoxicating.
Pigeon zheng shui dan with prawn stuffed eggplant and strange flavour dressing
Belinda's favourite was the pigeon, all glossy skinned beauty. Whilst I really enjoyed the strange flavour dressing, an intense mix of sesame paste, black vinegar, garlic and chilli that is usually served with the Sichuan dish "Bang Bang Chicken" I found the pigeon a little hard to eat on the bone (Bang Bang chicken is usually served as shredded meat). There is also not a lot of prawn in the prawn stuffed eggplant.
Braised beef cheek sukiyaki with winter lemon, gem lettuce and tendon
Beef is the feature of this dish here and they explain that there are four types of beef including pastrami, cheek, fillet and tendon. Each is so different giving a range of flavours and textures to this dish. It is served with a square of winter melon and braised gem lettuce.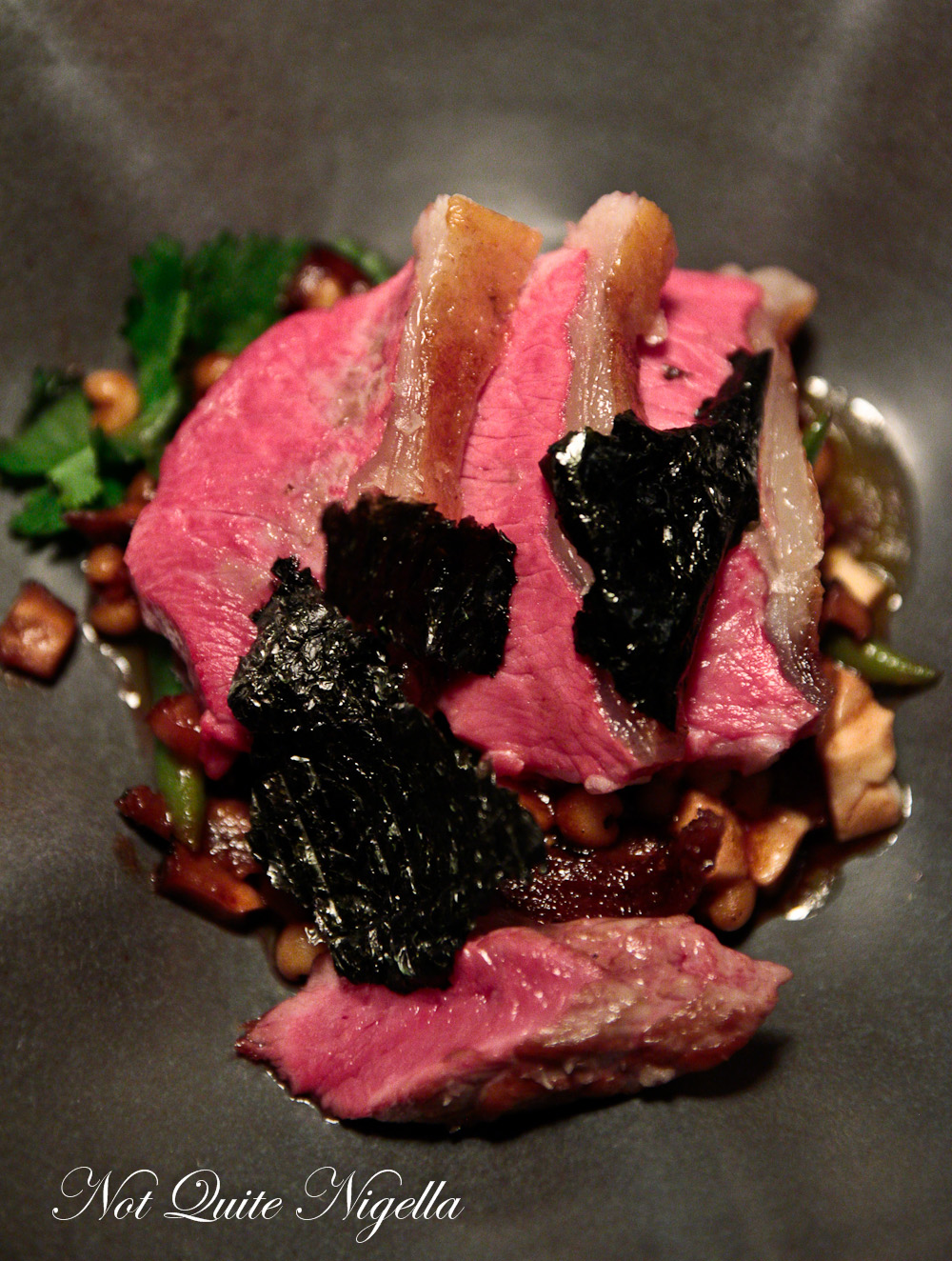 Roasted South Australian lamb with job's tears, shiitake, chilli condiment and black tea
When the lamb is set down in front of Nick, he wonders if it is too pink (his Greek heritage means that lamb is usually cooked on a spit) but he slices into the tender meat and he reconsiders his point. The South Australian lamb tenderloin is roasted and served with job's tears (a cereal larger than but similar to pearl barley in texture although it is a different plant altogether), shiitake, coriander and black tea. The texture of the lamb is luscious and tender, just as you want lamb to be.
Salad
The mains come with a bowl of salad. It is a bitter leaf salad dressed with Neil's famous and moreish palm sugar vinaigrette dressing.
Pre dessert: yogurt sorbet with vanilla, white pepper, pomelo and thyme honey granola
We look around and notice that tables that started the same time as us have left already. Perhaps they only went for one or two courses and to be honest I am already full. But we're in for the whole hog (so to speak) and pre- dessert arrives just in time to cleanse our palates for the desserts. It's a beautifully tart yogurt sorbet with vanilla, a touch of white pepper, pomelo flesh and thyme honey granola.
Vacherin of pandan custard with coconut parfait, jasmine sorbet and lime granita
Are you still with me Dear Reader? It's dessert time! The first of the desserts is a frosty little number with a ring of meringue. In the centre is pandan custard and coconut parfait with small pieces of fresh coconut. On top is a jasmine tea sorbet and lime granita. It is the lightest and most refreshing of the desserts.
Green tea ice cream with banana, pineapple, coffee, chestnut and tofu
Alas I found this dessert quite disparate in the elements and I didn't really think that each item went together particularly well. It needed something to tie it all together or perhaps a couple of things left out.
Sweet potato braised in soy caramel with lemon curd, miso ice cream, sesame and candied shiso
We had to order this because we were so intrigued by the concept of a soy caramel braised sweet potato. The slender potato slices have a little firmness to them so that they weren't mushy. The lemon curd, miso ice cream, sesame and candied shiso gave it a savoury sweetness that echoed the same qualities in the sweet potato.
Chocolate grand cru of Valrhona with peanut butter and jelly
Normally I'd love chocolate, peanut butter and jelly but at the end of so many courses, it is perhaps too rich for me (and then there's that belt that I feel tightening too). The blackcurrant jelly and disc of smooth Valrhona chocolate ganache and candied peanuts is a sizeable dessert and try as we might, we can't finish it.
Petit four: date tart since 1984
I couldn't resist a couple of bites of the famous date tart. Created by Neil and refined by Lorraine Godsmark when she worked as the head pastry chef at Rockpool.
Birthday cake
Things start to get a bit silly once dessert hits and the cocktails and wine are emptied. A birthday cake arrives in a nest of spun sugar. I make a wish and blow out my birthday candle and remove the spun sugar sleeve. Belinda places it on her arm as a bracelet while I cut into the cake, a rich chocolate ganache cake.
Looking around we notice a few other people celebrating birthdays with these cakes. The tables that sat down after us have already left - perhaps they eat faster or had fewer courses. We look towards the Romeo and Juliet table hopeful for a proposal but the couple at the table is quiet this evening. Another time perhaps!
So tell me Dear Reader, how were you proposed to or how would you like to be proposed to? And what was your most memorable birthday meal at a restaurant? And would choose 1, 2 or 3 courses here?
This meal was independently paid for.
Rockpool
11 Bridge Street, Sydney, NSW
Tel: +61 (02) 9252 1888
http://www.rockpool.com/sydney/
Lunch Monday to Friday
Dinner Monday to Saturday