Dragoncello, meaning tarragon in Italian is a newly opened restaurant on busy Cleveland Street in Surry Hills serving contemporary Australian cuisine. Highlights include a Sydney rock oyster mayo with crispy potato skins, confit leek and citrus leaf gel; 62°Degree Egg with pea puree and smoked eel dashi; Morcilla with white peach, fennel and salted cinnamon popcorn and their signature potato chip cake with sour cream snow, salted caramel and pear. Chef Roy Mc Veigh is formerly of Berowra Waters Inn, Bennelong and Bather's Pavilion.
I don't know about you Dear Reader, but last week was a peculiar one. And if you believe what the internet was all a chatter about, it was all about Mercury being in Retrograde. While I don't follow horoscopes, I have to admit that I'm firmly and resolutely a Taurus and that is the only tether that keeps me linked to the idea of horoscopes. But when presented with so many incidents when Mercury in retrograde was happening, well I had to admit that there might be something...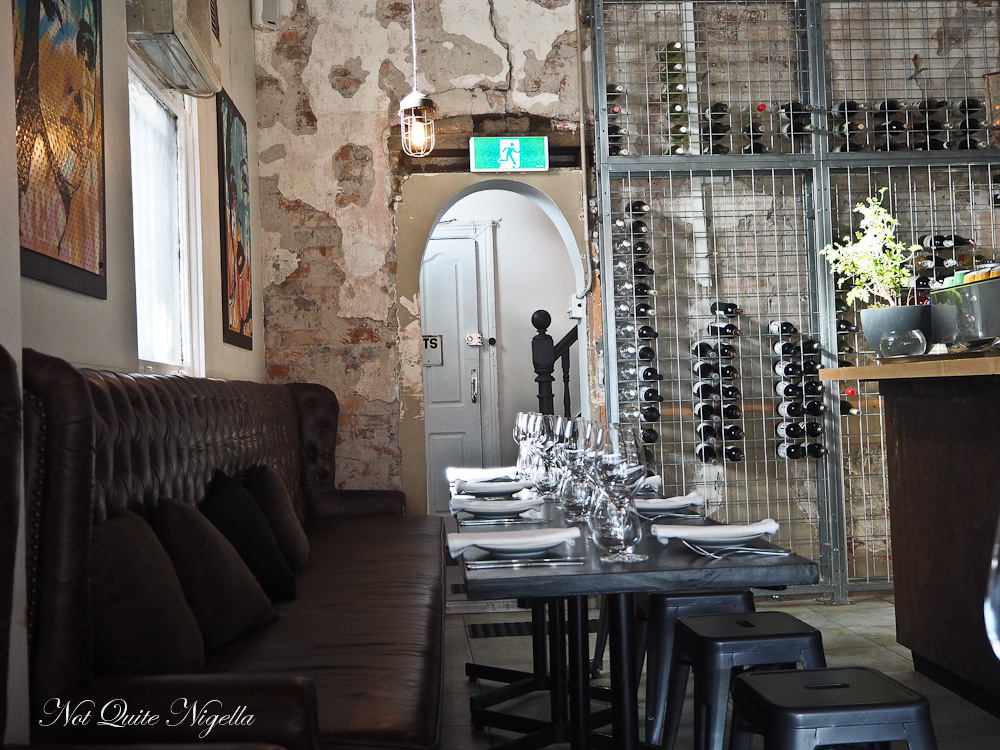 One of the things that they suggest that you do is, "Plan reunions with old friends & loved ones, but prepare for possible mishaps!" I scoffed at that. I was meeting Miss America and Queen Viv that evening and they're generally reliable. We were booked into Dragoncello, open for 2 months for a 6pm seating. Dragoncello means tarragon in Italian and is chef Roy McVeigh's first solo venture. Previously he had been at Berowra Waters Inn, Bather's Pavilion and Bennelong.
At 6:15pm I call Queen Viv. It turns out our friend Mercury had had a hand in tonight's proceedings and the plans in her world were all a messy jumble so she isn't coming after all. It is just Miss America and me tonight. And he has just warned me that he had just come straight from an enormous lunch. Prices for mains are around the mid $30s which is reasonable given the quality but may perhaps put it above an easy night out into a more special night out category for many Surry Hills locals particularly when surrounded by cheap eats.
It's a smallish room downstairs with an upstairs section where the restaurant area will move in a few month's time. The downstairs will then become a bar area. It's a restaurant difficult to see from the street as the signage is subtle (I drove right past it). Because it is Surry Hills, everyone wants to eat at 8pm so a 6pm bookings need to vacate the table by 8pm. The menu is designed to be extremely seasonal - more seasonal than most as they use three gardens for their produce rather than being market driven. One garden is upstairs while the other two gardens are located in Mosman.
We start with an amuse bouche. On the bottom is fish and egg curry and on top of this is an airy apple foam. It's an intriguing combination but works very well.
Sydney rock oyster mayo with crispy potato skins, confit leek and citrus leaf gel $4
I will admit that I am a mayonnaise enthusiast. We go through jars of the stuff. And if you don't like mayo well you might want something else but this is one of my favourite bites of the night. There is a creamy, rich Sydney rock oyster mayonnaise topped with a fine leek confit and a dollop of citrus leaf gel and on top of this is crispy, hollowed out potato skins. "I'm pretty sure you're not supposed to eat mayonnaise in these proportions but I'm eating it anyway," I say to Miss America before devouring my serve.
62°Degree Egg with pea puree and smoked eel dashi $7
I must admit that I thought that I was just going to have a little taste of this delicate soup but gluttony and greed took over. The smoked eel dashi is poured at the table on top of a creamy, sweet pea puree and a 62°C egg. There's a wonderful mix of sweetness from the peas, umami from the dashi and creaminess from the egg yolk.
Glazed sweet potato with fig leaf cream and licorice $9
The next dish is a portion of glazed sweet potato with a fig leaf cream and licorice. Fig leaves have a delicate taste not unlike almond and while I like this separately, the liberally sprinkled licorice does tend to dominate the whole dish.
Morcilla with white peach, fennel and salted cinnamon popcorn $13
The dishes come out in rapid succession as there are only two other tables in during the early seating. The next dish is a deliciously soft morcilla (Spanish black or blood pudding) crumbled and buttery soft that sits atop a lovely white peach puree. On top of this is salted cinnamon popcorn (Ooh idea for next movie night!) and lots of fennel pollen and fennel fronds. It's a rich dish and the crunchy popcorn with fragrant cinnamon, morcilla and white peach are a great combination. But try as we might, we can't finish it.
Scallop sashimi with elder flower mousse and cucumber $19
The scallop sashimi is by contrast all light flavours. It is tart and floral with two semi circles of elderflower mousse or panna cotta, apple, cucumber and puffed rice. I always love a textural contrast and the freshness of this dish combined with the crunchiness of the rice makes Miss America forget his earlier fullness.
Crispy skin snapper with chilli prawns cornflake cream and bisque $36
We decided to share one main as we had already had so many of the snacks. The crispy skin snapper is perfectly cooked and has a sweet aroma to it from the cornflake cream that gives it a vanilla sweetness. It comes with three tender chilli spiced peeled prawns and plenty of corn. It's a light dish with a level of sweetness.
Salty fat potatoes with fenugreek leaves $7
At one point during the night, I actually asked the waiter to take the bowl of these away because I couldn't stop eating them. Gloriously crispy and golden these potatoes are addictive-if you can stop at one you are stronger than me.
Dressed weeds and garden leaves $7
We were curious about the dressed weeds and garden leaves. It's not bad but this needs a stronger dressing to it. It has a light vinaigrette with a touch of ginger to it.
Carrot sorbet, white chocolate mousse, garden leaves and vadouvan $16
Our waiter strongly recommends the carrot sorbet. I wasn't quite as taken as I am not a big fan of desserts with a savoury element. Neither Miss America or I really went for this mainly because I find coriander strong and I got a lot of it in my spoonfuls. It's creative but perhaps for those that don't like sweet desserts.
Signature potato chip cake with sour cream snow, salted caramel and pear $16
We were almost dissuaded from the potato chip cake but hey it says signature dessert and it also says potato chip cake. Who isn't going to be curious? We both love this cake which is dense with a texture not dissimilar from banana bread (without the banana flavour). On top of it is sour cream "snow" and next to it is salted caramel and finely diced pear. Taken all together it's absolutely delicious.
Valrhona chocolate pave with sorrel ice cream and vanilla cream $18
We were very curious about the Valrhona chocolate pave. Usually we pick something else as chocolate paves appear fairly regularly on menus. It's very rich, almost like a ganache with tiny crunchy pieces. It is paired with a thick vanilla bean cream and a refreshing sorrel ice cream that lightens the rich dark chocolate nicely.
"And I thought I wasn't hungry..." says Miss America after dessert.
So tell me Dear Reader, do you believe in the Mercury Retrograde phenomenon? And what star sign are you and are you typically so? And are you a mayo lover or hater?
This meal was independently paid for.
Dragoncello
446 Cleveland Street, Surry Hills, NSW
Tel: +61 (02) 8399 0907
http://dragoncello.com.au/
Monday - Tuesday Closed
Wednesday - Saturday 6pm-till late
Sunday 8am-10:30pm