Sandoitchi is a Japanese sandwich shop and café on Oxford Street in Darlinghurst. As the name suggests they serve up Japanese style sandwiches. Think neat squares of egg omelette on soft and fluffy white bread with a blanket of freshly shaved black truffle or a sweet sandwich with fresh strawberries and whipped cream!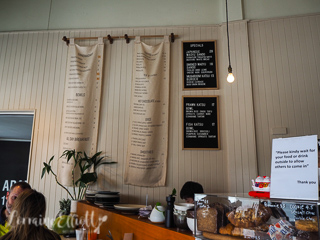 When I lived in Japan I used to be very thankful that a language like katakana existed. Katakana is one of three Japanese languages and is used for non-Japanese words. The word "sandwich" translates to "san-do-itchi" (try saying it out loud quickly) based on the Japanese vowel pairing sounds. It was a godsend to someone like me who didn't speak much Japanese and katakana is like learning a new language without actually learning one.
While Sandoitchi is Japanese in theme and menu (with a few exceptions) the trio behind it are chefs Saowanit Boonrod, Pureephat Kraikangwan and Sam Lawrie, all formerly of Long Chim. There is limited seating at the small cafe, even more with COVID-19 restrictions but Laura and I are both at the same stage with the pandemic. While we're not comfortable with eating in any more, take away food is fine. We meet outside, place our orders and they bring out order out to us. We walk to a nearby park and unwrap our goodies.
Coffee is by Single O but we were more interested in other drinks. Laura's matcha latte is served Japanese style, strong and unsweetened and for matcha enthusiasts. The black sesame, banana, coconut and almond milk smoothie too is barely sweetened and textural with chunks on top.
An egg sando was a given but as its heading towards the end of winter we thought we'd splash out and try the truffle egg sando ($24 with truffle or $9 without). It's a square sandwich on thick cut white bread with a wobbly egg omelette, dashi, kombu butter and a generous amount of freshly shaved truffle on top. The bread is so soft and barely encases the egg and the truffle on top is exquisite. We both enjoy this with a whimper and a moan.
The chicken katsu banh mi is more substantial and is better suited to those with bigger appetites. There's pate, apple kimchi, nori, pickled carrot, daikon, spring onion, coriander, spicy tonkatsu mayonnaise on a crunchy baguette. The chicken katsu is crunchy and tender. I might have gone for a bit more salad or sauces and seasonings in this as it does tend to get quite bready towards the ends.
There are a few katsu sandos available eg pork, prawn, fish but as Laura doesn't like pork or beef we try the prawn katsu sando. It's a katsu crumbed patty of prawn and corn with yuzu mayonnaise, mustard and thick cut, crustless white bread. It's nice but needs a bit more yuzu mayonnaise (it's mainly mustard on ours) and some finely sliced lettuce would be nice to counter the richness of the prawn katsu. "Wait a minute, I've got mayo in my bag!" I exclaim and I fish out a packet of kewpie mayonnaise because well I always travel with condiments. We add it to the sandwich and it balances it well. I just wish I had my mini Tabasco bottle on me.
Like the chicken katsu banh mi, the mixed mushroom toastie is a more filling proposition. We both really like this sandwich. It's filled with a variety of sauteed mushrooms, wakame, kombu butter, yuzu mayonnaise, cheddar, parmesan, spinach on toasted sourdough. Laura takes the remaining sandwich home and shaves some fresh black truffle on top of hers.
"I'm your upper torso model," says Laura as she takes half of the strawberry and cream sandwich and models it for me in front of her pink puffer jacket. After a couple of bites she declares the strawberries and cream sandwich "too odd" for her. However I love it - it's like a sponge cake with strawberries and whipped cream and I happen to adore whipped cream. I bring home two pieces for Mr NQN and he devours it in a minute.
We weren't given forks nor did we ask for them so we return to my car where I keep a spare set of cutlery (you knew I was weird right?). Admittedly neither of us are in the mood for a vegetarian salad bowl having had our fill of tasty sandwiches. We also really wanted the spicy chicken larb bowl but they recommended this one. This miso eggplant salad bowl has organic brown rice, crispy tofu, mushroom, spring onion, edamame, pickled carrot, nori and miso dressing. It's nice enough but the rice hasn't got a lot of dressing and it doesn't hit the spot like the other items. Laura has a rare tantrum, "I don't want any more!" she says pouting when I cajole her to try some. "Eat your veges or you won't get a strawberry cream sandwich for dessert..." I warn her.
So tell me Dear Reader, do you carry any condiments with you? Do you have a knife and fork handy?
This meal was independently paid for.
Sandoitchi
Shop 3/113-115 Oxford St, Darlinghurst NSW 2010
Monday & Tuesday 7am–3pm
Wednesday to Friday 7am–3pm, 5:30–9:30pm
Saturday 8am–3pm, 5:30–9:30pm
Sunday 8am–3pm
sandoitchi.com.au
Phone: 0491 092 958