Dear Reader, have you ever harboured a secret desire to eat course after course of dessert? I'd hazard that a guess that it's not just a wish of children. But have you ever given into temptation and the devil on your shoulder? If anything is worth ditching that diet for, it's a dessert collaboration between the Shangri-la Hotel and Gelato Messina.
Pastry chefs don't usually come with a mohawk by 34 year old Anna Polyviou comes with a two toned one and piercings - something that vexed the hotel at first who asked her to wear a hat when conducting media interviews. It's now a year later and they've come around to this unconventional pastry chef who declares, "Hotels can be boring...I came here to change that." At the age of 27 Anna became the head pastry chef at Bathers' Pavillion collaborating with chef Serge Dansereau on the "The French Kitchen", "Summer Cooking" and "Seasons" cookbooks. She is also one of thirty two pastry chefs from around the world featured in "The New Patissiers" book.
The dessert degustations are held two times a month and they are opportunities where Anna collaborates with her friends in Sydney's pastry world. They've even formed an association called the World Pastry Club with 15-20 pastry chefs sharing ideas and techniques. The dessert degustation features courses from Anna as well as her guest chefs and is held in the pastry kitchen in front of 24 people. Getting the hotel to agree to these nights was also a challenge. "I offered to pay for every unsold seat," Anna says. The ace up her sleeve was her friend Adriano Zumbo who was invited to the first night. He tweeted and instagrammed his experience and since then, every event has been sold out.
"Do you know how many phone calls we got when we released this?" Anna asks the assembled crowd. "We got 148 calls on the first day," she says and then jokes that the second day was full of abusive calls from people who didn't get a place. It is the hotel's most popular dessert collaboration - so much so that they had to hold it on a second night, tonight. The Zumbo degustation was held on June 11 with a "Secret Agent" theme and July 22nd is Andy Bowdy from Hartsyard with an "American" theme.
A DJ plays music (themed for each course natch!) and Anna then introduces Donato Toce, one of the owners and chef at the enormously popular gelateria Gelato Messina. He brings along his team of four chefs and between Anna, her team of five and his team of four, they've got the eight courses covered. And just in case you're worried that we're spoiling our dinner, they had included canapes and cocktails downstairs in the Lobby Lounge beforehand.
The marble and metal benches are splashed with pink and white chocolate droplets and we take a look at the menu. The first course from Anna comes out quickly and it's a Paddle Pop. Made with a yogurt filling, strawberry gel, and a centre of pistachio rice krispies it is also dotted with little meringue buds and soft milky powder. It's a very mild flavoured dessert and the outside of the Paddle Pop is actually creamy. I think I expected this to be stronger in fruit or strawberry but it is mild and milky.
Fra's figs is a dish by Messina's Francesco Guerra. It is a layered dessert made with a base of almond crunch, a square of luscious fig jelly jam, some slices of orange, fig in marsala gelato and a thin layer of 77% chocolate. It's divine and I savour every bite although I don't think that it needed the addition of orange which can tend to overpower fig. Also people have strong opinions on chocolate and orange.
This course is by Messina chef Bruna Cisilino. As the name suggests, this dessert is about textures. It starts with a strawberry sorbet, a light pink grapefruit "cloud", a white chocolate dome filled with a finely diced strawberry salad, a square of strawberry gel and a crisp brandy snap and this sits in some Campari. It's refreshing and I like the contrast of the sweet white chocolate and tart strawberries.
All night we watched two containers of fairy floss pink liquid bubble away. Anna tells us that the name Mr Bubbles was perturbing for some of the previous night's guests. The liquid is a honey syrup and the bubbles are created with an aquarium pump aerator. DJ Broox tells everyone that she is going to play the song "Bubble Butt" to match the dessert.
This is meant to be a palate cleanser with a beach theme so Anna's apprentice Philip Khoury starts with a base of "sand" i.e. a milk streusel sand with pink finger limes. There is also vanilla sponge and a "Splice" quennelle made up of half vanilla and half lime ice cream. It's a fun idea and part of the whole food as theatre concept and everyone walks up to the beach stand to get their bowl of sand, cream and bubbles.
This is one of Anna's dishes and features honey from the hotel's three beehives. It's a mostly savoury dish though as it is a freshly baked puff pastry tart filled with roasted beetroot ribbons with goat's curd, cinnamon and walnut crumble and microherbs. I enjoy this dish a lot and not just because it recalibrates my taste buds for more dessert as my mind thinks that we're having mains and I'll be ready for more desserts soon.
Before our last two courses Donato gives us a demonstration on how to make a vanilla gelato or a Fior de Latte. He explains that at Messina they make three tonnes of gelato a week and 700 ice cream cakes. So to produce consistent gelato across all their stores including the one in China, they must be precise with numbers. "It's all about percentages and numbers," Donato says. They make everything they can from scratch (except the Saviorardi and Amaretti biscuits). They use jersey milk to make gelatos where the milk is the main flavour.
He explains that they add skim milk powder for protein and to give body and mouth-feel to the gelato. They also use dextrose monohydrate that is made from wheat but has no gluten. This has 70% of the sweetness of sugar so that it isn't as cloying. This is used to limit ice crystal formation and to give a smooth mouth-feel. They also use items for their anti freezing properties and maltodextrin for its binding properties. They also use hydroscopic ingredients that absorb water to inhibit ice crystals forming as well as stablisiers and gums made from seaweed.
At Messina they serve gelato at -12C whereas most traditional gelaterias serve it at -20C. "At -16C you don't taste anything," he explains. The difference between gelato and ice cream are mainly in two figures. Gelato contains 7-10% butterfat while ice cream contains 26-30% butterfat. With gelato there should be less air and no more than 25% air. Once the mixture has been cooled to 4C, they need to take it to -7C as fast as possible to ensure a smoother gelato.
Our next course comes out and it is another one of Anna's courses. It's her take on a banana split and features banana jam ice cream, slice of banana, toasted and dried banana bread crumbs, honeycomb, marshmallow, a tiny brioche donut and caramel popcorn. It's full of textures and complementary flavours and is much better than any banana split I've ever had. She explains that the slender rectangle is made of a brownie base with crunchy peanut butter baked into it. It's topped with vanilla cremeaux and a thin layer of chocolate.
Our last dessert is one from Messina chef Florian Fritsch. He was inspired by planting in the garden, hence the name and he has created a chocolate "gutter" and filled it with apple and bergamot mousse. On top is a roast capsicum and apple sorbet which is an intriguing and unusual ingredient that doesn't feel out of place at all.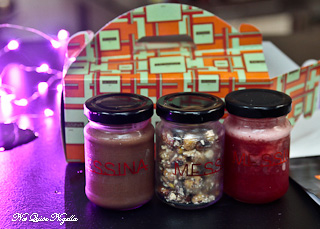 Our last course is one that we take home. Obviously ice cream would melt but Donato hands out a set of three Messina ingredients in a jar that everyone can mix in or pour over their gelato. There is a jar of crushed nougat, peanut milk chocolate fudge and strawberry and white balsamic puree. The only problem is saving these to use in ice cream rather than eating them by the spoonful.
So tell me Dear Reader, would you enjoy a dessert degustation? And do you prefer gelato or ice cream? And which course appealed to you the most?
Shangri-La Hotel
176 Cumberland Street, The Rocks
Tel: +61 (02) 9250 6123
http://www.shangri-la.com/sydney/
Dessert degustations run twice a month