The blush pink coloured building straight from an Italian village appears to spring up like a flower in the middle of busy Boundary Street in Paddington. Its large dark green door looks firmly closed. At first glance, I wonder if the restaurant is closed. But then I look up and see the lights casting a golden glow through the window and we swing open the door.
In a town full of ephemeral eateries, Buon Ricordo has stood at this Boundary Street location since 1987. Meaning "Good Memory" in Italian, chef and owner Armando Percuoco is there almost every evening in the kitchen or on the floor. Or as he seems wont to do, peering out from the round kitchen window onto the restaurant floor. Tables are set with white tablecloths with floral tapestry chairs and white jacketed waiters glide by. They bend at the waist apportioning servings to guests who don't have to help themselves or reach across the table.
We see Armando in the open kitchen with his team of chefs and he makes the frequent trip onto the floor. You see he is smitten with my dining companion @chasetrace, a restaurateur and good friend of his. We leave Traci to order and he greets her with a series of kisses on her neck and she giggles. We ask him about the large floral painting at the entrance of the restaurant that also features on the cover of the menu.
An incorrigible flirt, he tells us that he wanted to hang it above his bed. Showing us his favourite part of the restaurant upstairs, he notes the mirrors on the ceiling with a saucy elbow jab. Upstairs there is a cellar table for four that diners can book - it is apparently a favourite with Jana Wendt who he no doubt flirts with. Man on the prowl Nick looks upon Armando with sheer admiration.
Armando arrived in Australia in 1972 from Naples and recalls how little produce there was available. "There was no bread, rocket, radicchio or mascarpone and there was only green capsicum available," he recalls with some horror and shock. "Olive oil was sold at the chemist!" he adds. It was while working for Arriverderci and then moving onto his own restaurant Pulcinella that he approached Umberto Somma from Paesanella Cheese. He asked to make him some mascarpone for a mascarpone dessert.
Umberto was adamant that Australian customers wouldn't understand mascarpone because the translation is "cream cheese" and Australians ate cream cheese in a completely different manner. Umberto had given a food retailer two litres of mascarpone for a test and not knowing what to do with it, they binned it. Armando wanted customers to appreciate it as a dessert so he served it in a demi tasse cup with fabbri cherries and a little of the syrup. It was given gratis to customers who ate it up - literally. He then recalls chef Tony Bilson coming in and asking for the mascarpone with cognac. "Well f#@ you!" he says laughing, "He is telling* me how to serve it?"
His conversation is full of passionate pronouncements to people and he routinely throws customers out of his restaurant for offensive behaviour. "I tell them to p@#$ off, I can't have an ulcer at my age!" he adds, deadly serious. Groovie Gal whispers, "Every time we've come here he has thrown someone out!" Tonight however remains incident free ;)
They set down some slices of crusty bread and explain that the small jug on the table is filled with olive oil from Armando's Hunter Valley farm "Valleyfield".
Bruschetta
They set down a serve of bruschetta topped with sweet, tangy tomatoes. The crusty bread is soaked through with the tomato juices and oil whilst never becoming soggy.
Capesante $40.50
They had already portioned out the serves so this would normally be bigger and four to five times the size. The scallops are tender and come with a flavoursome tomato based sauce and a single pork mince filled sugar snap pea. The pork adds richness and flavour to the soft scallops.
School prawns
The school prawns are a gift to Traci from Armando. The Clarence River prawns are lightly dusted in flour and flash fried and served with lemon and a piquant chilli oil.
Salmonata $29.50
The salmonata is paper thin slices of ocean trout marinated in extra virgin olive oil. The plate is topped with bottarga, lemon, garlic and finely chopped tarragon.
Polpi $31.50
Everyone's favourite entree however is the polpi or baby octopus braised in red wine, onions and bone marrow. The octopus is tender and the rich, heady sauce is delectable. Every last trace of the sauce is mopped up with the bread and for Nick it brings back memories of his mother's Greek version of the dish.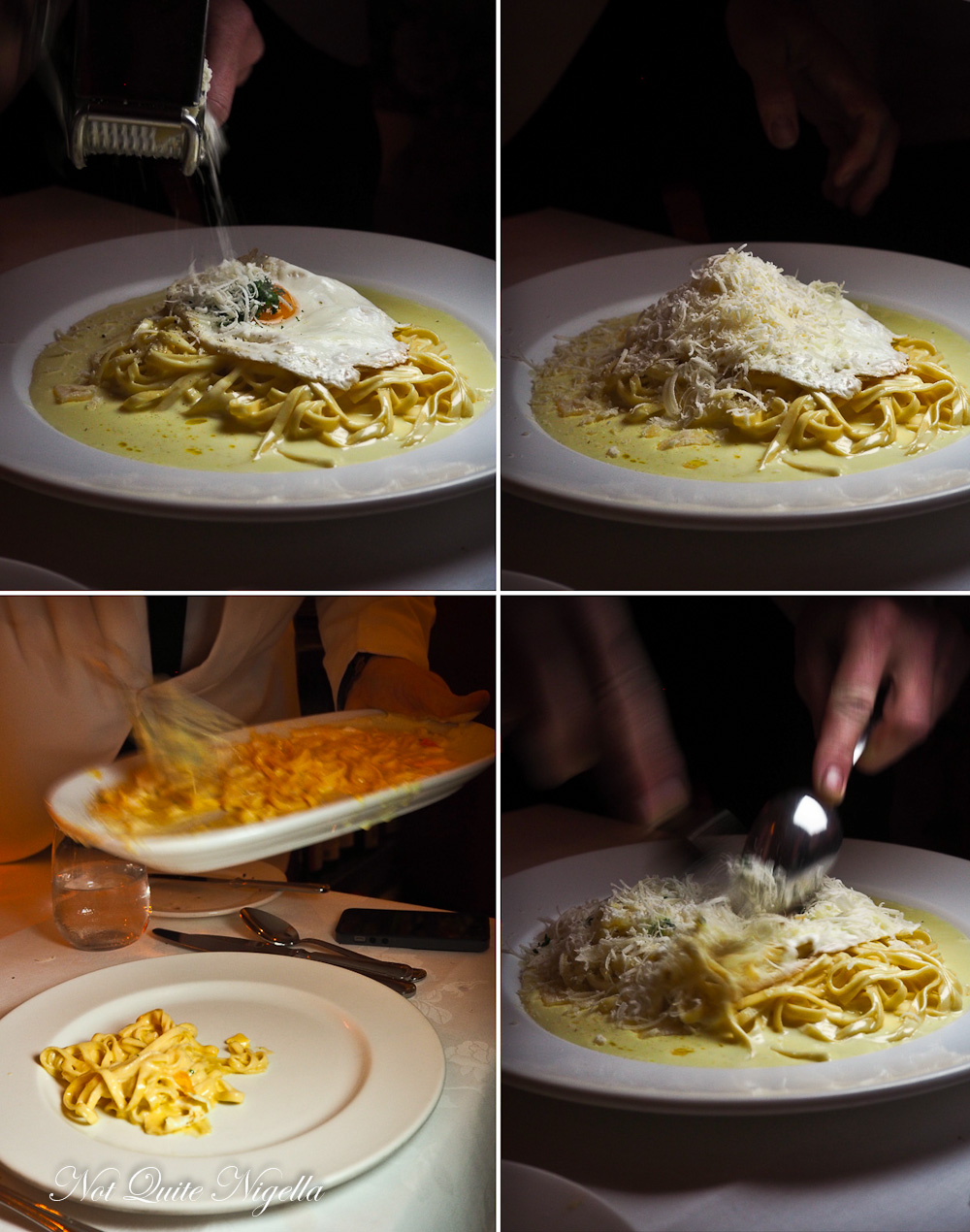 Fettucine $35.50 per serve
Armando's most well known dish is of course his fettuccine with truffled egg. I watch as each table near us orders a serve of this delectable dish, tossed at the table. The eggs have been stored with fresh truffles, the intoxicating truffle aroma penetrating through the shell. I wasn't sure how strong in truffle the dish would be but it is absolutely heady in truffle aroma.
The fettucine comes out on a plate topped with a fried egg and parsley. The waiter grates reggiano cheese over the top and then tosses it and portions out the pasta. I take a forkful and savour the beautifully al dente pasta, the aromatic hit of truffle and the creamy silkiness of the sauce. Immediately Groovie Gal and I want more and an extra serve is ordered.
Mafalda $34
We also ordered the Mafalda, the name of the frilly edged long pasta served with a traditional Neapolitan ragout of pork, beef and tomato with ricotta. This is beautifully rich too but a contrast to the creamy pasta and it holds it own as we finish every drop with a swish of a bread crust.
Braciolette Reginaldo $43.50
I've always thought that the best time to visit Buon Ricordo is during winter, because of course truffles feature in other dishes. The Braciolette Reginaldo arrives as two slender logs of rolled veal stuffed with truffle, spinach, nutmeg and parmesan that are then crumbed and grilled. The truffle flavour is also pronounced in this dish and the crispy breadcrumbs, soft spinach and nutmeg are wonderful together.
Costata di manzo 700gm For Two $130.00
Perfectly cooked, the steak is a grass fed Ruby Red Devon Rib Wing sirloin that is dry aged, grilled and served with sea salt and a slice of lemon. All mains also come with green beans and crispy chat potatoes. The meat has an intense flavour to it and the texture is melt in the mouth.
Fagottini $32.00
The faggottini are usually an entree but these come out with our mains. There are three pudgy pork and veal sausages bound with parmesan and truffle egg finished with lemon extra virgin olive oil. They're rich and again that wonderful ingredient truffle is present to perfume them.
*Barbabietola $14.50 *
By now we realised that we have over ordered and I try a little of the Barbabietola or roasted beetroot salad dressed with a with an orange and balsamic dressing and grated ricotta salata and mint. It is refreshing and the beetroot has an appealing sweetness. But none of us did this justice perhaps, just perhaps because of that second order of fettucine with truffle egg. Mea culpa...
Torta Mascarpone $21.50
By now it is getting late and it's time for dessert. The torta mascarpone reminds us of Armando's story about mascarpone. This dessert however has a layer of mascarpone, savoiardi and liqueur cherries in a copper pot topped with fluffy, crunchy topped baked meringue. It's light as a feather, bound only to earth by the pops of ambrosial liqueur cherries.
Pastiera Napoletana $21.50
The Pastiera Napoletana is Belinda's favourite dessert. It's a dessert made of warm ricotta studded with candied fruit, grano wheat, and orange blossom water with pistachio anglaise. The flavour and textures evokes almond nougat and the finely diced mustard fruits add a sticky sweetness to the dish.
Crostata D'Arance $21.50
They do say that dessert is fed through another stomach and we cling into that notion when the third dessert arrives. It's Armando's choice of an orange tart with candied citrus and vanilla ice-cream. The tart shell is perfectly crisp and paper thin while the orange tart has just the right level of bitterness so as not to cause a pucker but a smile.
*Cioccolata Calda $8.80 *
My last mouthfuls are from a mug filled with thick Italian hot chocolate and cream held tight for warmth. By now we are the last guests in the restaurant and Armando and his wife Gemma take a seat at a nearby table to talk through the day and eat a light soup meal.
"I'm here and I close the door every night. I have to say goodbye to every customer," Armando says.
So tell me Dear Reader, do you often look for or ask if the chef in the kitchen when you dine out? Or is this not a big issue for you? And do you look forward to truffle season every year?
This meal was independently paid for
Buon Ricordo
108 Boundary St, Paddington NSW 2021
Tel: +61 (02) 9360 6729
Dinner Tues - Sat from 6pm
Lunch Fri & Sat from Midday
http://buonricordo.com.au/