The team from the vegan restaurant Paperbark in Waterloo have a new eatery. Peppe's is an all vegan Italian pasta and wine bar on Bondi Road. It's a small, buzzy space with a short chalkboard menu of breads, salads and pastas. And you'd better get there early unless you want to wait as there are no reservations!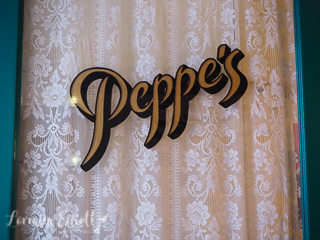 Peppe's seemed like the ideal choice to take Mr NQN's vegan mother Tuulikki for an early Mother's Day dinner. We get there at 5pm on the dot and take a seat next to the front window. There's nothing for her to fuss over on the menu so she leaves the ordering to me. Prices are very reasonable especially for Bondi and they're neighbourhood Italian prices.
The music is on the loud side if you've got older people so I suddenly realise that perhaps this isn't the best place to take her because a lot of the time is spent with her saying "Mitä?" (or "What?" in Finnish).
Conversations about my upcoming trip to Macau are mistaken for cows and she mistakes geese for cheese and tells us about how she loves vegan cheese. "I eat a little slice of vegan feta and that's my little treat," she says and I grimace. I ate a big block of Comte the other day. To me cheese isn't a treat, it's a basic human right ;)
The warm olives come out first. These surprise Tuulikki who has never eaten olives warm. I sense distrust from her.
There are a few bread choices: Iggy's bread with Alto olive oil, bruschetta or garlic bread and given the choice I'm always going to go with garlic bread. This is Iggy's bread toasted with plenty of roasted garlic and spices. I dip the crust in the olive oil for the olives and Tuulikki is won over again.
Similarly we all enjoy the mushroom arancini and we upsize to three pieces. They're crunchy on the outside and soft on the inside and come with a fantastic vegan passata aioli with chilli oil on the side.
Next comes the tomato salad and the gnocchi and the dishes are staggered because the tables are on the small side. The tomato salad has a medley of fresh tomatoes from cherry, yellow and kumato tomatoes with a balsamic and olive oil dressing and fresh basil leaves. It's simple but that's what you'd expect and want although a part of me would also love some soft mozzarella with this too.
There are three gnocchi dishes on the menu and we choose two of them. The gnocchi pomodoro is the tomato gnocchi with a rich tomato based sauce cooked down so that it's flavoursome and intense. There are also fried capers for flavour, perhaps in place of parmesan. The sauce is nice although we're not quite sold on the texture of the gnocchi. Perhaps this needs a little more reworking.
The next two pastas arrive. A lot of people talk about the gnocchi bianchi but I think I preferred the pomodoro simply because of the gutsiness of the sauce. The cream here comes from cauliflower and porcini and it is very mild and there's a lot of pangrattato on top and there's also mushrooms in there too for additional texture. Again the same textural issues apply to the gnocchi itself.
I haven't had spaghetti aglio e olio for years but given that we weren't overly sold on the gnocchi this ends up our favourite pasta of the night. There's a good amount of garlic, chilli, herbs and olive oil to tie it all together.
I love cime de rapa, a slightly bitter Italian green. Here it is sauteed with chilli and salted. Simple but tasty.
The table next to us is in trouble. There's a queue of about 8 waiting outside and their third guest hasn't arrived after 45 minutes waiting. We've breezed through our breads, salads and pastas by the time their third guest arrives.
There are two desserts on the menu. The creamy mascarpone layer is made using cashew cream and coconut cream to lighten it up. It's a bit more sponge than cream although I prefer there to be more mascarpone to sponge or at least a more even balance.
Out of the two, we all prefer the coconut panna cotta with a side of a toffeed fresh fig split in half and a delightful granola made with plenty of ginger and candied fennel seeds. More of this please and the important thing is that Tuulikki is delighted with the food.
So tell me Dear Reader, given the choice would you go for: plain bread with olive oil, bruschetta or garlic bread? And are you vegan or would you ever go vegan (or do you eat vegan sometimes)?
This meal was independently paid for.
Peppe's
261 Bondi Rd, Bondi NSW 2026
Wednesday to Monday 5–9:30pm
Tuesday closed
peppelovesgnocchi.com.au/