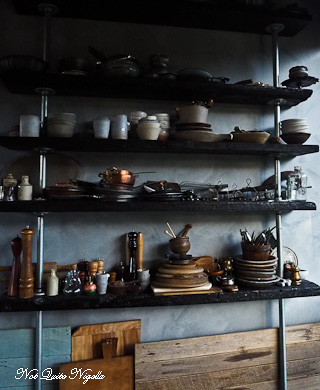 A new Italian restaurant in Rosebery, Milano Torino is named after a cocktail with equal parts Campari (from Milan) and Cinzano Vermouth (from Turin). Chef Dario Milano specialises in Piedmontese food that is a mix of refined dishes and farmers traditions.
You know that you haven't caught up with a friend for a long time when you sit down and ask her how her boyfriend is going.
"Oh um we broke up. About a year ago now actually," Girl Next Door answered. We were clearly due for a catch up. We were sitting at Milano Torino, an Italian restaurant on Epsom Road in Rosebery that focuses on Piedmontese cuisine. Chef Dario Milano is from that region and before he became a photographer, he was a chef and now has come full circle although the two professions meet regularly. Shelves of plates and platters are remnants of his photography business and yet serve a practical purpose.
So what is Piedmontese cuisine like? Dario says that it is not a cuisine that a lot of people know about. It is rich, "Due to the history of this region, and its peculiar mix of refined dishes and farmers' traditions. We are famous for our risottos (from locally grown carnaroli rice), white truffles, the renowned cattle breed "Fassone" protagonist of the bollito (boiled meat) and fritto misto (fry up), and of course tajarin and agnolotti del plin - the real celebrities of home-made pasta."
Milano Torino is named after a cocktail created in 1860 with Milan's Campari and Torino's Cinzano Vermouth. The restaurant was designed by Dario and there is an open kitchen and an indoor and outdoor area. At times you get kitchen aromas like the deep fat fryer and at other times there are more delicious smells.
The wine list is comprised of all Italian wines and Dario encourage diners to try them so all wines can be ordered by the glass. "I open everything and sell by the glass, as that's the only way to get people familiar with wines they don't know," Dario says. I watch a solo diner carrying a book express an interest in a wine - he is surprised when Dario opens up the bottle for him and he does the same for Girl Next Door.
Our entrees arrive quickly. The ocean trout is a typical Piedmontese dish that is said to have originated from when the workers would come back from working at the vineyards. The key to this is the cooked red wine vinegar marinade. The ocean trout fillets are paired with onions and zucchini batons and marinated in the red wine vinegar, sage, garlic and olive oil sauce. It's a good dish for warm weather and Dario tells us that it has strong country roots.
Although I've known Girl Next Door for a few years, it seems like tonight is the night for learning new things about her. "Vitello tonnato is the only Italian dish that I don't like," she says. I'm the polar opposite, I always order this dish. It's tender, very thinly sliced veal served with a tuna and caper sauce, strong in tuna and delicious.
There's a bit of a gap between entree and main, but this gives us more of a chance to talk and for me to hear about her latest dating exploits on you guessed it...Tinder. After a whole post breakup month of dating, all she has to show is a range of haikus that she has crafted together to represent each date in three lines. After that experiment she has decided that dating is not her scene anymore. "They're lucky if I shower (for a date)," she says jokingly.
Our mains arrive. The agnolotti pasta is a special of the day and it is a house made pasta filled with a 50/50 mix of pork and veal mince. It is served with a sauce that is made of the jus of the meat with butter and sage leaves and is a classic Piedmontese way to serve agnolotti. The pasta has an excellent texture and I love the sauce dotted with fresh sage leaves. The only thing is that I wish this came with bread to mop up the deliciously intense sauce.
I don't usually order chicken unless it is fried (that sounds weird, I know) but this dish was recommended to us. It's a ballotine of chicken that has been steamed for one hour and then crisped up. The texture of the chicken is juicy and tender and the prosciutto on the outside gives it seasoning and crispness. The chicken is filled with zucchini, cheese and capsicum. To the side is a kipfler potato and spinach topped with cheese. The side of spinach is a little too large particularly for the small serve of chicken that would be too little for someone like Mr NQN.
I've always associated Piedmont with hazelnuts so I'm a little surprised that there isn't a hazelnut dessert. The area grows lots of hazelnuts which are used in Nutella and Torino is said to be one of the world capitals of chocolate. The bonet is a chocolate pudding where each flavour reveals itself one after another. The chocolate comes first, then the coffee and then the almond. The texture could be a bit silkier and smoother but the flavours are very good in combination with each other.
The bavarese or bavarois is light and airy with a distinct pistachio flavour complemented by a Cointreau and caramel sauce. It's a delicate dessert that is at the same time subtle but elegant.
With coffee comes little cookies called Brutti Ma Buoni or "ugly but delicious" cookies. These meringue cookies hide a filling of roasted Piedmont Gentile Delle Langhe hazelnuts and they're absolutely divine. We end up nibbling on these and by the time we are done, we realise that we are the last customers but are never hurried or hinted at to leave.
So tell me Dear Reader, have you eaten much Piedmontese cuisine? Have you ever been to Piedmont? Are there friends that you haven't caught up with in a long time? Do you tend to talk each other's ears off when you do?
This meal was independently paid for.
Milano Torino
33 Epsom Street, Rosebery, NSW
Tel: +61 (02) 9697 9063
Open Lunch from 12pm Tuesday - Friday, Sunday
Dinner Tuesday to Sunday from 5:30pm
http://www.milanotorino.com.au/home