The rhythm of a city is often found at a market. Where people shop and eat gives an insight into their way of life for a city's or town's inhabitants and it's often my preferred first stop whenever I arrive somewhere new. Vega markets in the centre of Santiago in the Recoleta area is a seven day market that promises to introduce me to Chilean cuisine.
The markets are split up into separate parts divided in old and new buildings. We enter the old part passing by displays of eggs, fruit and vegetables. The climate is mild Mediterranean and there is plenty of produce from neighbouring South American countries. The prices here are amazing - in season berries are $2000CLP or $3.75AUD for a large punnet of fresh raspberries.
We pass by enormous ears of corn a thick as a man's arm. These are typically used in a dish called choclo which is made with chicken leg, olive, olive, chopped beef and onion and the corn resembles mashed potato in texture.
Much of the produce is familiar but with slight differences. Peaches are sold as juicing peaches or for conserving. Kiwi fruit is flat here and there are also tiny, colourful potatoes - these are from Peru. Kristen points out a pimento dolce which is a sweet pepper fruit resembling melon. Bees buzz around tiny golden grapes, honeyed with sweetness.
Kristina points out a stand with pink beans. These pink beans or porotos are cooked into a stew with basil that the vendor sells alongside the beans. The beans inside are small white beans, not unlike borlotti beans.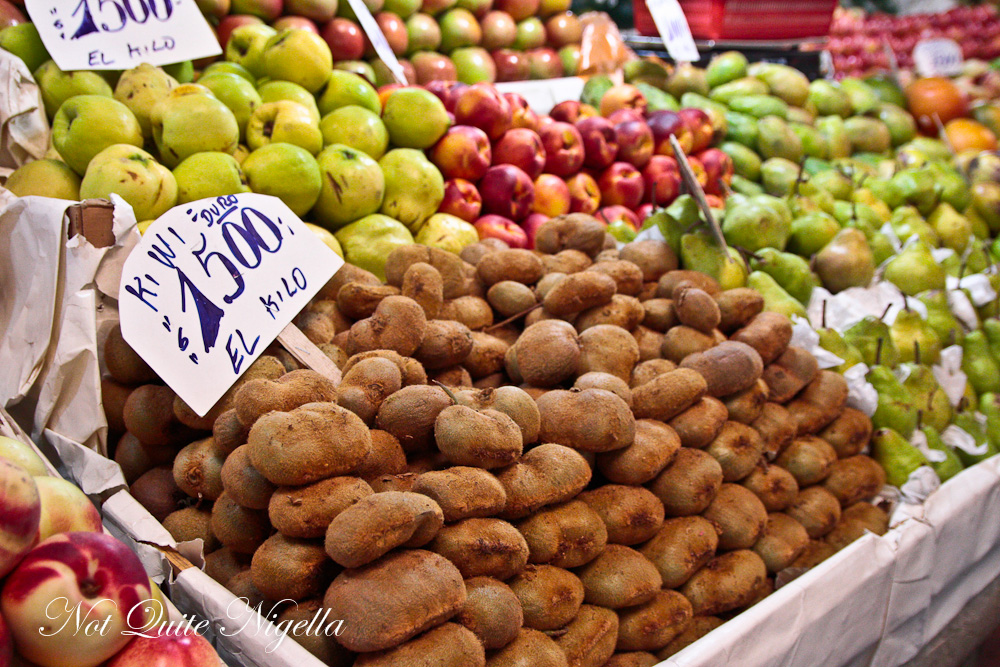 Black corn is dark and and glossy. Bottles of Chicha are sold everywhere - it is an alcoholic apple or grape based cider.
Limon de Pica is a Brazilian lime, sweeter than regular limes. Next to this is Aji Amarillo which is a widely used Peruvian chilli and next to this is a rocoto chilli *and *yuca, a root vegetable .
Pickle Mundo or Pickle World sells a range of olives and chilli sauces. Chile is a major producer of olives exporting them to Italy. Spices like cumin and oregano are popular in Chilean cuisine.
Manuel from Santiago Adventures tells me that typically for breakfast, a Chilean may eat a sandwich with ham, cheese and eggs paired with a cup of tea. Lunch is the main meal of the day and may include a Casuela stew made with beef Osso Bucco, potato, pumpkin, green bean stew. This is served with bread and salad with tomato, onion, lettuce and avocado.
Dinner is lighter, similar to a second breakfast and eaten late at around 9pm with a cup of tea or coffee.
As it is around brunch time, we stop by Don Victor for something to eat. Porotos Granados is a corn, bean and butternut squash soup which is sweet and creamy resembling creamed corn. You can spice it up with the spicy chilli pebre sauce.
Pantrucas is a beef broth soup with slippery pasta squares and carrot with chopped parsley on top. Its comforting like a pho. The Humitas Humitas is similar to a tamale but with just corn filling and no meat. It's paired with a tomato and onion salad. It's named after a necktie with the knot fastening.
Crossing the bridge to the fish market we stop by a stand selling Ceviche combinado which is a noodle dish with ceviche served either spicy or mild. We opt for the spicy version. It's finished with an aji cream called Huacaina. The ceviche pieces are soft and fresh and the noodles slippery and very spicy - it reminds me of laksa.
The fish market, housed in a beautiful restored 1872 building is a sensory experience and we pass by Piure, one of the least liked items amongst local Chileans. It's a marine invertebrate found inside rocks that is strong in iodine. Often it is cooked in a stew or eaten raw. It is usually sold trimmed with the scarlet coloured flesh packaged up in plastic bags.
Conger eels, crab legs and enormous shoe mussels catch the eye. The latter are called Choro Zapato - zapato stands for shoe. The sea urchins are called Erizo which is the Spanish word for hedgehog.
Next to the fish market are the restaurants, a popular tourist destination. Enormous lobsters hail from Robinson Crusoe island and they cook these to order along with boiled barnacles.
Piure
Manuel takes us on the hour drive to the village of Lo Abarca to visit Casa Marin, a world class cool climate Chilean winery. Here the softly spoken Felipe Marin talks about his family's vineyard started by his mother Maria Luz Marin in 2001. It's the village's sole vineyard.
They initially started growing Sauvignon Blanc, Gewurtztraminer, Sauvignon Gris and Pinot Noir on their 23 hectare property. They've now expanded to include Riesling and Syrah into their portfolio. Their soils are marine deposit chalk, granite and clay on the flats.
The now 46 hectares of vineyard experiences winter and spring morning mist, strong ocean winds and low temperatures during the growth and ripening stages. Because of the cool climate, the reds are stored in vats in an open cellar as it never gets quite warm here.
The grapes are hand harvested while the bottles are hand labelled. Everything is produced in small batches and the whites retails for around $18.000CLP or $35USD and the reds at $47.000CLP or $100USD a bottle. The most popular markets for their wine are England, Netherlands, Brazil and the East Coast of America and it also sells in Australia.
Planning your next trip? Ensure you have the right coverage with HeyMondo travel insurance that includes COVID-19 protection. Plus, if you use our link, you'll receive 5% off the price. Find the best deals on flights from all airlines in various currencies with SkyScanner and set up alerts to get notified when prices drop. For reliable transportation options, look no further than 12Go Asia, offering train, bus, ferry, and flight transfers worldwide. Book your transportation now and enjoy a stress-free journey.
When you purchase through these links I will get a small commission at no cost to you. Thank you for supporting me! :)
The multi award winning Sauvignon Blanc is a favourite while the Sauvignon Gris is a popular bottle at high end restaurants like The Fat Duck and Hakkasan in London. We try five of their wines in the upstairs tasting room before taking a look at the cozy restaurant. Reservations must be made in advance but this can be for as little as two people.
Just a few minutes drive away is El Sauce meaning Willow Tree - the tree that adorns the driveway and entrance of the restaurant. El Sauce's patrons often take the long drive from Santiago simply to eat their pork ribs. The restaurant is busy this Thursay lunchtime and its simply decorated with homely, traditional touches.
We order two serves of the pork ribs as well as salad and spicy mashed potato. Warm to the touch traditional Manteca bread hits the table with some butter. It is made with pork fat and is dense in texture.
The grilled pork ribs arrive as two long flanks of bone in ribs. They're seasoned with a delectable mix of salt, pepper, cumin and Merken a red chilli pepper spice. One bite into the ribs and you can see why people make the trek. They're juicy and full of flavour without the strong smell that some pork has. The pork that they use is from Talca and the recipe that they use is a traditional recipe that they have been using for 80 years.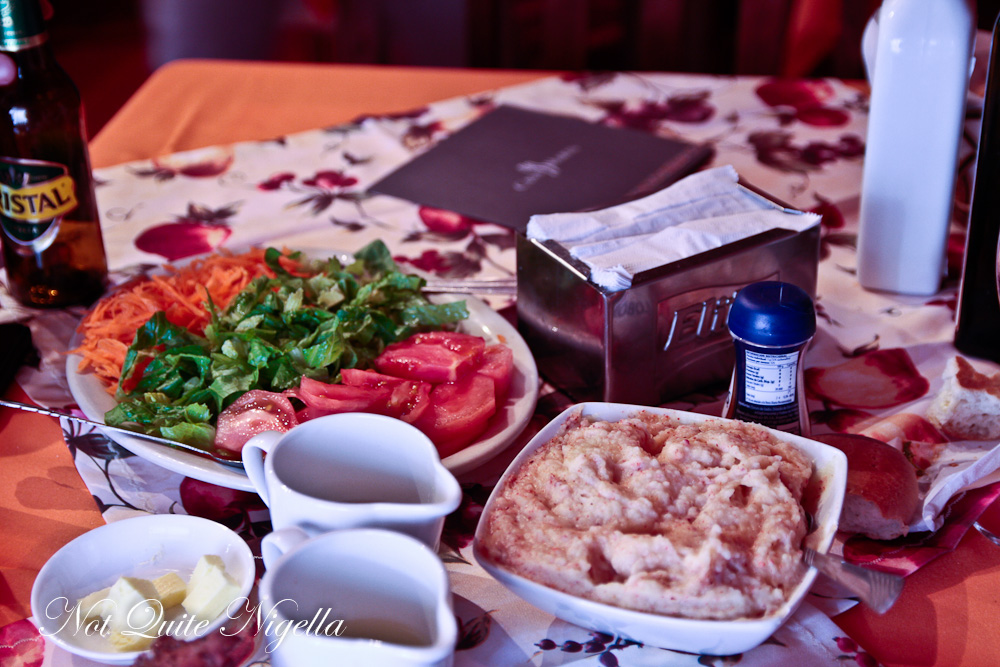 Dessert is a flan topped with cake, the flan custard below wobbly and milky while the cake topping is drenched in a sweet syrup.
A popular fruit is the Lucama which whilst is rarely eaten raw. When cooked it imparts a flavour identical to butterscotch. Here it is served in an ice cream cake layered with sweet meringue. We marvel at how much it tastes like butterscotch.
Back on the road, we drive towards Casablanca through a small town. We pass Maestra or handyman built houses. The colourful mish mash of houses are all designed and built in individual styles by the owners.
Chickens run out of the way to avoid getting underfoot. We reach Kingston winery and the weather changes drastically. Courtney Kingston welcomes us to her family's winery. Her American great grandfather arrived in Chile convinced that there was gold in Chile and inherited the land when a debtor defaulted. Overnight he became a farmer. He established a cattle farm for generations to come and in 2001 they had their first grape harvest. They now sell grapes to ten wineries.
Alejandra Firfan
Originally they started producing top quality grapes for other wineries to use but the market wasn't ready for their hand manicured vines. They realised that they needed to make their own wine and every year they hold back 10% of their grapes to make Pinot Noir and Syrah. At Kingston they produce just 3,000 cases of wine a year.
Their winemaker on site Alejandra Firfan pours us glasses of their Chardonnay and Pinot Noir. We are sitting on their terrazzo that has a spectacular view of their vineyards and the region below. She explains that their wine style is moving away from oak and emphasising minerality and acidity. They are also experimenting with a concrete egg.
Visiting these wineries by yourself requires a booking and for 14.000CLP or $25 per person you can try three wines with cheese. But be warned if you drive because the alcohol limit in Chile is 0.03.
Making our way back to Santiago we make one last stop for empanadas at Quillay Cafe. A quillay or soap bark tree is a useful tree used for making shampoo, photographic film among many other uses. We enter the store with the bell tinkling. There's a display of cheeses and cakes. The cheeses are local from Casablanca and come in a variety of flavours including pimento and Merken chilli. Maduro is the mature cheese which is stronger in flavour and they also sell an olive bread, popular with the cheese. We sit down and make our order - a quick snack before we hit the road home.
Mote con huesill
The mote con huesill is a popular drink sold at street stalls. Is made up of a peach syrup made with dried peaches boiled with cinnamon and sugar. There are two whole peaches in the glass as well as barley. It's refreshing and sweet.
The pino empanada is a beef and onion empanada filed with soft, flavoursome mince and boiled egg and an olive. This is a baked empanada.
The deep fried seafood and cheese one is deliciously moreish. All intention I had for for taking one bite a dashed with a combination of juicy shrimp and melted cheese. While chewing I think of tomorrow's adventure where I will be visiting one of the most beautiful islands in Chile.
So tell me Dear Reader, would you drive an hour to eat good food? And have you ever tried Chilean wine?
NQN visited Chile as a guest of LAN Airlines, Santiago Adventures and The Aubrey Hotel
LAN Airlines
LAN Airlines operates six one-stop flights each week from Sydney to Santiago, Chile. LAN launched the new air connection to Chiloé Island in November 2012, enabling travellers to connect to and from the island in Southern Chile more easily. www.lan.com
Santiago Adventures
http://www.santiagoadventures.com/
The Aubrey
Constitución 317, Providencia, Región Metropolitana, Chile Phone:+56 2 2940 2800 http://www.theaubrey.com/