There is a woman in front of me in the queue clutching an Isabel Allende book close to her chest. She is boarding the same flight to Chiloé Island and I can imagine that Allende's mystic prose serves as research and inspiration for the trip to the remote archipelago of Chiloé, two plane rides' away from Santiago.
Chiloé Islanders or Chilotes consider themselves different from Chileans. The island's distance has meant that culture, art and food has evolved separately from the mainland. Chilotes pride themselves on the fact that they grow everything themselves on the island without the need for convenience foods.
Chiloé is the second largest island in Chile after Tierra del Fuego and the weather is markedly different from Santiago. Here summer appears as winter, shrouded in grey mist and rain, with people shrugging on thick woollen jumpers for protection against the elements.
The only way to Chiloé Island is by ferry or by plane. I arrive on a LAN flight to Castro. The drive from the airport is punctuated with oohs and aaahs-from me of course. The wooden houses are spectacular, in myriad colours. No neighbours would be caught in the same shade.
Each house is wonderfully diverse because they are handyman houses built by the owners so the houses are full of character. The houses on Chiloé Island are covered in hand made wooden shingles - these serve as insulation to protect against the relentless battering of wind and rain.
Moving away from the main township of Castro we pass farms. Chickens run out of the road and goats graze along the road nibbling on grass. Herds of sheep and cows graze in fields.
After 30 minutes, Benjamin my Hotel Refugia guide takes a turn and we arrive at the hotel. I sniff the air and there is the unmistakable scent of eucalyptus which causes a mental double take. Eucalypts were planted here many years ago as a natural fence.
Hotel Refugia's horses look on curiously at us, their tails flicking and their heads turning gracefully. Benjamin points out a Chilote horse which is almost half the size of other horses.
Refugia, meaning refuge or shelter is a modest name for such an architectural beauty. Set against the harsh, wind battered coastline it is built to make the most of the spectacular scenery.
Luxurious and contemporary, Refugia uses plenty of wood including indigenous species like ulmo, conifer, beech and larch as well as plenty of glass to drink in the sumptuous view.
The accommodation, lobby and dining room are all contained within the long glass fronted building and the views look out to Rilan Bay and the Pullao Wetlands.
Hotel Refugia has green credentials and they use a combination of solar and wind power with rainwater. The unique larch wood shingle exterior not only references the traditional wood shingles of Chilote houses but also provides work for local artisans.
The room floor juts out over the main common areas below making the rooms appear as though they float above the landscape. My room, number 6 out of just 12 rooms has a stunning view as they all do. All of the rooms are identical. The windows are purposely large and provide ample opportunities for navel, star or water gazing.
Yellow wild flower blossoms bob their heads back and forth in front of my window. Although the room is a compact you barely give it a second thought. There is a king bed with a pair of knitted wool slippers - they are for guests to keep and are made by local artisans. On Chiloé Island, wool and wood make up much of the handicrafts.
There are two chairs and a coffee table next to the window and the whole room has a warm feel from the soft lighting, wooden walls and wicker and wool textures in the furnishings.
The bathroom has an inviting looking bath and two sinks. There is shampoo, body lotion, shower gel and soap. Tissues come in two of those small travel packs and the hair conditioner comes in a small glass bottle that doesn't quite dispense its contents. There is a robe and a pair of slippers in the wardrobe (where the rail is a tree branch). Internet is fast and free throughout the grounds.
After gazing at the view, I find myself transfixed before realising that I need to go downstairs for lunch. There are three courses for both lunch and dinner and all meals and excursions are included in the tariff. Each day, guests select one of two options on the menu and make their way to the dining room at whatever time they like. I take a seat by the window and watch a bird hop around on the dewy, soft grass outside.
A bread basket, bread, oil and vinegar is brought to the table. It contains several rolls including the white and brown rolls that are crunchy on the outside and soft and dense on inside.
Local salad with breaded shellfish and honey vinaigrette
The breaded shellfish come as three crab claws breaded and deep fried until golden. They sit on a bed of crunchy fresh salad with ribbons of carrot with a sweet honey vinaigrette.
Hake with crusted "maqui" with mashed peas and fern shoots
The hake is beautifully cooked so that it is moist inside but cooked through. It is coated in an intriguing crunchy crust made out of Maqui berries. These berries are found in the rainforest areas of Chile and are said to be very high in antioxidants. The topping itself isn't sweet like you'd expect a berry to be but it is very tasty and reminds me of a crunchy parmesan crust in its savouriness.
Caramel creme brûlée
The creme brûlée has a satisfying toffee crunch on top and a silky custard underneath. It is given a double dose of sweetness from the caramel custard and the toffee top.
Lobby
I'm offered tea or coffee but I skip these in lieu of my first afternoon excursion. Refugia has a wonderful range of excursions to choose from. Benjamin picks me up from the lodge's lobby to take me to a typical Chilote farm.
Nalca leaves for an underground curanto bbq
Planning your next trip? Ensure you have the right coverage with HeyMondo travel insurance that includes COVID-19 protection. Plus, if you use our link, you'll receive 5% off the price. Find the best deals on flights from all airlines in various currencies with SkyScanner and set up alerts to get notified when prices drop. For reliable transportation options, look no further than 12Go Asia, offering train, bus, ferry, and flight transfers worldwide. Book your transportation now and enjoy a stress-free journey.
When you purchase through these links I will get a small commission at no cost to you. Thank you for supporting me! :)
On the way we stop by a lookout point to survey the view. We look back at Refugia and Benjamin points out Quinchao to the far right, the next biggest island.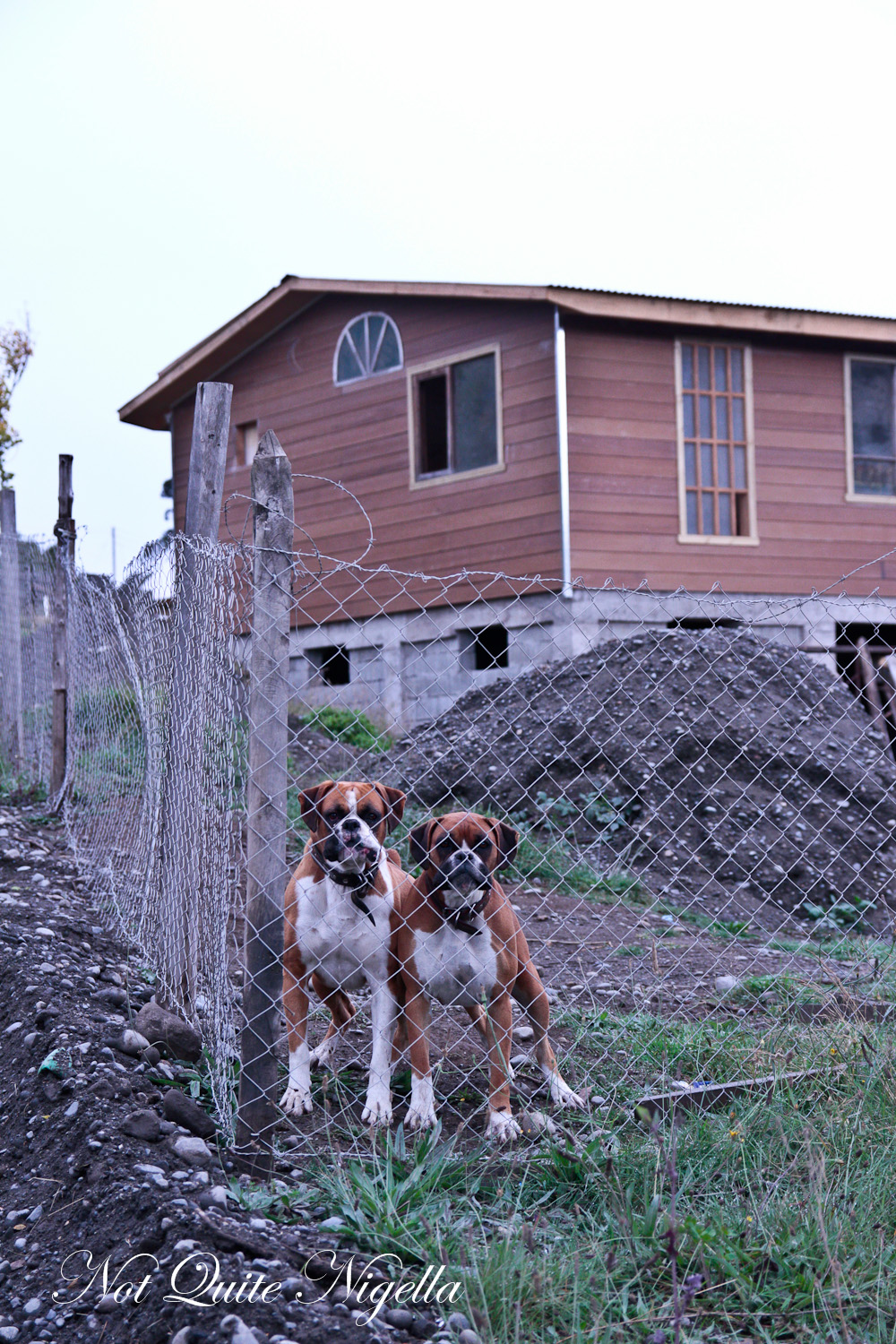 We drive past farms where workers are busy digging up potatoes. The workers wave when they see us stopping. Chiloé residents are wonderfully welcoming. Benjamin explains that everyone is preoccupied with preparing for winter here. It gets bitterly cold and they need to ensure that their land and property is ready for the weather. When Charles Darwin visited he claimed that "In winter the climate is detestable, and in summer it is only a little better...".
Chiloé Island has 16 UNESCO heritage listed churches and Iglesias de Rilán is one of them. The design of the churches is based on a traditional Chilote boat hull design upside down as the Chilote people did not know how to build a church, only boats.
Looking closely at the details, you can see that it is built using joinery with very few nails at all. When it was built in 1908 there was very little steel. You can also climb all the way up to the bell tower.
Driving up and down the undulating roads, my eye is caught by a bright red and yellow trumpet shaped flower. Benjamin stops the car and asks the woman about the flower. She's chatty and tells us that it's a Copihue, Chile's national flower.
Shortly after we arrive at Conico farm where Maria Elena Oyarzo greets us. On her farm she has beef and dairy cattle, pigs, rabbits, chicken,geese and she also grows her own vegetables and makes cheese and chicha, the deceptively drinkable apple based cider. Apples grow plentifully on Chiloe Island.
What is fascinating is the way that Maria Elena uses everything so that there is not a scrap of waste. The farm has twenty dairy cows that she uses for milk. Some of the milk is kept for the forty beef cattle which will be sold off once they reach 5 months old. The milk helps increase the weight and size of the beef cattle.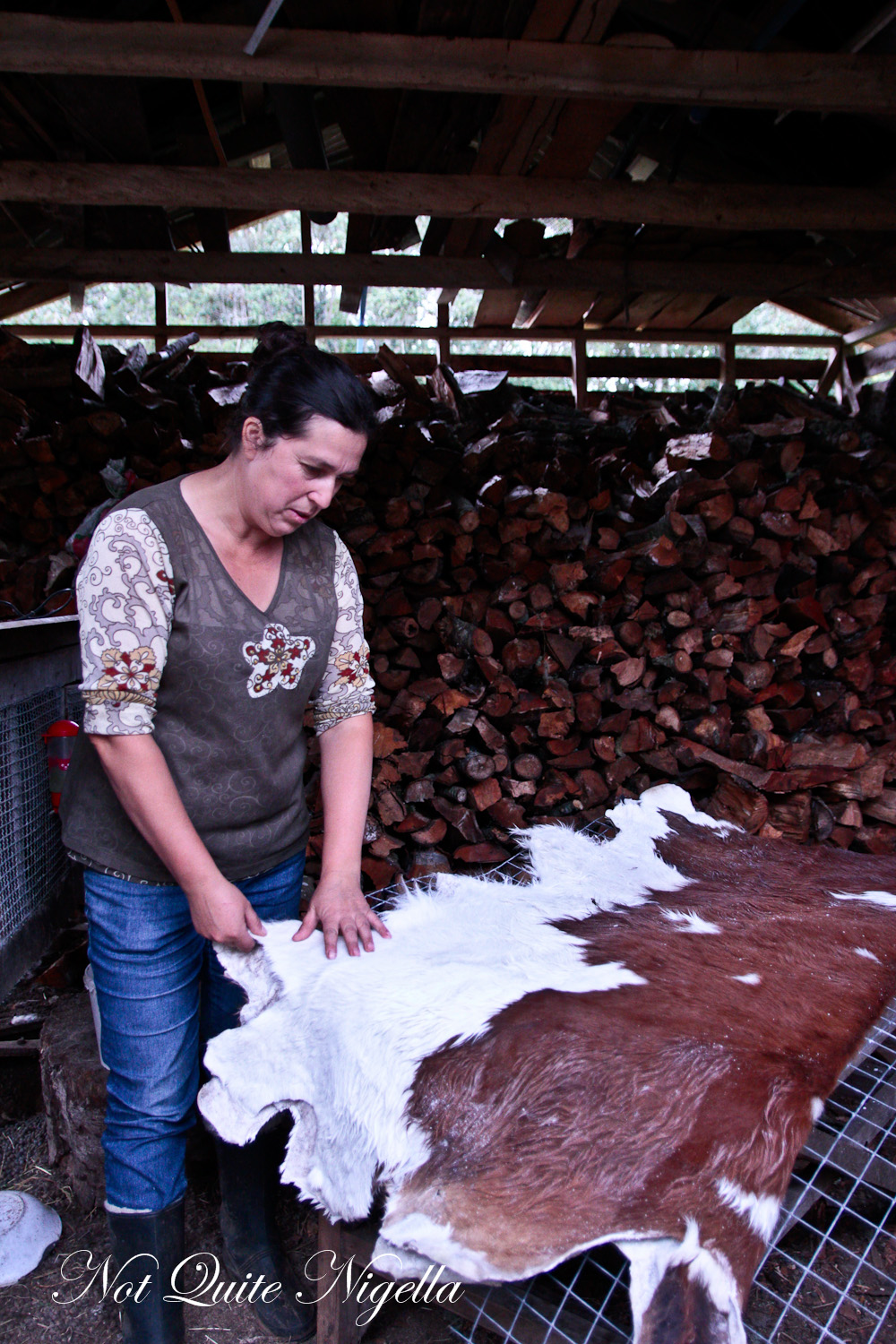 The beef cattle drink heartily from the milk and Benjamin points out the barn ceiling where 800 bales of hay are being stored in anticipation for winter. Maria Elena shows us the skin from a recently slaughtered cattle that she is drying. She will either make a mat or cover chairs with it.
The manure from the cows goes directly into their vegetable patch. The vegetables are just for her family's consumption. She pulls out a fat carrot for dinner along with some potatoes (one of seven kinds that she grows). Come winter, the garden will be mostly bare and before this, they need to clean it and prepare the soil for spring. Winter meals will consist mostly of meat and potatoes.
The pigs slurp happily from the whey that results from her cheese making. The small cheeky piglets are adorable especially a patchwork piglet that I just want to take under my arm and run away with.
The ducklings that eat the pests
We move onto the chicken roost. Maria Elena explains that the older chickens will be killed before winter and used as soup chickens whilst the smaller chickens will be saved for next year. The rabbits are kept as pets and for food. Ducklings tend to the vegetable farm eating any pests that may destroy produce.
We arrive at the last stop on the farm. Maria Elena's cheese room has a range of home made cow's milk cheeses. There are some that were made today and others two months ago.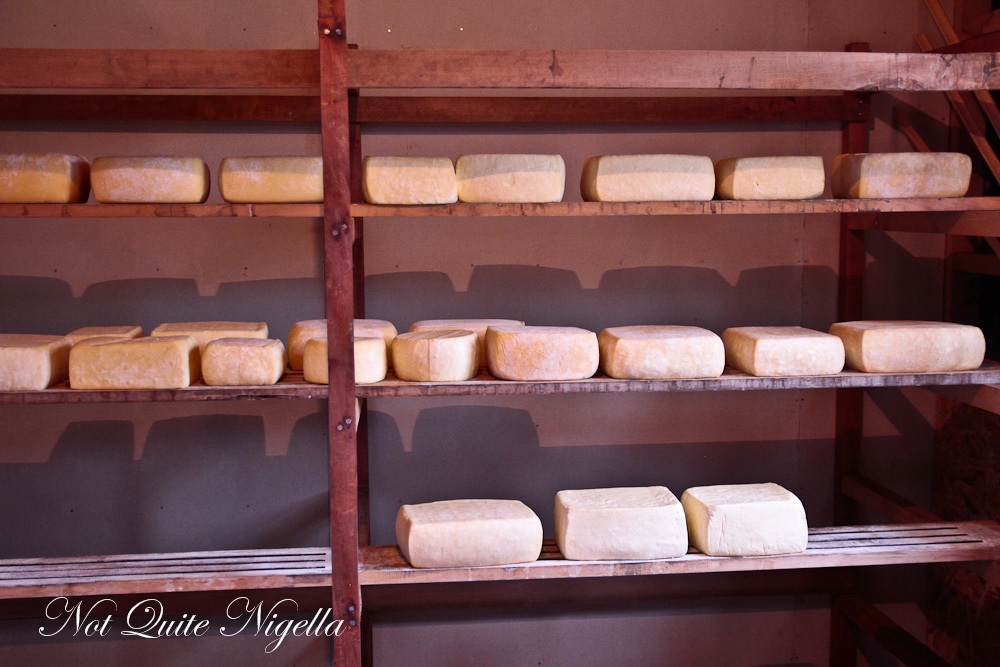 The cheese is mild but delicious and the older one month cheese is a definite favourite. She sells these cheeses to the public that visit the farm and each enormous wheel is just $10USD. I take a sip of her home made chicha made with the apples on her farm and its a great accompaniment to the cheese.
Maria Elena has had the farm for 13 years. Prior to becoming a farmer, she had a boutique in Castro. I ask her if she prefers farm life and she smiles and says "Si" emphatically. She explains that while there is plenty to do, it's all done at a leisurely less hurried pace.
We head back to Hotel Refugia where therapist Josefa has set up a massage table in the massage room near the sauna and spa and the temperature is toasty warm. She works with short strokes and concentrates on my back and shoulders. I'm probably drooling unattractively but the groggy bliss seems entirely appropriate for the other worldly setting. Back in my room, I sit in front of my moving picture and contemplate my next move.
Getting dressed I go downstairs around 8.30 pm to the dining room and bar. Cocktails of your choice and canapés are served every evening. There's an excellent rice paper roll filled with chicken and a crumbed cheese ball coated in nuts. I also try a Piscola, a loca's favourite made up of Pisco and cola. It's dangerously strong.
Dining alone has its benefits. I am tired I want to retire early and they bring out my courses in a timely manner. The fabulous little bread basket is back and that makes me very happy. Tonight I spy a piece of lightly toasted rosemary potato bread. Potato bread is one of my favourite breads and it is lightly crunchy and soft in the centre at the same time.
Crab claws with hazelnuts and citrus slices
The crab claws arrive as a serve of three claws and are coated in mayonnaise and roughly chopped toasted hazelnuts. I love crab by itself so whilst the hazelnuts give it a good crunch, I prefer the crab and mayonnaise that lets the rich flavour of crab shine through.
Grilled steak with local sauce, broad bean puree with olive oil and onion rings
The eye fillet is cooked exactly as ordered and it is topped with a local sauce of finely diced red onion and tomato. Although it sounds like it might overwhelm the steak, it actually complements it as the onion has a natural sweetness to it. It comes with some broad bean and olive oil puree and cornmeal crusted onion rings.
Fresh fruit
Please forgive my boring dessert choice, especially when there is tarte tatin on offer. There are grapes, pineapple and watermelon and the watermelon in particular is good. It's soft in texture but very sweet and juicy.
My next move is simple. It is to shower to the call of the midnight Bandurria or Black Faced Ibis and to fall in bed to the sound of nothing but the wind, snuggling into the comfort of a warm bed. When I rise, I just hope that it isn't a dream.
So tell me Dear Reader, is there a destination that has captured your heart? Had you heard of or visited Chiloe Island before?
LAN Airlines
LAN Airlines operates seven one-stop flights each week from Sydney to Santiago, Chile. LAN launched the new air connection to Chiloé Island in November 2012, enabling travellers to connect to and from the island in Southern Chile more easily. www.lan.com
Hotel Refugia
San Jose Playa, Castro | Casilla 217, Castro, Isla Chiloe, Chile
www.refugia.cl/‎