The other day I was given one of the sweetest compliments ever by a Dear Reader. She called me a "rare unicorn" which just delighted me so much that I couldn't stop blushing and smiling. I even hugged her. How did she know that I have a secret desire to be a unicorn?
I come from a family that isn't good with compliments. A compliment is usually sparingly and rarely given and usually offered in a gruff tone. My parents are getting better but I can see that it's hard for them, they're simply not used to it. School marks were always room for improvement and even then my parents weren't the hardest of their peer group. Their friends would chide their children for getting 99% instead of 100%. Thankfully my parents didn't go down that route...
I had two of my dearest friends coming over for dinner one night. New Zealanders Miss America and Queen Viv are two of my longest standing friends and seeing them is always a delight as we catch up on what we've all been up to. You see they don't have facebook and don't email much so it's a real old skool friendship. It was supposed to be a bring a plate dinner but I told them not to worry as it was a Friday night and didn't want them stressed trying to put something together after work. And as we were hosting, it was just easier for me to make the main meal. Although it sounds cliched I know that New Zealanders often appreciate some lamb.
The inspiration for these came from a recent meal at Malabar Indian in Darlinghurst. We were served a delicious lamb shank curry and I knew that some time this winter I would make my own version. This is a thick, creamy curry where the meat of the lamb shank is so soft that you only need prod it with a fork for it to fall off the bone (a slight challenge when trying to present it to guests on the bone!). It's actually also really easy to make and just requires a bit of time to cook the lamb shanks down to meltingly tender.
I paired it with a turmeric rice. Turmeric is a new superfood and is said to increase antioxidant capacity and treat Alzheimers, arthritis and cancer. I saw some fresh at the market and I snapped it up straight away as I usually only see it in powder form. Not really knowing what to do with it, I peeled and chopped it up and added it to the rice along with a little ground turmeric and it imparted a wonderful flavour to it and the roughly diced turmeric softened so that you could eat it whole. It was a delicious alternative to plain basmati rice.
And it was gratifying to get lovely compliments from Queen Viv and Miss America. Even Mr NQN who isn't fussed on lamb actually vocalised that he loved the shanks and not a skerrick returned to the kitchen. Well except the giant shank bone of course ;)
So tell me Dear Reader, what is the ultimate compliment to you? And what is your secret desire? Confess it anonymously if you have to? ;)
DID YOU MAKE THIS RECIPE? Share your creations by tagging @notquitenigella on Instagram with the hashtag #notquitenigella
Lamb Shank Korma Curry With Turmeric Rice
Rated 5.0 out of 5 by 2 readers
An Original Recipe by Not Quite Nigella
Preparation time: 20 minutes
Cooking time: 3 hours
Serves 4
2 bay leaves
2 stick cinnamon
2-4 large red chillies (depending on how hot you want it)
1 tablespoon fresh ginger, finely grated
7 cardamom pods, crushed and ground
5 cloves
2 teaspoons ground cumin
1.5 teaspoons garam masala
3-4 tablespoons oil or ghee
1 3/4 cup chopped onion (about 3-4 onions)
5 garlic cloves, peeled and chopped
100g/3.5ozs. toasted cashews, ground finely
1 litre beef or lamb stock
4x lamb shanks (about 1.3 kilos, I prefer smaller ones so that they fit in the pot)
1/2 cup sultanas
Salt, pepper and sugar to taste
2 sweet potatoes, peeled and cut into chunks
1/2 cup cream
Turmeric rice
1.5 cups basmati rice (I sued golden basmati)
1.5 cups water
5cm piece fresh turmeric, peeled and finely chopped
1 teaspoon ground turmeric
1/2 teaspoon salt
Tip: turmeric does turn everything including fingers and chopping boards yellow. The colour on your skin will wash off but it is more stubborn on chopping boards. Cut it on a piece of parchment if you need to.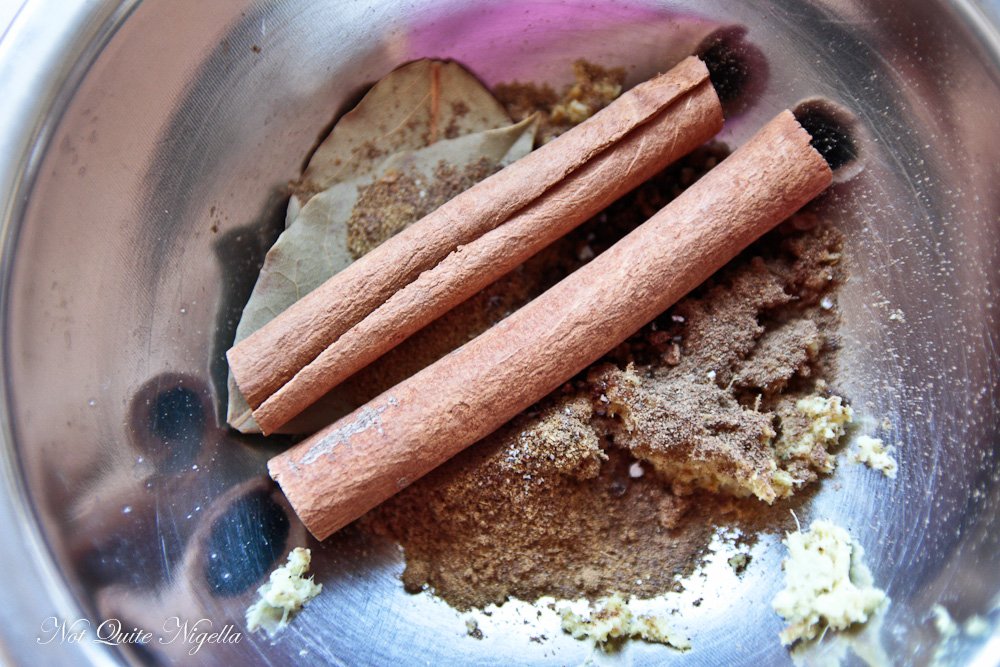 Step 1 - I prefer to do this a day or two before serving to make skimming the fat easier. Dry fry bay leaves, cinnamon, chillies, ginger, cardamom, cloves, cumin and garam masala in a large cast iron pot until fragrant and then add some oil or ghee and fry the onion and saute until softened. Add garlic and saute for another minute or two and then do the same with the ground cashews.
Step 2 - Add the stock, lamb shanks and sultanas and bring to the boil making sure that the shanks are covered with liquid. Simmer for 2 hours or until soft.
Step 3 - Remove the lamb shanks from the pot and place in the fridge and place the cooled pot of gravy in the fridge to chill. The next morning you can just scoop the top layer of semi solid fat off.
Step 4 - Preheat oven to 180C/350F and line a baking tray with baking paper (just for ease of cleaning). Place the shanks in the tray and bake for 20 minutes until browned.
Step 5 - Meanwhile, put the sauce back onto the heat and bring to a boil. Simmer the sweet potato pieces in the sauce until soft. Then add the cream at the end and stir. Taste for seasoning, I add salt, pepper and sugar depending on what I think it needs. Return the lamb shanks to the sauce and simmer for 10 minutes to coat the shanks in the rich gravy.
Step 6 - To make the turmeric rice, wash and rinse the basmati rice and add water, turmeric pieces, ground turmeric and salt to a saucepan. Cover and bring to a boil. Reduce down to low heat and cook for 15 minutes. Do not remove lid during this time. Turn off and then allow to stand for 10 minutes before removing the lid.