Every year there's an event that starts a frisson of whispering.
"Where do you think it will be?"
"Do you really have to wear all white?"
"Is it like a giant picnic?"
Dîner en Blanc is in its second year run in Sydney. Originally started in Paris by François Pasquier in 1988 it has now popularised the pop up picnic flash mob concept. The idea at each Diner en Blanc is that everyone must dress in white from head to toe, dine on elegant picnic food on a white table and chairs dressed with a white tablecloth. The key to Diner En Blanc is that they must be at a spectacular setting. Oh and the location? That's a secret until the very last minute.
Last year's inaugural event was held at Bondi Beach. It was a location that would be hard to top. It saw 3,000 white clad guests frolic and picnic on the sands of the iconic Sydney beach. This year's event would make the task even harder for organisers with an additional 1,000 making the total 4,000.
Guests board buses to the final destination. We had discussed possible venues amongst friends who would also be there. But little did we know that the 2014 Dîner en Blanc would be practically on our doorstep at Centennial Park. Ironically, in 1889 the park's first set of regulations forbade any gathering of more than 25 people at one time. The Australian organiser Antoine Bessis chose the location as they wanted to bring the event back the original picnic concept and a row of paperbark trees heralds a welcome to all guests.
Tickets cost $35 per person to attend the event including one way transport to the venue but you can also upgrade to get catering and alcohol packages as the event is strictly no BYO. Catering costs from $66 per box that feeds two (generously) and bottles of champagne are $66 each.
We arrive at McKay Field and there are five giant blow up white bunnies dotted around the circular field. It's an art installation Intrude by artist Amanda Parer and later these bunnies will illuminate the night. A DJ Dan Rowntree and harpist Jake Meadows play in the centre. As instructed everyone is wearing all white and they are busy setting up their tables and collecting their catered boxes which appears to be a popular option.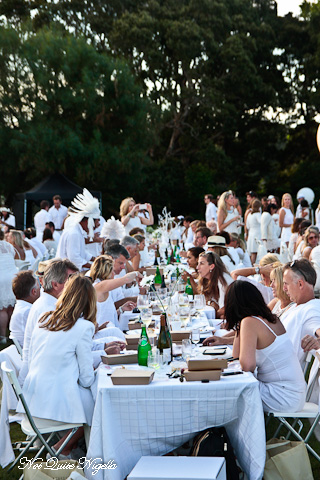 The soft grass is a much more manageable surface than the sand was although there was a very special charm to picnicking on Bondi Beach. Everyone is in excited spirits this evening as tickets were very hotly contested and hard to come by as it is a lottery system whereby previous attendance means that you become a member that is invited to next years' event. This however does not guarantee a ticket.
There are prizes given out for various things like The Art of the Table, Best Dressed Female and Male so some have come prepared for this. There is a nautical themed table with guests in white sailor hats and outfits. A woman wears a wedding dress with a sign pinned to the back that says "Single".
Before eating, the customary waving of the napkins commences and everyone waves around their white napkin in unison to signal the official start to the evening. We unwrap our food - there are two types of hampers by Kitchen catering, a "White Hamper" and a "Premium Hamper" and ours is the latter.
We start with the assorted pickled vegetables and the sesame crusted breadsticks which are a favourite for me dipped in the three kinds of dips: a fabulous (but rather alarmingly coloured given our attire!) pureed beetroot with yogurt and za'atar; a smokey aubergine caviar with tahini and molasses and a delicious spiced hommous with pine nuts and parsley.
There are also slices of salami, pastrami, olives, marinated artichkoe, grilled egglant and semi dried tomatoes along with a square of Sonoma Bakery rosemary and chilli foccacia with Pepe Saya butter. There are two small serves of "potted shrimp" or shrimp in mayonnaise on a bed of shredded lettuce salad.
The two mains are a farfalle bow tie pasta salad with green beans and gremolata topped with prosciutto and char grilled lamb on a burghul, butternut pumpkin, kale and capsicum salad.
By now we are getting very full as the portions are very generous but the cheese course beckons. The brie and red leicester cheeses come with candied walnuts (said to be truffle candied although the truffle appears to be absent) but they are very moreish nevertheless.
There are two pots for dessert-a delicious fig and honey pannacotta and a chocolate mousse. The panna cotta is definitely the pick and there is a layer of liquid honey caramel on the bottom.
As we eat, I watch a clutch of white balloons escape into the sky and I look above. The sky fills with bats and turns a beauteous salmon pink shade for just minutes before transforming to midnight blue to black. The park fills with the sound of cicadas and before we know it, it is time for another round of napkin twirling.
Once everyone finishes eating guests get up to mingle with friends. We go to find Louise in another section and on our way pass people playing with hula hoops re-igniting lost childhood skills with the encouragement of the crowd. "Would you take a picture of us?" a group of three girls asks Mr NQN. He goes to take their camera. Oh no, they mean take a picture of them on his camera. There is no shortage of people wanting 15 minutes of fame. Many people take to the dancefloor to the strains of Mariah Carey, P Diddy and Guns and Roses.
At 9pm it is time for the final Dîner en Blanc tradition. Everyone receives a sparkler and lights it and in unison they move the sparkler high in the air. Thousands of brightly lit, twinkling arms reach high into the sky creating a sparkling vista.
Later, as we depart there is a conga line slowly forming. A group of people in white, once strangers huddle together closely for a photograph. "New besties!" one yells excitedly.
So tell me Dear Reader, what do you think of the Dîner En Blanc concept? Did you go and what did you think of it? And if you didn't go, would you? And do you have an all white outfit or would you need to buy one?
Dîner En Blanc
http://sydney.dinerenblanc.info/