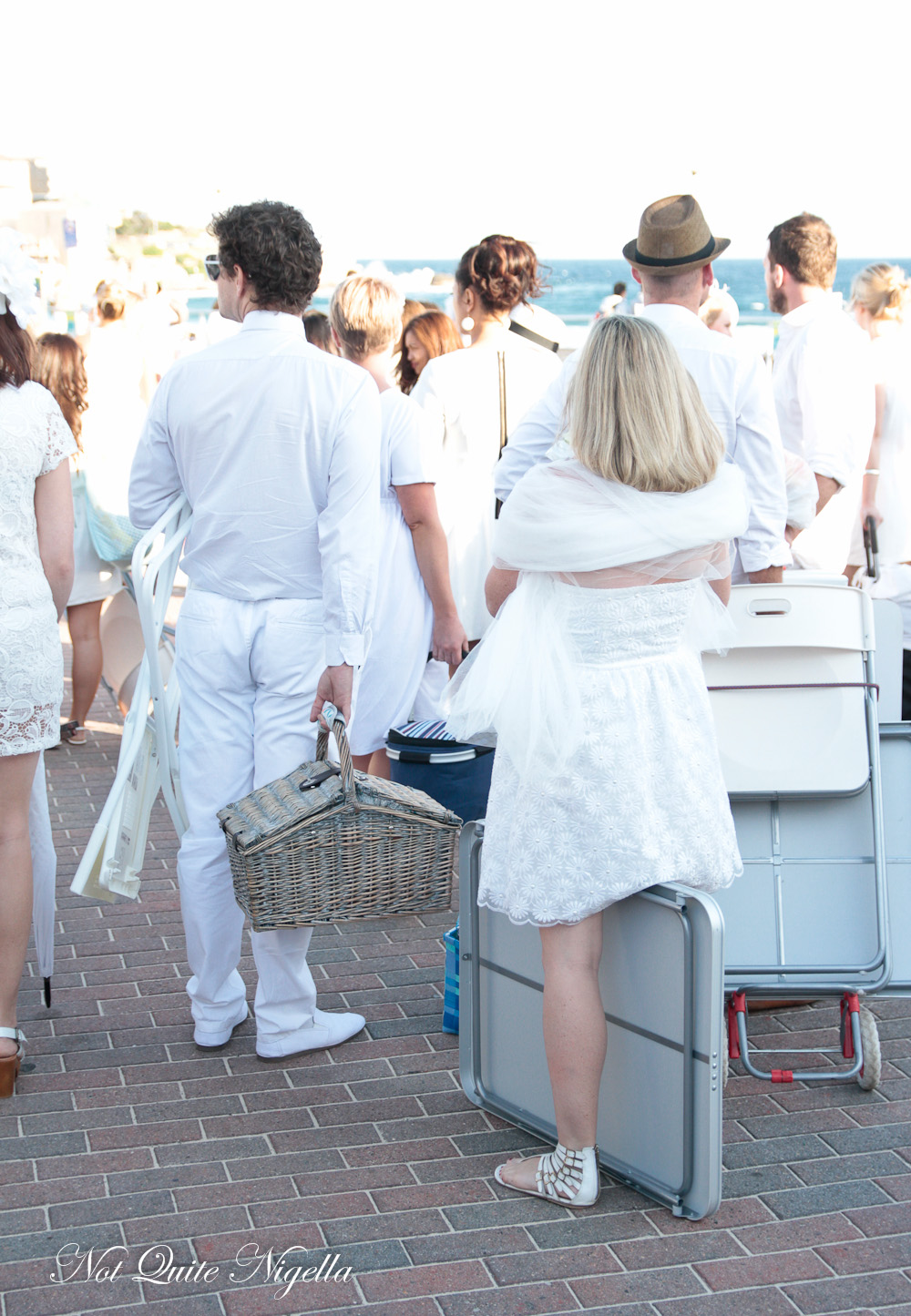 We had a dilemma. A sartorial dilemma. The invitation read "White only dress please" and whilst I had plenty of white outfits, Mr NQN's wardrobe was completely bereft of white because well he doesn't go around dressed like P.Diddy, Hannibal Lecter on a holiday or the guy from the 80s Flake ad.
I think my years of repeating the mantra "Commit to the costume!!!" during Halloween meant that he insisted that he wear white, "not cream" and at the last hour we finally found him an all white outfit. He claimed it was too metrosexual and made him look like Liberace. I pointed out that it was really just a white jumper and white jeans and had no trace of sequin, pinky ring or mink.
So there we were, meeting our group of assembled guests with our hosts, Treasury Wine Estates. They have a huge portfolio of 80 wine brands from Penfolds, Wolf Blass, Rosemount and St Hubert to name just a few. We all piled onto the coach to our mystery destination.
Diner en Blanc is an event that started in Paris in 1988 by a man called François Pasquier. He arranged a spontaneous outdoor picnic in an undisclosed area of Paris and guests turned up all dressed in white to enjoy food and each other's company. In Paris, the spaces that have played host to this event range among the the Eiffel Tower site, Place Vendôme, the Château de Versailles, the Esplanade de Notre-Dame, the Champs-Élysées, Place de la Concorde and this year: Le Louvre Pyramid and the Trocadéro Esplanade simultaneously.
The rules are simple:
Seats are allotted on-site in a very specific manner.
In order to participate, one must be invited by a participant from the previous year or get on the official website's waiting list.
Once confirmed, the presence of each guest thus becomes mandatory, regardless of weather conditions, as the event is held regardless of weather conditions.
Colour of attire and table setting: white only.
Table seating is symmetrical with men seated on one side and women on the other.
Participants arrive and depart at the same time by chartered bus or organized public transportation.
Depart with one's belongings, leftovers and trash, leaving the place as clean as it was upon arrival.
Guests must bring a table, two (white) chairs, a picnic basket comprised of quality menu items and a china dinner service including proper stemware and flatware. Participants must wear white and be dressed elegantly.
The tariff is $35 plus GST per person which includes one way transport.
This still left us with a mystery: where would ours be this year? The coach eases out of Circular Quay and we head East. Around us are whispers of "Centennial Park" but then the bus curves around and we head towards the water and the choice is either Watsons Bay or Bondi Beach. The number of coaches intensify and after a while we all realise where 2013's Diner en Blanc will be held: Bondi Beach.
The number of 3,000 people in white is quite a sight. It's so conspicuous that people point and stare while others take photos. The event itself is a spectacle, particularly seeing all these beautifully dressed people carrying tables, chairs and picnic items.
Set up begins around us and a DJ plays music. The DJ is the cue for any group activities - if the DJ waves a white serviette, it's your turn to do it en masse. If he lights a sparkler, it's your turn to do so.
Tables are set up and guests take a seat. This is the cue for waving around the white napkins which traditionally signals occupying a public space.
People start eating their picnic which for us is prepared by Kitchen catering. The wines on offer are Annie's Lane Rosé, Devil's Lair Hidden Cave Semillon Sauvignon Blanc, St Hubert's The Stag Pinot Noir Wolf Blass Grey Label Shiraz Cabernet Sauvignon and Leo Buring Dry Riesling.
Sonoma sourdough and Smoked tomato gazpacho & butter poached yabbies
We start with a Sonoma grain sourdough roll and a smoked tomato gazpacho with butter poached yabbies served in a jar. The yabbies are delicious and the tomato gazpacho quite lightly smoked.
White asparagus, Jamon Iberico & truffle pecorino parcel
This was one of my favourite courses because of the strong aroma of the truffle pecorino. It was perfectly cooked grilled white asparagus spears, thin folds of jamon iberico and shavings of truffle pecorino cheese.
Roast eye fillet of beef, pearl barley, preserved lemon, mushrooms and pickled spring vegetables parcel
The main was a tender roasted eye fillet on a bed of pearl barley with wild mushrooms. The side of spring vegetables is lightly buttered and seasoned and I particularity like the crisp yellow beans and sweet purple potato.
During dinner there is a slight commotion behind us - who else but Tetsuya is a white clad guest. He was certainly the most popular guest and many queued for a photo with him. He's only just more popular than the man in drag with blue eyeshadow, a blonde wig and a white dress (and beard).
White chocolate panna cotta
Dessert was a jar of white chocolate panna cotta with sliced champagne strawberries at the bottom. The panna cotta was creamy and sweet and gorgeous against the champagne soused berries.
Cheese board, glazed cippoline onions & lavosh
And no meal is complete without cheese (that's my theory and I'm sticking to it ;)). There is a Mon Pere brie from France and a wedge of Maffra clothbound cheddar from Victoria. It was served with glazed cippoline onions and crunchy lavosh.
At 9pm the DJ lights the sparklers and we watch as silvery sparkles light up all around us in a wave. Everyone waves them around creating a starry effect on the sand and this signals the official opening of the sandy dance floor where diners dance away the rest of the night.
So tell me Dear Reader, would you have an all white outfit at the ready? And what do you think of the concept of Diner en Blanc?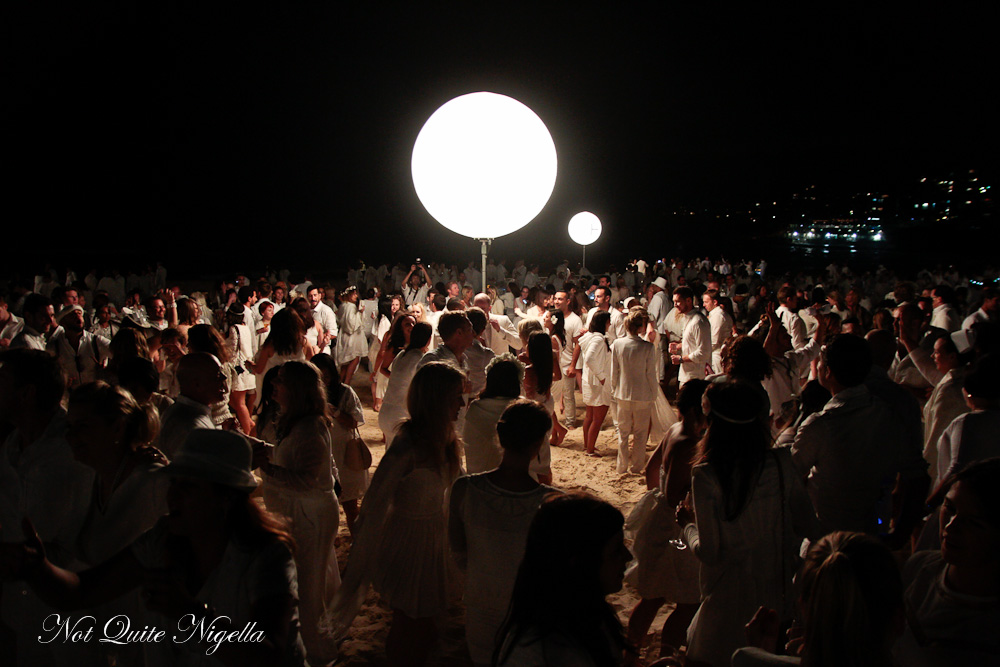 NQN and Mr NQN attended as guests of Treasury Wine Estates
Diner En Blanc
http://sydney.dinerenblanc.info/