Harbourfront Seafood Restaurant is a 10 minute stroll away just past the ferry wharves of Circular Quay at Campbell's Stores. This restaurant opened in October 2020 and as the name suggests specialises in seafood with a view. There are seafood platters and towers and a range of raw and cooked seafood dishes, all with a view of the Opera House and Sydney Harbour.
When a restaurant is all about the view there's a little jostling and hoping for a table with the best view possible. A little tip if you do go to Harbourfront Seafood Restaurant: the layout is such that tables for two get the front row facing the harbour so it's a good date location. Service ranges from a gruff greeting to friendly waitstaff that tries hard but are a little inexperienced but given the number COVID has done to hospitality you have to give them a bit of a pass.
I've already looked at the menu online which is similar to the one in front of me (although prices have increased) and yet it's still hard to decide what to order. We watch the rain threatening to come in this evening in what has to be the most disappointing November weather ever (hey La Niña). Our cocktails arrive first and my French vanilla martini is very sweet with Absolut vanilla vodka, Chambord and pineapple juice while Mr NQN's Watermelon Blast non alcoholic drink is super sweet with pineapple juice, watermelon syrup, lime juice and mint.
There are two seafood platters, a cold & raw platter at $175 or a hot and cold one for $255, both serving 2 people. We love cold and raw seafood best and select the raw and cold platter. It has four cold items: Balmain Bugs with remoulade, Abrolhos octopus carpaccio & salsa verde, Confit ocean trout, avocado & wasabi, Eastern king prawns & hot cocktail sauce. There are four raw items: cured scallops, chili, lime & coriander, crudo kingfish & salmon with lemon, soy,olive oil, & caviar and Sydney rock oysters with lemon & mignonette. All are served in scallop shells and there are two of each. Some of these need some seasoning like the Balmain bugs with remoulade and the crudo kingfish and salmon. My favourites are the oysters with mignonette and the octopus carpaccio with salsa verde. It's not amazing value for the amount of seafood that you need and if you're after a seafood tower you might want to order the hot and cold platter.
I ordered the sourdough cob to make some prawn and mayonnaise sandwiches with because sandwiches are life. Although it's listed as a sourdough cob it seems more like a damper roll as there isn't a strong sourdough taste and the crumb is very, very tight with no bubbles. It's served with whipped butter and stracciatella topped with salmon roe on the side.
Once upon a time Mr NQN didn't like oysters at all and would give me all of them. I miss those times because now I have to share one of my favourite foods with him (ok it isn't so bad). These are just what we need.
My favourite dish of the whole night apart from the oysters is the kingfish carpaccio served with fermented black bean, smoked mayo, pickled onion and coriander oil. It's a delicious take on this very popular dish and strikes a perfect balance of flavours and creaminess with the fermented black bean, smoked mayo and pickled onions.
The fries are plentiful and freshly cooked and a seafood meal always calls for fish and chips.
The caramelised lemon tart is the pick of the desserts. It has just enough lemon but isn't a strong lemon or tartness but has a rounded sweetness to it. It's served with a scoop of vanilla bean gelato and crunchy praline.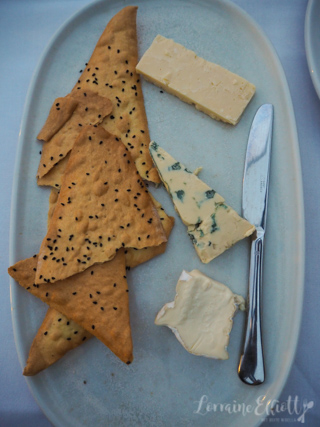 I initially ordered a mille feuille but I had to send it back because the pastry was very soft and I couldn't eat more than a bite. We swapped it for the cheese plate. It's supposed to be a selection of Australian and International Cheeses, Lavosh & Preserve and I did ask for the name of the cheeses which flustered our poor waiter who said it was brie, blue and tasty cheese. The brie and cheddar (not tasty) were great and it comes with a lot of lavosh but no preserves as mentioned on the menu. And as if on cue, the rain starts in as we get up to leave.
So tell me Dear Reader, how often do you order a seafood platter? Do you prefer cold seafood or cooked?
NQN and Mr NQN were guests of Visit NSW but all opinions remain her own.
Harbourfront Seafood Restaurant
Campbell's Stores Bay 1-3, 7-27 Circular Quay W, The Rocks NSW 2000
Open Wednesday to Sunday 11:30am–11pm
Phone: (02) 9251 0894