Sydney's weather has been slightly maddening over the last week. Bright sunny days are followed by a drenching and thunderstorms and on a Friday night it inevitably plays havoc with traffic. Any plans to have a 6pm dinner at The Governor's Table in the city are stymied by traffic, rain and an abundance of Christmas parties with groups of work groups making their way in full party regalia. We ring ahead to the restaurant, named after the first Governor of NSW Arthur Phillip and apologise profusely. Our 6pm booking is changed to 7pm.
We make our way to the Museum of Sydney. We are first seated on the banquette outside but as it is a cold and windy day we move further inside as it feels a little like dining in a train tunnel. Before this, it was the MOS Cafe. They have opened up a new area expanding the space even further.
The decor is rustic Australiana with some Scandinavian accents and the theme continues throughout the whole sandstone space to even the bathrooms. There are Australian native plants on the tables and stag horns adorn one wall. Executive Chef Marco Adler has worked at Grain and also in London and Bhutan for the Como Hotels.
From the beginning, Fresh Catering consulted with colonial gastronomer Jacqui Newling. She sent Marco copies of anecdotes from early journals, menus and historical documents to help guide the menu. In early Colonial times, everything had to be locally sourced as much as possible but from 1892 there was access to goods from South Africa and South America as Australia was on the shipping route. Governor Phillip also had a French chef so the menu was often International and records indicate items like wild duck, oysters and kangaroo featured on the menu.
There is a replica of the French oak Governor's Table where the Governor would sit at the head. Dining until the late 1800s was French style or "service à la Francaise" with shared plates being passed by guests. This continued until the 1800s when dining "service à la Russe" or Russian style became popular and this is where plates are served sequentially. Women of standing were welcomed at the table. They were highly regarded and guests were pleased with their air of gentility. Senior members of the indigenous Australian community also dined with the governor - Bennelong was said to be a frequent guest.
The menu initially started off with more historical elements with cured meats and dry ageing but has evolved. It spans from breakfast to dinner a la carte with three levels of banquet menus. We start with the grilled prawns served split down the centre topped with mojo verde and a side of black garlic aioli. The prawns are so succulent and cooked perfectly so that there is no hint of dryness. The slightly sweet and aromatic black garlic aioli the perfect foil for them.
If there is one item that I really cannot go past, it is lamb ribs. I know how fatty they are having made them but they are one of the most luscious cuts. They do have a strong lamb taste and this is even perhaps enhanced by the soft Binnorie fetta cheese but the pomegranate glaze cuts through it nicely.
I was most intrigued by the peach butter with the parfait but once I try it, I think I prefer the parfait on its own or just with some of the cherries. It's a very generous size with two fat quennelles of pate served and a lot of lightly toasted bread. We contemplate calling Mr NQN who is at his own work Christmas party to come and finish it there is so much!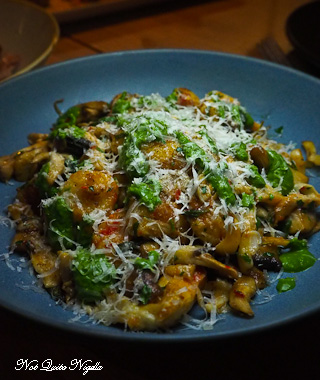 There is a little break before our mains arrive. The first main is potato gnocchi that is made up of soft, melting parcels of potato gnocchi paired with wild mushrooms, soft radicchio, a bitter rocket emulsion and pecorino yet all of it works together superbly. It is also a generous serve.
Our second main is a bit more expensive edging towards the $40 mark. It is a cep scented pork on a butternut squash puree with sweet caramelised endive and lavender jus. Lavender jus? Yes and it is actually really good with the pork giving it sweetness and floral aroma without being too overwhelming.
It is a toss up for dessert. Belinda and I are so full that the only option is really to split one dessert. We like the sound of two desserts but the waiter recommended the other two. What to do? I left it up to Belinda who loves limes and refreshing desserts. This is a dense, sweet white chocolate cream with slices of fresh mango and a refreshing lime sorbet. The puffed black rice gives it a welcome crunch. And suddenly there was stomach room made for this!
So tell me Dear Reader, do you like reading about the history of food? And did you know about "service à la Francaise" and "Service à la Russe"? I must admit that that was new to me! And has the weather been mad for you lately?
This meal was independently paid for.