A modern Australian restaurant housed in an underground type of setting, Nel restaurant is named after "chef to the stars" Nelly Robinson. Open for lunch on Thursday and Friday and dinner from Tuesday to Saturday, it offers a tasting menu only with two matching wines per dish. Standout dishes includes kombu tempura quail eggs, "green peas and ham" and a luscious kangaroo fillet with charred cos lettuce and carrot puree.
"Where is everyone?" I ask Mr NQN. The long weekend seems to have a bit of a ghost town of the normally busy Surry Hills area. The only thing that was left behind were sirens and police cars so I guess some people were already making the most of the holiday. Our plan was to do likewise and make the most of a four day long weekend (and how magical do those words sound?) and start it off with dinner somewhere nice.
We decided to try Nel Restaurant located on Wentworth Avenue. Except I thought that meant Wentworth Street in the city. So mentally I steel myself for a battle to find a park in the CBD. I pick Mr NQN up from work in Surry Hills and we drive along Wentworth Avenue. "Is that it?" I say and sure enough, there it was, the three letter illuminated sign. I realise how dizzy I must sound at this point, and I had a lot on my plate (no pun intended) so I guess it was just lucky that we took that route!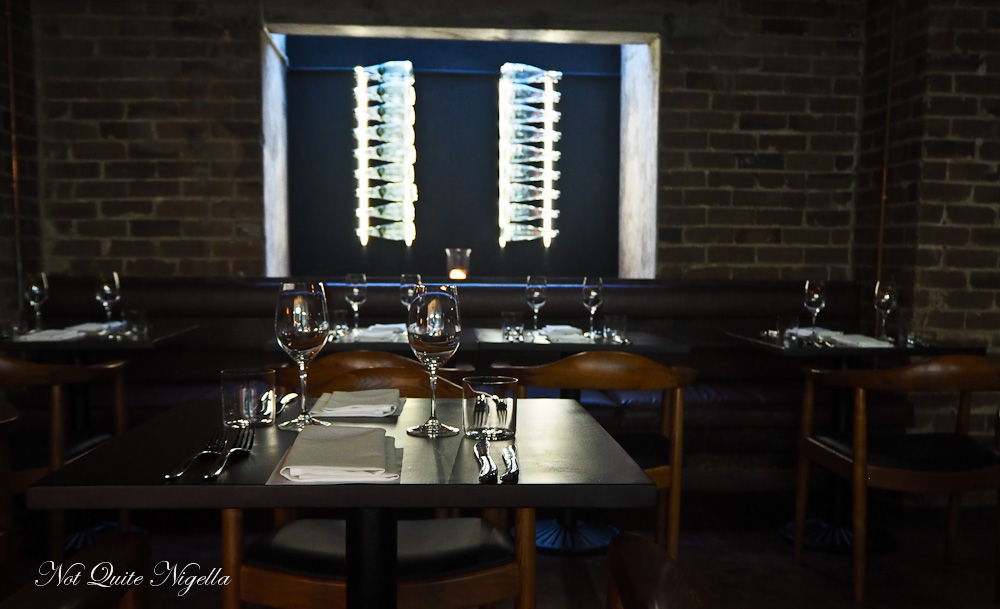 At 6pm, we're the first diners there. Service is excellent from the moment we walk in and we are shown to a table right in front of the open kitchen. The space is a former storeroom converted into a restaurant with an underground feel to it. Nel is named after chef Nelly Robinson (former chef to Cate Blanchett, David Beckham and U2) who is at the pass. They lay down a single sheet menu with details of the tasting menu. Here at Nel there is no a la carte menu, instead it is a 9 course tasting menu that changes monthly for $80 per person (and wine lovers, it's an additional $80 for two matching wines per dish). There's also a vegetarian tasting menu and on Thursdays and Friday lunch they do a shorter tasting menu. The only thing we need to decide is what kind of water and whether we want wine or not!
Pickled quail egg, kombu, truffle crunch, smoked salmon, dill
I'm facing the kitchen so I watch as they prepare the first course. Served on a rock there's a smoked salmon, dill and cucumber mousse on a curl of deep fried rice cracker. I pop this in my mouth. Deliciously salty and creamy it jump starts my taste buds. I regard the second morsel for a moment -it's a quail's egg in a kombu tempura which gives it the appearance of a wrinkled ashed goat's cheese. It is a textural sensation - at first there is the rubbery egg white and crispy tempura coating and then the egg yolk explodes in the mouth when you bite it. And then of course I promptly get the bonito flakes all over my dress. Thank goodness it's dark...
Green peas, ham
All of the staff take the time to explain what is in each course. The next one is called simply "green peas, ham" on the menu. It is a pig's cheek and trotter cooked for 8-10 hours until soft. The meat is combined with fennel seeds and it is pressed into a chip shape and then crumbed and deep fried. The sweet, smooth pea puree is excellent giving the "chip" moisture and sweetness that goes so well with pork.
The bread comes out next and it's a single roll, warm and streaked through with mozzarella cheese. It comes with two small but perfectly sized slices of butter. The roll was delicious (and yes I wanted another one too but didn't want to ask).
Scallops, watermelon, avocado, lime, soy
The next dish is delicate and sweet with sashimi scallops and watermelon. The compressed watermelon dominates the dish. There are other flavours along with the sashimi scallop like coriander, lime and soy but the sweetness of the watermelon is the lingering flavour.
Venison carpaccio, pepper, chocolate, pickled enoki
I was watching as this course sat under the heat lamps and after a certain amount of time, it was ready. The venison carpaccio is very lightly seared on the outside and rolled in five types of peppercorns including Szechuan peppercorn. It sits on a bed of enoki mushrooms and chocolate soil and is finished with a chive vinaigrette. The sensation is spicy, tangy and sweet with all of the different elements.
Beetroot, white balsamic, goats cheese
The next course is almost too pretty to eat. It is beetroot done several ways from pickled slices of beetroot, roasted baby purple and baby golden beetroot, slices of raw target beetroot, beetroot juice and beetroot powder with a raspberry and white balsamic gel. To the right is a thin tuile pasty tube filled with light goat's curd. The beetroot is sweet while the pastry is crisp and earthy, echoing the beetroot's natural earthiness.
Kangaroo, charred leaf, carrot, dijon, blackcurrant
The next course is my favourite savoury course after the amuse bouches. It's a tender, juicy kangaroo fillet that has been sous vide at 52C/125F. It is topped with a rosemary butter and to the side is a blackcurrant and onion jam. There is a sweet carrot, dijon, orange and mascarpone puree on the bottom and roast carrots. And to the side is a veloute topped charred baby cos lettuce. Everything is perfectly balanced and the kangaroo is so succulent that it may convert those that don't love our national coat of arms beast on a plate. And not a skerrick of this goes back to the kitchen - in fact if I had some more bread (yes I'm talking about the bread again) I would have mopped up the sauces with it. Although the courses aren't large, they're the right size for me (Mr NQN is admittedly a little hungry).
Honeydew, elderflower, buttermilk, chilli nuts
Our first dessert is more a palate cleanser and it is made of honeydew, elderflower sorbet, buttermilk mouse and a rose champagne sauce with a fine crumble of chilli nuts on top. It is sweet, tart, punchy and spicy or maybe even all four depending on what you get on your teaspoon.
Pistachio, white corn, cherry
We are told that this is a version of a Black Forest Gateau with a layer of crunchy chocolate soil and popping corn with a quennelle of pistachio ice cream and fairy floss on top with cherry gel. I like the crunchiness of the soil at the bottom and the cherry gel although the pistachio gel tastes quite almondy rather than like pistachio.
Eccles cakes, lemon curd, lime and chocolate, passionfruit
The last course are petit fours. There are two here and the first is an eccles cake made with buttery puff pastry and filled with lemon curd - this is my sort of thing. The second is a passionfruit chocolate which our waitress gently cautions us to eat in one go as the centre is a tart passionfruit liquid that explodes in our mouth. And because we are the first to dine, our dinner is finished at around 8:30pm giving us plenty of time to segue into the weekend!
So tell me Dear Reader, did you tend to go away on long weekends? Do you usually try and start your long weekends off a bit early? And have you ever gone to the wrong address? Or is that just me? :P
This meal was independently paid for.
Nel Restaurant
75 Wentworth Avenue, Sydney NSW 2000
Phone:(02) 9212 2206
http://nelrestaurant.com.au/