The Paddington on Sydney's Oxford Street is a pub that doesn't really have that much of a pub feel. It serves casual modern Australian food in an open kitchen setting. Dishes like crushed edamame with crisp wontons and crab toast, fresh herbs, togarashi tickle tastebuds while the cocktail list beckons-or ask them to make a creation to match what you're eating.
I get confused very easily. So when there's a place called The Paddington, a place called Paddo and The Paddington Inn all in the space of one block, well you can perhaps imagine the panic and confusion in my mind.
It is a Tuesday and I am having lunch with Amanda who I haven't seen in over 6 months as she has been living overseas. And for once I was early. And also completely confused as to where I had suggested for lunch too.
We end up at The Paddington located right next to Fred's where I had eaten only a few weeks before. There is a front area and bar where you order yourself and then a dining room with table service and an open kitchen that leads up to an upstairs bar. Service is lovely and we see executive chef Ben Greeno (formerly of Momofuku Seiobo) who works across several of Merivale's establishments.
Although we are seated in their self serve section they do table service today which is part of the reason why it feels less like a pub and more of a restaurant (I have to admit I much prefer table service as it is better for sharing with friends). We take their suggestions of food to order. Both of us are peckish but not famished but our eyes are bigger than our stomachs.
Crushed edamame beans, fried wonton skin $16
We both adore the crushed edamame beans with a scattering of green spring onions and a healthy glug of extra virgin olive oil. They come with triangles of fried wonton skin and it's actually quite a big serve although very moreish. And yep you bet I want to make this at home.
Roast chicken croquette $15 Vegetable croquettes, herb mayonnaise $15
Oh how I love a croquette. And a roast chicken one is pretty clever. This one comes with a spicy mayonnaise while the vegetable croquettes come with a herb mayonnaise.
Prosciutto, watermelon, ricotta salad $23
It's a warm day outside so the salads beckon. The prosciutto salad is thin slices of prosciutto with soft, creamy ricotta and slices of marinated watermelon. The saltiness comes from the prosciutto while the watermelon is thirst quenching while the ricotta is fresh and creamy.
Crab toast, fresh herbs, togarashi $24
Although this is in the mains section it probably belongs in the starters section if only for its size. I love crab and there's a good amount of it on the toasted rye bread with herbs and togarashi. And then I decide I need more crab toast in my life.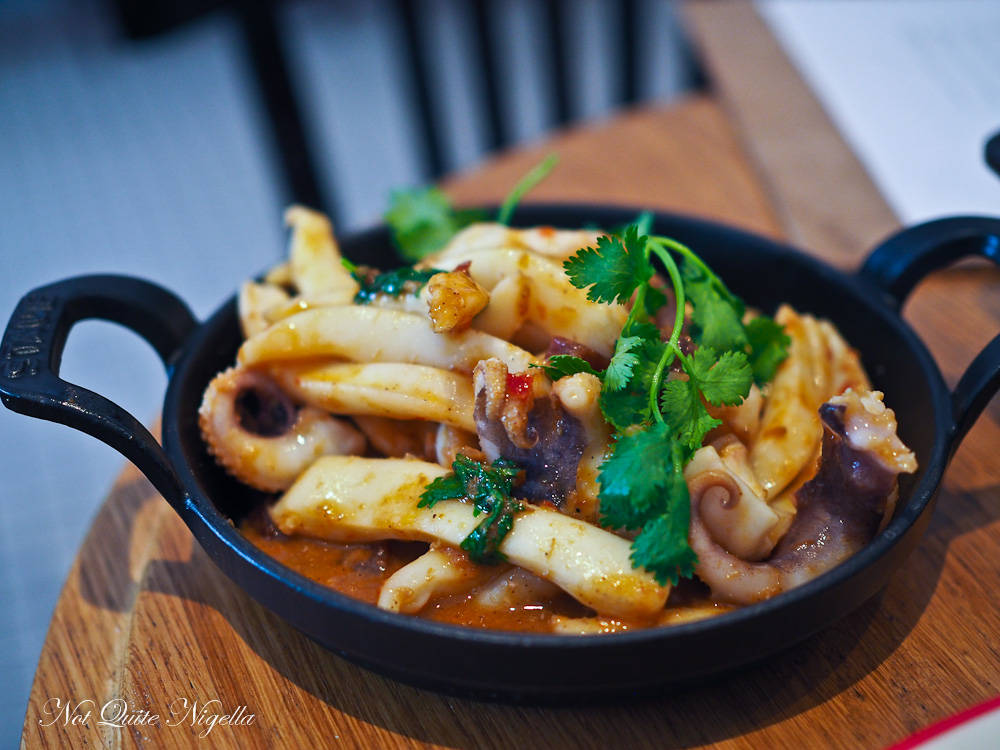 Cuttlefish, XO $23
The cuttlefish is a strong dish as opposite to the lightness of the crab toast. There's pieces of pork sausage and a gutsy XO sauce with superbly tender cuttlefish. There's only thing missing and that's something to have with the sauce like rice or a starch.
Cocktails made to match dessert
They offer to make us some mocktails to match an offer. I can't think of a better accompaniment to dessert on a hot day so we eagerly say yes. This is based on a virgin pina colada but with added zing from passionfruit.
Pistachio cake, vanilla cream cheese, marinated strawberries $16
We don't want to be gluttons ("too late!" - everyone reading) so we decide to split one dessert. We both liked the sound of the pistachio cake, a small round cake served with a scoop of vanilla cream cheese and cut, marinated strawberries. The pistachio cake has a true nutty pistachio flavour to it. Amanda is a big fan of this as am I (there's just never enough cream cheese frosting in my life).
So tell me Dear Reader, are your eyes bigger than your stomach or is it the other way round? And do you prefer table service or self service? And what food do you need more of in your life?
This meal was independently paid for.
The Paddington
380 Oxford St, Paddington NSW 2021
Monday to Thursday 12pm–12am
Friday & Saturday 12pm–3am
Sunday 12–10pm
www.merivale.com.au/thepaddington