My absolute favourite Finnish food are Karjalanpiirakka or Finnish Rice Pies. These delicious savoury pastries are made using rye flour and a rice filling. They're much easier to make than you would think and make a fantastic picnic or lunch time food! Here I use a family recipe by Mr NQN's aunt Sisko.
I'm going to start today's story off with a joke (hopefully I don't butcher it in writing as I tend to do in person!).
A Finn and a Swede are in a bar. The bartender serves them beers. The Swede says "Cheers!" and the Finn turns to the Swede and says "Are we going to drink or are we going to talk about it?"
The above joke is about how shy the two Nordic countries are, particularly Finns. Mr NQN's Finnish mother often tells us that the reason why Finns are so shy (and they are in general although they are very sweet and sincere from my experience), is because for decades many of them lived far apart from each other and as it was so cold, they wouldn't leave their homes. I don't know if this can account for modern day Finns who live in a city as crowded as Helsinki but it's an interesting theory.
The Castel Felice in Cape Town with Tuulikki
While Tuulikki is not your typical Finn (I think that she is more a Finn via her spiritual land of India), her sister Sisko and her husband Seppo are stronger in their Finnish spirit. Sisko is a great Finnish cook and we often get a taste of Finland through her dishes like carrot box (Porkkanalaatikko), potato box (Perunalaatikko), parsnip box (Lanttulaatikko, boxes are clearly a theme), pinwheel cookies (Joulutortut) and cinnamon & cardamon buns (Korvapuusti). She and Tuulikki arrived in Australia on the Castel Felice ship in 1970 and Tuulikki recently unearthed some photographs of their time on the ship.
Sisko (front) and Tuulikki
It was the free wheeling hippy days and I asked Tuulikki who the man standing next to her was. "That was my boyfriend on the ship," she explained. And by the time that she arrived in Sydney, she had found herself another new boyfriend while Sisko met Seppo (also from Finland) and settled down with him. After that the boyfriend talk from Tuulikki got a bit vague and I sense that Mr NQN's mother was rather in demand!
Hands down my favourite dish of Sisko's is the Karelian rice pie. Karelia is located in Northern Europe and spans areas in both Finland and Russia. Karjalanpiirakka or rice pies are made with a rye pastry, rolled very thinly and filled with a rice porridge. These are baked and then buttered and then served with a delicious egg butter called Munovoi. There's nothing quite like them as they are distinctly savoury but have a warm, comforting quality to them in the same way as a sweet rice pudding except that it is savoury. They are also absolutely delicious.
Sisko had warned me that the pastry was difficult to get thin enough but if you have any experience rolling pastry and dumplings that may help but it isn't necessary. I also used some regular flour with the rye flour that makes it easier. Also resting the dough made it very easy to roll as the gluten was relaxed and I think that even someone that hadn't rolled dumpling pastry would make a stellar effort of these.
Mine weren't perfect but once you fill them up and pinch them together (my favourite bit apart from eating) then they actually don't look half bad. Well if you close one eye and half close the other. If you are up for something unique and comforting I urge you to give this delightful little recipe of Sisko's a try. I even made myself a little video of it to show you how easy they are to make and Mr NQN even makes a little appearance. Keen bakers, I urge you to give these delightful little savoury pastries a go. You will be duly rewarded I promise.
So tell me Dear Reader, are you good at telling jokes or do you kill them like I do? And how would you describe people of your ancestral background? Have you ever eaten Finnish food or cooked with rye or alternative flours before? This was my second recipe with rye flour (the first being the Dutch spice cake) and so far I am really enjoying baking with it!
How to make Karelian rice pies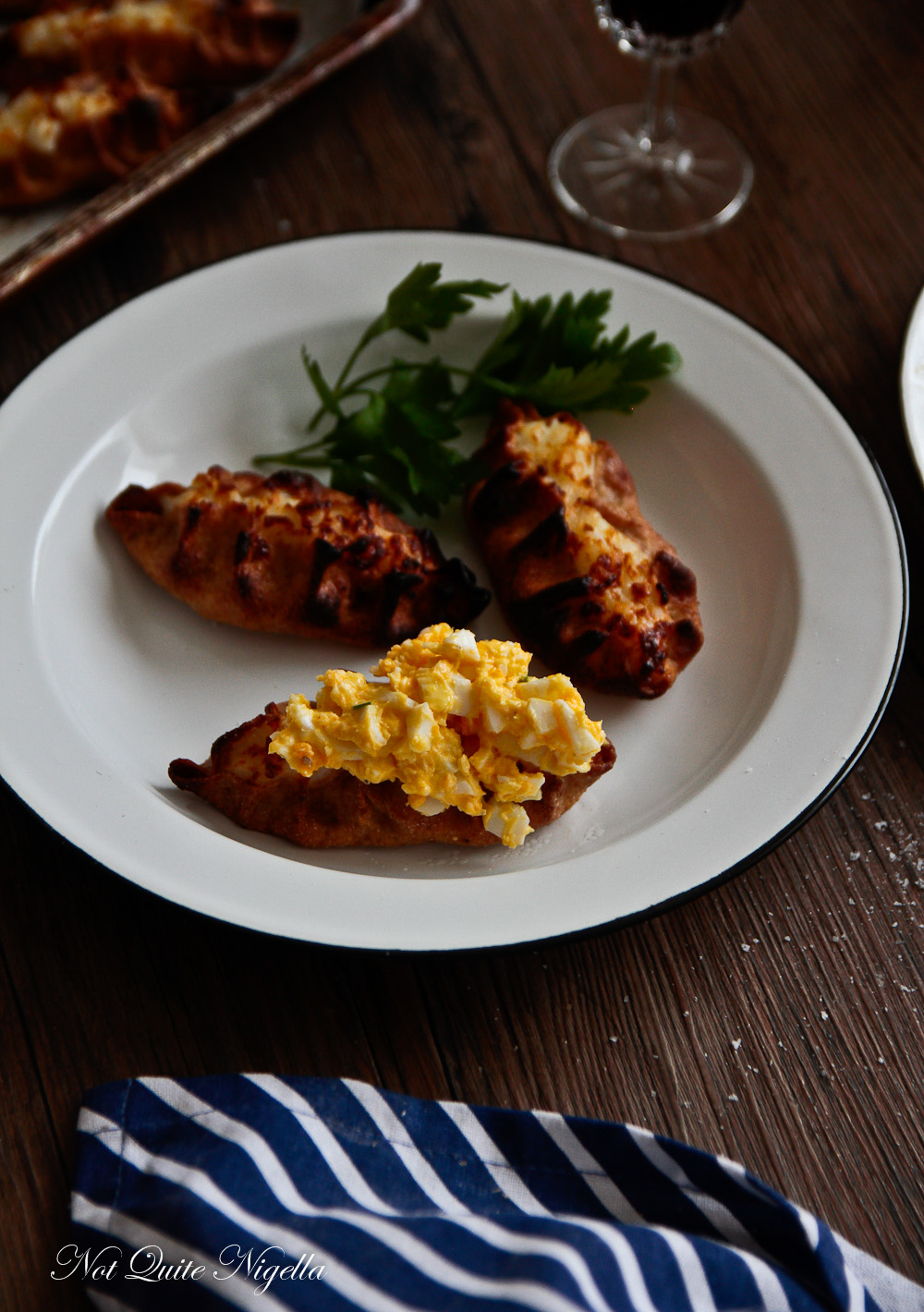 DID YOU MAKE THIS RECIPE? Share your creations by tagging @notquitenigella on Instagram with the hashtag #notquitenigella
Karelian Rice Pies With Egg Butter
Rated 5.0 out of 5 by 1 readers
Preparation time: 45-60 minutes (it is quicker if you have help rolling out the pastry)
Cooking time: 30 minutes for the rice and then 15 minutes oven time per tray and 5 minutes for the eggs
For filling
1 1/4 cup arborio or sushi rice
1.5 cups water
1.1 litres milk
1.5 teaspoons salt
For rye pastry
1 cup water
1.5 teaspoons salt
1 cup plain all purpose flour
1.5 cups rye flour (plus about 3/4 cup extra for rolling)
For egg butter (munavoi)
6 eggs
100g/3.5ozs. butter, softened
2 tablespoons finely chopped fresh chives (you can also use red onion)
Salt and pepper
Extra
2 cups simmering water
50g/1.7ozs butter
*Rye flour can be found at health food stores and also at some supermarkets. I used a Bob's Red Mill organic dark rye flour.
Nominating this for most riveting photo on the blog :)
Step 1 - Make the filling first as you want it cooled by the time you make the pies. Rinse rice until clear and then boil it in the 1.5 cups of water for 10 minutes. Add milk and bring to a simmer and cook for 30 minutes on low heat stirring so that it doesn't stick. Add salt at the end. It will thicken upon cooling.
Okay no this one of the rice with the milk is much more exciting
Step 2 - Make the pastry. Add salt to the plain flour and stir in the water. Add the rye flour in gradually using as much as you can (do not add all at once, it makes it much harder to knead if you do this). Rye flour is an interesting flour to work with because it will seem as though you can't add any more and then the dough becomes soft and sticky again. I could add it all but 1 tablespoon by the end.
Ingredients for the rye pastry
Rolling it into a log
Covering the log with cling film and a damp tea towel and allowing it to rest
Step 3 - Roll it out into a long sausage about 5 cms or 2 inches in diameter. Cover with cling film and then a damp tea towel and rest for two hours. This will relax the gluten and make it much easier to roll.
Mashing the softened butter and the chopped eggs together
Step 4 - While it is resting, boil the eggs for 5 minutes and then cool in cold water and peel. When cold, chop roughly and then mash with the butter and chives. Season with salt and pepper.
Cutting into pieces
Step 5 - Preheat oven to 280C/536F (very hot) and line a baking tray with parchment. I work with half the pastry at a time to prevent it drying it and leave the remaining half log covered in cling film. Cut 18 pieces out of the half log.
Rolling out and turning the pastry
Step 6 - Have about a cup of rye flour ready as it helps enormously with the rolling. You want the pastry to be as thin as possible. Take a piece, it should be a rectangle shape and press down on the floured board with the palm of your hand to flatten. Roll out with a rolling pin to flatten a bit further to get an oval. Make sure the board is well floured and then turn and roll the outside edges. If you've made dumpling skins, this will be second nature but it does take practice. They key is to constantly turn and roll until very thin.
Step 7 - Make sure both sides are lightly floured and then pile them on top of each other making sure to cover with a damp tea towel or large bowl. You can also do these one at a time but it's easier to roll a whole lot and then fill a whole lot.
Filling with rice porridge
Step 8 - Fill the centre with the rice filling. Then fold over the left and right side and then pinch to create pleats. The pastry takes to the pleating very easily and you can be firm with it. Place on the prepared baking tray.
Bring in the narrower sides of the oval
Pinching the pastry from the centre
And then the sides until the whole pastry resembles a boat
Step 9 - Bake for 12-15 minutes or until you get brown flecks in the rice centre (it depends on how big you make these and how much filling you put in them).
Step 10 - While they are baking, put a saucepan of water and the butter onto simmer. When the pastries come out of the oven, pick them up with tongs and then dip them in the butter water. It may sound strange but this gives them a nice gloss and finish. You can also just brush them with butter but I was curious to see whether this would work. They're quite firm and crisp at this stage so they don't break apart at all when they hit the water. Allow to cool on a tray. Serve warm with the egg butter.
Variations: I made a couple of lots of these because we loved them so much and they're great to put in Mr NQN's lunch. I experimented with cubes of Danish feta and pesto which were both really delicious. That way you don't need egg butter (which makes it easier for a lunch time). A reader also suggested potato as a filling. They may be variations on the traditional - just a warning some Finns may break down your door and tell you off for fiddling with their recipe*
*Actually no they won't, in my experience Finns are really chilled ;)