It's almost picnic weather again as Spring peeks its nose from around the corner! And there's nothing more perfect than this onion and feta pie that can be served warm or cold. An olive oil pastry encases this simple but delicious filling of caramelised onions and crumbled feta cheese!
I saw my friend Valentina make this on her Instagram stories and asked her for the recipe. It was so simple but I knew that with a combination of onions and feta that I would like it. There are actually seven whole onions in this along with some feta and herbs and that's it! No egg or anything else and yet it is so full of flavour.
Someone on twitter recently asked a question that got a lot of people talking. They asked if they could endorse any type of food what would it be? People named their favourite snack food or fast food. Some got nostalgic and named their favourite childhood treat. I laughed when someone just answered "mayonnaise" (cos that's totally me).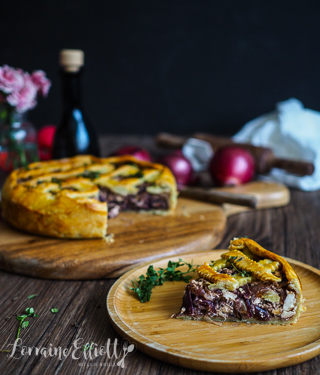 Then I thought about it and if I could choose I thought I'd endorse the very unsexy onion. I'm crazy for onions, whether it be chives, spring onion or red onions. Onions don't love me back or perhaps know that I love them because they make me cry so much that I can only really use red or green onions. Cutting brown/yellow onions renders me incapacitated for half an hour (brown onions are said to be the worst for crying). And no this isn't brought to you by the onion farmers of Australia or the onion society I promise!
So tell me Dear Reader, what food would you endorse whether it be produce, snack food or a brand? Do onions make you cry a lot? What is the most common onion that you use?
Feta & Onion Pie