It's almost picnic weather again as Spring peeks its nose from around the corner! And there's nothing more perfect than this onion and feta pie that can be served warm or cold. An olive oil pastry encases this simple but delicious filling of caramelised onions and crumbled feta cheese!
I saw my friend Valentina make this on her Instagram stories and asked her for the recipe. It was so simple but I knew that with a combination of onions and feta that I would like it. There are actually seven whole onions in this along with some feta and herbs and that's it! No egg or anything else and yet it is so full of flavour.
Someone on twitter recently asked a question that got a lot of people talking. They asked if they could endorse any type of food what would it be? People named their favourite snack food or fast food. Some got nostalgic and named their favourite childhood treat. I laughed when someone just answered "mayonnaise" (cos that's totally me).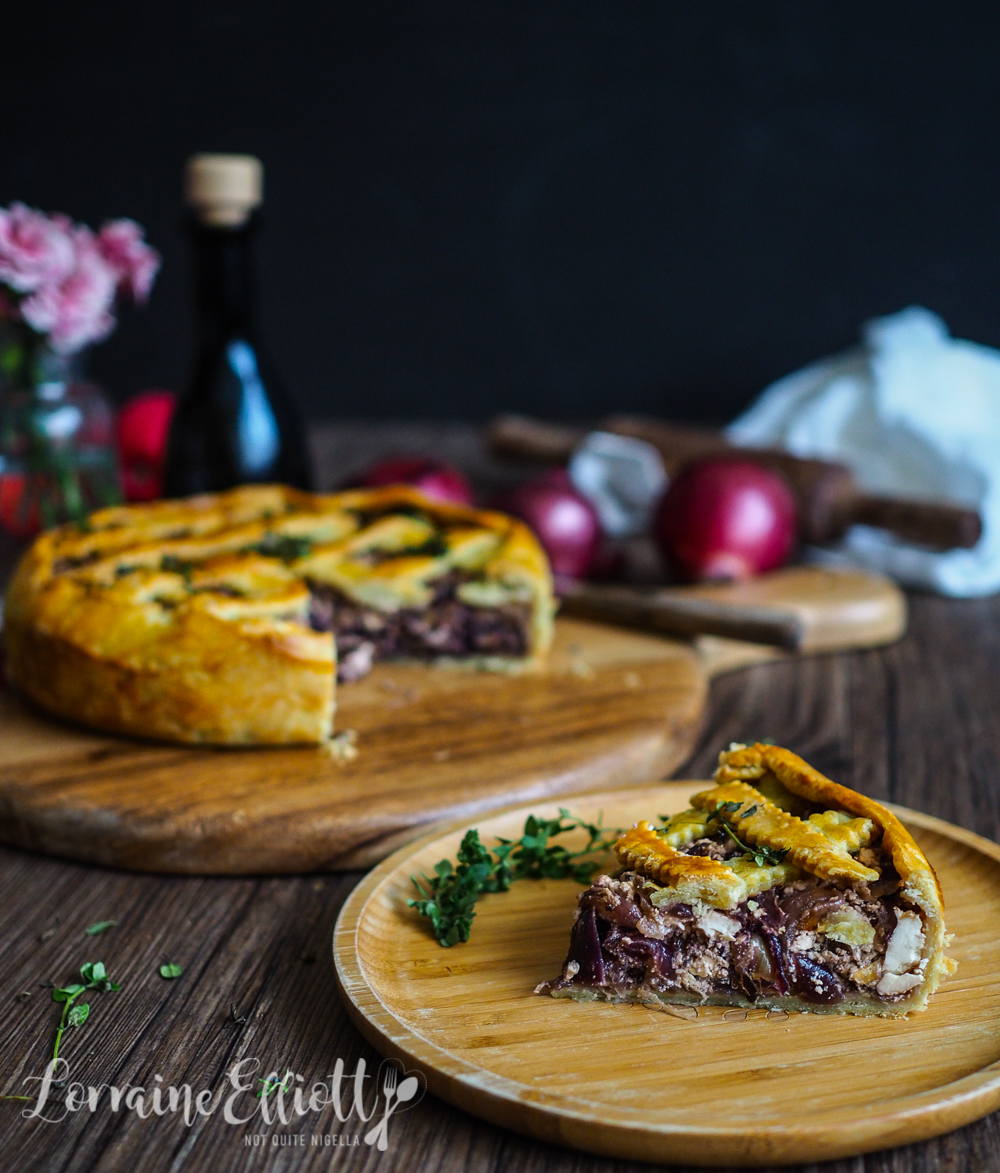 Then I thought about it and if I could choose I thought I'd endorse the very unsexy onion. I'm crazy for onions, whether it be chives, spring onion or red onions. Onions don't love me back or perhaps know that I love them because they make me cry so much that I can only really use red or green onions. Cutting brown/yellow onions renders me incapacitated for half an hour (brown onions are said to be the worst for crying). And no this isn't brought to you by the onion farmers of Australia or the onion society I promise!
So tell me Dear Reader, what food would you endorse whether it be produce, snack food or a brand? Do onions make you cry a lot? What is the most common onion that you use?
DID YOU MAKE THIS RECIPE? Share your creations by tagging @notquitenigella on Instagram with the hashtag #notquitenigella
Feta & Onion Pie
An Original Recipe by Lorraine Elliott, adapted from Valentina
Preparation time: 30 minutes plus 1 hour resting time for dough
Cooking time: 35 minutes
2 cups plain flour
1 egg, beaten
1/3 cup olive oil
1/2 cup water
1/2 teaspoon salt
1/4 cup olive oil for frying
7 onions, peeled and sliced
4 cloves garlic, peeled and sliced
2 sprigs thyme or dill
1 tablespoon sugar
200g/7ozs. block feta
Egg wash
Step 1 - Make the pastry. Mix the flour, egg and olive oil together and use just enough water to make a cohesive dough (you may not need all the water). Wrap and put aside to rest for 1 hour.
Step 2 - Meanwhile heat half of the oil in a large frypan on medium high heat. Add onions, garlic and herbs and turn heat down to medium and caramelise them slowly-it will take around 20-30 minutes and add more oil when needed. Add sugar to taste. Crumble feta in and add salt and pepper. Cool completely.
Step 3 - Preheat oven to 190C/374F. Line a 20cm/8inch spring form pan on the base and sides and take 3/4 of the dough and roll it out to fit making it go 4cms up the side of the tin. Fill with the onion mixture and then roll out the remaining 1/4 dough to make a lattice pattern. Brush with egg wash and decorate with extra herbs. Bake for 35 minutes or until pastry on top is golden.