Breads or buns are often a challenge when baking gluten free. They can either be cake-like or heavy and dry. Gili Gold's Bake Bar in Randwick makes a range of gluten free baked goods and here she shares her recipe for gluten free Hot Cross Buns with us borne of months of testing about 100 loaves of bread.
I don't know about you Dear Reader but my theory about the reason that kids get up to mischief is perhaps the lack of excitement in their life in relation to a child's vivid imagination. I know that when I was little, school was a routine and it felt like Groundhog Day every single day. My family was also one that liked routine - it's certainly supposed to be great for children to have routine but my father loves routine like it was his favourite child. He drives the same route to places and ate the same food and he applied that rule to our upbringing.
But sometimes there would be excitement on the weekend when the familiar tune of Greensleeves would sound faintly in the distance. It would produce a flurry of activity. Was there enough time to beg for some money for the ice cream before the van would amble off into the distance? My mother was usually in the kitchen and it depended on whether she could stop cooking and get her purse in time to grab some coins for us or not. Even now whenever I hear that tune, my eyes light up and I sit up straight. It's nothing short of exciting.
Nowadays the sound of the oven timer going off produces a similar reaction in me. It's something that is also cued by the smell of things baking. And while I like cooking everything, baked goods hold a special place in my heart. There are some people however for whom baking can be complicated and they're people that are celiac. So when I was invited to a baking class at Bake Bar in Randwick to show me how to make gluten free Hot Cross Buns, I jumped at it. While cakes can make a decent transition to gluten free, breads suffer a much less delicious fate often seeming like cake or dry, hard rocks.
Gili Gold is the owner and chief baker at Bake Bar. Born in Russia of Jewish faith, she and her family moved to Israel when she was young. Her grandmother Rosa was a keen baker, more of cakes, pastries and biscuits rather than breads but it was her grandmother who taught her how to bake and it is her recipes that she uses in the popular bakery. She moved to Australia 10 years ago and set up Bake Bar three years ago with an eye to opening in Double Bay and Alexandria.
Although Bake Bar is not an exclusively gluten free bakery, it is known for their gluten free and spelt (more gluten friendly) products including a range of muffins, scones and cupcakes (the spelt carrot cake and the apple mini cupcakes are particularly good). It took Gili 100 loaves to come up with her gluten free bread. She applies the same principle to her gluten free Easter buns. "They must be like a bun, not like a cake," Gili says emphatically.
Gili Gold
The key is the mix of flours and the method is different to that of a regular Easter bun as we will not be working any gluten. It's easier and requires mixing of the ingredients in a bowl along with orange and honey soaked dried apricots, cranberries and currants. They're divided into large muffins tins, proved and then baked in the tins before being dipped in a honey glaze. They're moist and light and a good version of a gluten free hot cross bun, especially slathered with butter. And thanks to Gili, here is the recipe! And if you don't want to make them yourself, Bake Bar will be open all Easter long weekend in Randwick and Alexandria.
So tell me Dear Reader, what is your favourite Easter food? And do you have any food intolerances or allergies? And what are your favourite sounds? Do you have the same reaction when you hear the ice cream van music as an adult? And a very Happy Easter to all of you! I hope you have a restful and fun long weekend :) xxx
Bake Bar Randwick: 67 Frenchmans Rd Randwick, NSW 2031 02 8021 0728
Bake Bar Alexandria: Unit 10 / 112 McEvoy St, Alexandria.
Did you make this recipe?
Share your creations by tagging @notquitenigella on Instagram with the hashtag #notquitenigella
Gluten Free Easter Buns
Recipe makes 4 x 100g/3.5oz. gluten free Hot Cross Buns
Tapioca - 62g/2.19ozs
Sorghum Flour – 31g/1.095ozs.
Besan Flour – 31g/1.095ozs.
Sugar – 11g/0.39ozs.
Panela Cane Sugar – 19g/0.67oz.
Guar Gum – 1g/0.035oz.
Xanthan Gum – 1g/0.035oz.
Cinnamon – 2g/0.07oz.
Salt – 1g/0.035oz.
Filtered Water – 97g/3.42oz.
Fresh Yeast – 6g/0.21oz.
Grapeseed Oil – 17g/0.59oz.
Honey – 37g/1.30oz.
Dried Apricots soaked* recipe below – 26g/0.92oz.
Dried Currants soaked* recipe below– 26g/0.92oz.
Dried Cranberries soaked* recipe below – 26g/0.92oz.
Total Weight – 396g/13.96oz.
Ingredients – Cross Mixture - Water – 15g/0.53oz. - Salt – 1g/0.035oz. - Butter – 9g/0.31oz. - Gluten-Free Flour Mix – 23g/0.81oz. - Extra water – 23g/0.81oz.
Ingredients – syrup glaze
Water 180 grams
Orange Juice 1⁄2 orange
Organic Honey 30g/1oz.
Organic Sugar 108g/3.81ozs.
*The gluten free flour mixture is the first 7 ingredients i.e. the tapioca, sorghum flour, besan flour, sugar, panela cane sugar, guar gum and xanthan gum. Gili recommends making a large batch of this gluten free flour mixture so that you can use that as a bread base but also so you can take 23 grams out for the cross.
To Soak the fruit:
Step 1: Chop all the dried fruits into bite sized pieces. Put the apricots, currants and cranberries in to a large bowl. Add lukewarm water and wash the fruit well. Drain the fruit.
Step 2: Place the washed and drained fruit into a container with a tight lid. Add the juice of 1 orange to the fruit. Add water until all fruit is covered. Cover and store in a cool, dark and dry place. Allow the fruit to soak 3 days. Gently shake the container to ensure the flavour is well developed.
Hot Cross Bun Method:
Step 1 - Combine all the dry ingredients together and mix well. In a separate bowl, add the water, honey, oil and yeast and press down to mix in the yeast making sure to get rid of any small lumps. Add the dry ingredients to the wet ingredients. Hand mix for 1 minute.
Fresh yeast from this...
...To this
Adding a bit more water
Step 2 - Adjust the dough consistency by adding flour or water. Add a well in the centre of the mixture and add the fruit in two lots and cinnamon.
Step 3 - Take a bowl of room temperature water. Dip your hands in the water and by hand divide the dough mixture into four oiled muffin tin cavities. Dip your hands in the water with each time you scoop up the batter as it is very sticky. Smooth down the top. Allow to stand in a warm area until doubled in size.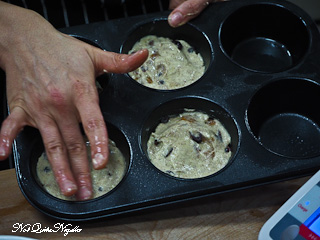 Smoothing down the top
Step 4 - Make the cross mixture for the top of the hot cross bun. Pipe the cross mixture on top of each hot cross bun. Bake in a moderate oven at 160C/320F for 30-40 minutes or until golden.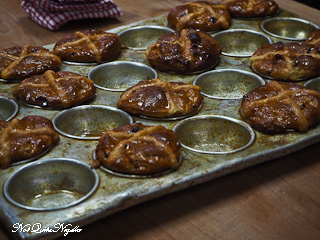 Step 5 - Glaze with honey syrup.
Cross Mixture Method:
Step 1 - Add water and butter to a saucepan and bring to the boil. Add the gluten-free flour mix and stir. Cook until it comes away from the side of the pot. Transfer to a mixing bowl, start mixing and add extra water. Mix until smooth. Place in refrigerator until ready to use.
Honey Orange Syrup Method:
Step 1 - In a high-sided saucepan over medium-high heat, bring water, honey, orange juice and sugar to a boil. Stir constantly until the sugar dissolves.
Step 2 - Turn the heat to a low flame and allow the sugar to dissolve completely and the mixture to turn clear, approximately 5 to 7 minutes. You shouldn't be able to see any sugars crystals in the liquid. If you do, boil a little longer. The longer you boil it, the thicker the syrup will be when cooled.
Step 3 - After boiling, let the syrup cool to room temperature, and then pour into a tightly sealed, clean glass jar. Allow hot cross bun to slightly cool and one by one, dip in the sugar syrup.
Serve warm if possible, or at room temperature.