Love hot cross buns but not so keen on the fruit in them? Try these gloriously indulgent triple chocolate hot cross buns. There's cocoa in the dough which is studded with dark chocolate chips. Then it is finished with a rich dark chocolate glaze complete with a white chocolate cross!
Now that I've got my very favourite hot cross bun recipe sorted I make a new flavour every year. My hot cross bun recipe using tangzhong, a simple flour roux that takes 5 minutes makes the buns super soft and fluffy and also gives them a fantastic staying power-they'll last fresh longer than you need because chances are you'll eat them all!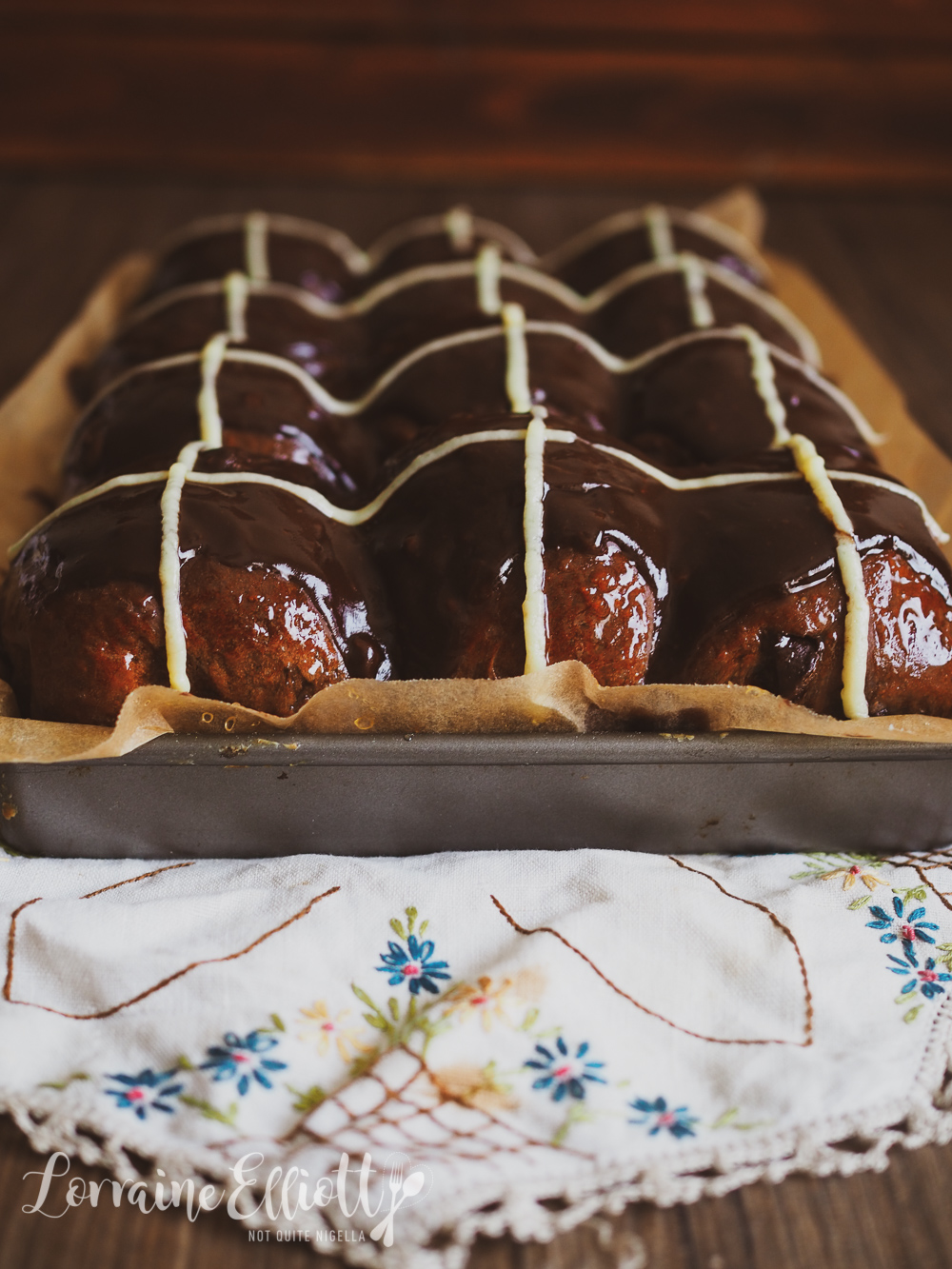 Tips for making the BEST Hot Cross Buns!
1 - Ideally you would use bread flour for this but this also works with regular plain or all purpose flour.
Window pane effect
2 - This dough is best not attempted by hand as it requires a lot of kneading. In a mixer this can take up to 13 minutes so by hand that could become almost double that time kneading. You want to reach the "window pane" effect where you can pull apart the dough with floured fingers where it becomes semi translucent without breaking.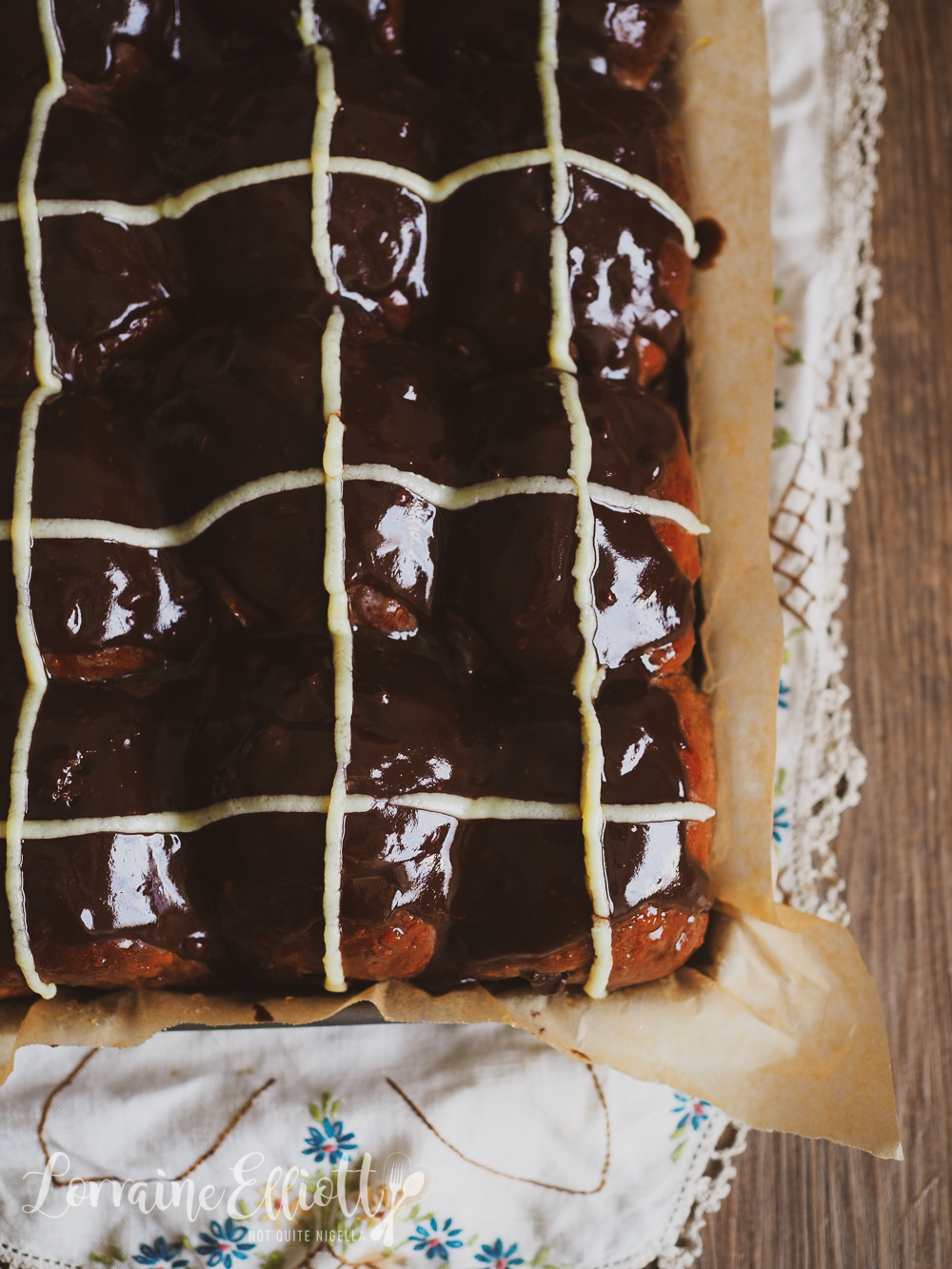 3 - There are two lots of proving for dough: the bulk prove where it's the entire dough mixture rising and the second prove which is when the individual shaped buns rise for a second time just before baking. Add the choc chips or fruit additions after the first bulk prove. Additions can inhibit the dough from rising in the bulk prove as they can inhibit the gluten strands while they are forming.
4 - If the dough sticks to your hand while you are shaping it, try to avoid adding too much flour which will dry out the buns. Instead lightly grease your hands to help shape the buns. Also refrigerating the dough for 30 minutes after the bulk prove before shaping them makes them easier to handle.
5 - Make sure that there are no cracks on top of your buns when you shape them. This can prevent a proper rise. Roll the buns under your cupped palm on the surface in a circular motion and eventually the cracks will disappear.
Other Hot Cross Buns Flavours: Past HCB flavours include: the Classic spiced hot cross bun Carrot Cake Hot Cross Buns, Nutella swirl hot cross buns, Apple & Cinnamon hot cross bun, Finger Bun hot cross bun. Or have you tried a Hot Cross Bun Loaf?
Gluten free eaters I also have a gluten free hot cross bun recipe for you! And Thermomix lovers here is a Thermomix Hot Cross Bun recipe!
The following recipes don't use the tangzhong method but you could easily adapt them or do them as they are: Cinnamon Choc Chip Hot Cross Buns, Spiced Honey Buttered Hot Cross Buns..
Spreads for Hot Cross Buns: Butter is the best and classic filling. I also love a mixture of butter and honey (if you like them on the sweet side). These chocolate hot cross buns go well with a filling of Nutella, peanut butter or even raspberry jam or a combination thereof! And warm hot cross buns up in the microwave for 10-15 seconds just to make them super soft again!
Because this makes so many buns and there are only two of us I gave some to friends that I was seeing over the next few days. They do last a while but I figured we'd keep half a dozen and then give away half a dozen. I gave the first batch to Sammie who I was actually meant to catch up with the day before but she had been hit by food poisoning the night before and wasn't in any state to go out to eat.
She apologised and felt bad about it but I was fine as we rescheduled for the following day. It actually worked out better for me to move it to the following day.
On the day I saw her, I handed her these hot cross buns and she apologised again for cancelling and I told her not to worry at all. I also explained my cancellation policy. I'm totally fine if you cancel as long as I haven't started the makeup process and I haven't had to get up at some ungodly hour!
So tell me Dear Reader, what is your "cancellation policy"? And are you a team fruit or team chocolate when it comes to hot cross buns?
DID YOU MAKE THIS RECIPE? Share your creations by tagging @notquitenigella on Instagram with the hashtag #notquitenigella
Triple Chocolate Hot Cross Buns!
Rated 5.0 out of 5 by 4 readers
An Original Recipe by Lorraine Elliott
Preparation time: 60 minutes
Cooking time: 35 minutes
Serves: 12 buns
20g/0.7ozs. flour
125ml/4flozs. water
85g/3ozs. honey
60g/2ozs. butter, cubed
2 eggs, room temperature
1 tablespoon vanilla paste
1 teaspoon salt
250ml/8.8flozs. milk
485g/17ozs. bread flour (plus 30g more if needed)
60g/2ozs. cocoa powder
1 tablespoon instant dried yeast
200g/7ozs. milk or dark chocolate chips
For glaze
2 tablespoons apricot jam
1 tablespoon hot water
For Chocolate Glaze
100g/3.5ozs. dark chocolate, chopped
30g/1oz butter
2 teaspoons honey
2 teaspoons cream
For Crosses:
30g/1oz. white chocolate
1/2 teaspoon cream
Step 1 - First make the tangzhong roux. Place the 20g/0.7ozs of flor and water in a small saucepan and whisk to get rid of any lumps. Heat on low to medium heat to reach 65C/149F and stir so that it forms a smooth paste. Remove from heat and whisk in the honey, butter, eggs, vanilla and salt and whisk well. Then add the milk and whisk.
Step 2 - In the bowl of a mixer fitted with a dough hook add the tangzhong mixture and the flour, sift in the cocoa powder and add the yeast and mix with a spatula just until it starts to form a dough. Knead on low speed until you get an elastic mixture where you can pull it apart with floured fingers and it won't break. It can take up to 15 minutes.
Before rising (in a large clear bowl) sitting in a metal bowl of hot water to help the rise
Step 3 - Place the mixture in a large, greased bowl and cover and allow to triple in size (around 1 hour). Then knead in the chocolate chips. At this point I usually weigh the dough and then divide it into 12 so I get the weight of each bun. You can of course eyeball it too. My buns were 110g/3.9ozs each.
Step 4 - Line a 30x20x3cm/12x8x1.5inch baking tray with parchment. It's time to shape the buns. Shaping the buns is important and the trickiest part of it but if you've gotten it to the window pane stage your dough should be the correct consistency. Your dough should be slightly sticky but not wet. To shape the buns, cup your hand and roll the bun clockwise on the surface using the tension of the surface to shape it into a round bun without any cracks on top (this can take up to a minute depending on the consistency of your dough). If it is sticking too much to your hands, lightly grease your hands with oil (adding more flour at this stage will produce drier buns).
Step 5 - Place each bun in the tray. Preheat oven to 180C/350F and allow the hot cross buns to double in size while the oven gets to temperature. Bake for 30 minutes.
Step 6 - While the buns are baking make the apricot glaze. Mix the apricot jam and hot water together to form a smooth glaze. Brush the apricot glaze over the buns when they are hot out of the oven.
Step 7 - Then make the chocolate icing. Add the chocolate, butter, honey and cream and melt in a double boiler until melted. You can also do this in a microwave too in 15 second bursts on 90% power. Spoon the chocolate glaze over the buns.
Step 8 - Make the crosses by melting the white chocolate and cream together in a double boiler or in a microwave. Place in a little parchment piping bag and pipe crosses over your buns. These buns can be kept at room temperature of wrapped individually and frozen where they will keep for 3-4 months.