Hot Cross Buns are usually a sweet Easter time snack. But hear me out - how about bacon and cheese hot cross buns! These soft, fluffy bakery style buns are for savoury bread lovers and have the signature cross on top but are also filled with plenty of bacon and cheese. Fill them with a fried egg for the perfect Easter treat! This is a pushy recipe Dear Reader!
Every year I try and make a new hot cross bun recipe using my base of these bakery style hot cross buns. This year I decided to make it a savoury one because I have so many recipes for sweet hot cross buns. Hot cross buns are a traditional sweet pastry that is typically eaten during the Easter season. The exact origins of hot cross buns are not entirely clear, but they have been around for several centuries. One theory is that hot cross buns were originally a pagan symbol of the end of winter and the beginning of spring, which was then adopted by Christians as a symbol of the resurrection of Jesus. The cross on the top of the bun is said to represent the crucifixion of Jesus, while the spices inside the bun symbolize the spices used to embalm his body.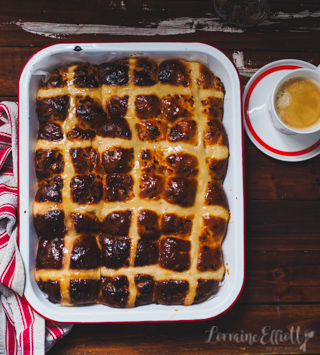 Another theory is that hot cross buns were first made by monks in medieval times as a way of providing a special treat for their congregation during Lent, when they were not allowed to eat rich foods like eggs and butter. And during Lent it is only on Ash Wednesday and Fridays that those observing aren't allowed to eat meat.
The idea originally came from my friend Sammie who has now moved to the UK where they have an amazing selection of hot cross bun flavours and she told me that she had seen savoury hot cross buns. The idea wouldn't leave my mind and I had some bacon and cheese that needed up using and then before I knew it, I was busy in the kitchen.
Other Savoury Variations: If you don't like bacon, you can use ham or use another type of cheese instead. Try feta and cheddar with green onions for a savoury version. Or try Vegemite and cheese together! These were so delicious that I ate an entire one after having lunch it was so good! There's something so comforting and delicious about a bacon and egg bun but add some cheese and you've got just about the most delicious breakfast, brunch or snack around! The tangzhong in step 1 is the key to making these just like the type you buy in bakeries and it also makes the bread last longer too.
Baker's Notes for Dough and Shaping Buns: I do not recommend kneading this dough by hand unless you have the patience of a saint and the strength of a warrior because it can take up to 20 minutes kneading in the machine which means 25-30 minutes by hand which is exhausting. This dough is usually quite sticky but I've amended the recipe so that it is less sticky than normal and much easier to handle. Having said that, all flours are different, even with batches of the same brand so there may be a slight variation with flour quantities and you may need to add a bit more. Having said that, the cheese and bacon in it makes it easy to work with as the fat from those makes this less sticky. I use a small amount of oil to grease my hands to make them non stick.
As it's getting close to the end of daylight savings here in Australia I apologise if the lighting isn't great in these shots. It was a miserably rainy day, albeit a bit warmer than normal and there was very little light left by the time I pulled these out of the oven. The smell was driving everyone in the house wild in the late afternoon including Teddy and Milo. We ended up eating these warm buns filled with drippy centered fried eggs for dinner.
Lately I've been getting into British crime procedurals because the rainy weather seems to suit them. So far I'm addicted to Slow Horses, Grace and The Capture which I can wholeheartedly recommend. A tv show has to be really captivating to grab my attention because I'm one of those people that spends a lot of the time scrolling my phone and before I know it I've had to rewind the show multiple times because every time there's a bit of a lull I pick up my phone to answer my messages and then before I know it I have no idea what is happening in the plot and that doesn't really work for mysteries. It got to a rather embarrassing point when Mr NQN started reciting the character's lines before they said them. I looked at him quizzically and he said, "That's the fourth time I've heard them say that," while smirking.
So tell me Dear Reader, are you a savoury or sweet tooth? And do you get easily distracted by your phone when you're watching tv or movies? Do you have any tv recommendations?
Did you make this recipe?
Share your creations by tagging @notquitenigella on Instagram with the hashtag #notquitenigella
Savoury Bacon, Cheese & Egg Hot Cross Buns
An Original Recipe by Lorraine Elliott
Preparation time: minutes plus 1.5 hours resting time
Cooking time: 35 minutes
Serves: 13
25g/1oz bread flour
1/2 cup/125ml/4flozs water
1/4 cup/60g/2ozs. sugar
1.5 teaspoons salt
2 eggs, room temperature
1 cup/250ml/8.8flozs milk
3 3/4 cups/560g/20ozs. bread flour
1 tablespoon/20g/0.7oz instant dried yeast
60g/2ozs butter, cubes, softened
250g/8.8ozs. bacon, trimmed and diced
2 cups/200g/7ozs. grated cheddar or tasty cheese
Flour crosses
40g/1.41ozs. plain flour
Around 4-5 tablespoons water
Glaze:
1 egg yolk mixed with 2 teaspoons water
Step 1 - Make the tangzhong or water roux. Take 1/6 cup/25g/1oz of the flour and whisk with 1/2 cup/125ml/4flozs of water in a saucepan until smooth. Heat on low to medium heat and whisk until it thickens to become a roux. You want it to reach 65ºC/149ºF and it will take 3-5 minutes so just watch it so that it doesn't go over that temperature. Remove from the heat and whisk in the sugar, salt and eggs. Then gradually whisk in the milk until combined.
Step 2 - Place the rest of the bread flour and yeast in the bowl of an electric mixer fitted with a dough hook and whisk to distribute the flour and yeast.
Risen dough and ingredients
Step 3 - Add the milky tangzhong mixture to the flour mix and stir to combine. Knead with the dough hook until it comes together to form a dough. Add the butter cubes one at a time and continue kneading. The dough needs to be elastic and stretchy but not break and can take up to 18-20 minutes kneading with the mixer. You should be able to pull it apart between your fingers and see through it without it breaking. Roll it into a ball making sure that there are no cracks on top of the ball and allow it to rise in a warm place. It should take less than an hour.
Step 4 - Preheat the oven to 180C/350F. Chop the bacon into fine, bite sized pieces and grate the cheese. Mix the flour and water together to make a pipeable paste and place in a small piping bag. Punch down the dough add bacon and cheese and knead to mix them in well so that they are evenly distributed.
Troubleshooting: your dough will be sticky but try not to add too much flour. A little is fine because flour varies from supplier to batch but adding too much will affect the texture of the buns. Instead, slightly oil your hands just before shaping them.
Shaping the buns by cupping them under your hand and rolling them gently against the benchtop
Before the second rise
After the second rise, crosses piped on them
Step 5 - Line a 36x28cm/14x11 inch baking tray with parchment. Grease your hands and weigh the dough. Mine was 1480 grams/3.2lbs total. I wanted to make my buns a bit bigger so I weighed them to 115g/5.3ozs. (usually my hot cross buns are smaller at 90g/3ozs. each). At this weight I got a baker's dozen of them. Then brush the egg yolk glaze on these. Do not give these a long rise, as long as they puff up a bit that is perfect. Cut a small hole at the end of the piping bag and pipe crosses on top and then bake for 30 minutes. Once baked allow to cool for 30 minutes, then split in half and fill with a fried egg. Heaven.
Coffee cup from In The Roundhouse