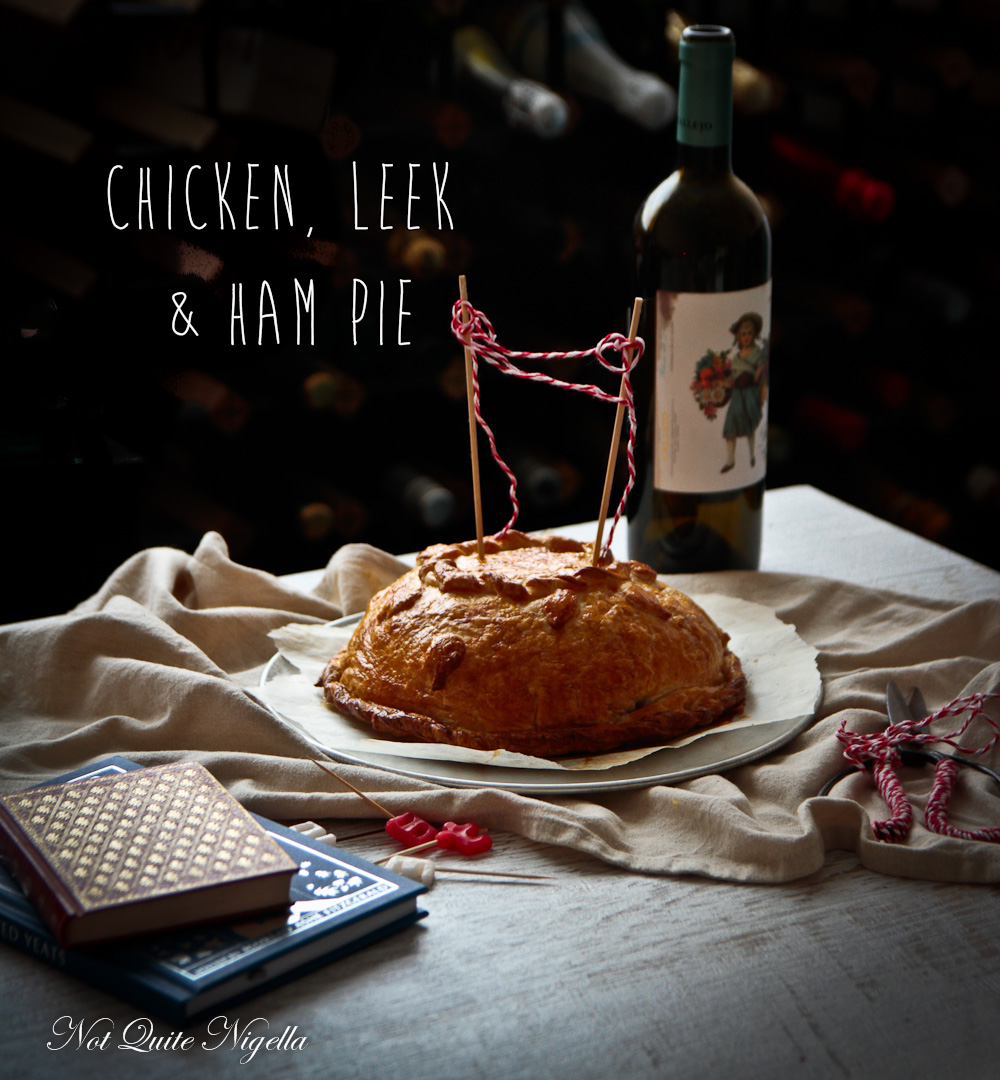 An absolutely delicious crowd pleasing pie, made with leftover chicken and ham, this pie will have your guests asking for more. It's a simple, perfectly seasoned filling with chicken, ham, sauteed leeks, spinach and feta, all wrapped in buttery puff pastry.
At times, Mr NQN has the slight tendency to look down at my entertainment choices. While he will be watching shows on ABC or SBS about war torn countries overseas or news, I will be in the other room watching something else of the "lighter entertainment" variety. And this past Good Friday I declared it to be a semi day of work for me (what can I say, I'm a workaholic, I love my work and I am totally devoted to you all!). I did a bit of work and then read a book and then developed a recipe for a pie. I was waiting for it to bake so I watched another episode of my latest favourite show: Empire. Because I had watched all of the episodes of my other favourite show "Better Call Saul" (the brilliant, brilliant prequel to Breaking Bad).
When the buzzer went off I emerged from the room saying "I'm going to be Cookie Lyon for Halloween b*ches!" Please excuse me there Dear Reader - I was just caught up in the fabulous bad-assery of the lead character from Empire called Cookie Lyon for a moment.
And then I realised that Mr NQN was watching a rather serious show about Somalia, Kenya, piracy and the deaths of 147 people at the hand of the Al-Shabaab militant group. My show by comparison seemed like fluff and I didn't want him to point that out. So I distracted him with this pie.
Have you ever distracted someone with food? The key to distracting via food is that it needs to be delicious and/or smell good. Nothing can change a mood upwards or downwards that an alluring or repulsive aroma. And this pie, well it smells great baking and tastes great eating.
I first tried something like this on New Year's Eve. It was at Anna and Simon's party and another couple had brought a pie that was baking in the oven. Everyone was waiting for this damn pie (sorry Cookie again!) to come out of the oven and when it did, it was snaffled up in about 2 minutes. It was a ham, chicken and leek pie with feta made by the husband of the couple. I asked him for the recipe but he was reluctant to give it. His wife, a lovely woman kept trying to tell him to give it up but for some reason he really didn't want to. I didn't want to push it, maybe it's a family secret recipe that he wants to make a fortune from, I don't know. But I ate enough of it to know that I wanted to make a version of it because it was really, really good!
The reason why I thought that this might come in handy for your Dear Readers, is if you have a lot of leftovers from Easter, this will do quite perfectly but it is delicious enough to serve to guests or in large group gatherings. You see, the pie is really quick to do because all of the items are cooked before it is baked. Even if you don't have leftovers, you can buy half a roasted chicken at the shops and use that. You can use also use other meat like turkey, duck or pork (turducken pie?) and in any combination really it is that versatile.
You also don't have to bake it in a dome, he actually just put it in a rectangular baking tray and covered it with puff pastry. It is also a somewhat distant cousin of the Italian Easter pie with ham, ricotta and spinach. His version didn't contain spinach but I always like upping the vegetable content of a dish if I can but feel free to add or omit it according to your taste. Eaten with a side of dressed rocket that's the savoury taken care of during a weekend where sweets dominate!
So tell me Dear Reader, have you watched Better Call Saul or Empire? What sort of things will you be cooking over Easter? Do you have the same entertainment taste as your spouse or friends? And do you ever try to reproduce something that you've eaten and liked?
And just a gentle reminder lovelies! The 8th of April is the deadline for Cook With Me entries! I've been so delighted with the number of readers and bloggers that have joined in the fun! Take a peek here if you would like to have a go and join us. Here are a few of the lovely comments about the recipe so far and it seems that everyone really enjoyed them!
Kiaraleigh: "Made these for tea but may have already had a sneaky one and it was delicious!"
Fran: "The mint, curry and peas really worked well together. Brilliant with a pinot! Will be made often I reckon. Thanks xx"
Nancy: "Very tasty...I've eaten 4 already...Rich just ate 7!!!"
DID YOU MAKE THIS RECIPE? Share your creations by tagging @notquitenigella on Instagram with the hashtag #notquitenigella
Chicken, Leek, Ham & Spinach Easter Dome Pie!
An Original Recipe by Lorraine Elliott/Not Quite Nigella
Preparation time: 30 minutes plus 20 minutes resting time
Cooking time: 30 minutes
2 sheets of puff pastry, thawed
4 tablespoons oil for frying
2 leeks, white part only, sliced
2 cloves garlic, peeled and finely chopped
1 bunch English spinach, leaves only, finely chopped
125g/4ozs cream cheese
200g/7ozs. feta (I used Danish feta), chopped into small pieces
300g/10.6ozs. cooked chicken breast, chopped
300g/10.6ozs. ham, chopped
1/2 teaspoon freshly ground nutmeg
Black pepper
1 egg yolk
Step 1 - Oil a metal or enamel bowl about 6-7 cups in capacity. Line it with one sheet of pastry. Place the pastry lined bowl and the other sheet of pastry in the fridge until needed.
Step 2 - Fry the leeks on medium heat in a large saucepan until soft and fragrant - about 3-4 minutes. Then add the garlic and fry for another minute. Add the English spinach and wilt and add the cream cheese and feta. Remove from heat when the spinach has wilted and the cheeses have melted. Cool for 10 minutes or so. Then add the chicken, ham and nutmeg and season with black pepper. It shouldn't need salt because the feta is salty but add it if it needs it. Cool.
Step 3 - When completely cool, spoon into the pastry lined bowl. Fold over any corners and then add the other sheet of puff pastry on top. Using a pizza cutter, cut off the edges. Place the bowl in the freezer to chill for about 20 minutes. Meanwhile place the scraps of pastry in the fridge to firm up.
Step 4 - Preheat oven to 210C/410F and line a baking tray with parchment. After 20 minutes, remove it from the freezer and upturn the pie to place it on a parchment lined baking tray. Brush with the egg yolk. I made some extra decorations with the pastry-they aren't really necessary but I just thought I'd do it since I had extra pastry. Bake for 30 minutes until pastry is evenly golden.