Holy Fiesta! These baked chicken enchiladas are such a crowd pleasing dish made with roast chicken and pork shredded and mixed with cheese, spinach, onions and beans. The secret is the fabulous enchilada sauce and lots of melted cheese. And to top off this colourful creation? Sour cream, pickled jalapeños and green onions!
Most enchilada recipes I've seen generally fill them with mostly meat. I added a lot more vegetables because I happen to like more in my dishes. I also won't lie, sometimes when I cannot be bothered making my own enchilada sauce, you can also use a spicy pasta sauce just adding the onion, garlic and spices.
These were made for Mr NQN to eat while I am away for three days. There are exactly six enchiladas here and that means that he will eat two a day. He will probably subsist on jam sandwiches for the remainder of the meals but at least I know that he will eat one balanced meal.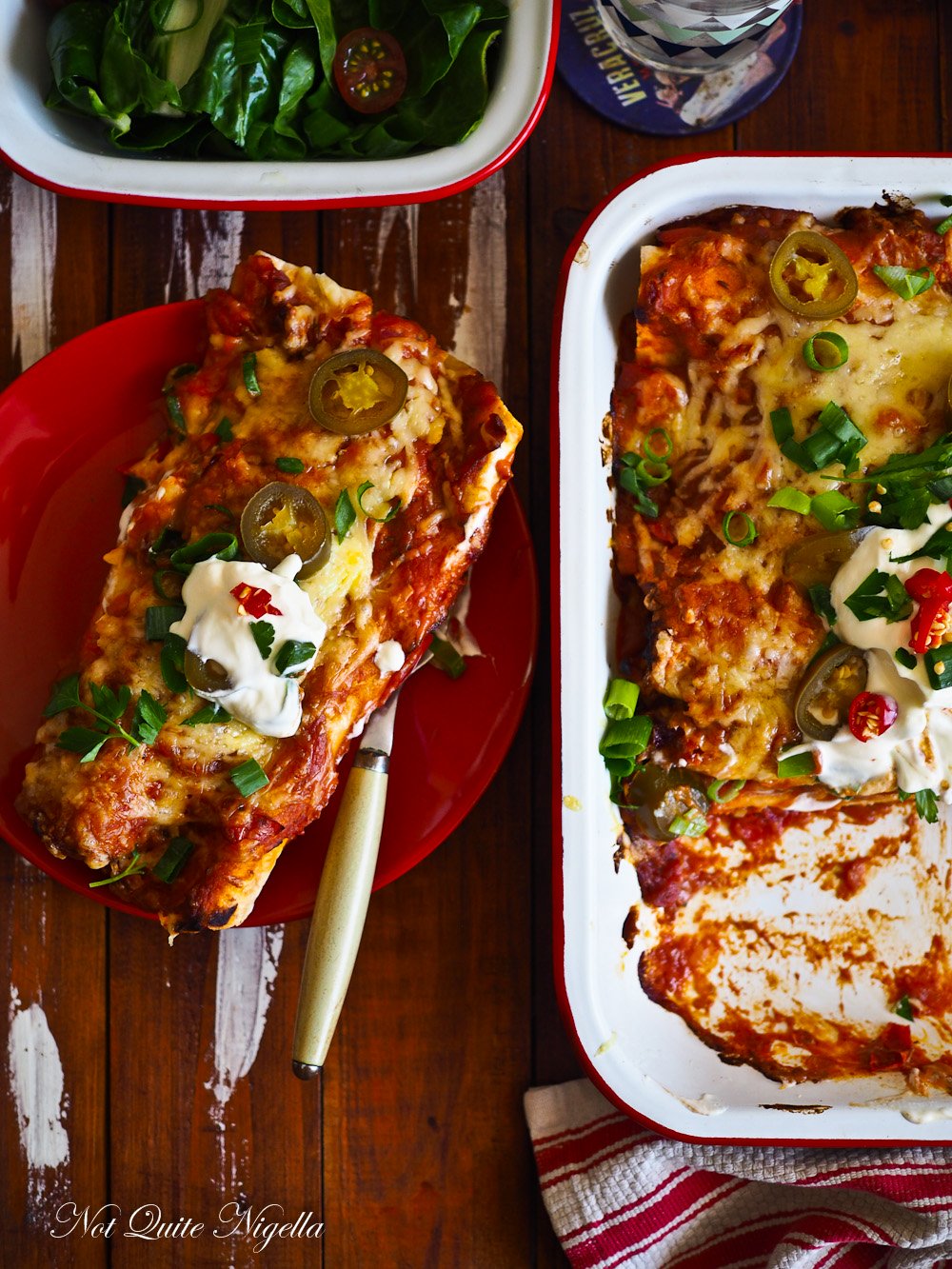 Recently I was chatting to a group of people at an event about politeness and rudeness. A woman had just had a nasty email exchange with someone and I could tell that it had upset her a little as it will still a fresh wound.
"I just want to say to everyone that there's no need to be rude on email," she said, "There's no need to be an @&shole."
"There's definitely no legitimate reason to be one," I concurred.
"Especially in business," another woman intoned.
"Maybe we should just put it all in our email signatures at the end. Just a simple line, 'Don't be an @&shole'," I suggested. Just in case people thought that it was okay to be condescending or slightly abusive or weird on email, think about what you write in that email to that person.
"I think if I saw that on someone's email signature I'd want to be friends with them," the original woman said. And with that we concurred that there were two pieces of advice in life:
Don't be an @&shole.
And eat at least one balanced meal a day.
So tell me Dear Reader, what is your piece of advice for life? And how many balanced meals do you have a day? And what would you think if you saw that is someone's email signature?
DID YOU MAKE THIS RECIPE? Share your creations by tagging @notquitenigella on Instagram with the hashtag #notquitenigella
Baked Roast Chicken Enchiladas
Rated 5.0 out of 5 by 1 readers
An Original Recipe by Lorraine Elliott
Preparation time: 20 minutes
Cooking time: 40 minutes
Enchilada Sauce:
4-6 tablespoons oil
1 tablespoon flour
1 onion, peeled and finely chopped
2 garlic cloves, peeled and finely chopped
425g/15oz. tin chopped tomatoes
1/2 cup water
1 teaspoon smoked paprika
1/2-1 teaspoon chili powder
Salt and pepper to taste
For tortillas and filling:
6-8 tortillas (depending on the size of your tray)
400g/14.1ozs. roast pork or chicken (I used half half) shredded with forks
425g/15oz. tin kidney or black beans, drained and rinsed
2 cups spinach, wilted and squeezed dry
2/3 cup chopped green onions
250g/8.8oz. light cream cheese with chives
1.5 cups grated cheese
To top:
1/2 cup chopped green onions
Pickled jalapenos
2 scoops sour cream
Red chillies (if you want it hotter)
Step 1 - First make the enchilada sauce. Heat 2 tablespoons of oil in a saucepan and add the flour and stir and fry it for a minute on medium heat. Add more oil and the onion and garlic and fry until cooked. Add the tomatoes, water, smoked paprika and chilli powder and cook until slightly thickened. Season with salt and pepper.
Step 2 - Preheat oven to 190C/380F. Spread some of the enchilada sauce on the base of an oven proof tray-just enough to cover the base and a bit of the sides. Mix the pork or chicken, beans, spinach, green onions and cream cheese together. Season with salt and pepper if needed. Divide the filling among the tortillas and roll them up and place them in the sauce lined tray, fold side down. Cover with the remaining enchilada sauce and grated cheese. Bake for 20 minutes.
Step 3 - Remove from oven and add sour cream, green onions, jalapenos and red chillies. This also freezes well without the sour cream and you can freeze them in portions.