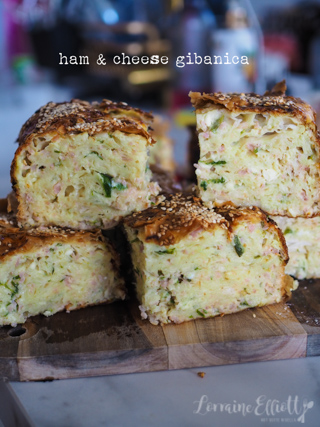 Gibanica or cheese pie gets a twist with a ham & cheese filling! This wonderful Balkan pastry has the most wonderful soft and spongey texture. It is the perfect lunch or picnic food as it is as delicious cold as it is warm. This is a pushy recipe Dear Reader!
Gibanica is one of my favourite ever things that I've made this year. It's easy, fun and SO delicious! If you missed my first recipe for cheese gibanica it is a savoury pastry popular in parts of the Balkans and former Yugoslavia (Bosnia and Herzegovina, Croatia, Macedonia, Montenegro, Serbia and Slovenia). It is absolutely delightful to eat and is often served for breakfast. We love having it for lunch and it goes really well in lunchboxes.
The beautiful pattern you get in the pastry is a result of scrunching up the dough and then soaking it in a cheesy milk and yogurt mixture. It's folds itself into beautiful patterns (the name Gibanica derives from the Serbo-Croatian verb gíbati/гибати, which is "to fold; sway, swing, rock". I wanted to try a version using ham, cheese and spring onion as I had seen a few version of this. It turned out to be so delicious!
Along with ham and spring onion I used two types of cheese in this: a Danish feta cheese (Bulgarian sheep's cheese also works well) and some grated cheddar cheese. This gibanica bakes for a bit longer than the regular cheese version as it has so much ham added to it. If you don't have ham try using roast chicken, pork or beef too.
When I put up the original cheese Gibanica on my Instagram account it went viral with 1 million views and I didn't anticipate what a hit it would be. First came the lovely readers of my blog from the former Yugoslavia and the Balkans who were so kind about my efforts. A few days later came the Americans who were convinced that I was scrunching up tissue paper (who the hell is eating paper guys?) and then came people that weren't readers but were from other Balkan countries that argued about the name and how it was made in their country.
I was just watching this all from a distance with some trepidation. While it's really nice to go viral you do end up with all sorts of people including absolute crazies or trolls that think that insulting someone's national dish is a clever idea. You just have to laugh and feel sorry for people who derive joy in such a woesome way. But I did get one really helpful comment amongst them all. It was to add some Vegeta stock powder to the mixture. It's apparently the secret in many Balkan kitchens (although some people argued about this too!). It adds so much more flavour than regular salt and I'm going with it. Who knew that a pie could be so contentious?
So tell me Dear Reader, what is your advice for dealing with trolls or crazies on the internet? And am I missing something or are people eating paper?
P.S. I have to give a big thank you to Mr NQN for the new site redesign. He has been working tirelessly on this for the past few weeks at night. We wanted it to be a cleaner design with better functionality. And we will have the print button back soon I promise! We just had to roll out the most essential parts first. Lorraine xxx
Did you make this recipe?
Share your creations by tagging @notquitenigella on Instagram with the hashtag #notquitenigella
Ham & Cheese Gibanica
An Original Recipe by Lorraine Elliott
Preparation time: 25 minutes
Cooking time: 55 minutes
200g/7ozs feta cheese (Danish or Bulgarian feta is ideal)
200g/7ozs cheddar cheese, grated
300g/10.6ozs ham, finely chopped in food processor
3 sticks/80g/2.8ozs green onions, finely chopped
5 eggs, beaten
5 cloves garlic, minced
350ml/12ozs natural or Greek yogurt
1 cup/250ml/8.8ozs milk (skim milk is fine)
125ml/4flozs oil (canola, grapeseed or rice bran oil is fine)
1.5 teaspoons Vegeta
2.5 teaspoons baking powder
1/2 cup sparkling water
1 tablespoon oil
375g/13.ozs filo pastry
1 egg for egg wash
2 tablespoons sesame seeds
Please ignore tiny gin bottles, I don't have a drinking problem ;)
Step 1 - Preheat oven to 200C/400F. Line the base of a 20x20cm/8x8inch square tin with a square of parchment and oil the sides.
Step 2 - Using a large bowl take a fork and press down on the feta crumbling it but leaving a few little lumps of feta. Add the cheddar, ham, green onion, beaten eggs, minced garlic, yogurt, milk, oil, Vegeta and baking powder. Place the sparkling water and tablespoon of oil in a separate cup and have a pastry brush ready.
Step 3 - Open the filo pastry packet and cover it with a tea towel. Layer two pieces of filo criss cross across the bottom and sides, one covering the top to bottom and the other from side to side. Brush with some water/oil on the base. Reserve one sheet of filo for the end. Then take a sheet of filo and crumple it up and dip it in the cheese mixture. Make sure to soak it well, you don't want any dry pastry bits. Scrunch into a loose ball and place the wet pastry it on the base of the tin. Don't worry if you have a lot of cheese mixture and it pools - you want it wet.
Step 4 - Repeat until you get a layer of wet pastry balls, then repeat with a second layer of this on top of the first - try and use up all of the cheese mixture and pastry. Tuck in the filo on the sides and then add the extra reserved sheet of filo on top and tuck it under the sides. Then brush generously with the oil/water mixture all over the top of the pastry, particularly down the sides of the gibanica.
Step 5 - Beat the extra egg with what is left in the bowl of the cheese mixture and pour over the top brushing it out to the edge. Sprinkle with sesame seeds and bake for 50-55 minutes (cover it with foil after 40 minutes if it is starting to brown too much). Cool for 10 minutes and then slice and serve.