Pretty Beach House is a fitting moniker for a luxury lodge that looms high above bushland and beach below. Reopened after a long two year renovation following a series of fires, many say that it has emerged better than ever before. Come and take a look at the spectacular Treetops Penthouse and the sumptuous food offering, managed in partnership with the Barry's in conjunction with restaurateurs Stefano Manfredi and Julie Manfredi Hughes.
Hotels can really be magical places to visit. If a hotel does things well, it can help to re balance a life askew. It can offer tranquility in the eye of a storm and in some cases, provide some unexpected delights. Before we visit a place, I try not to look too far in the details and photos of a hotel prior to arriving because I want to be surprised. And it's not too hard to keep our destination on the Central Coast a surprise - Pretty Beach House has been closed for two years during a complete renovation and reopened for just one week. Pictures of the new renovation were scarce making this just that more exciting.
Pretty Beach house is tucked away so tight that we've made two runs down the street where it is said to be located and missed it. It's only when we see the number, etched in rock leading to a foliage lined driveway that we realise that we've reached it - it's deliberately kept as a secret hideaway. We ring the intercom and they are expecting us. We make the drive up the vertiginous and curvaceous driveway to the main property.
Just two years ago, Pretty Beach House was in quite a state. Two bushfires and one kitchen fire had ripped through the property causing devastation to the luxury lodge. It has taken two years to bring the property back to its former glory - and many say surpass the previous incarnation.
Set on 3.3 hectares of land, the main lodge building is designed to ensure that newcomers experience a sharp intake of breath from the moment they walk in. Guests are given a warm welcome from two members of staff: Joe the lodge manager and Geoffrey. The first view is of the infinity pool and the view of the bushland below. It sits high above the escarpment with Tallow Beach below. A smiling waitress offers us a glass of iced tea or a flute of Pol Roger.
Joe explains the changes to the property. The kitchen has been moved back to make space for more room for guests. It is an open kitchen where guests can talk to the chefs and chef Jose Saulog is busy preparing lunch for us.
A lot of the key pieces and details used in the rebuild employ reclaimed pieces including three enormous stage lights suspended above the kitchen pass. There are also enormous logs from a reclaimed bridge in Kingaroy throughout the main building, many with the original markings and notes. Mud brick features extensively - this is a nod to the colour palette found in the area. Alongside the mud brick is local quarry sandstone.
Juxtaposed against these reclaimed and rustic elements are luxurious items like the lighting fixture suspended above the bar by Christoper Boots made with hundreds of illuminated crystals slotted around the edges.
And then there are the original paintings by John Olsen, Sidney Nolan and Arthur Boyd on the walls. The decorator was ex model Michelle Leslie and the builder Matt Blair but a lot of touches are influenced by Julie Manfredi Hughes, the business partner and former wife of Stefano Manfredi. The two oversee the business and the style of the smaller details reflect her creative elegance and fashion sensibility.
After the fires, the hoteliers Karina and Brian Barry's main concern was the angophora gum that looms high above the infinity pool. The tree sustained some damage during the fires but has grown back - it is said to be a self healing gum tree.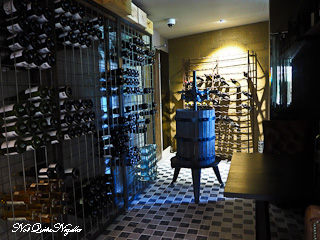 A wine cellar and house bar is designed to be help yourself. Everything at the lodge is all inclusive (save for a list of cellared wines) and you can either fix these yourself or ask one of the friendly staff to fix you something. During the afternoon there is always a freshly baked cake available for guests. Guests can make requests for lunch or dinner or also have picnics and in room dining available for them. We are shown the new pizza oven, newly lifted onto the property by crane.
Chef Jose Saulog
Guests are invited to arrive around noon to make the most of their stay which we do because quite honestly, who would waste a minute here? After a quick tour, we are offered lunch and at 2pm our room will be ready to check in. We take a seat in the main dining room, a luxurious room with glasses of native flowers and plenty of tactile furnishings. The brass details and warm pinks from the flowers make this room a favourite.
There are little details like hand woven placemats created by Busatti in Italy on over 100 year old looms and the PBH initials stamped in the flatware. Pure cream cashmere throws drape across the backs of chairs in case we are feeling chilly. We are offered more champagne or wine or other drinks and bread is brought to us by Geoffrey, who just happened to have parked our car for us and brought our bags to our room - it's just one of those nice touches where you just don't have to worry about anything.
The bread is excellent - robust, fresh and chewy. Mr NQN warns me, "Remember don't eat all the bread." He's right, I have stop dipping it in the olive oil and wait for lunch. Geoffrey tells us about the menu today; there's roasted veal fillet and rack of lamb. These will be brought out share style.
They come out shortly later, four of the juiciest lamb cutlets you could sink your teeth into along with slices of tender veal fillet, edged with a ring of fat. The sides are farro, a sweet balsamic bitter leaf salad and steamed green beans with almonds. Everything is expertly cooked and delicious but my two favourites are the lamb cutlets and the salad.
Dessert is an apricot and pistachio gelato - both absolutely true to flavour. The pistachio gelato is so creamy and moreish that I finish my whole scoop along with the crunchy almond biscotti.
"Are you ready to see your room?" Joe asks us and I very eagerly (maybe too eagerly) nod yes. There are four pavilions here at Pretty Beach House. Three are a short walk away from the main house and each has their own plunge pool but we are staying at the one above the house called "The Penthouse" or the "Treetops" room (this pavilion doesn't have its own pool).
We follow him up the softly carpeted stairs and open the door to this hexagonal shaped room. The furnishings reflect the lodge's rustic luxury theme. Each room has an old fashioned record player and a selection of vinyl curated by Stefano. A large king sized bed sits on the left and it's no ordinary bed as you can raise the foot and head and have a massage. The bed is very comfortable although the pillows are all quite high and firm and sheets are quite new so they haven't quite got the smooth texture yet. Beside it are wooden log bedside tables.
Adjacent to this is a large desk which is a good size for working. There's also an enormous flat screen television and a top notch sound system. Each pavilion has an iPod with songs loaded on it as well as maps should you want to go for a bushwalk or mountain biking.
There is also an inclusive mini bar with full sized bottles of single malt whisky, vodka and gin and all the implements you might need for a cocktail. There is also a large selection of Forte teas available as well as roasted nuts and biscotti.
The bathroom features a stunning copper tub hand forged with brass fittings. The brass monsoon shower head has excellent water pressure to it and the floors are heated. There are twin sinks and a range of Bouddi toiletries named after the surrounding rainforest. There are crisp monogrammed linen robes and beach slippers to slide your feet into in the cupboard.
The bathroom opens up to a spacious balcony that overlooks the pool below. My nose twitches as I feel a few drops of water on my nose as I stand on the balcony. Alas Mr NQN's plans to go for a mountain bike ride with Joe have been dashed with the sudden rain. We run a bath instead and play some records and Mr NQN curls up on the bed for a nap while I do some work.
The light outside turns to amber now that Daylight Savings has kicked in and I'm reminded that we need to make our way downstairs at 5:30pm for drinks and canapes. Chef Jose has prepared a mixture of parmesan biscuits, olives and wafer thin potato crisps topped with freshly shaved lime zest and salt. We chat to Julie who explains that another couple has just arrived.
It's then that we go outside to the fire pit and meet Woobula. He is from the indigenous tribe of the Darkinyung people who call this area home. He explains that Bouddi means heart and he gently and eloquently speaks about the connection between the indigenous population and the sky or the morning sun. When white settlers first arrived at Killcare Bay the Darkinyung people believed that they were the ghosts of their ancestors so they greeted them with palm leaves, a sign of peace. When they were asked where they came from, confusion arose as the indigenous ancestors pointed to the sky, meaning the morning star.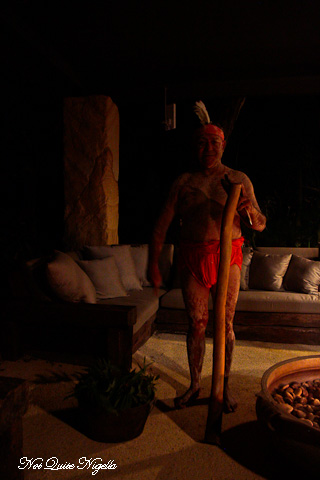 Ceremonies occur at night and in high scared places. Indeed there are three sacred aboriginal rock carvings just behind the fire pit dated at about 8,000 – 10,000 years old. During ceremonies they colour their skin using white ochre from the ground and the action of stamping and sweeping their feet causes dirt to fly into the air and onto their bodies. He explains that this is like being in the womb of Mother Earth.
Woobula's totem is the pandanus tree and the animal totem is a sand goanna. This means that he cannot eat the pandanus leaf or sand goannas. He explains the reason for this is to keep a natural balance or harmony. Many of the beliefs involve harvesting and nurturing the land that provides them with shelter, food and life. They also believe that regenerating and burning or smoking ceremonies can help to cleanse any bad spirits that have attached to a person. He lights a bowl of gum leaves and sings and plays a didgeridoo, the wind bringing across the smoke from the leaves.
After we bid him goodbye we take our seats for dinner. Guests can also have a complimentary lunch or dinner at Manfredi at Bells or eat in-house. The table setting has changed slightly to different place mats and we peer out into the shadows of the night reflected in the glass. I unwrap the cashmere throw around me. We are offered wine and cocktails. The kitchenhand plays the grand piano.
The battle with the bread begins again. Except this time the stakes are raised as we are served an incredible whipped butter with balsamic. "Errr remember the bread problem?" Mr NQN reminds me. He's too late anyway, most of the bread is gone already. I overhear the gentleman from the other table saying that he normally doesn't eat butter but he loves it too. See? I'm not the only one ;)
Fraser Island spanner crab with plums and purple radish
Our lovely waitress brings us our stuzzichino, Italian for "try a bit of everything" - a glass of Fraser Island spanner crab, a curl of plum flesh and a sprig of purple radish. It's delicious and I try and make the most of every bite.
Fremantle octopus with crispy potato and bottarga
With one other couple our courses arrive in a timely manner without us ever feeling rushed. The Fremantle octopus comes out as a large J shaped tentacle, charred with three wedges of crispy potato and shaved bottarga on top. The octopus is quite firm and quite charred, perhaps too charred for our taste.
Seared scallops with roasted truss tomatoes and Pino's pancetta
The seared scallops are presented as three enormous scallops with fat roasted tomatoes and a long paper thin slice of crispy pancetta. We both prefer this dish.
Braised beef cheeks with carrot puree and king brown mushrooms
The braised beef cheeks are incredibly soft and are offset beautifully by the naturally sweet and smooth carrot puree and king brown mushrooms. If it would have been appropriate to lick the plate I would have but I didn't (and besides Mr NQN wouldn't give me any of his bread to run over the plate!).
Flinders Island lamb rump with smoked eggplant and Jerusalem artichoke
The Flinders Island lamb rump from Tasmania is juicy and served with a smokey eggplant puree and grilled Jerusalem artichokes. It needs a tad more seasoning but the lamb itself is very well cooked and has textural appeal.
Creme caramel
Dessert time! On the menu were three desserts including the delightful Tartufo di Amedei but we decide to branch out. The creme caramel is so soft and creamy that it barely holds together and once we take to it with a fork, it becomes a quivering delight. It comes with grapes and currants (rather than plums that are on the menu).
Cassata with pistachio praline
But for me the cassata, a simple raspberry gelato filled vanilla ice cream ball on the outside wins. It's an enormous sphere but the pistachio praline imbues every bite with a crisp, aromatically nutty sweetness.
At around 9:30pm we go back to our room and try the bed out - and by try it out I mean adjust the head and foot of the bed and get a massage. I fall asleep wondering why can't all weekends be four days long and end like this?
So tell me Dear Reader, when you eat out, do you try to avoid eating all the bread so that you have room for the main meals? How long would you ideal weekends be? And where is your happy place?
NQN and Mr NQN stayed as guests of Pretty Beach House.
Pretty Beach House
83 High View Rd, Pretty Beach NSW 2257
Phone:(02) 4360 1933
http://prettybeachhouse.com/