Bells at Killcare has a new look and a new chef. Owners Brian and Karina Barry and restaurateurs Stefano Manfredi and Julie Manfredi-Hughes have amicably parted ways and late last year many of the garden villas enjoyed a refurbishment. It was high time to see the changes and meet the new chef!
Newcastle born Chef Dean Jones who worked alongside Stefano Manfredi for so many years is somewhat keen to adhere to the adage "If it aint broke don't fix it," in terms of the expansive garden areas.
But he is also understandably keen to put his own mark on the new menu as executive chef across both Bells and Pretty Beach House. He tells us of the new dishes to the summer menu where they're experimenting with dry aged lamb, something that you see in Europe but rarely if ever here. And as always they're making use of the garden as much as possible.
The two gardens furnish the estate with grapefruits, oranges, avocadoes, honey, strawberries, tomatoes, raspberries, artichokes and eggs although the main garden remains largely hidden from view of guests. Mr Lincoln roses, a perfect velvety pinky red specimen with the most luscious fragrance make an appearance on the dessert menu.
Dean shows us the Italian myrtle in the smaller herb garden - it's an aromatic herb with the distinct aroma of freshly grated nutmeg with rosemary. Guests will often see chefs picking garnishings for that day's meals. Bush turkeys, cicadas, Christmas beetles and the property's ducks all share the bounty, "At the end of the day we've got enough to share," says Dean.
The garden villas had a total refurb however all of the property's 26 villas have been refreshed. After a long drive I arrive at 4:30pm at the estate and pull up near the manor house. Mr NQN is joining me later after work.
I take a seat in the drawing room where they offer me a cup of hot mint tea and explain the grounds and also give me an orientation of the area pointing out great hiking trails, views and places to eat. In the drawing room there is a larder section where people can buy picnic goods and fresh bread.
Our garden villa, #1 is the first one on the property down the gravel driveway. Although our villas is connected to two others I can't see or hear anyone else and it looks out onto a green paddock separated by a fence.
I open the door curious to see the room changes. The main change in the bedroom is the blue and white floral patterned wallpaper that matches the blue and white colour scheme perfectly. There is a kitchen area with sink, plates, glasses and a mini bar and a four seater dining table inside.
The bathroom sees the most dramatic change. Gone is the white bath. In its place is a hammered copper claw foot bath tub that feels expansive and deep. The back walls is blue and there is a side table with coral and candle holders for a relaxing bath experience.
On the side are Bouddi spa products from the on site spa with soaps, body lotion and body wash. A wicker basket holds the rest of the toiletries. There is a modern standalone shower in another corner while plantation shutters give the villa privacy.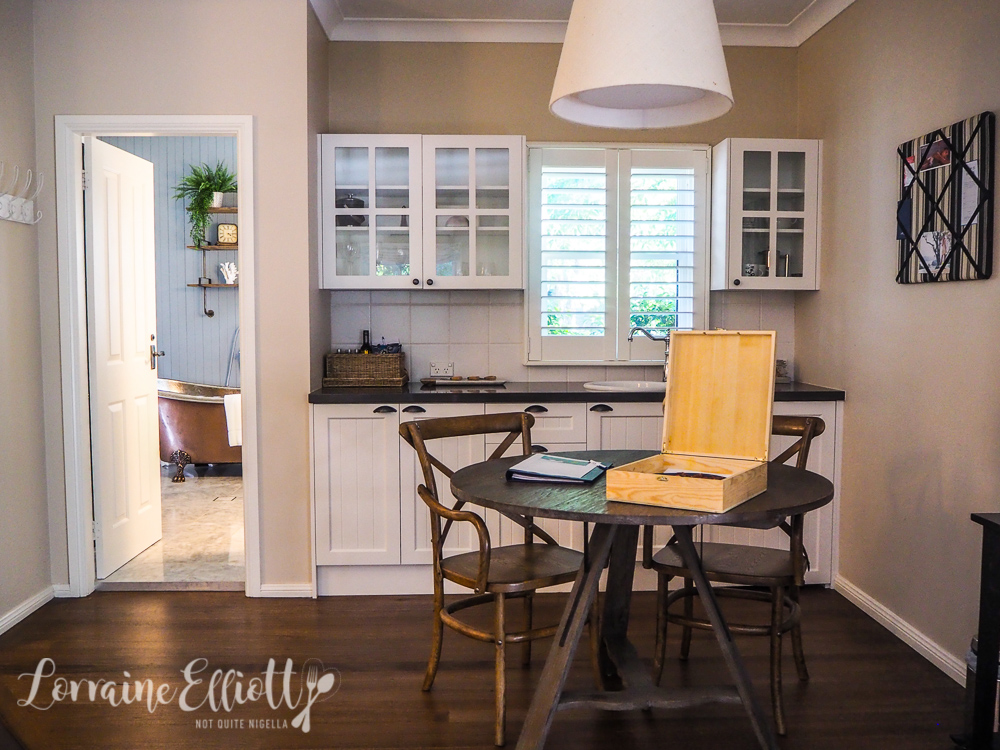 There is a fireplace and under floor heating in the bathroom for the colder months. Wireless internet is free for all guests for an unlimited number of devices.
By the time I unpack, take photos and answer emails, I have just enough time to pick up Mr NQN who has caught an afternoon train in from Sydney. When we return we order room service and take advantage of the well manicured grounds and meandering stream and ducks and have an outdoor picnic.
We start with half a dozen oysters with a mignonette dressing, all beautifully presented, fresh and briney. Then we sample our way through the Pino's cured meat plate with bresaola, salami and prosciutto as well as giardinera pickled vegetables and crispy, thin pane carasau.
I always have a compulsion to order a club sandwich and this one is a good one with a generous amount of avocado as well as grilled chicken breast, tomato, bacon, lettuce and mayonnaise making it juicy. I would have loved some fries but then again I don't need to eat fries if you know what I mean.
Then we sample some dessert-a cheese plate with regional cheeses from a washed rind, cheddar and gouda with oat cakes, honeycomb, bread, fresh strawberries and a rhubarb puree. And the dessert that Bell's was famous for, the Amedei chocolate tartufo modelled on a dirt covered earthy treasure is still on the menu (although it's just on the room service menu, not the restaurant one). It's a divine Amedei chocolate ganache truffle filling with a centre of cherries and sits on a bed of crunchy crumbs.
The next morning I get up early for breakfast. The last time we stayed here there was a breakfast basket that you cooked yourself on the barbecue but now it is served in the Manor House.
There's a buffet selection in two sections with mueslis, yogurts and potted goodies on one table. Next to the kitchen pass is house made bread, tomatoes, avocado and pastries. You can also order a hot dish from the a la carte menu included in your stay and can also upgrade to a breakfast cocktail at an additional charge. The pastries are wonderful-delightfully crispy and in a range of fillings and shapes I first try a triangle Danish followed by a custard filled pain au chocolat.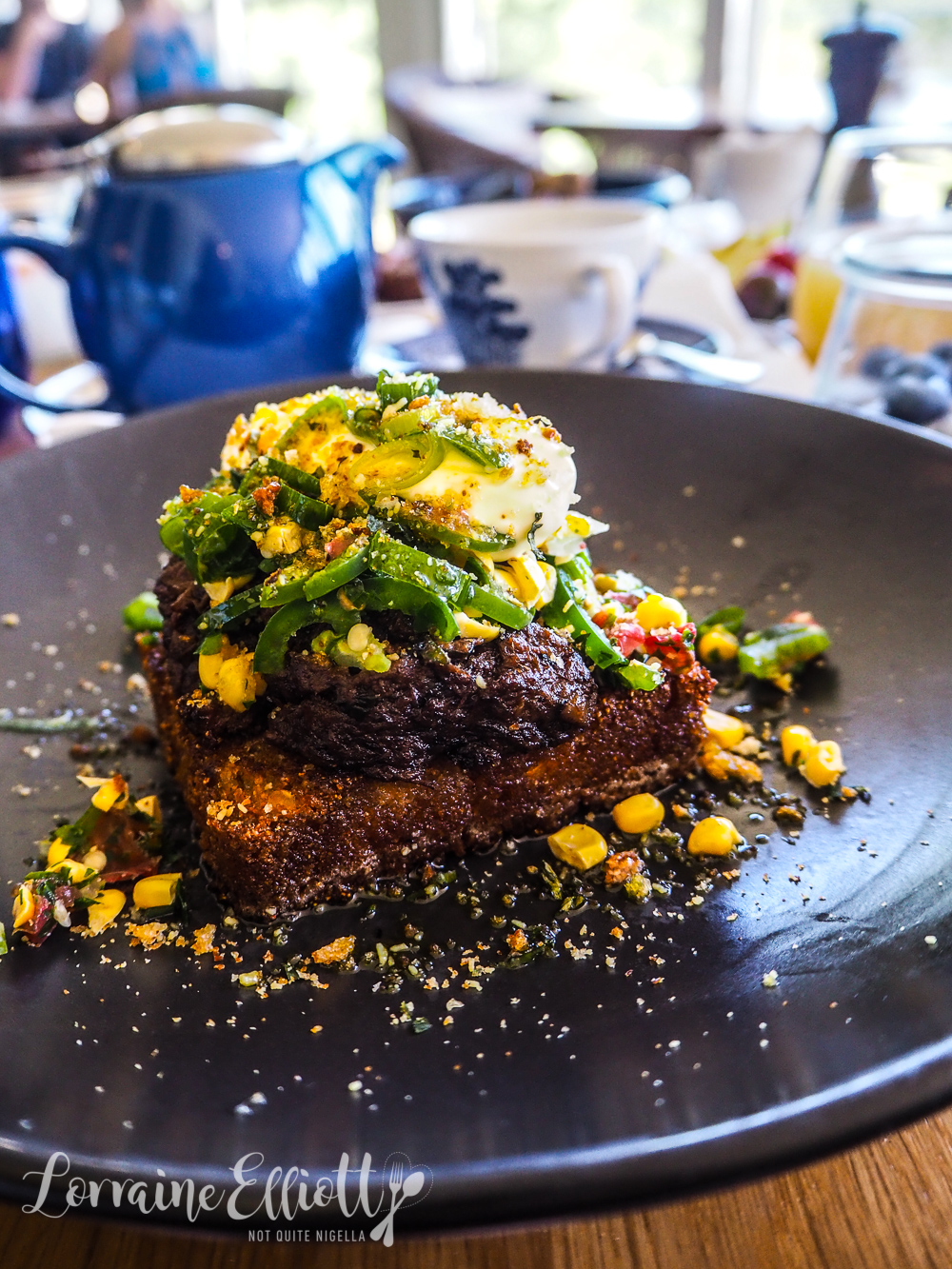 Grilled corn bread, crispy beef, corn, jalapeno salsa and creme fraiche
We choose one of the new dishes on the menu. The grilled corn bread smells amazing. It's a rectangle of crumbly corn bread topped with soft, slow cooked beef hash with a corn and jalapeno salsa and a quennelle of creme fraiche. I love the richness of this dish that actually probably sits more in lunch time territory than breakfast. But then again I love noodles for breakfast.
House made labne, poached eggs, chilli oil, almond crumb and sourdough
But I have to say that I adored the chilli poached eggs. They're served on the excellent house sourdough. It's two poached eggs, a scoop of labne, spicy chilli oil with almond crumb and I added bacon to it along with some avocado from the buffet.
We have the whole day stretching ahead of us with a few options besides just relaxing back at the villa. The pool is a popular place given the warm weather. Alongside the pool is a honour caravan where people can help themselves to food and drink and charge it back to their room.
We go for a hike at nearby Putty Beach. You can drive there or walk there and the staff at Bells will happily pick you up from your end point. We choose the path of least resistance and length walking along the beach and then on the boardwalk and rocks. It's an easy enough walk, or at least the portion that we walked was before Mr NQN decided that I had probably had enough of the midday sun and heat and suggested that we turn back.
The rest of the afternoon is spent relaxing in the villa, having a bath and sipping on cups of tea. I use the bouddi bath salts provided and run a bath, sip a cup of tea and nibble on a biscotti.
Dinner is at the Bell's onsite restaurant. The formal dining room has a blue and white theme mirroring the rooms and there is an indoor space with banquettes as well as the verandah area. We are trying the first day of the new summer menu.
Verdissimo $10 and 'O Sole Mio $20
Planning your next trip? Ensure you have the right coverage with HeyMondo travel insurance that includes COVID-19 protection. Plus, if you use our link, you'll receive 5% off the price. Find the best deals on flights from all airlines in various currencies with SkyScanner and set up alerts to get notified when prices drop. For reliable transportation options, look no further than 12Go Asia, offering train, bus, ferry, and flight transfers worldwide. Book your transportation now and enjoy a stress-free journey.
When you purchase through these links I will get a small commission at no cost to you. Thank you for supporting me! :)
First we start with a drink at the Spuntini bar- for me it's a Verdissimo with green apple juice, ginger beer and garden herbs and for Mr NQN it's a gorgeous lemony tart cocktail called an 'O Sole Mio with limoncello, vodka, lemon, Luigi prosecco and orange flower essence.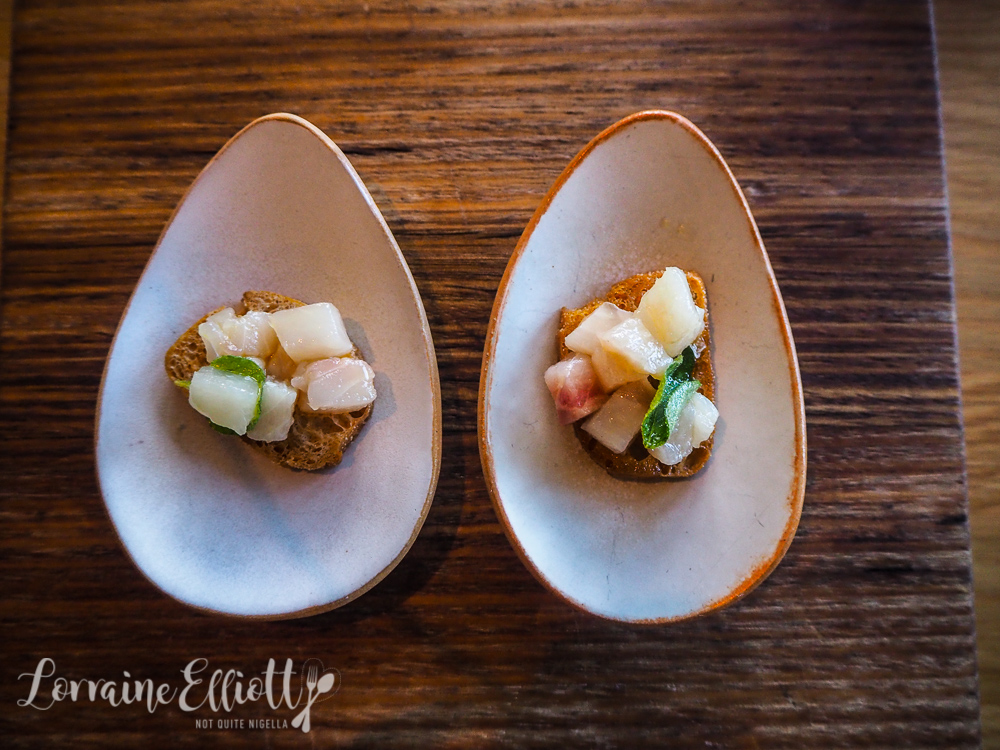 We take a seat in the light filled verandah area. We start with an amuse bouche, a kingfish crudo on a crunchy crouton that crunches satisfyingly in the mouth.
A bread basket is then brought out with their very own olive oil bottled for them in Mudgee. There is a rosemary and salt topped sourdough and mini ciabatta loaves. I have to really stop myself from asking for more of these.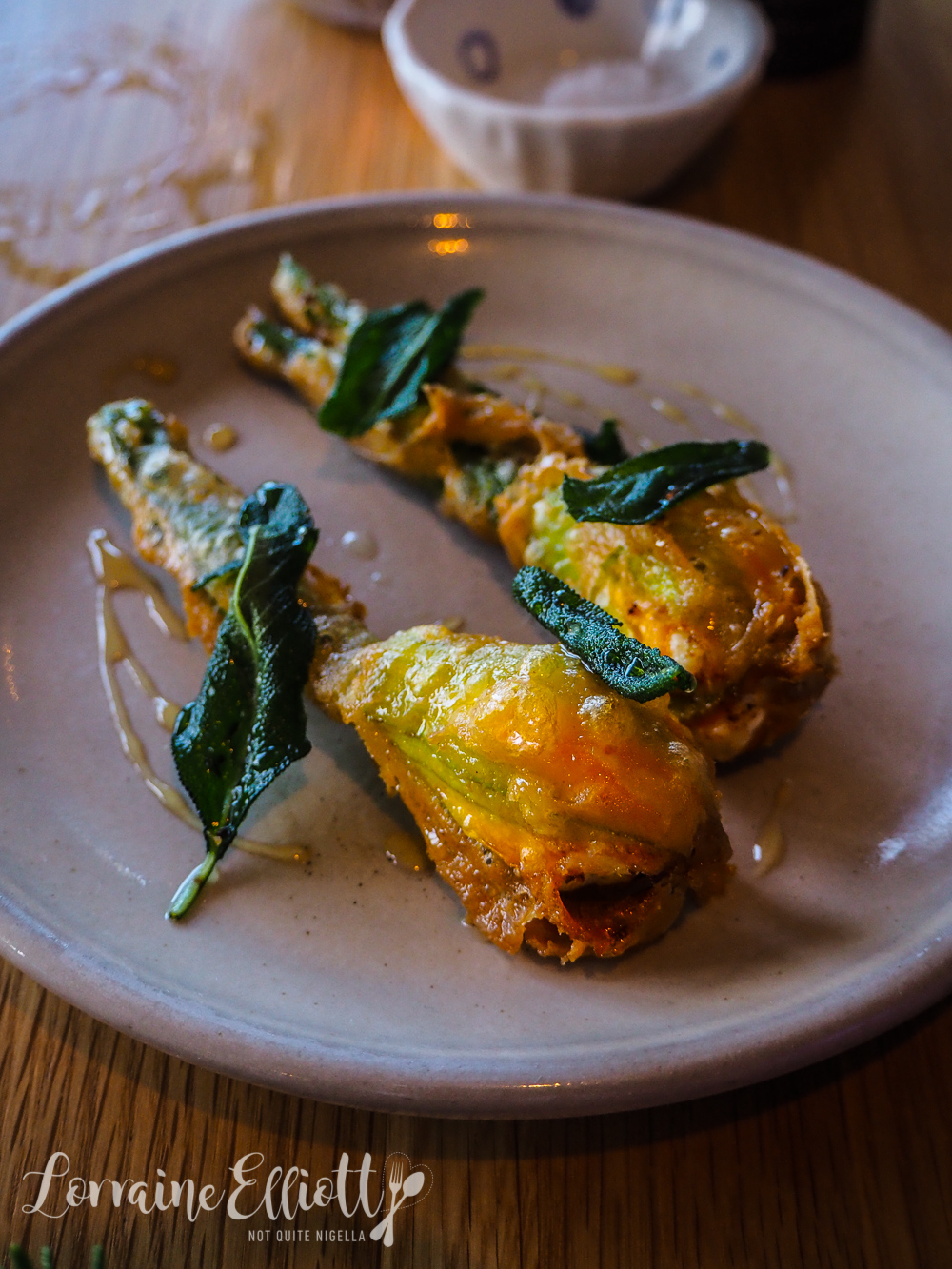 Fried zucchini flowers with ricotta and local honey $6 each
We have three entrees. The first are super crispy lightly battered zucchini flowers fresh from the garden. These are stuffed with house made ricotta cheese and local honey.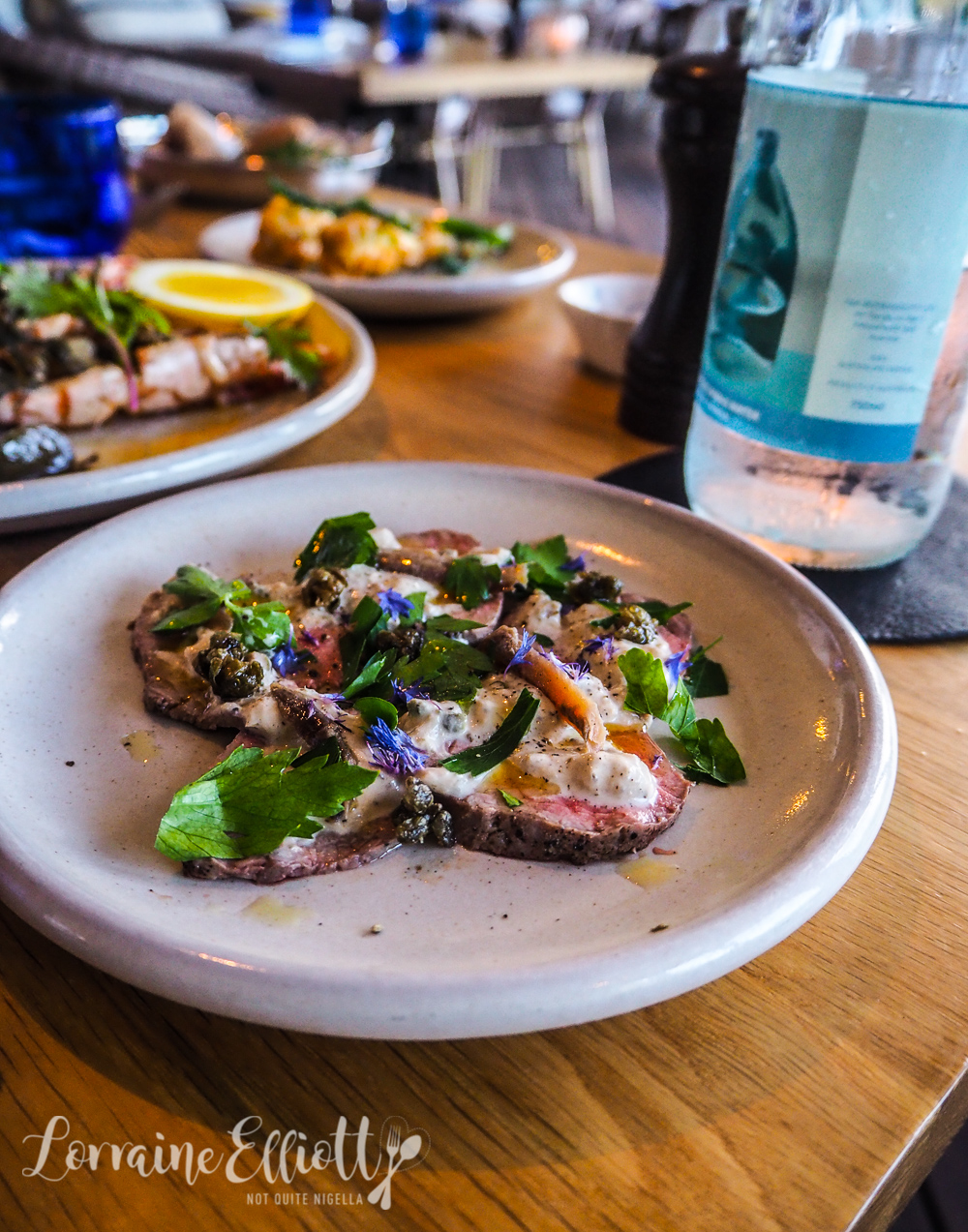 Vitello Tonnato
Then we try the vitello tonnato, the classic dish of thinly sliced veal topped with tuna and mayonnaise. This is one of my favourite dishes and I always have to order this when I see it on a menu.
Skull Island king prawns with brown butter, fried capers and garden herbs $30
The Skull Island prawns are large and come three to a serve. They're succulent and perfectly cooked and seasoned with brown butter, crispy fried baby capers and a range of garden herbs. A lot of these dishes really sing with flavour and freshness because of the abundant use of herbs.
Garden chard and ricotta ravioli with marjoram butter $30
The kitchen moves fast and it's not long until the pasta courses come out. Each pasta sauce comes in either a small or large serving and we went with the small servings for each. The marjoram butter is very aromatic and a pleasant surprise as we had just expected to taste the cheeses on this.
Tagliatelle with Australian scampi, tomato, fennel and tarragon $32
But both of our favourite pasta is the silky thin tagliatelle pasta with tender scampi meat, tomato, fennel and tarragon. The sauce is made from a bisque using shellfish shells and this really concentrates the flavour with the aniseedy fennel giving it another dimension of flavour.
Berkshire Pork cutlet with caponata, basil, local honey and crackling $46
It's a toss up between the pork and the dry aged rib eye but as the latter was for two, we went with the pork. It's a good decision especially for me as I love pork cutlets. This juicy cutlet is topped with a celery and eggplant caponata, basil, local honey and earth shatteringly crunchy cubes of crackling.
Dry Aged Tamworth lamb rump with chickpea and garden inzimino and salsa rossa $48
The main that we were really intrigued to try was something that we haven't seen a lot of. The dry aged lamb rump is aged for them for 28 days in Tamworth. We wondered whether this would intensify the lamb aroma and muttony quality but it's quite the opposite. Mr NQN even asks, "Is this the lamb?" because it seems to have tamed that aroma and tenderised it. It goes perfectly with the chickpea inzimino which is a Tuscan stew made with chickpeas and garden vegetables cooked with tomato.
Salted Caramel gelato, Amedei chocolate mousse, caramelised banana $19
The dessert menu has plenty of selections. There are 7 desserts as well as a 8 dreamy cheeses. But we stick mainly in the sweet territory. The salted caramel gelato dessert is just as described, a quennelle of salted caramel gelato, two quennelles of rich Amedei chocolate mousse and two book ends of caramelised banana.
Rose gelato, poached peaches, goat's milk sherbet $19
We both adore the rose gelato. The roses that perfume the gelato are from the garden just outside the manor house and they give the gelato a very delicate rose scent along with the dried rose petals while the poached peaches are heavenly and come sprinkled with crystals of goat's milk sherbet.
And to finish, two perfect bergamot curd dark chocolate truffles.
The next morning we reluctantly pack up to leave. We take a seat on the verandah and survey the gardens outside and the perfect summer weather that we have been lucky enough to enjoy this weekend. I go back for a pastry selection and make my own avocado toast with salami and heirloom tomatoes.
Our lovely waitress is back and when we dither about our main selection she suggests ordering three of them so we can sample them.
Heritage tomato tart
The tomato and feta tart although compact in size is perhaps my favourite of the three because the pastry is so good here. It's a super crisp round of pastry topped with heirloom tomatoes and house made ricotta and the Bells lemon and olive oil.
Smoked salmon with poached eggs and sourdough
Interestingly, they don't do eggs benedict but they do serve smoked salmon on poached eggs with sourdough. The eggs have a perfect runny yolk.
French toast
We can't resist a sweet ending. The French toast is a beauty. It's the breakfast's only sweet selection and it has a cornflake crunch and is topped with poached peaches and whipped mascarpone. It's indulgent, irresistible and absolutely delicious. Really sort of like the theme of this weekend.
So tell me Dear Reader, have you ever visited Bell's at Killcare? Do you prefer sweet or savoury hot breakfast options? And have you ever seen or tried dry aged lamb?
NQN and Mr NQN were guests of Bells at Killcare but all opinions remain her own.
Bells at Killcare
107 The Scenic Rd, Killcare Heights NSW 2257
Phone: (02) 4349 7000
bellsatkillcare.com.au/